Comparing the Fujifilm X Series Cameras. Which one is Right For You?
In just a few short years, Fujifilm has built an impressive camera system from the ground up. Starting with the introduction of the X100, which they launched in September 2010, they've since expanded their lineup to include a number of highly advanced interchangeable and fixed lens compact cameras that have completely stirred up the photography world.
Shooters of all styles and levels have fallen in love with their compact, classic body styling and with the remarkable image quality that these cameras produce. So much so that an increasing number of amateurs and pros alike have replaced their entire DSLR rigs with Fuji X camera systems and haven't looked back. I'm one of those people.
Even straight JPEGS from these cameras look awesome, which has prompted many people to rethink their RAW-only shooting style. The images are incredibly sharp and combined with Fuji's image processing technology, color reproduction is stunning. The built-in film simulations and different shooting modes offer wide creativity and the resolution of the APC-C X-Trans sensor which is found on most of the models is certainly good enough for any pro work.
Here's a quick comparison between all of the current Fuji X cameras in the lineup to see which one is right for you.
1. Fujifilm X-T2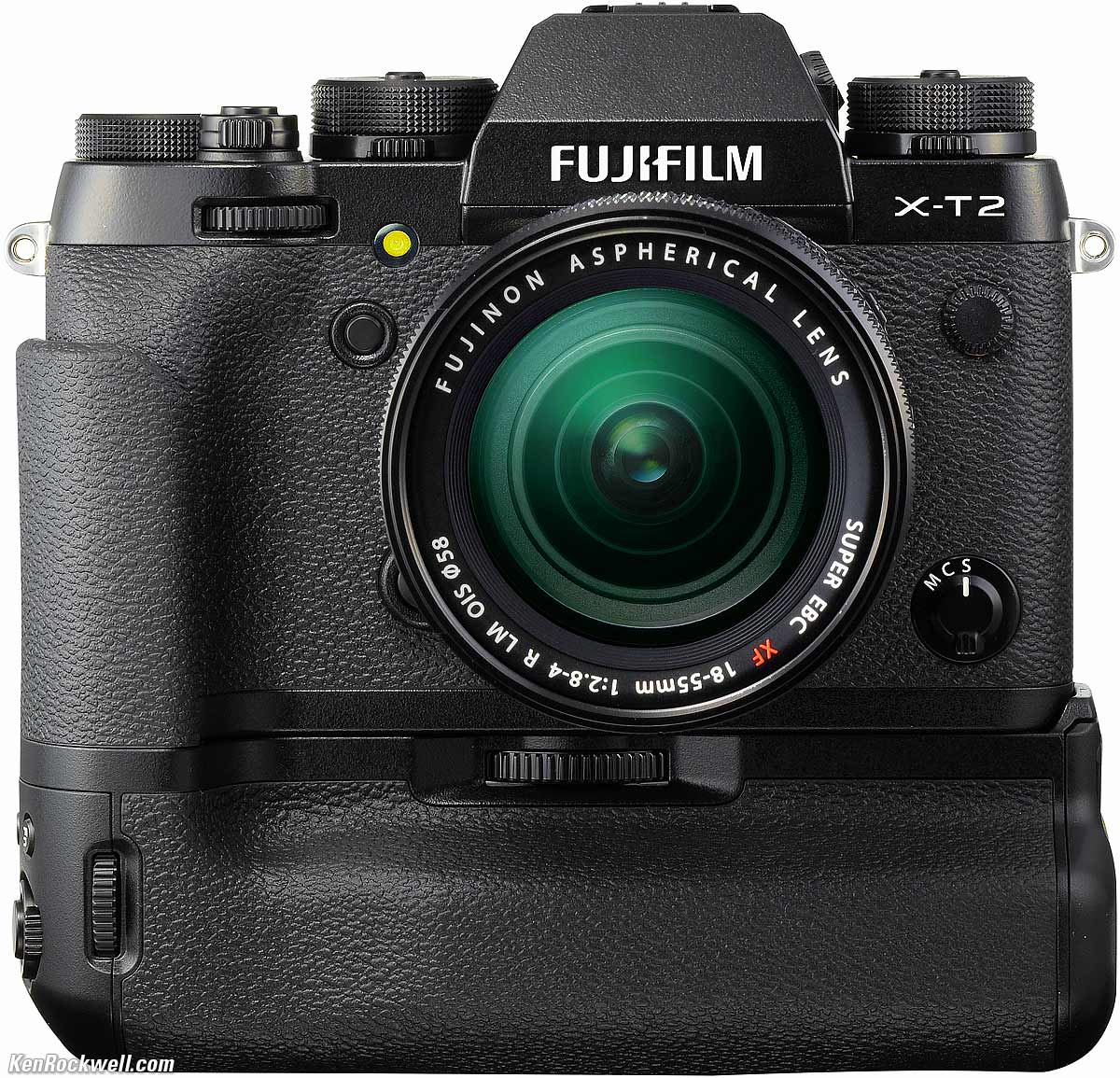 Earlier this summer, Fujifilm announced the X-T2. Featuring the new 24MP X-Trans III sensor and a much more powerful image processor, the X-T2 has been refined for maximum performance in every way, and it produces incredible high resolution imagery.
With a body design that's almost identical to the X-T1, the "2" features a few tweaks, like dials that lock and unlock, and a new +/- EV control that lets you adjust by up to 5 stops. The camera also has the new AF joystick
Inside, the X-T2 has a brand new, vastly upgraded, 325-point AF system that will track moving subjects at up to 8 frames per second, and with the optional battery grip in "Boost" mode, the camera will shoot and track at 11 frames per second.
In addition, the X-T2's new processor allows for improved color accuracy, considerably shorter blackout time, higher EVF refresh rate, and it allows the use of Fuji's ACROS black and white film simulation. ACROS is built around a more complex grain structure and it produces image with deeper, finer tonal gradation.
With its performance enhancements, the new Fujifilm X-T2 is a stunning evolution of the X Series It's a professional grade camera that will outperform just about any camera in its price range, and compete with many DSLRs that cost even more.
Download My Free Photography eBook
Expand Your Skills. Be More Creative
Let me show you some techniques that will help make you a better, more proficient and more creative photographer!
Who's it for? The X-T2 is designed for photographers who want maximum performance in a lighter weight, smaller body. It will no doubt attract DSLR shooters who are tired of carrying heavy gear, but who have sat on the sidelines, waiting for a mirrorless camera that will give them the same quality and speed they're used to. The X-T2 is likely going to be the camera that causes many photographers to finally switch from DSLR to mirrorless. Read my full review of the Fujifilm X-T2 here.
Your advice on lenses and on why you switched to the Fuji have helped make my decision to continue investing in the system. I do a lot of hiking, mountain biking and skiing, but at first was a little apprehensive on committing to the system. Your review of the X-T2 was very helpful.
I have just bought an X-T2 so your articles on the Fuji X system have been very useful.
Your review of the Fujinon 18-135mm lens helped me decide to include it in the minimal, lightweight system I wanted to shoot with ( I decided to go with just that and the 10-24mm - so far, anyway!).
2. Fujifilm X-Pro 2
The Fuji X-Pro 2 is the co-flagship model of the X Series. It's a professional grade interchangeable X camera that offers traditional styling, maximum quality imagery with the APS-C 24MP X-Trans III sensor, the new X Processor Pro engine and an innovative "Hybrid Multi Viewfinder." Combining the best features between optical and electronic viewfinders, the X-Pro 2 lets you switch between OVF mode and EVF mode. Both modes contain a variety of shooting data and change magnification depending on your lens choice.
The X-Pro 2 features a similar set of features as the X-T2, including the focus lever joystick, Q-Menu, an upgraded autofocus system with 77 phase detect points, no apparent shutter lag, and all the gorgeous looking film simulations. It's also weather sealed.
The X-Pro 2 does not have a built-in flash, but it's compatible with any of the dedicated Fuji flashes, as well as other third party brand units.
The other big difference between is that while the X-T2 has an SLR inspired look and feel, the X-Pro 2 has a rangefinder design, which appeals to a great number of shooters. Where the X-T2 feels like an old trusty manual Nikon body, the X-Pro 2 feels like an old Leica or Contax.
Who's it for? The X-Pro 2 is a favorite with commercial, wedding and portraits shooters, as well as street photographers. Basically anyone who loves the rangefinder look, who wants weather sealing, fast AF tracking and wants a high quality, beautifully styled camera for general shooting, travel, people or landscape photography. Check out the dedicated X-Pro 2 info site here.
3. Fujifilm X-T1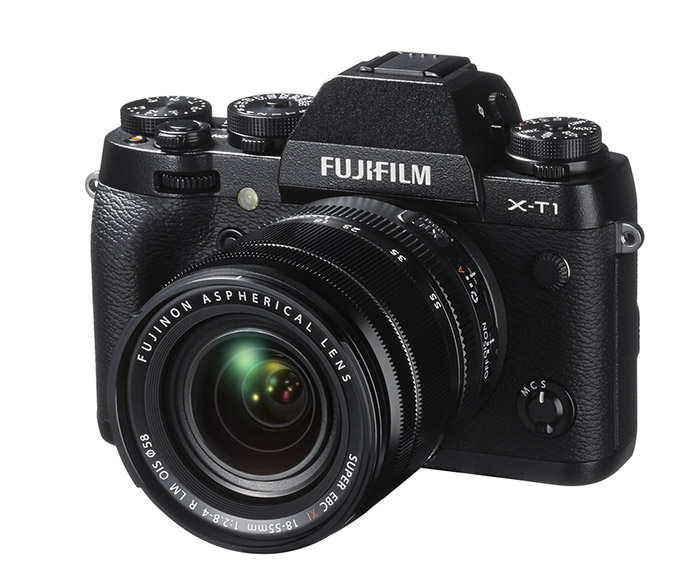 The Fujifilm X-T1 is still a very relevant and capable camera in the X Series. It's built with professional grade construction, 80 points of weather sealing, the APS-C 16MP X-Trans sensor, a tilting LCD scene, and it features a super fast predictive AF system that will track moving subjects at up to 8 fps.
The X-T1 also has an SLR-inspired, traditionally placed, center mounted electronic viewfinder that offers the highest magnification of any digital camera. The EVF is so good on this camera, you often forget that you're not actually looking through a real viewfinder. It offers DSLR quality in a smaller package, and even outperforms some DSLRs.
Combined with the array of milled metal dials on the top deck and 6 programmable FUNC buttons, the X-T1 offers full and immediate control of all your shooting parameters, like EV+/-, ISO, AF point selection, shutter speed, aperture, metering and drive mode. The X-T1 doesn't have a built-in flash, but it comes with a tiny accessory flash that can be used up close or used to trigger other remote flash units.
It also has a Wi-Fi button that works with Fuji's smartphone Camera app, which allows you to fire the camera remotely with your mobile device and instantly download pictures straight to your device.
I got to test an early prototype version of the Fujifilm X-T1, and I used it exclusively since it was announced back in February of 2013. I've shot everything with it from high end commercial work, adventure sports, action, people and travel, and not only has it given me great looking imagery, it's withstood every bit of abuse and extreme conditions that I've thrown at it. You can read my extensive review of the Fuij X-T1 here, and see the dedicated X-T1 product info site here.
Who's it for? The Fuji X-T1 is for pros and amateurs alike who want a tough, reliable, rugged, full featured camera that will endure the elements and that offers lightning quick controls, but who don't quite have the budget for an X-T2. It also makes an excellent backup to the X-T2. Fuji has been dropping the price on the X-T1, and right now they're $400 off – only $899 for the body.
I've rarely used my Nikon DSLR in the last year, whether this is because my trusty XT1 does a lot or because I look at your work and think, "Pahhh this Nikon, I don't need that big bulky thing in my bag today. If Dan and others get such work with XT1 or similar, then so can I".
I took the X-T1 and D700 to Belgium last year...should have just left the Nikon at home. The color was so much more true with the Fuji.
4. Fuji X-T10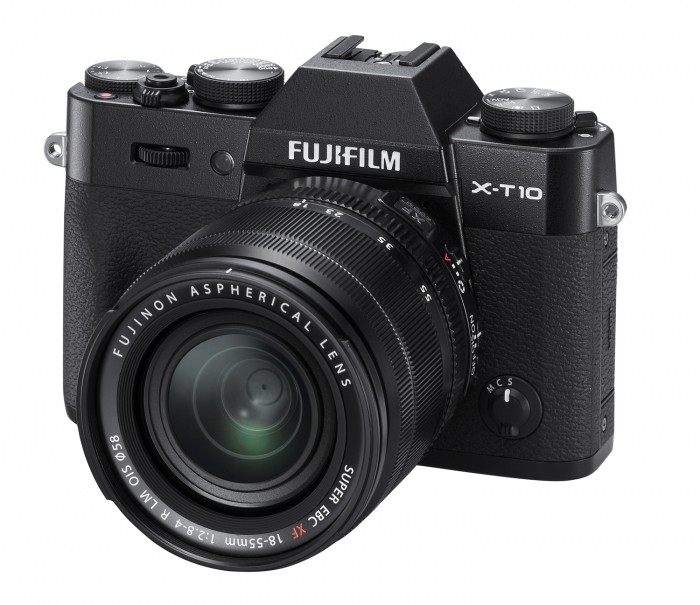 The Fujifilm X-T10 is the little brother to the X-T1, and many of the features are the same as those found on the X-T1. It has the same APS-C 16MP X-Trans sensor, a tilting LCD scene, the same updated, high performance predictive autofocus system that will track moving subjects at up to 8 frames per second. Essentially, you get the same image quality and most of the same performance as the X-T1, but for $500 less.
It also has a very similar rugged SLR-style body design like the X-T1, but with a few slight design tweaks. The main thing is that it's smaller and lighter, which makes the X-T10 an ideal travel and outdoor camera. It hardly weighs anything, and yet under the hood, it's a real hot rod.
It has WiFi sharing, a built-in flash, all the same film simulations, including Classic Chrome, 7 programmable Fn buttons, and although it's not weather sealed, the X-T10 is a tough little camera that would be great for just about any kind of use.
Who's it for? The X-T10 is a very capable camera, and with an attractive price point of only $799, it's an excellent introduction into the Fuji X camera lineup. With fully updated technology, it's ideal for any kind of shooter, and since it's very similar in design and operation, the X-T10 is an ideal backup or second camera for X-T1 users. Read my full review of the X-T10 here. You can also check out the dedicated X-T10 site here.
5. Fuji X-E2S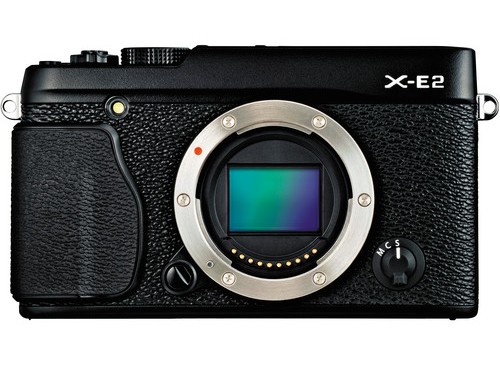 Note: The X-E2S is now available. Essentially, it's the X-E2 with updated firmware that dramatically improves the camera's autofocus system, and increases performance in a number of areas.
The Fuji X-E2S is very similar to the X-Pro 1, except that it does not have the Hybrid Viewfinder. It only has an electronic viewfinder, but the with the latest firmware update that Fuji put out, the X-E2 now has an even better EVF than it did before. It also has a built-in flash, as well as a hot shoe.
Featuring the same APS-C 16MP X-Trans sensor as the other models, a max shooting rate of 6 fps, and a greatly improved Hybrid AF system over the X-E1, the X-E2 now has the same AF speed as the X-T1. However, it does NOT have the same predictive focus tracking system, so it will not not be able to track moving subjects and freeze action over multiple frames like the X-T1.
Nonetheless, the X-E2 is an awesome rangefinder-style camera that has the same image quality as the other cameras in the line, the same film simulations, the same creative shooting modes, and the Wi-Fi button that allows you to transfer images from the camera to your smartphone or tablet. However, you cannot control the camera with your device like you can on the X-T1.
I shot with an X-E1 during a bike trip through the Alps last summer, and I found it to be an enjoyable camera to use. The X-E2 offers the same quality with an improved package.
Who's it for? Since it uses the same lenses as the other X cameras, the X-E2 makes a great general camera for pros and amateurs alike. It works great for portraits, travel, landscapes and even commercial work, but keep in mind, it's not weather sealed, so it may not be the best choice for heavy outdoor use. Still, it's lightweight, compact, it packs a lot of features, and makes gorgeous looking images. Here's the dedicated X-E2 info site.
Note, the X-E1 is still available, and it's a really good price. The EVF and AF aren't as good as they are on the X-E2, but image quality is the same. If you don't need super fast AF, and if you do most of your composing with the LCD screen, then the X-E1 is an awesome camera of the money. It would be a good choice for beginning to intermediate photographers, or someone looking for a great travel camera that takes great photos.
6. Fuji X100T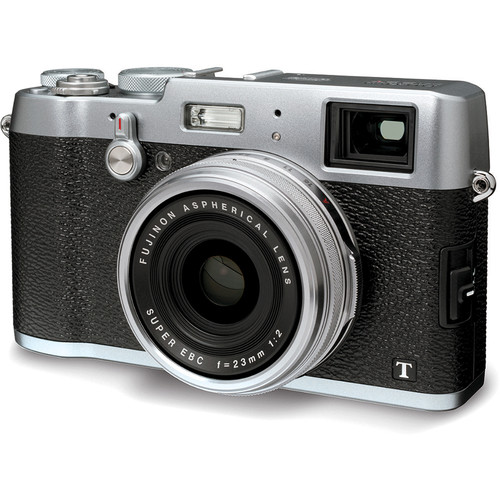 When it was announced in 2010, the Fuji X100 took the world by storm. It offered uncompromising image quality in a gorgeous, all metal, rangefinder-style body. The updated version, the Fuji X100T offers an even better 16MP X-Trans sensor, an even better viewfinder and improved AF performance over the original version.
The X100 is really an amazing little camera. It's got a fast fixed 23mm f/2 lens, (35mm view) a shooting rate of 6 fps, 10cm macro and it also features the same switchable Hybrid EVF/OVF Viewfinder that's found on the X-Pro 1.
It also sports a built-in flash and features a leaf shutter that allows for ultra high speed flash sync. For this reason, the X100S is the camera of choice for heavy flash shooters like Strobist™ David Hobby. Another really nice feature is the built-in 3 f/stop ND filter, which allows you to shoot slower shutter speeds in brighter light.
People also love the X100 cameras because of it's sheer simplicity. Small body, one view, on-board flash, and all the quality and creativity you'd ever need. Also, the 23mm is a great angle of view for many subjects. It's not super wide,but it's kind of a sweet-spot focal length for shooting just about everything from landscapes to travel, low light, city scenes and environmental portraits. There are also conversion lenses (35mm and 50mm) that make the X100 even more versatile.
Who's it for? Anyone, really. It offers a perfect solution for going light, fast and simple with your photography, which is why it's a favorite of many street photographers. It also makes an ideal companion/backup camera for your interchangeable system whether you shoot Fuji or not. Lots of Nikon and Canon shooters have these things too because they're awesome. The Fuji X100 is truly a modern classic that will be remembered of a very long time in the history of photography gear. Check out the dedicated X100T info site here.
7. Fuji X-A3
The brand new Fujifilm X-A3 is the budget-friendly consumer X Series camera. It's less expensive, and while it has some stepped down features, it does not necessarily have stepped down quality. The X-A3 has a 24MP APS-C CMOS sensor. Combined with the updated image processing engine, the X-A3 delivers excellent quality images. (Note- The X-A3 is the only X Series cameras that uses a CMOS sensor instead of the X-Trans sensor.)
With the X-A3, you get the versatility of interchangeable lenses and DSLR image quality in a very small and compact package, but with the useful advantages that mirrorless camera offer. Fuji also introduced a line of smaller, less expensive lenses for this camera to make it even lighter and more affordable. It comes with the XC 16-50mm f/3.5-5.6 OIS lens, but you can actually use any of the XF lenses on this body as well. This makes it even more versatile when you improve and want to step up your system.
The X-A3 features a a compact, lightweight, reto-style look that's characteristic of the X Series, and it has a touch-screen tilting LCD panel. The screen actually flips all the way up into "selfie mode." It has an ergonomic grip, and wi-fi connectivity that works with the Fujifilm Camera Remote app so you can download your photos right from the camera to your mobile device. And it comes in three colors- Black, brown and red.
With a built-in flash, 77-point AF system, including manual focus, most of the creative modes and film simulations found on the higher end models, video, a host of creative shooting and auto modes and EV+/- at your fingertips, the X-A3 offers a lot of options in a bargain package. And it's tiny. Seriously. It's even smaller than some fixed lens compact cameras, especially when you put on the XF 27mm pancake lens.
Who's it for? The Fuji X-A3 is definitely designed with consumers in mind. It's a great introduction into the Fuij X Camera system, and would make a great all around camera for any beginning to intermediate photographers. As with any of the X cameras, it's a viable alternative to a DSLR because it still gives you impressive image quality and resolution, but in a much more compact package. It's great for just about any kind of shooting. Read more about the X-A3 here.
8. Fuji X70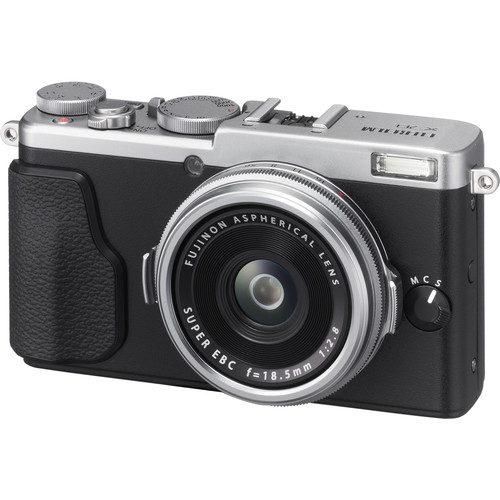 The Fuji X70 is truly the little brother to the X100T. It's a non-interchangeable compact camera, with a fixed 18.5mm f/2.8 lens that offers a traditional 28mm angle of view.
The big thing with the X70 is that it has the same APS-C sized 16MP X-Trans sensor, so you get the same image quality as all of the higher end models in a tiny little package. Seriously, the X70 is so small for how big the sensor is, it's probably the best quality camera for its size. I've gone on 10 mile runs and carried this little camera in the palm of my hand.
By comparison, the pocket-sized Sony RX100 series only uses a 1-inch sensor, whereas the pocket-sized X70 produces the same image specs as the X-T1, X-Pro 1 and X100. I use the older X20 and I've sold photos for professional reproduction that were taking with this camera. With its non-bayer RGB array, the X-Trans II sensor produces incredibly high resolution photos, even on a camera this small.
The X70 doesn't have an optical viewfinder, but it does have a brand new tilt screen LCD electronic viewfinder that features touch screen technology. It's the first Fuji X Series camera with touch screen focusing, firing and image review. Also, the screen flips all the way up so you can shoot selfies with it, or shoot over your head and behind you back.
Like the X30, the X70 has an aperture-style dual ring that you can use to quickly adjust any number of parameters, including aperture, shutter speed, film simulation and manual focus. You can also use it to zoom in, as the X70 has a built-in digital teleconverter, which lets you shoot no only with a 28mm angle of view, but also at 35mm and 50mm. Essentially it's just digital zoom, but with some special pixel wrangling, so it's better quality than most digital zooms you find on small cameras. It also has a built-in flash that you can use to trigger other flashes.
The X70 has all of the same film simulations, advanced shooting mode as the other X Series cameras, and very fast performance. Combined with an extremely compact size, classic styling, RAW shooting and focusing down to 10cm, the X70 is an extremely capable and portable camera that's very fun to use.
Who's it for? Anyone. For pros, it makes a great, inexpensive second, "walk around" camera, or one you can use for extremely lightweight trips. For non-pros, it's good enough to be your only camera. With no interchangeable lenses, it's small, compact and easy to use, even with one hand. Here's the dedicated X70 info site.
Support this site: Please consider purchasing gear through these links. It's a way that you can show your appreciation for the time and effort that it takes me to compile and write these reviews, and it won't cost you anything extra. It's like a virtual pat on the back. Thanks so much! Also, click here to see my 4 favorite lenses for the Fuji X cameras.
Follow @Danbaileyphoto