As photographers, we're always trying to stretch our creative boundaries and come up with great new image ideas. However, as you well know, it's not always easy.
Sometimes, we fall into ruts. We get stale. We lose motivation. Then, when we do stumble upon a new technique or photographic approach that kick starts our inspiration, we throw it into our bag of tricks and commence creating some fantastic new imagery.
Before long, we end up falling back on that "new" technique too often, and it too becomes stale. What started as a powerful creative spark has now become the same old same old. That doesn't mean you can't still keep it in your bag of tricks, you just shouldn't rely on any one approach too much in your photography.
Here are three simple ways to break out of that creative rut and throw some new excitement into your photography. I know there are more, why not leave a comment and tell me what does it for you.
1. Break the rules with how you use gear.
I saw a cool dirt bike photo on a forum the other day, where the photographer had taken a 24″ softbox to the track and used it to light up the biker. In his own comment, he then said, "I realized that this is [obviously] not the proper use of a softbox."
Let's get one thing straight. There are no rules in photography. You can use your gear however and wherever you want. In fact, stepping outside the box with your equipment is a great way to drive your creativity. What's the worst that can happen? You might break it. So what. It's just gear. You can buy new gear, and if you end up getting a great shot, isn't that worth it?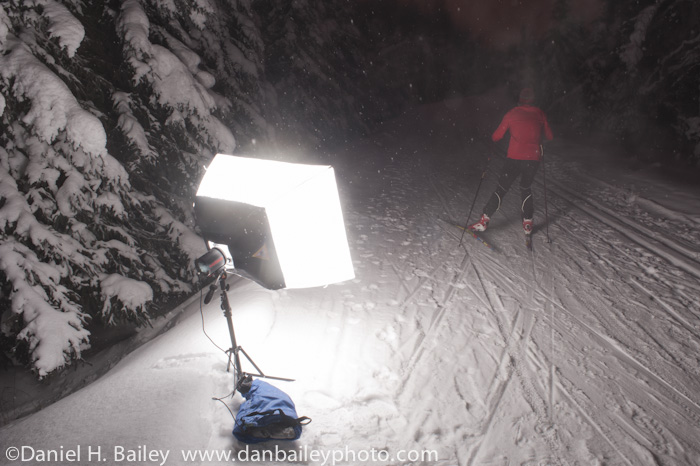 Yesterday I got my new Photoflex WhiteDome in the mail, and immediately strapped the thing on my photo pack and took it outside in the snow. If you've been following along lately, then you know that I've been using the Photoflex TritonFlash on a number of cold, snowy photo shoots. If that high-tech piece of lighting gear works fine in those conditions, what do I have to worry about a big piece of fabric?
The WhiteDome is basically a big Chinese lantern that's made of durable fabric instead of paper. It's white on all sides, so it throws 360 degree light. Designed for shooting interiors, imagine the possibilities of shooting outside with it? I was just playing around yesterday, but I've already got some new ideas that I can't wait to try out!
Think of cool new ways to use the gear that's sitting on your camera shelf, or buy a new piece of gear and try using it in a new way. Chances are, you'll come up with something really cool. Even if you don't you'll still have fun, and isn't that what photography is really all about?
2. Shoot in crappy weather.
Don't you get bored of shooting in the nice, friendly sunshine all the time? Yea, me too. Now hang on a minute. I LOVE the sun as much as anyone, maybe even more than you, but nothing is gong to make for cooler, more adventurous photos then shooting in the soup.
Cameras are tough. They can handle the elements, some better than others, but as long as you keep the lens dry, or at least mostly dry, then you should be fine. Don't put it away when the heavy rain and snow starts falling, keep it around your neck and keep snapping away.
Heavy weather often leads to the most exciting photographs. They're the ones we ooh and ahh over. Plus, they make a statement about your own personal toughness and true dedication to your craft. Shooting in crappy weather not only leads to great imagery, it makes you look more bad ass. That's important, right?
3 Use a different camera.

Photography isn't about cameras, it's about what you do with them. After all, they're just tools, and like anything else, you can get so used to your favorite DSLR that you fall into those traps of using the same technique too often, just like you can do with your favorite lens or technique.
Try leaving the DSLR at home and heading out with your compact camera, or your iPhone. The whole iPhoneography thing is taking the world by storm, partly because it's so liberating. Pro shooter Lisa Bettany, aka MostlyLisa, the woman behind the Camera+ app, is in the middle of an around the world trip with only her iPhone. Pretty cool.
I made these two photos with the Fuji X10. After years of never owning a compact camera, I've been having great fun with the X10, shooting panoramas, shooting friends, shooting street scenes, whatever looks like it will make a fun photo. Photography for photography's sake, and that's a good thing.