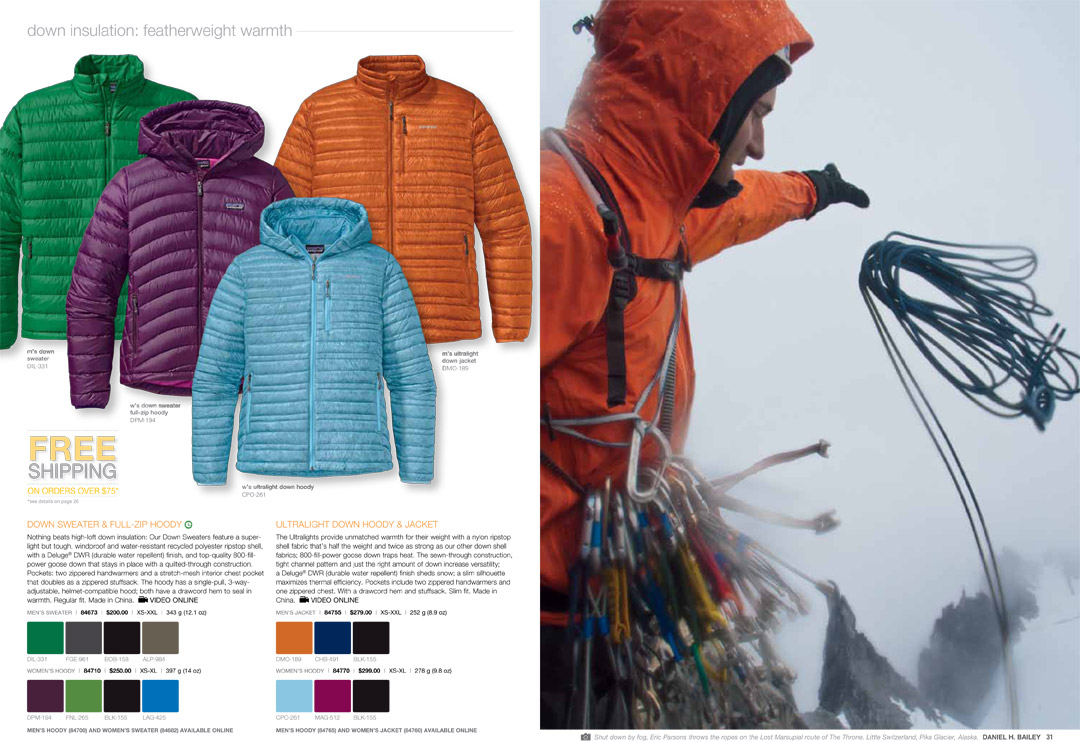 Starting the year off right with another recent publication: This image appears as the parting shot in the 2012 Patagonia Mountain Catalog, which hit your mailbox this week.
The short caption is "Shut down by fog, Eric Parsons throws the ropes on the Lost Marsupial route of The Throne. Little Switzerland, Pika Glacier, Alaska." 
Now for the long caption…
It all started when Eric called me one day from Alaska and said "We won!"
"We won what?" I asked, as I sat in my office back in Colorado, scanning slides.
"The ADN video contest! I submitted my Chugach Energy Drink video and used your song and it won first place! Let's take the money and go to Little Switzerland!"
Of course, with little hesitation, I said, "OK," packed my rock climbing gear, and my rain gear, and bought a plane ticket to Anchorage.
My song, "Sawblade," is a Jeff Beck-ish thing that I had written and recorded a few years earlier- (you know, putting that music and recording degree to use.)
Anyway, Eric stuck it in with some video footage, entered it in the contest and won a complete surround sound home theater kit, complete with big screen TV, all of which he promptly dumped on Craigslist for enough cash to buy food and air taxi flights into the Pika Glacier, smack dab in the middle of the Alaska Range.
Of course, that doesn't count the obligatory four days that we spent waiting out the weather in Talkeetna. We killed our boredom by walking every street in the tiny town, reading decade old issues of Rock and Ice in the TAT bunk house, bothering everyone at the Talkeetna Air Taxi office, attempting to play basketball on the tarmac near million dollar bush planes and generally acting like fools, as is clearly documented in this video.
Actually, a highlight of our stay was watching retired Alaska bush pilot legend Doug Geeting play fingerstyle guitar and sing on the patio stage while we filled up on pizza at the Mountain High Pizza Pie restaurant. Quite a treat! Check out his music here, especially his awesome Michael Hedges style piece The Alaska Mile.
When the skies finally cleared, we were forced to leave TAT and fly in to the Pika, where we immediately set up camp and climbed the classic 5.8 route on the Middle Troll. We topped out at 1:00AM in the endless Alaska summer daylight, and afgter rapping the route, sleeping until mid afternoon the next day, we set our sights on the Lost Marsupial Route on The Throne.
Unfortunately, the weather had other ideas, and halfway up the route on our first attempt, it closed in again. We grumbled, sighed, waited, and finally rappelled in the clouds and rain back to the glacier with slightly bruised spirits and entirely wet gear.
Summoning our courage, we prayed to the mountain gods, came back the next day and completed the route, claiming victory on the summit under clear blue skies. Only that photo is not nearly as exciting as this one above, which I shot with my Nikon D200 as we retreated on our failed first attempt the previous day.
See, sometimes great stuff comes from failure. At least that's what I tell myself.
Don't take my word for it, though, here's what REALLY happened on our trip.
See more photos and read the full report of our Pika Glacier rock climbing adventure here.