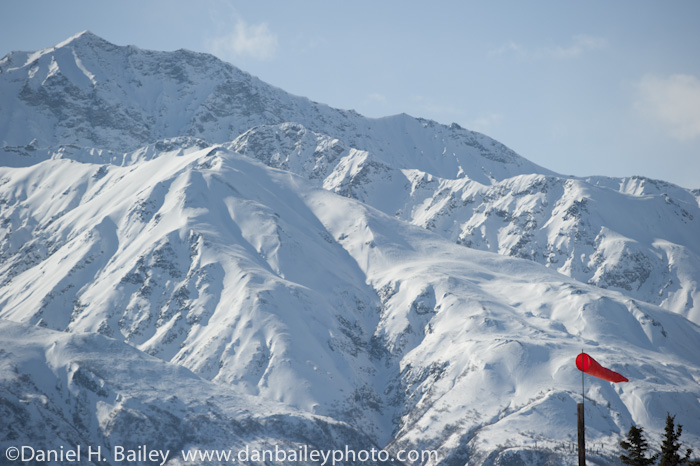 I love April in Alaska. Sure, things are starting to get pretty slushy down in town, but the days are growing progressively longer, and by the end of the month, the sun sets at 10:00PM.
April is great for shooting evening aerials (Look for that post tomorrow), and it's also a prime month for backcountry skiing in the bigger peaks. Earlier this month, I had 3 friends come up from Colorado to join me for a good old fashioned fly-in ski trip. Here's my trip report.
The problem with Alaska, though, is that no matter what you plan, mother nature might drop a storm on you and force you to throw everything out the window. Just as my friends arrived, a double storm hit Southcentral Alaska, bringing a tremendous amount of snow to parts of the region, high winds to other areas, and in some places, namely the one where we wanted to go, just wind and no snow.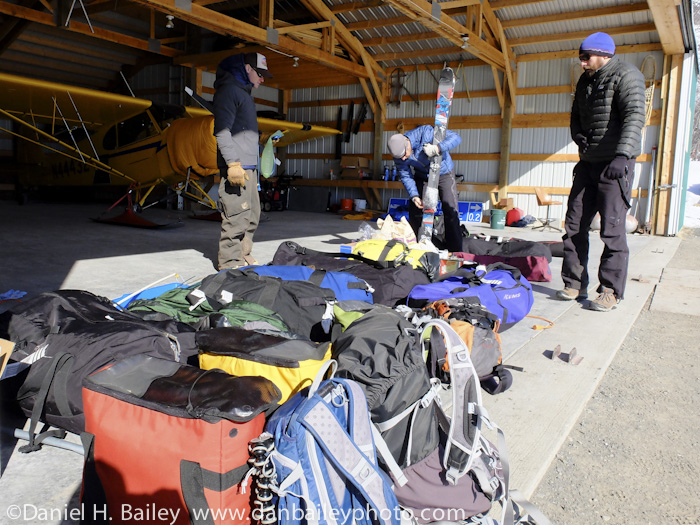 We'd planned to fly into the Powell Glacier with Matt Keller of Blue Ice Aviation. I've known Matt by phone, email and through his blog for a few years, but until now, I'd never actually met him. He's the real deal Alaska bush pilot. He flies out of his family strip right at the northern border of the Chugach Mountains and can land his Super Cub just about anywhere: snowy glaciers, hard glacier ice, dirt, grass, tundra- you name it.
I was excited to finally have the chance to fly with Matt, so we drove up to Sheep Mountain and unpacked our mountain of gear from the car, which included glacier gear and enoughCostco food to feed four normal people for an entire month. You have to take extra, just in case the plane can't come and get you because of weather.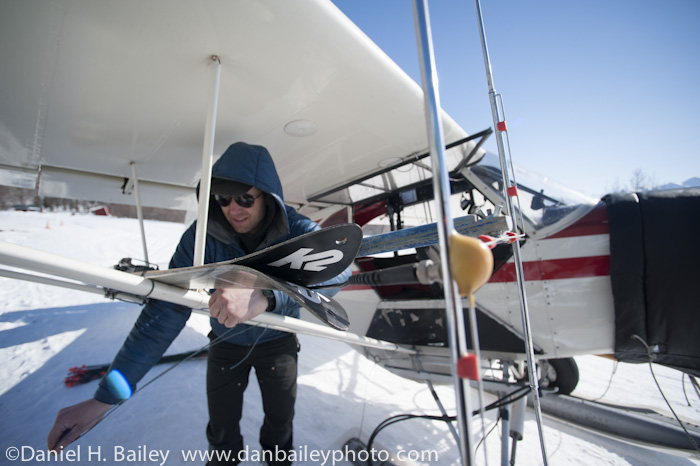 I jumped into the Super Cub with Matt and we took off towards the Powell glacier. However, as we got there, we could see the storm line creeping down the valley. It basically looked like a wall of whiteout wind that was headed exactly where Matt intended on dropping us. In addition, the snow level in this part of the Chugach was exceedingly low compared to what it's usually like.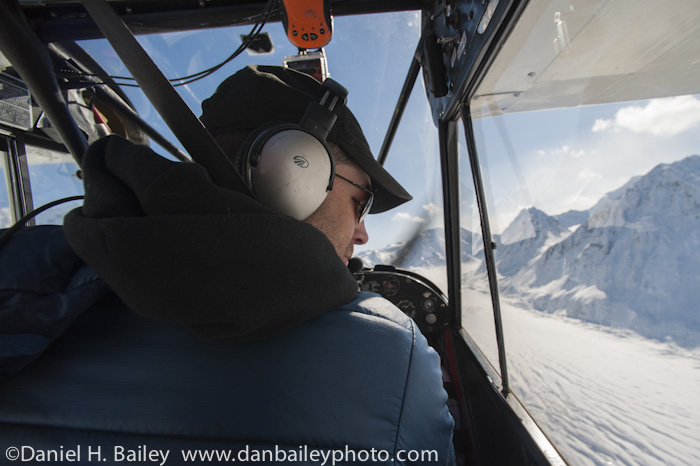 Rather than squeeze in under the advancing storm line, only to have to hunker down for the next few days getting blasted by wind, Matt turned around and took me back to break the news to my friends. They took it well, and I have to give Matt a lot of credit for being willing to lose four paying clients in the name of bad weather. He's a skier too, and he didn't want us to have a bad trip. Some pilots would have taken our cash, dropped us in and said "see you later." Call me when you're ready to come out."
Feeling dejected, we drove back down the Matanuska valley, figuring that we'd give Hatcher Pass a try. There's good terrain there, and cabins where we could potentially stay if we wanted to base our trip there.
We almost didn't even make it to the parking lot. We'd rented this mini van that had enough room for our gear, but was obviously made for soccer moms, and not skiers. The van had this "no-slip" transmission that cuts power to whichever wheel starts to lose traction. Going uphill on an snowy road, you're going to slip, and in any other car, you just floor it and spin your way through the icy sections.
This car wouldn't spin. It just got slower. So slow, in fact, that it pretty much ground to a halt going up a grade that I could bike up in my big chainring. Then it started sliding backwards on the ice. I'm telling you, this car was pretty much the most dangerous thing you could drive in the snow. Any snow. Especially mountain snow.
Fortunately, the snow plows came by just then and dropped sand on the road, which allowed us to creep slowly back up the hill. Of course, that was with three of us pushing. We were quite a sight.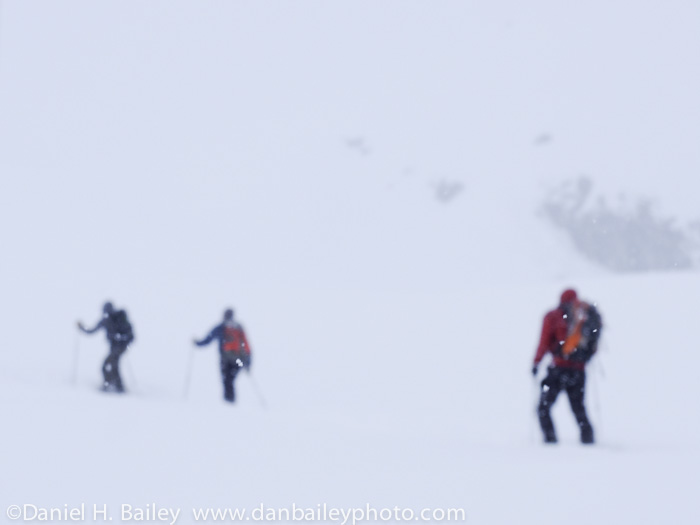 So, we finally get to the pass, only to that Hatcher was getting pounded with snow. There was no wind, but it was total whiteout and knee deep by the time we got to the parking lot. The avalanche danger had risen to "Considerable," and the cabins were full. Strike two.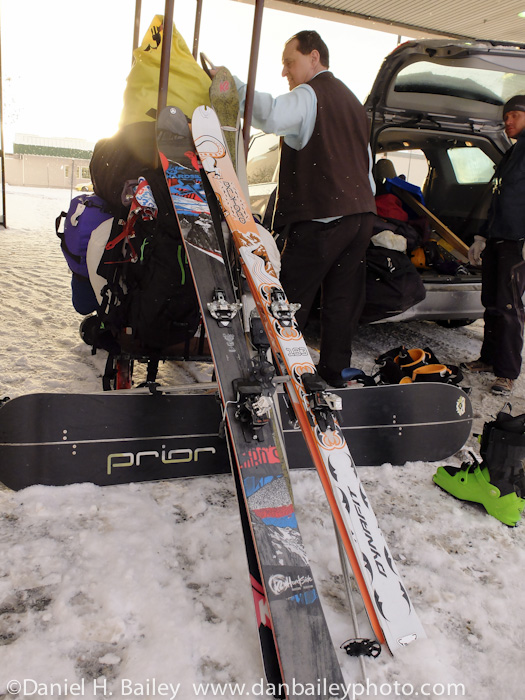 Feeling totally beat down by Alaska at this point, we drove back to Anchorage, and booked a room at the downtown Sheraton, where we broke into the good scotch and watched bad hotel TV.
Next morning, we check the weather, I call some friends for advice and discover that while the avy danger is climbing everywhere else in the region, Turnagain Pass, which is primo winter skiing, has hardly been touched by the storm. In fact, it's still reported as Green/Green, which is pretty much a green light for going skiing.
So, long story ending quickly, we grab my copy of Joe Stock's new Alaska backcountry ski guidebook, drive to Girdwood, book a cabin and spend the next 7 days skiing awesome snow in the Kenai Mountains.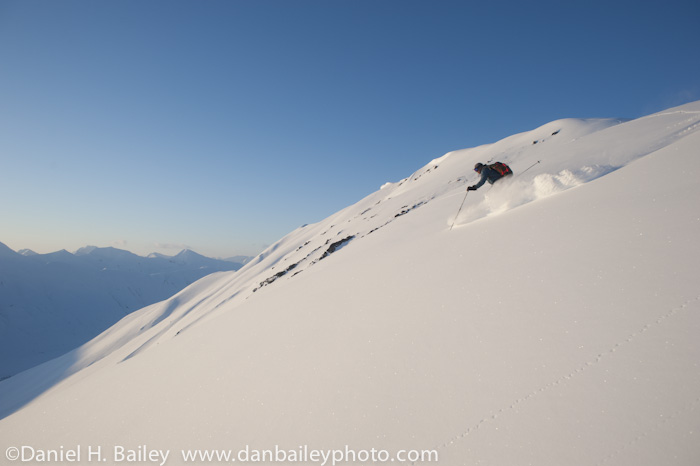 For camera gear, I carried my Nikon D700, with the 24mm f/2.8 lens and the new 70-200mm f/4G VR, which has quickly become my most used lens. As I've reported before, Nikon's new 70-200mm f/4G VR is an outdoor photographer's dream telephoto. I also carried the brand new Fujifilm X20, which served as an invaluable photographic tool during this trip.
I ran over 1,200 frames through the X20 during the course of the week and not only used to shoot "fun" photos, I put it through the ringer, kept it strapped around my shoulder during the whole time outside and shot quite a bit of action with it. The new advanced OVF viewfinder on the X20 makes it so usable outside, because when you're outside in the snow and wearing sunglasses, you can't even see the LCD screen.
In addition, I love the fact that it's real viewfinder that uses prisms and mirrors. Some really high quality compact cameras like the Sony NEX series have electronic viewfinders. I hate those, it feels like you're looking at your subject on a bad TV screen. With the X20, you're actually looking through the viewfinder, directly AT your subject. It just feels more intrinsically real. Like a real camera. After what I've put it through, the X20 has earned a place in my heart and I can't see leaving the house without it, even when I'm lugging along my DSLR gear. Read my full Fuji X20 review here.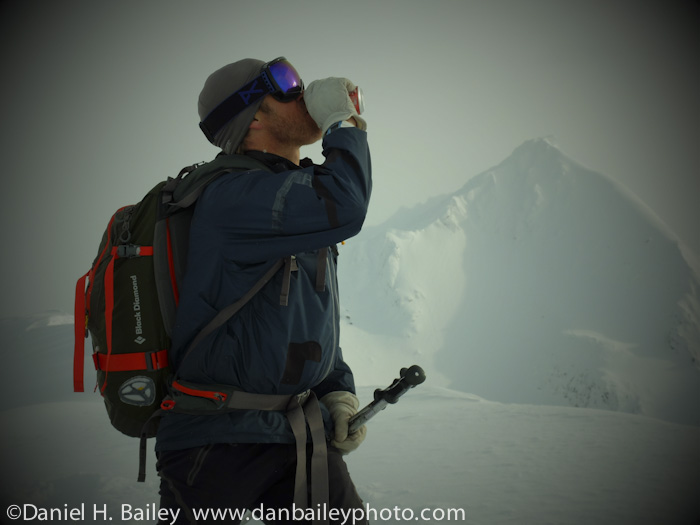 That two camera, two lens setup gave me all the options I needed for capturing everything I wanted, from action, to portraits, to landscapes to fun, lifestyle shots that just help tell the story and flesh out the adventure. In fact, this combo has become my de-facto light and fast adventure photography setup: DSLR, fixed wide angle, lightweight telephoto zoom and the X20. Boom. I'm ready to roll, hike or slide.
I've put together a rather large gallery of images from this trip, so if you want to kill some more work time and check them out, have at it. Enjoy. Oh, and if you come by the house, I'll feed you, because I have lots of Costco food leftover from the trip. Sorry though, the scotch is all gone.
Stay tuned right here for more adventure stories, gear reviews and outdoor photos. Thanks for reading!