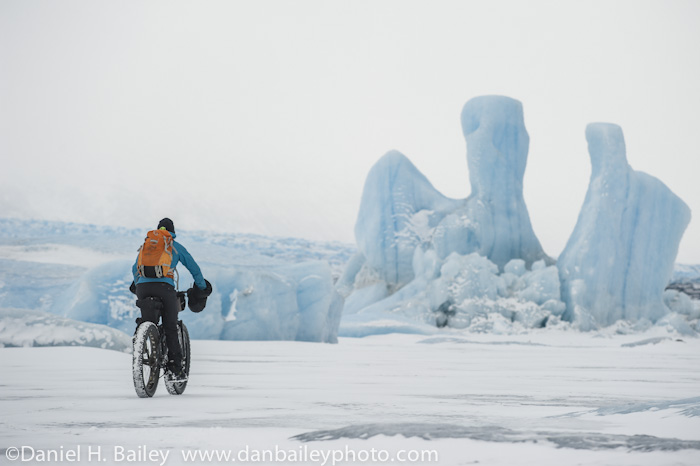 The other day during my one hour live interview on Google+ a viewer asked me to describe my ideal lightweight outdoor photography setup. In other words, what camera gear am I likely to grab when I'm heading out on an adventure? I thought that it was a great question, so I'll repeat my answer here to the rest of you.
These days, my current lightweight camera gear setup includes the following:
DSLR camera body
Fixed wide angle prime
Lightweight Telephoto VR Zoom
Compact Camera
Small Adventure Photo Backpack
If I think I'll do some flash work when I'm out there, I'll add a single Nikon Speedlight, like the SB-700, a sync cord and a tiny softbox to the mix. Here's the detailed rundown of what I use and why.
Even though it's discontinued, the Nikon D700 is still a great body that produces beautiful image files. I continue to use it as my main DSLR camera because it has all the features I need for shooting pro adventure work. It's lighter and much less expensive than a D4, shoots a higher frame rate than the D800, its 51-area autofocus sensor has a wider array in the frame than the one on the D600 and unlike the new D7100, it shoots full frame.
That said, if I were going to start over today, I'd probably get a D800, although I'd take a serious look at the D600 as well, because its quite a bit less expensive and has most of the same features. With current price reductions, the D800 costs about the same as what the D700 was when it was introduced a few years ago.
From that standpoint alone, it's better a camera for the money. In my mind, the only thing missing is the higher frame rate, but while 6 fps comes in handy for shooting straight action, for most of my adventure shooting, the reality is that 4 fps is plenty fast.
This week, I've been taking a close look at the D800E, and I have to say that I'm really impressed. Image quality is simply stunning and I may end up going that way before too long. I'll post a review of my D800E impressions soon.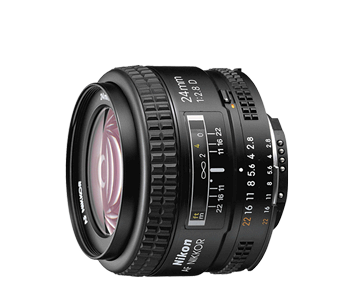 I love my fixed 24mm. I've had it for over 15 years and it goes with me EVERY SINGLE TIME I leave the house with my DSLR. Every single adventure, trip, assignment and photo shoot of any kind. It's my go-to wide angle lens for landscapes, cityscapes, environmental portraiture, action and anything else where I need a wide view.
The fixed 24mm f/2.8 lens is an older non AF-S D model, but it's still tack sharp and performs like a champ. It's compact, lightweight, fast and incredibly versatile. I love it because it gives me that "Right in the middle of the action" feel that I feel is so indicative of my style.
In the same way that photojournalists and Fuji X100 users love the look and feel of a fixed 35mm lens, I love the 24mm. It gives me a slightly wider angle of view that, in my mind, makes it a little more usable for adventure and outdoor work.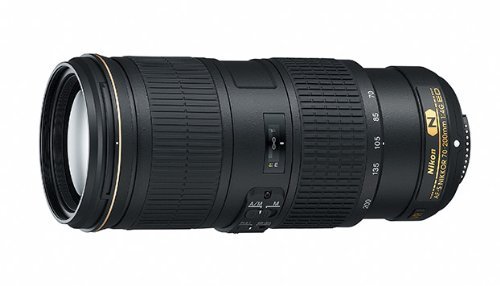 My new favorite lens. The new AF-S 70-200mm f/4G ED VR Telephoto Zoom is a fantastic lens. As an adventure photographer, it's the lens that I've been dreaming about for years.
Throughout all my years as a pro, I've been lugging around my heavy 80-200 f/2.8 lens, which weighs 3 lbs. I rode with it on my bike over the highest passes in the world. I've taken it skiing on LONG Alaska mountain days. I've hiked peaks with it. Sure, it slows me down, but I just love the look and feel of shooting with a long lens. It isolates subjects so well and makes the pop against a soft background of dreamy bohek. You know, that "pro" look.
This new AF-S 70-200mm f/4G ED VR from Nikon costs nearly a thousand dollars less than the new AF-S 2.8 version. It's also considerably lighter, which makes it perfect for the backcountry. It's even light enough for me to use one handed. Think I'm kidding? I shot the lead off photo at the top of this post one handed while riding my snow bike on the ice.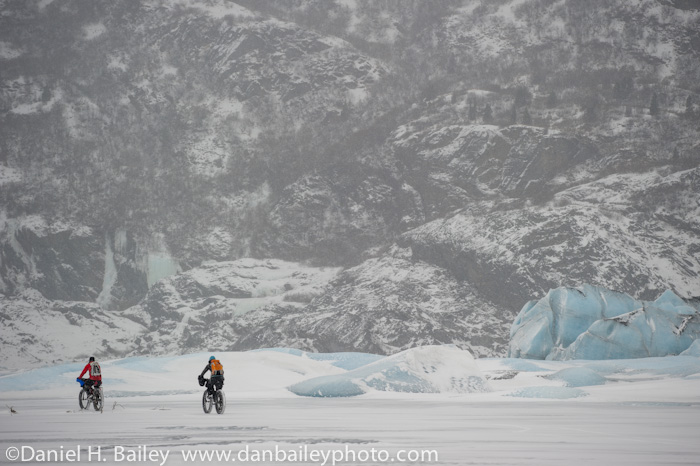 After shooting for years with f2.8 lenses, I'm finding the one stop tradeoff to be a non issue for outdoor work. Add to that the fact that his lens has all the pro trappings of Nano Crystal Coating and ED glass elements, make no mistake this is a high quality lens all the way. I've even tested it on a D800E with superb results. Tack sharp, edge to edge.
If that's not enough, I'm blown away by the VR capabilities on this lens. Although it won't do much if your subject is moving, if you're shooting still, you can hand hold this lens WAY slower than you could if it were non-VR. I did some tests yesterday and was able to get razor sharp photos shooting at 1/30 sec with the lens zoomed all the way out to 200mm. I could never do that with my older, non VR telephoto zoom.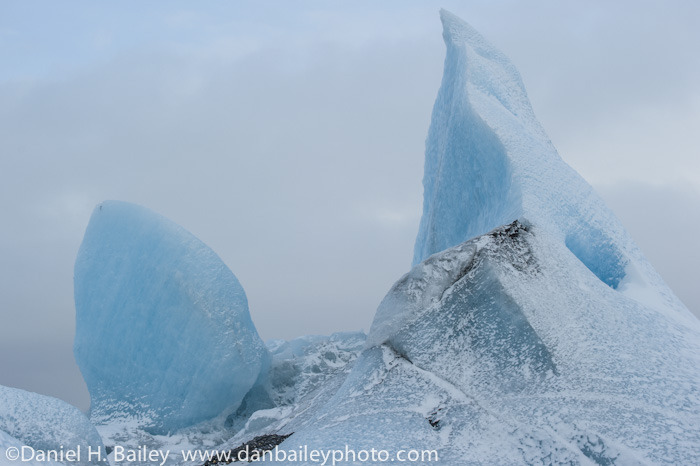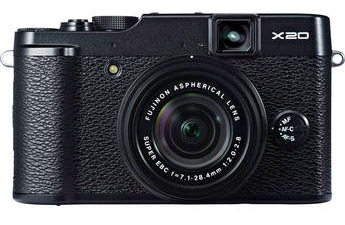 If you've read my blog before then you know how much I love the Fujifilm X10.
In the past year, I've put it to the test and thrown just about every single outdoor photography situation at it. I've shot adventure, action, portraits, travel, landscapes and just about everything else with great results. I've even had large format reproductions published from it by pro clients.
Of course Fujifilm just updated the line and introduced the X20, which has a new 12MP X-Trans sensor with no low-pass filter. This makes it even sharper. Plus they added a host of new features and upgrades that make the X20 an incredibly capable little camera. I've already put the X20 to the test, and it performs like a champ. I love it. (Read my full review here.)
The X20 may not have as big a sensor as the X100, but the image processor is still awesome and it's got a zoom lens, which makes it way more versatile for a guy like me. I've worked it seamlessly into my style. When I want to do an ultra lightweight all day adventure, I'll often just grab the X10/20. In fact, last fall, I did a week long bike tour in California last fall with ONLY the X10. A week away from home and no DSLR. I didn't even feel naked, but I sure felt unencumbered.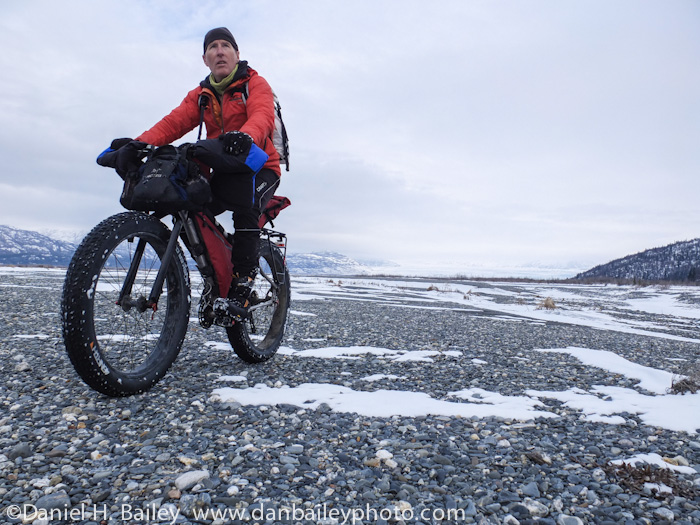 Often times, like during this glacier bike ride that we did last weekend, I'll keep it around my neck and shoot with it as a second body, especially if I've got the 70-200 zoom on my DSLR. In less time that it takes to change lenses, I can just grab a wide angle shot with the X20 and be done.
Another reason I like to bring a small camera like the X20 with me is that I can give it to a friend and have them grab shots of me or my gear in action. Or if I just want to be nice and share. 🙂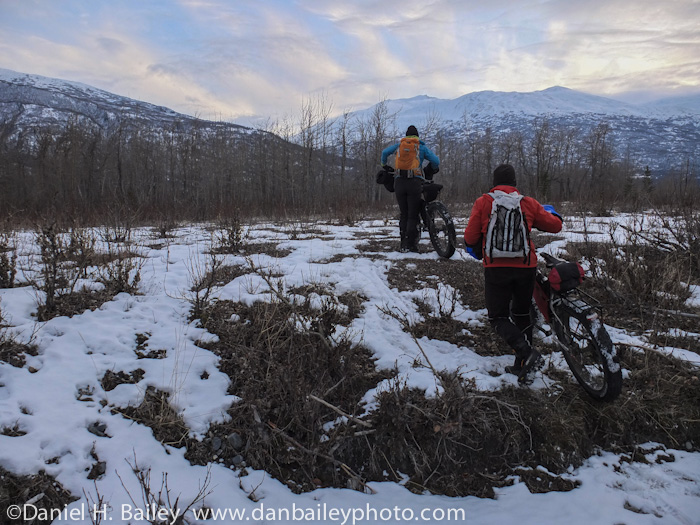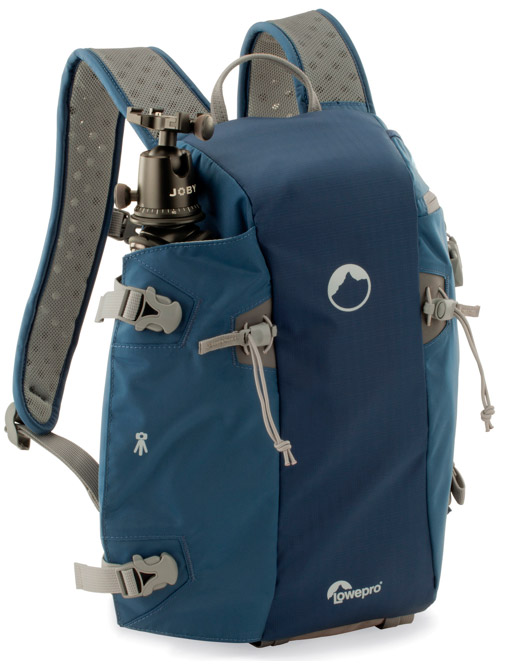 For carrying this minimal, yet versatile selection of camera gear, my pack of choice these days is the Lowepro Flipside Sport AW 10L. It's small, but it has quick access to your gear through a zip-open back panel that you can reach without taking the pack off.
The 10L holds a DLSR with the long telephoto zoom attached, plus one or two spare lenses, a compact camera or flash, plus snacks, extra layer and a small tripod if you want to carry a set of lightweight legs. It also has a hydration pocket that fits a 25 oz. bladder, which isn't a huge amount of water but it keeps things light.
I like the 10L size for light and fast day trips, but if I want to bring more gear or an iPad, I might opt for the 15L model. There's even a newer 20L model that fits quite a bit of gear, but still has the same flip back panel design.
————–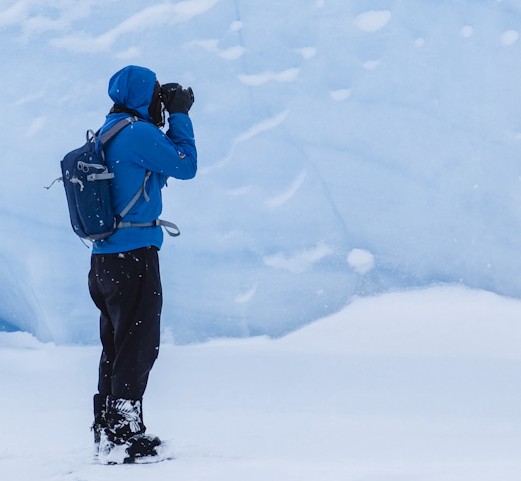 So, there it is- my ideal fast and light adventure photography kit in detail. It gives me wide angle, telephoto, mid range with the compact camera and it doesn't slow me down.
Works great for biking, hiking, peak bagging, trekking, trail running, nordic skiing, ice skating, cross country bowling and just about any other lightweight day-long excursion I can think of. Maybe it will work for you, or at least give you some ideas for creating your own light and fast kit. If you're a Canon user, then you can easily adapt this to your own brand, since they have the same style lenese.
Support this site. If you do decide to pull the trigger on any of this gear, or any other gear for that matter, please consider clicking through these links. I get a small commission from anything you buy, which helps me out. It's like saying, "Thanks, Dan, for taking the time to share your insight and write these blog posts which distract me from my work."
As a Lowepro Pro user, I can offer you a special discount if you buy directly from the Lowepro site. Click the banner below (or click here), use discount code LP20 in your shopping cart and you'll save 20%. (US Customers only)
[iframe]<iframe width="120″ scrolling="no" height="240″ frameborder="0″ style="border:none;" border="0″ src="http://mer54715.datafeedfile.com/widget/aff_widget_prdt_generate-2.0.php?aff_num=6746&aff_net=1&widget_num=3495″ marginheight="0″ marginwidth="0″></iframe><iframe src="http:///e/cm?lt1=_blank&bc1=000000&IS2=1&bg1=FFFFFF&fc1=000000&lc1=0000FF&t=danhbaisadvph-20&o=1&p=8&l=as4&m=amazon&f=ifr&ref=ss_til&asins=B009VZOK0Q" style="width:120px;height:240px;" scrolling="no" marginwidth="0″ marginheight="0″ frameborder="0″></iframe><iframe src="http:///e/cm?lt1=_blank&bc1=000000&IS2=1&bg1=FFFFFF&fc1=000000&lc1=0000FF&t=danhbaisadvph-20&o=1&p=8&l=as4&m=amazon&f=ifr&ref=ss_til&asins=B00ATM1MHO" style="width:120px;height:240px;" scrolling="no" marginwidth="0″ marginheight="0″ frameborder="0″></iframe><iframe src="http:///e/cm?lt1=_blank&bc1=000000&IS2=1&bg1=FFFFFF&fc1=000000&lc1=0000FF&t=danhbaisadvph-20&o=1&p=8&l=as4&m=amazon&f=ifr&ref=ss_til&asins=B0082PD0YS" style="width:120px;height:240px;" scrolling="no" marginwidth="0″ marginheight="0″ frameborder="0″></iframe>[/iframe]