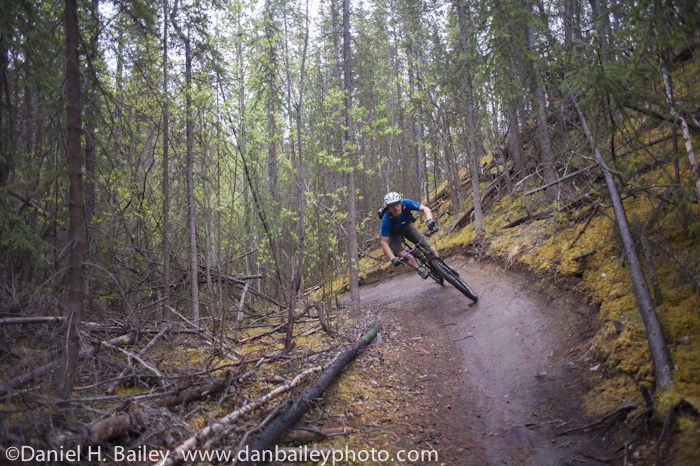 I've had my Lowepro Flipside Sport AW for just over a month, and during that time I've taken it on a number of day trips, hiking, trail running and mountain biking in Colorado, Alaska and the Yukon. As promised, here is my full review and field test.
Main Feature- Accessibility
Lowepro has been making camera packs and bags that are geared towards outdoor and adventure photographers for years. Recently, though, their packs have seen a big improvement in technical design and they've added innovative features that allow for even faster access to your gear.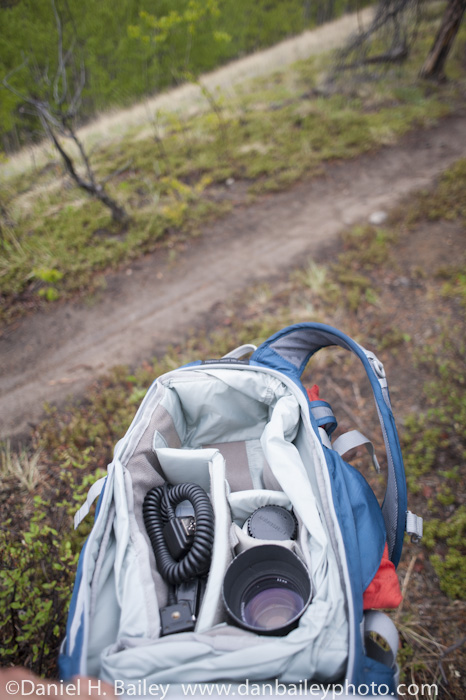 The main design feature of the Flipside Sport AW is that it allows you to get in and out of the pack without taking it off. You simply unbuckle the chest strap, unsling it from your shoulders and swing it around to the front of your body. The waistbelt holds the pack horizontal against your body and keeps the pack from flopping down.
From there, you unzip the entire back panel and *bam*, there's your gear. All of it. Once you're done shooting, you tuck your gear back in, zip it shut, sling it back onto your shoulders and you're off and running. Or riding. Literally.
This is a very cool idea, and one that addresses what I feel is the most important feature from a good camera bag, which is accessibility. If you can't get your camera into your hands as quickly as possible, you're going to miss the shot. It's a simple as that, especially when you're shooting sports, action or other fast breaking subjects.
The pack's design really does keep it sitting there against your body, and it allows you to easily see and grab what you need on the spot. There's no having to set the pack down, unzip compartments, and reach inside to get at your gear, it's all right there.
Size and Carrying Capacity
The Flipside Sport AW comes in two sizes, 15L  and 10L. I got the smaller 10L version, mainly because I wanted something a little more streamlined for moving quickly. Also, at 5'7″ I'm a smaller framed guy. Essentially, they carry about the same amount of gear, but the 15L pack is sized to fit a 'pro' DLSR with an attached grip, like a Nikon D4 or a Canon 1D.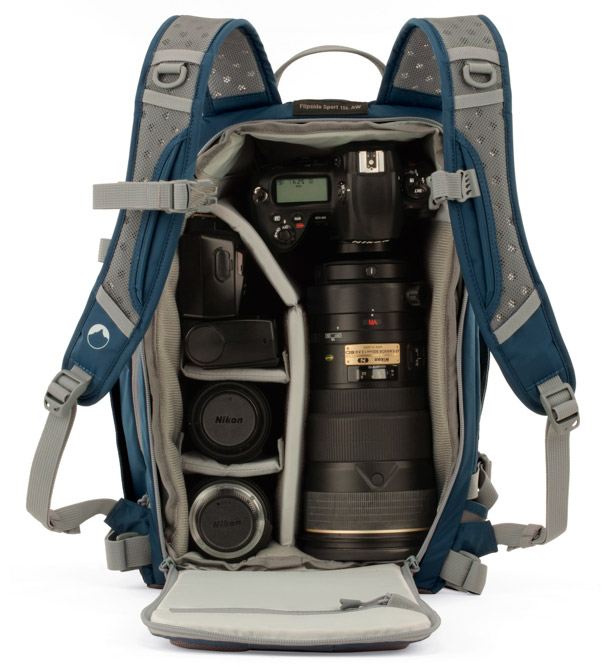 My Nikon D700 fits perfectly in the 10L version, along with a couple of extra lenses, flash and a couple of small accessories, such as a sync cord or extra batteries. I can even stuff my Lumiquest Softbox III under the zipper lid. Nice. The 15L version has enough froom to allow one more lens or flash.
Another nice thing about the Flipside Sport is that it's sized to fit a bigger zoom lens, like an 80-200mm f/2.8 or 70-200mm f/2.8. This is a huge plus, because, with some smaller camera bags, you can't keep the big lens attached to the camera when it's inside the pack.
Even when carrying a big lens in the smaller 10L version, you still have enough room for two more lenses, or one more and a flash. Removable velcro dividers allow you to configure the pack as needed.
Other Features
Harness and Straps: The Flipside Sport AW has well desinged suspensions system with padded and ventilated shoulders straps and back panel, which work well for high energy/exhertion activities. Like I said, I've taken it running, hiking and biking, and can confirm that it's a very comfortable pack to wear.
Hydration Pocket: Since it's designed for high energy use, Lowepro stuck a 1L sized hydration ready pocket into the Flipside Sport AW. It's not very big, but it fits the standard 50 oz Camelbak bladders size, as long as you don't fill it all the way up. Even then, it's still kind of a tight fit. Maybe it's slightly bigger on the 15L version, but it works fine and provides you with enough water for a short to medium length outing.
However, often times I end up using this pocket as a regular side pocket for my jacket, energy bars or phone, especially if I already have a water bottle on the bike. There's a small mesh pocket inside the compartment, so it's obviously designed to carry other things besides just water.
Tripod Flap: On the other side of the pack, there's a unique tripod flap that lets you strap on a small to medium sized tripod. Essentially, it's a double flap of fabric and two straps. I have carried my Manfrotto 732 CY on there, and I've also used the flap to shove a an extra clothing layer. It's not an enclosed pocket, but the straps will easily secure your jacket or long sleeve Capeline shirt. Between this and the hydration pocket, you have a variety of carrying options.
AW Rain Cover: As with all of Lowepro's AW packs, the Flipside Sport AW comes with a rain cover that tucks away inside the base of the pack. I haven't had to use this yet, but I've used the cover that's built into my Mini Trekker AW and it has always worked fine. Last week in the Yukon, I rode for a couple of hours in a light rain and didn't even need it, as the pack is water resistant enough for anything up to a steady drizzle.
Removable Camera Compartment: Another unique feature on this pack is that you can remove the entire camera compartment, which allows you to use the Flipside Sport as  regular, single compartment day pack. I did use this feature once, and I have to say, it's pretty cool. Hit the grocery store one evening and can confirm that the tripod flap is the perfect size to hold a baguette. Think post photo shoot picnic pack.
The Flipside Sport AW In Use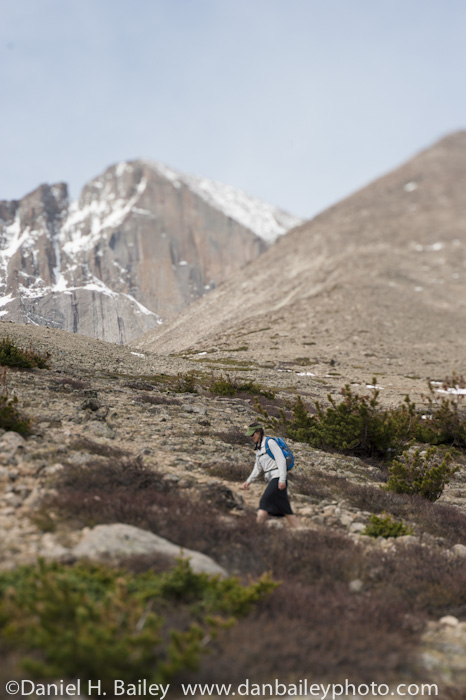 How much do I love the Flipside Sport AW? Enough that my beloved Photo Sport 200 has sat on the shelf every single day since this pack arrived. I won't say that this is the perfect pack, (there are certainly times when my Photo Sport pack will get the call,) but for many shooting applications, the Flipside Sport really rocks.
It's awesome for shooting trail running, hiking and cross country skiing, or anytime when you're heading out for the day with the camera and don't need lots of extra gear. Water in the hydration pocket and a jacket in the tripod flap and you're good to go for hours. The pack is extremely comfortable and carries really well on your back.
If I'm not carrying a big lens, then I've even got more room for another lens, flash, a sandwich or my Fuji X10.
As a mountain biking photo pack, the Flipside Sport totally rules. It's easily the best biking camera pack that I've ever used. Water on the bike, food in the hydration pocket, jacket in the tripod flap and an entire arsenal of camera gear in the main compartment and you're ready for a long day on the singletrack. I recently used it with great results on my all night cycling tour of the Denali National Park Road.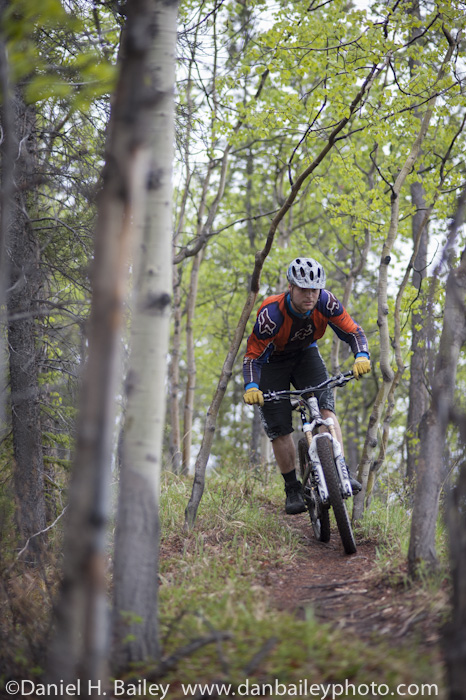 Also, with such fast accessibility to your gear, you can set up for shots so quickly that you'll hardly slow down the rest of the crew. The moments you save each time you stop to grab a few frames will definitely add up over the course of a longer ride. This lets you ride more and shoot more. Win win. Plus plus.
The pack has a small enough profile that you can zip through tight trees and not have to worry about banging it around or throwing your dexterity off as you race through technical terrain.
If the Flipside Sport has a downside, it's that there is reduced carrying capacity for other stuff besides camera gear, especially if you load it full. If you were to use the hydration pocket for water and take along a tripod, you'd have to stuff your jacket and Clif Bars inside the main flap on top of your gear. Doable, but not ideal, which is why I like the Photo Sport 200 for longer days and more gear. Also, I'd like to see a small zipper compartment on the top of the pack, just a small one for flash cards, wallet or keys. I kept finding myself reaching for one that wasn't there. Maybe they'll include one on future versions.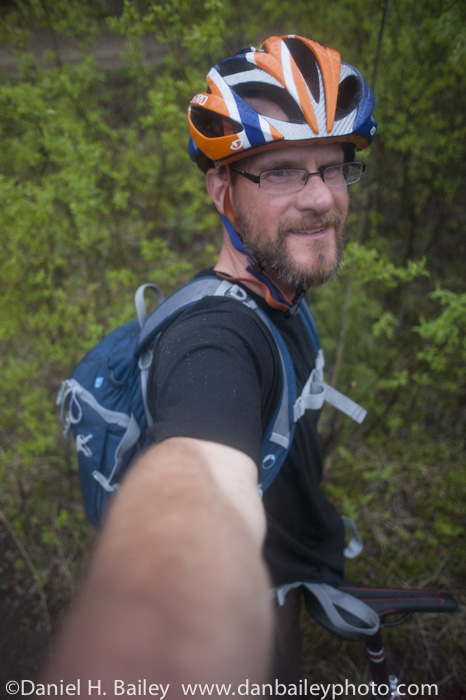 However, to be fair, the Flipside Sport is not designed to compete with the Photo Sport. It's designed as a light and fast photo pack for high energy activity that allows lightening quick access to your camera gear. In my mind, it does that with flying colors.
If you do adventure photography or any kind of high exertion shooting, or if you simply want a well designed, streamlined photo pack for hiking to your landscape photography destinations, then I can highly recommend this pack.
Want one? As a professional Lowepro user, I'm able to offer my readers special discounts on Lowepro gear. Click here to order either the Flipside Sport 15L AW or the Flipside Sport 10L AW pack and use code LP20 in your shopping cart to get 20% off.
Please note, the 20% discount code is good on any product purchased directly from the Lowepro site. Click the banner below to go to the Lowepro store.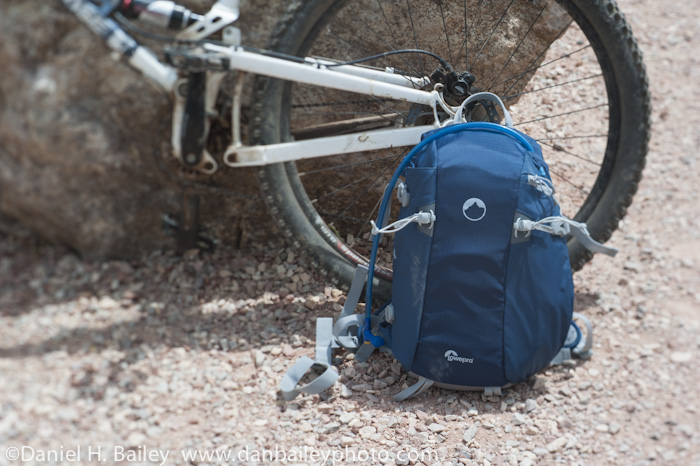 [iframe]<iframe src="http:///e/cm?lt1=_blank&bc1=000000&IS2=1&bg1=FFFFFF&fc1=000000&lc1=0000FF&t=danhbaisadvph-20&o=1&p=8&l=as4&m=amazon&f=ifr&ref=ss_til&asins=B00809MO9S" style="width:120px;height:240px;" scrolling="no" marginwidth="0″ marginheight="0″ frameborder="0″></iframe><iframe src="http:///e/cm?lt1=_blank&bc1=000000&IS2=1&bg1=FFFFFF&fc1=000000&lc1=0000FF&t=danhbaisadvph-20&o=1&p=8&l=as4&m=amazon&f=ifr&ref=ss_til&asins=B00809MMWW" style="width:120px;height:240px;" scrolling="no" marginwidth="0″ marginheight="0″ frameborder="0″></iframe><iframe src="http:///e/cm?lt1=_blank&bc1=000000&IS2=1&bg1=FFFFFF&fc1=000000&lc1=0000FF&t=danhbaisadvph-20&o=1&p=8&l=as4&m=amazon&f=ifr&ref=ss_til&asins=B00809MOWA" style="width:120px;height:240px;" scrolling="no" marginwidth="0″ marginheight="0″ frameborder="0″></iframe><iframe src="http:///e/cm?lt1=_blank&bc1=000000&IS2=1&bg1=FFFFFF&fc1=000000&lc1=0000FF&t=danhbaisadvph-20&o=1&p=8&l=as4&m=amazon&f=ifr&ref=ss_til&asins=B00809MNEY" style="width:120px;height:240px;" scrolling="no" marginwidth="0″ marginheight="0″ frameborder="0″></iframe>[/iframe]