After shooting an assignment in The Yukon this week, I managed to sneak in some play time before heading back to Alaska. Whitehorse biking fanatic Anthony DeLorenzo and fellow local Rory got me a bike to ride and showed me the local trails, which are suspiciously located right behind his house.
Racing around in the forest and dodging tight trees for a couple of hours gave me a chance, not only to shake out the leg muscles, but also to give my new Lowepro Flipside Sport AW a solid test. As promised, I'll post my full review of this active camera pack next week and include more photos from this ride.
Make that three Whitehorse locals. Here's a shot of Anthony's mad Yukon trail dog Starbuck "my mother was a sled dog slut." For the record, Starbuck beat me down every trail and hill except for the really long one at the end. He knows all the turns and shortcuts and is a burly runner.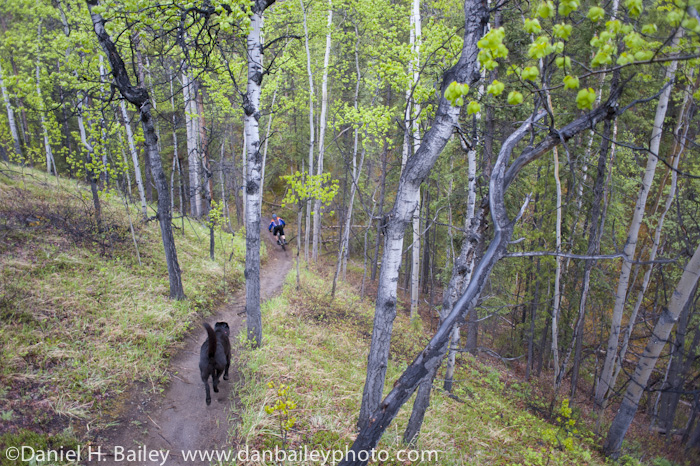 As I discovered, Whitehorse has AWESOME mountain biking. If you ever go up there to ride, which you should do, consider checking out Boréale Mountain Biking, a small group of avid mountain bike guides who can show you any number of the 500 miles of quality trails that exist in the area. They do single and multi day trips and even have their own yurts. That's a plus in my book.
Thanks for kicking my ass up the local hills, Anthony. I can't wait to come back!