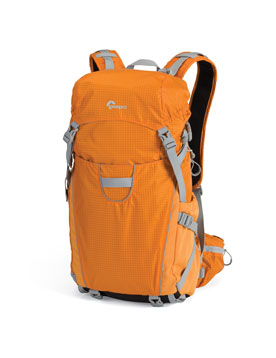 Last fall, I got my hands on the Lowepro Photo Sport 200 AW adventure camera pack. (Check out my video review of this pack.) I quickly fell in love with the Photo Sport  and carried it everywhere.
I used it exclusively throughout the fall and winter and determined it to be the best all around photo pack for active outdoor adventures that I'd ever used in my 15 years as a pro photographer. In fact, for months, it lived on the floor next to my desk, fully loaded and ready for action at any moment's notice.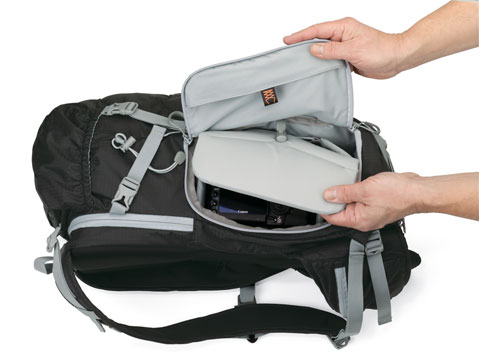 What I loved about the Photo Sport, and still do, is the fact that it has a dedicated camera compartment at the bottom of the pack that let's you separate your photo gear from your outdoor gear. Camera and lenses in one place, jackets, water, and sandwiches in another. The zipper flap gives you quick access to your photo gear, while the pack itself is big enough for a day's worth of adventure clothing and equipment. In my mind, it meets some perfect requirements and offers an excellent solution to the problem that photographers have been facing for years.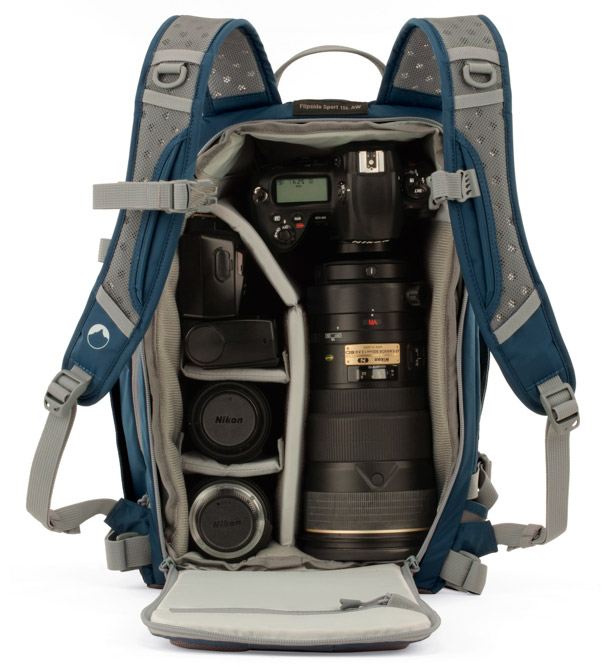 Then, this spring, I got the brand new Flipside Sport AW. I moved my camera over, stuck my beloved Photo Sport on the shelf, and proceeded to run the new one through the rigors. (Check out my full review here.)
As opposed to the Photo Sport, which is a top loading pack, the Flipside Sport AW is a panel access pack that gives you fast, uninhibited access to your camera gear. In fact, it's all gear, with almost the entire pack space being dedicated to cameras and lenses.
To get in and out, you simply undo the chest strap and shoulder straps, spin the pack around on its waistbelt, zip open the back flap and bang- there's your gear. All of it. Ready to go again? Zip shut, spin back around and throw your arms through the shoulder straps. You're ready.
Now it's time to make my final recommendation. Between these two, which one is the best photo pack for active outdoor and adventure photography?
The designers at Lowepro did an awesome job coming up with two very versatile, durable and functional backpacks. Both rock, but since they're built with very different designs, the better way to determine this is by looking at what you do and how you'll use it.
Carrying Capacity
Whereas the Flipside Sport AW will hold more camera gear in it's camera compartment, including a battery-grip DLSR body and a long lens, such as a 70-200mm f/2.8, the Photo Sport 200 AW is designed to hold more non-camera gear. However, it's not quite that simple, because you can cram an awful lot of stuff into the main compartment. It also has belt pockets and shoulder strap pouches where you can stash things like memory card cases and gu packets. It also has a top lid, where you can stash extra batteries, cables, phone, bars or other small accessories.
I can easily fit a battery powered strobe, a couple of flashes and lenses, including my 80-200mm f/2.8, as well a flash modifier and clothing into the top compartment of my Photo Sport, and that doesn't count the camera, plus two more lenses/flash in the dedicated camera pouch at the bottom. Add to that, a light stand or tripod and a medium sized Photoflex softbox strapped to the side, and I'm ready for just about any kind of photo shoot. It will even hold an iPad.
Or, I could just carry a modest selection of camera gear and an entire day, maybe two day's worth of outdoor gear, food, water and clothing for a long hike, trek or bike ride if you pack light.
For sheer carrying capacity, the Photo Sport 200 AW is bigger and it will hold more stuff.
Accessability
Oftne my number one determining factor as to the usability of a photo pack for shooting adventure, accessibility is how quickly you can go from standing there empty handed to camera in hand, ready to take the shot.
Both packs do a good job in this category. With it's side zipper compartment, you can grab your camera pretty quickly. However, I'd have to say that the Flipside Sport AW has a slight edge here, because, even though the Photo Sport will hold more stuff, the Flipside Sport gives you faster access to a bigger selection of camera gear. With it's back panel zip design, you can have your camera and big 80-200mm lens out in a real hurry, as well as 2-3 other lenses and/or flash, plus accessories. With the Flipside Sport, it's all right there.
So, in the accessibility category, the Flipside Sport AW wins.
Hydration
Both packs offer hydration ready pockets, which make either pack a great outdoor pack. However, the Photo Sport easily wins out here. It will hold a standard 100 oz Camelbak bladder, whereas the side pocket on the Flipside Sport will only take a full 25 oz bladder. If you're going on a short hike or trail run, this is probably find, but if you're out for the whole day and you need lots of water, then the Photo Sport 200 is your pack.
Comfort
Both packs are extremely comfortable and are designed with high tech breathable suspension systems and back padding that make wearing them a real joy in just about any outdoor situation. The Photo Sport has softer and more comfortable shoulder straps and a wider more comfortable belt, but the Flipside Sport shoulder straps are a little more breathable for high energy activity.
I've run, hiked and biked with both packs and love the way that they fit, but my pick for winner in this category is the Photo Sport.
Overall Score
The best way for me to give an overall recommendation on which pack to get is to look at it in terms of activity and what type of sports you like to do and photograph, rather than just go by pack design. Here's how I break it down:
Fast Hiking, Peak Bagging or Trail running
The Flipside Sport offers the fastest accessibility and it lets you carry your big lens in the main compartment, as well as a battery-grip DSLR. I love the Photo Sport for hiking, because it holds more all day gear, and it's certainly comfortable enough for trail running, but if you want to run and shoot without stopping to ever put the pack down, the go Flipside Sport. It won't hold tons of outdoor gear, but it will certainly fit a jacket, extra shirt and Clif Bar or two. (I usually stash my jacket in the built-in side tripod flap.)
Longer Day/Multi Day Hiking or Trekking
If you don't mind stopping to smell flowers and are willing to take the pack off to get inside the top loading main compartment, or if you simply need to carry more gear, clothing, food and water, the I'd recommend the Photo Sport 200. If you have a REALLY small summer sleeping bag, you might even be able to backpack with it.
Mountain Biking
Again, if fast accessability is your need, then the Flipside Sport is the better choice. I recently did an all night, 85 mile bike tour through Denali National Park with the Flipside Sport 10L and found it to be extremely adequate. It's currently my mountain bike pack of choice. That said, I rode my snow bike all winter long with the Photo Sport and was never unhappy with it.
I guess it depends on how far your riding, how long you'll be out, how much gear you're carrying, if you have bike bags or not and if you prefer a top loading pack or a zipper pack. I can see doing a long ride with either.
Both packs offer fast access, but again, if you're brining that big lens and want it right there at your fingertips, then the Flipside Sport is your pack.
Going Fast With Light
If you're just carrying one flash and something really small like a Lumiquest Softbox III, you can get by with the Flipside Sport. However, if you're taking more than one light and a couple of slightly bigger light modifiers, then the Photo Sport 200 will be a much better choice, simply because it holds more, and has the top lid pocket.
Skiing
Photo Sport, hands down. It will fit your thermos, puffy jacket, and even a small shovel & avalanche probe. The Photo Sport is an awesome ski camera pack.
If I HAD to choose just one…
I'd go for the Photo Sport 200 because I think it's just a bit more versatile. Review the parameters above and then decide which pack you think will be the best choice for your photography adventures!