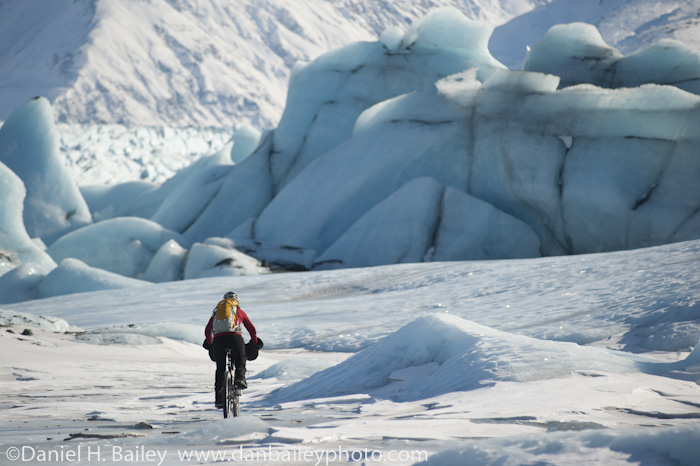 What to do on a Sunday afternoon in Alaska when we have increasing daylight, sunshine and a day with no wind? How about a little adventure… I know, let's take a leisurely ride out to the Knik glacier on our bikes!!
Actually, it was about a 20 mile round trip ride on snow, frozen river, gravel and of course, flat, smooth bare blue water ice. It was no "gimme," but it was certainly worth the effort. In a way, riding down the wide Knik River, with its scattered islands of cottonwood trees, reminded us of riding in the Canyonlands of Utah, just white instead of brown and orange.
For camera gear, I took my Nikon D700, along with my two favorite lenses, the Nikon 14mm f2.8D ultra wide angle lens and the Nikon AF Zoom 80-200mm f2.8ED lens, and carried them in my LowePro Mini Trekker AW camera backpack.
The Mini Trekker worked great, because in addition to the two other lenses that I took along with me, (24mm f2.8 and 85mm f1.8) I was able to fit all my extra clothing and food right in the pack, and keep everything handy, except for my water, which I kept in an insulated case attached to the handlebars. After many excursions on foot and bike, I'm really sold on this pack!
Once we got up and over the moraine, riding on the ice was very surreal. And, of course, it made for some great photography around the icebergs and ice caves. The 14mm worked so well to give the scene a dynamic, three dimensional look to the scene, and the telephoto always gives such great isolation to subjects against a suggestion of the background. They're both relatively heavy lenses, but well worth the effort to carry with me on adventures like this.
We didn't have tons of time out there, so it was an exercise in forced creativity and focus. I almost felt rushed trying to capture as much as I could before the sun dipped behind the mountains and it was time to start heading back, but overall, I'm really excited with the shots that I got.