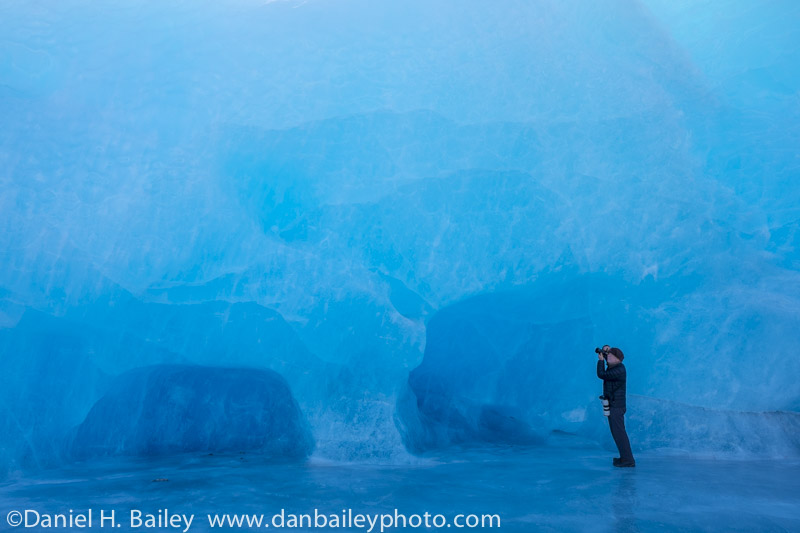 This past weekend, I led my Knik Glacier Photography Workshop here in Alaska and provided 5 people with an amazing photo adventure.
We based at the Knik River Lodge, about 50 miles east of Anchorage, where we began the weekend with a fabulous meal and a presentation designed to gear my participants up for the subject matter they'd face during our big glacier day.
On Saturday morning, after the helicopter safety briefing, we flew a few miles upriver to a gravel bar right at the base of the massive Knik Glacier. Running for about 25 miles, this 5-mile wide ice sheet is one of the largest glaciers in southcentral, Alaska.
Using this as a staging area, we spent the next few hours walking around on the ice, photographing the huge, jumbled icebergs that are stuck in the frozen glacier lagoon this time of year. And that wasn't even the best part.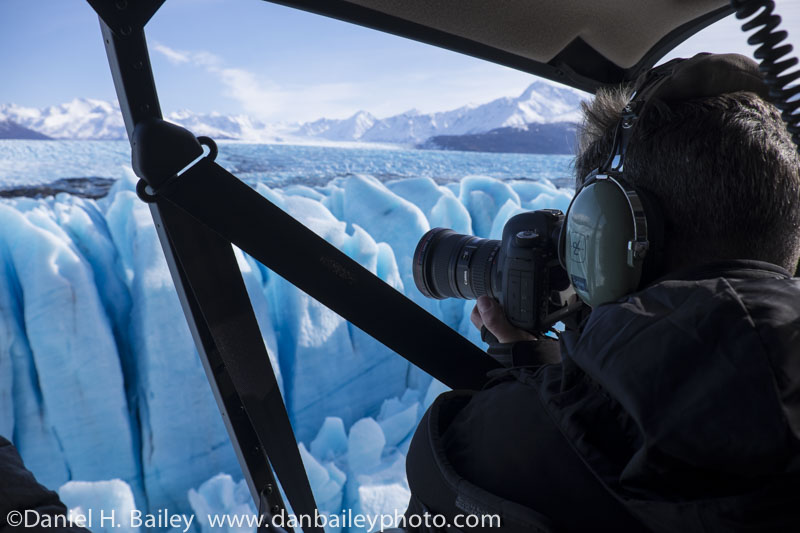 Breaking into groups of 3, we did two hour-long flights over the ice with the doors-off heli. This gave everyone to capture photos the massive, jumbled blocks and cracks of the glacier up close, from vantage points that few people ever get to see. Not just a few photos, we're taking hundreds of frames, from an extensive array of angles.
If you've even seen a glacier up close, you know the incredible variety of geometry, light, color, and natural chaos that make up these massive, often precariously perched ice sheets as they get pushed towards the edge by the unimaginable tonnage from miles of advancing ice, crack into wide fissures and finally break into enormous freestanding ice blocks.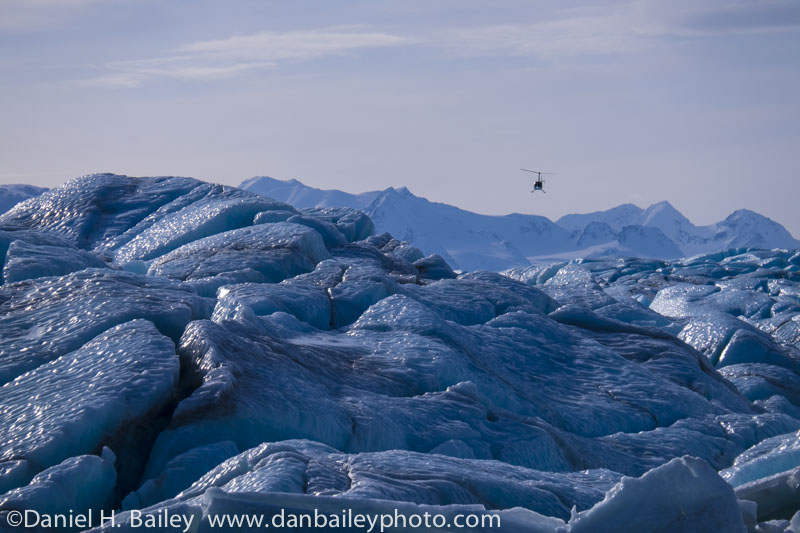 Our pilot Mark from Tanalian Aviation was awesome. Having flown over this area numerous times in my little Cessna, I knew what I wanted to show my clients and described to Mark what I had in mind. However, he went above and beyond, and lined us up with so many incredible viewpoints, distances and elevations.
And of course, whereas my plane can only fly so slow, the heli could move very slowly through the air, and even stop and hover wherever we wanted if we spotted an exceptionally cool formation.
All the while, I kept myself on hand to provide tips and photographic help to my 5 participants as they explored this utterly cool terrain. Although I feel I shot some really cool photos, my focus was less on my own photography than helping everyone else maximize their skills and photo opportunities throughout the course of the day.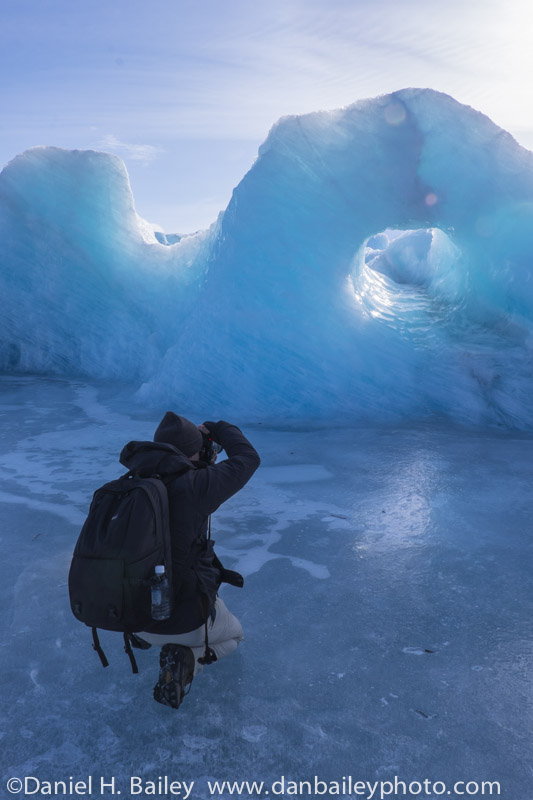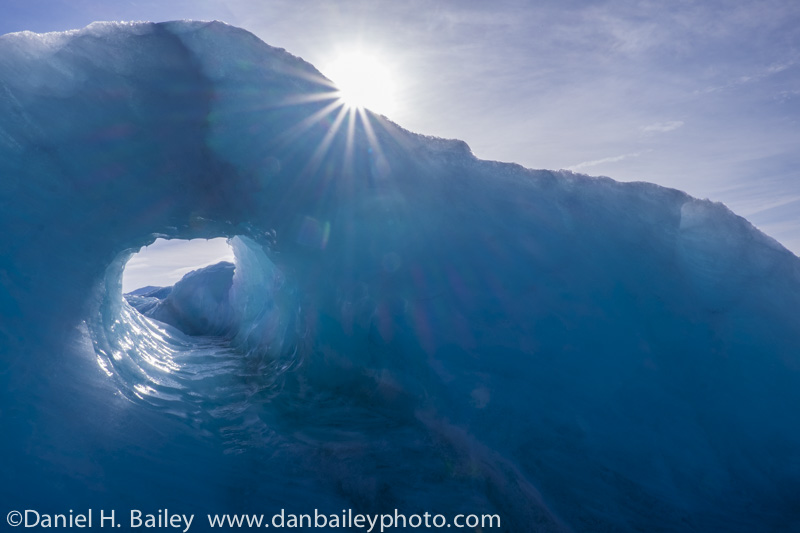 In addition to some night sky photography and opportunities for sunrise/sunset light out at the lodge, on last day, we held a session to share and critique each other's photos. This is always a highlight for me, because having watched everyone shoot photos during the workshop, this is my chance to actually see the results of everyone's efforts.
I always find myself inspired by the critiques, because it helps me break out of my own sometimes tunnel vision when it comes to shooting certain scenes, and it exposes me to new ways of seeing. The learning never stops. Not for anyone. That's one of the things I love most about photography.
Although I was very excited to such a cool opportunity for my students, what pleases me most is knowing how much fun everyone had during the trip. Here's a testimonial from one of the participants:
This workshop went way above my expectations. The location was incredible. The entire trip was perfectly organized and orchestrated. Most importantly Dan Bailey made this an exciting adventure within a workshop. I found Dan to be a patient, open-minded instructor that gave us all an opportunity to up our game with an amazing location and professional guidance. I'm looking forward to another workshop with Dan and Alaska Photo Treks.
Overall this trip was a huge success and I'm fairly certain I'll run it again next year. If you think you might be interested in a photo adventure like this, or any other workshop with me, sign up for my newsletter and you'll be the first to know when I put together next year's itinerary.