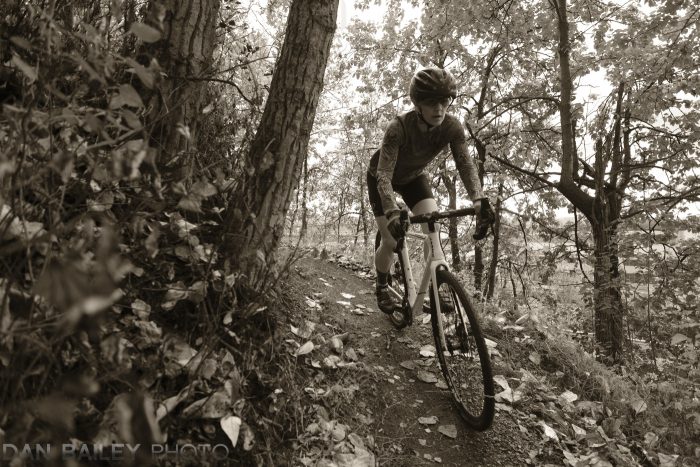 The cyclocross season continues, with our second Anchorage race of the series taking place this past Saturday, which, of course, meant another great opportunity for some action photography.
As always, I spent a good two hours running around with my camera like a spaz, looking for cool vantage points and experimenting with different lenses and looks as I photographed the racers with my Fujifilm X-T3.
Since I shoot this sport regularly almost every fall, I try to come at it with a slightly different approach each time. I'll play around with different film simulations and color palettes, I'll use a variety of lenses, or maybe I'll shoot a race with just one lens, and sometimes I'll even use different cameras, formats and aspect ratios. 
For this week's race, I brought four lenses with me: the XF14mm f/2.8, which is my favorite Fuji wide angle, the darling little XF35mm f/2 WR, which I find to be incredibly versatile, the XF50mm f/2 WR, which I absolutely love, and the supremely sharp XF90mm f/2 WR, which, by all counts, is truly a special piece of glass.
To make things interesting, I switched to a new lens for each lap. This kept things fresh and it reminded me of the compositional strengths that each focal length offers. It also gave me a chance to brush up on my skills, because nothing hones your chops like regular practice.
I shot about 1,200 frames during Saturday's race, often using the awesome PRE-SHOT ES feature on the X-T3. Here are my five favorites, with a little bit of behind-the-scenes explanation for each one.
1. Jumping The Barriers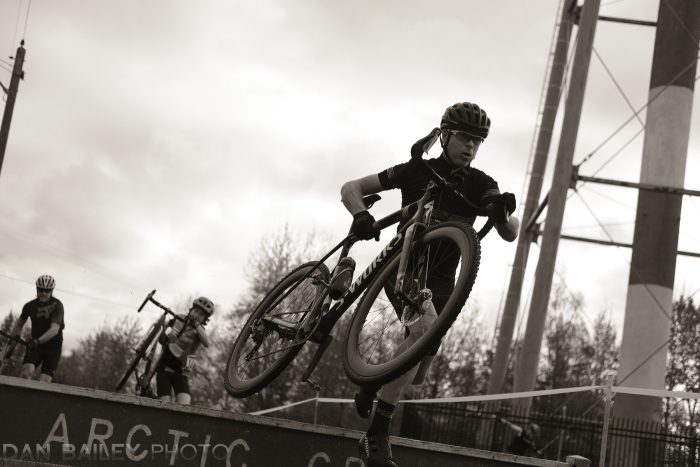 Early in the race, I grabbed a shot of my friend Pat Crabbe as he jumped the barriers under the waterpower. Pat is one of those "upper 50s and fit as hell" guys that I aspire to be like when I grow up. I've raced with him in the mountain bike series and he smokes me every time.
For this shot, I used a low vantage point with the XF35mm f/2, which gave me the classic "hero shot" look. Shooting low, especially with normal to wide lenses can often add a lot of drama to your people images. The 35 worked well, because it kept the scene tight, and the subject sharp, while creating enough separation between him and the background.
I used the ACROS film simulation on my X-T3 and a little bit of the warm toning effect, which is found on the X-T3 and X-T30. This is one of my favorite creative settings on the X-T3, and I make heavy use of it on a regular basis. I've even put this setting at the top of my "My Menu" folder, so I can access it with just one click.
2. The Run-Up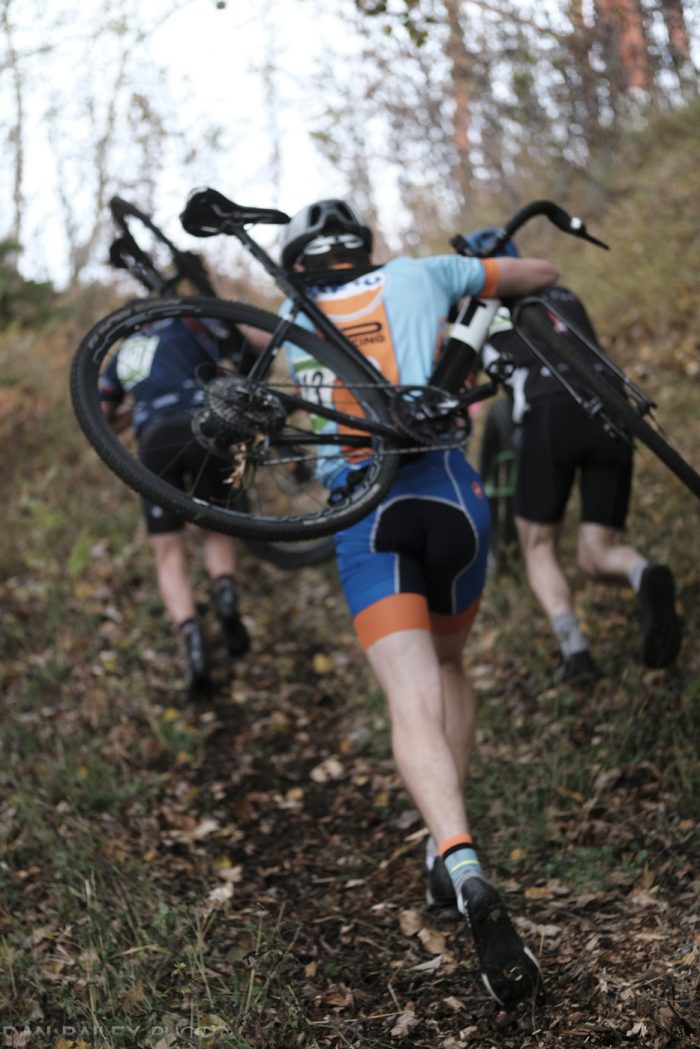 The run-up in Saturday's race was particularly grueling, especially after about five or six laps. (I did eight total). Here's my friend James Frederick chasing Pat and another racer on about the 3rd lap.
The XF50mm f/2 WR short telephoto gave me a nice tight view and a very shallow field of focus. In fact, the only thing that's sharp in this frame is the tiny patch of leaves by James's foot in the lower right corner.
Shot as part of a series at 11 frames per second, this ended up being my favorite, even though it's mostly out of focus. Call it a happy accident.
For whatever reason, the camera's AF system decided to grab something other than the center of the frame for this brief moment. Maybe my own highly erratic movement in trying to capture this highly energetic, fast moving scene caused me to blow it. Maybe it's because the vertical orientation AF (Store AF Mode by Orientation setting) had the zone positioned in the lower right part of the frame.
Who knows. Either way, I love how it looks. Sometimes you can get away this kind of thing. Here, we know exactly what's going on, and even if the racers aren't sharp, the message of this scene comes across loud and clear.
In fact, that section of sharp leaves in the lower right corner does pull your eye, and with James's foot being right there, it sets up a nice pathway for your eyes to track up his long diagonal leg. The combination of focus, softness, angle and prominent subject matter create a lot of motion in the image.
3. Pavement Sprint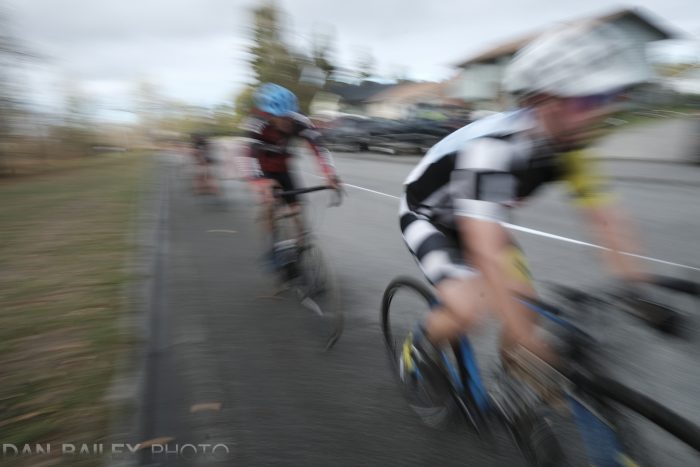 Although the average cyclocross race takes place in the dirt, mud and grass, traditionally cyclocross races feature at least some pavement. During Saturday's race, there was a long, 500-meter straightaway on the pavement to after a long singletrack section in the woods.
This was a nice way to break up from the sketchy gravel, the relentless roots, the soul-sucking run-up and the wipe-out potential of the tight forest trail. Of course, it also provided a key place to pass and be passed, so it's not like you could really let up much on this "rest section."
Here, I positioned myself at the edge of the road with the XF14mm f/2.8 lens and used the Classic Chrome film simulation with a shutter speed of 1/27 second, panning forwards to back in line with the racers. It's pretty blurry, but the message of speed definitely comes through.
4. In The Woods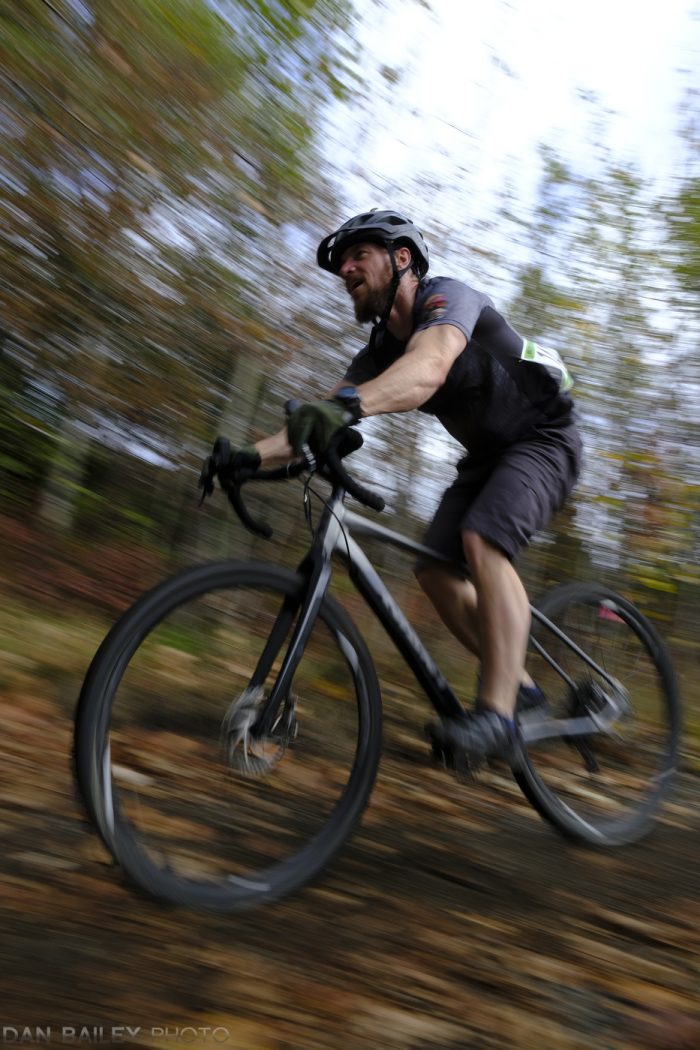 Who doesn't love a good panning shot, especially when you nail it? They key to getting a successful pan is having a good mix of sharp and blur, and this one has just the right contrast in the places where it counts.
As you can see, the rider's upper body is pretty sharp, and his expression is clearly visible. At the same time, there's a lot of separation between him and the background. The leaves add nice contrast and the motion of the pan itself is quite pleasing. And, that patch of white at the top right acts like a spotlight to highlight his face. That part was just luck.
This was also shot with the XF14mm f/2.8 lens, using that low-angle "hero shot" technique. It'a a classic illustration why wide angles make for great action lenses.
5. Katrina in the Woods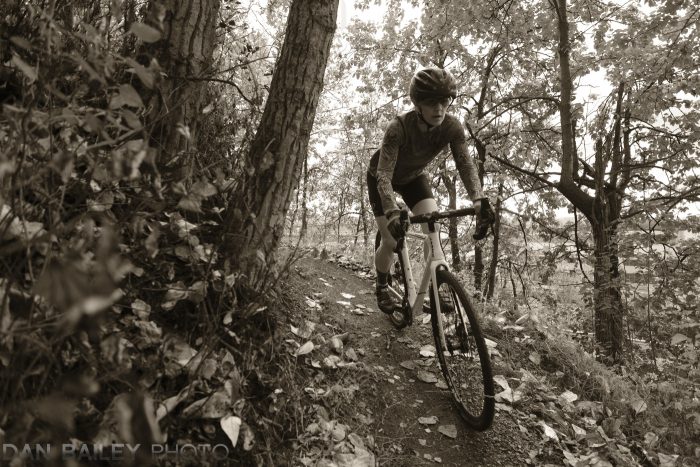 Yet another picture made with the XF14mm f/2.8 lens. This time, I'm using it to get really close, so I can feature the rider prominently in the frame, and and still show off the environment of the scene.
My friend Katrina has worked really hard at her cycling skills during the past couple of years, so it's really exciting for me to grab a shot like this and make her look like such a badass. I love making my friends look like heroes, and since I'm photographing many of my friends during these weekly races, that actually drives a lot of my motivation.
I was pretty psyched to find this exposed downhill corner. I knew that people would have very focused expressions as they whipped around the bend. There wasn't much room on the trail, and I had stuffed myself right at the edge, which was another reason the wide lens worked so well here.
I also love the timeless feel that the warm-toned black and white imparts on this picture. I used a few more clicks towards the warm side than what was used on the first "barrier" picture above. I think the pronounced warm tone works really well with all of the foliage and it adds a lot of drama to the photo.
There you have it, my five favorite shots from Saturday's cyclocross race, all shot with the Fujifilm X-T3, all made with small, compact Fuji primes and all made with a maximum excitement and passion, knowing that after that it would be my turn to race.
If you want to see more cyclocross shots, click here to see the photos from last week's race.