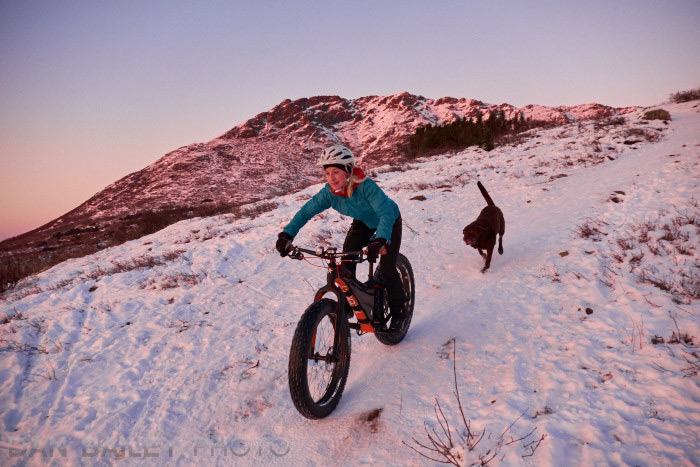 We've had some great weather here in Southcentral Alaska lately. Mind you, not quite enough snow, but at least the skies have been cold and clear. I've been taking advantage of the great winter light to shoot some really cool mountain aerials, as well as fat tire snow biking, which is pretty much just regular mountain biking, but with bigger tires on snow and ice instead of dirt and rocks.
I went out for a late afternoon ride the other day with my friend Megan, and we had some awesome conditions for riding, and some awesome light for shooting. For much of the ride, I just kept my Fuji X-T1 slung around my neck and shoulder, with either the XF 14mm f/2.8 ultra wide angle lens, or the XF 18-135mm weather sealed lens. (Both of these are on sale right now.)
I like the lightweight versatility of the XF 18-135, even though it's not terribly fast with regards to maximum aperture. That said, it does have a very quick autofocus motor and can keep up with moving subjects when the X-T1 is in predictive focus tracking mode. Overall, it's a convenient and well performing lens, because I can shoot relatively wide angle all the way through to telephoto without having to swap glass. This can be a real plus when you're moving quickly.
If the light starts to get dim, I'll just crank the ISO up a little bit. That first shot above was made at ISO 800, which holds up extremely well with the Fuji X cameras; there's a little bit of noise, but it's got a look that's very much akin to old film grain, so it's not obtrusive.
The XF 14mm comes in very handy when I want to get in close and show even more environment. Also, since it's an f/2.8 lens, I can shoot in even lower light. The extra stop combined with the slightly wider view lets me get the shutter speed down into the teens and twenties and still get sharp imagery.
For the shot below, I hand held the camera out in front of me, tight against the strap, focused on the hoar frost and shot at 1/20 sec. By then, it was getting pretty dark, so I had to go up to ISO 1250, but even that seems to hold up quite well.
You can read my review of both of these lenses. Here's the link for the XF 14mm lens review, and here's the XF 18-135mm review.