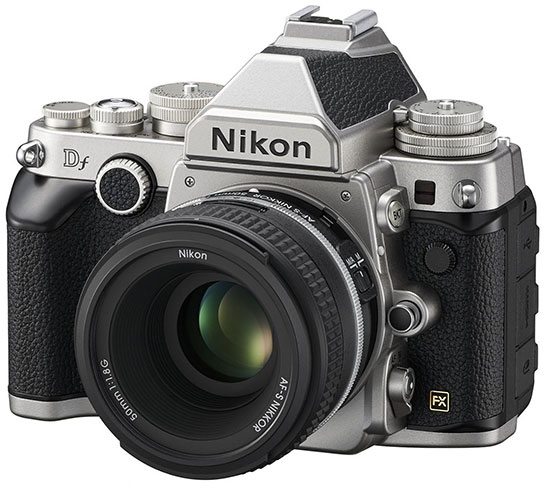 Tonight, Nikon is slated to unveil the D𝑓, a brand new full frame FX camera that's built to look just like an old Nikon camera. You know, the kind that were made back when there was no D in SLR.
Like a cross between the old Nikon F series and the new fangled digitals, the D𝑓 is said to have the same 16.2MP CMOS sensor as the D4, a 39-point AF system, beautiful image quality, the EXPEED 3 image processing engine, Wi-Fi sharing, a firing rate of 5.5 fps and an array of milled, manual dials on the top deck that control shutter speed, exposure mode, ISO and +/-EV. Modern guts, classic styling. Just like we seem to like it these days.
Perhaps the most remarkable thing about the new Nikon D𝑓 is that it's supposedly compatible with the entire catalog of Nikon lens, both new and old. Not only does it work with all current AF-S, AF-D and AF NIKKOR lenses, it's got a meter coupling lever that allows the use of both AI and older non-AI lenses. If you've got any old Nikon glass in your cabinet, you can put it back into the game with the D𝑓.
Nikon will offer the D𝑓 body only for $2,746.95, or paired with a Nikon 50mm f/1.8G special edition lens for $2,996.95. As of right now, the D𝑓 will be available for sale on November 28.
Although I read all the pre-release rumors I've been out of the office for the past two weeks, so I haven't even had a chance to ponder this one yet. Let me know what you think, though. Yay or nay? Does this change anything? Do think the Nikon D𝑓 is an adequate answer to the current trend of retro-style Fuji X lineup? Is this the new standard or an overpriced dud?
Bottom line, would you buy the D𝑓? If so, how would you see it fitting into your own camera lineup? If no, then why to? I'll be excited to get my hands on it and let you know what I think.
Edit: Here's the official announcement from Nikon and a short teaser video that gives you an idea of how the camera looks and sounds, and how they envision YOU using the D𝑓. You can also read my analysis here.