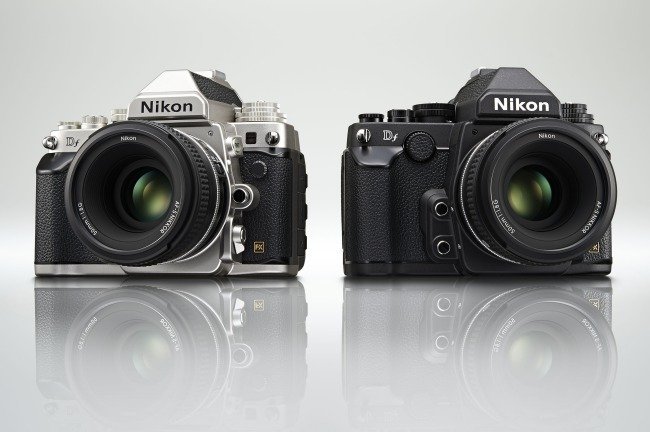 The rumors were true. Today Nikon officially unveiled the new D𝑓, a full frame retro-style DSLR that combines the look and feel of older cameras with the same modern technology that's found in the D4 and the D610. Classic meets modern. F meets D. Old meets new.
Basic Specs
16.2 MP CMOS Full Frame FX sensor (Same as in the D4)
Single-lens reflex viewfinder with Eye-level pentaprism
5.5 frames per second
39-point AF system with 9 cross-type sensors (Same as in the D610)
Shutter speed range: 1/4000 sec. to 30 sec.
Quiet shutter release
Milled metal dialor command dial adjustment options
Top deck LCD panel
Single SD card slot
Full AF-S, AF-D, AF, AI and Non-AI Nikon lens compatibility
Price: Body only for $2,746.95, or paired with a Nikon 50mm f/1.8G special edition lens for $2,996.95.
To me, the D𝑓 looks pretty appealing. I cut my teeth on a chrome body, all manual Nikon FM2 that I bought in 1990 and a used Nikkormat that came from the 70s. This obviously reminds me of my very first cameras, which is clearly what Nikon is banking on with the D𝑓. They've no doubt seen the gush factor over Fujifilm's X camera lineup and are trying to capture some of the retro love.
But is it the right move for Nikon? Have they missed the boat trying to introduce a full frame, regular sized lens camera in the mirrorless world? Is the D𝑓 really a brand new camera that we should be excited about or is it just a trendy facelift? After all, it's essentially the same price as a D800. From that standpoint, is it really worth it?
I think it is, and here's why. From a design standpoint, it's not just trendy, it's timeless and that has real merit. Classic resonates with people.
Take guitars. In 1954, Fender launched the Stratocaster, and 59 year later, people are still buying them in droves, even though there are a slew of modern guitars out there. Why? Because they work. Because Leo Fender's classic design still speaks to musicians both aesthetically and creatively. People enjoy playing them and making music with them.
The simple fact is that we (most of us) like retro. We fancy a visual connection the past, whether it's guitars, tube amps, airplanes, classic cars, clothes, furniture, etc… However, we also fancy usefulness. Looks alone aren't enough in today's age. It's got to be functional.
The Nikon D𝑓 is indeed highly functional. Under the hood, it's as good or better than my D700 in most areas. It's lighter, it has a better sensor, it's rated to be as weather sealed as the D800, and at 5.5 fps, it will do sports and action just fine. It plays nice with all of my lenses, including that one manual focus 105mm f/2.5 that's been sitting unused on my shelf for the past decade and it plays nice with flash.
Why wouldn't I want a Nikon D𝑓? Why wouldn't this be my next camera? It's way smaller and costs way less than the D4, shoots faster than the D800, and just plain looks cooler than the D610. What's not to love? I've been saying for years that I'd like to see Nikon figure out how to stick a sensor in an old F camera. Boom. Here we are. It doesn't do video, but then again, neither do I.
It costs a few hundred dollars more than the D610 for similar functionality, so there's that. The D𝑓 obviously carries a premium price tag, but it's not out of line for a professional grade camera. It's clearly not priced for the entry level crowd, but then again, price isn't everything. Price is marketing. Price is perception. Everyone has their own idea about what that means. Me, I think it's a little steep.
That said, I paid in the mid $2Ks for my D700 and that was a few years ago. I'm not averse to paying for quality. Sure, it costs money. So does lots of stuff, and we buy it anyway. The age old question is would YOU rather buy something cool with your money or save it and buy something cheaper? Is your passion or profession worth between 2 and 3 grand? Don't worry, you don't to justify anything to me. I'm just asking questions.
Compared to something like the Fuji XE-1, which is what this seems to compete with for many people, it's quite a bit more expensive, but if you've already got the Nikon glass, the cost evens out. Start buying more than just the 18-55mm lens for the XE-1 and you're shelling out some pretty good cash.
I see size and weight being an issue for many people. The D𝑓 is Nikon's smallest and lightest full frame DSLR, but DSLRs face stiff competition from the latest mirrorless boxes, especially for travel and everyday photographers. Sure, I've done tons of trips with my DSLR gear, but I've been pretty excited about my smaller cameras these days. I still love my Nikon glass, though, and as I said before, I'll probably try out lots of different cameras systems in my life, but I don't see ever not shooting Nikon gear for high end work.
That's what Nikon is betting on. From the price tag, it seems as if the D𝑓 is aimed at pros and serious enthusiasts who care about the quality and feel of their tools as much as they care about images themselves. Photography isn't just about the photos, especially these days when they disappear from your newsfeed at the blink of an eye, it's an intrinsic experience that involves looking, thinking and making determined adjustments with your equipment.
Did they drop the ball on this one? Tough to say. At this price, it probably won't excite the next generation, but perhaps Nikon knows their market. Maybe there are enough of us older guys out there to support a camera like this right now while they work on the next thing. Perhaps it's just their first of a series. Maybe we'll see this design work its way down the line, like we've seen with Fujifilm.
Is the Nikon D𝑓 the camera for you? Who knows. Maybe so, and maybe not. I can see why some people will love it and others won't. Is it the camera for me? Given my love for photography and my equally passionate love affair with the Fender Stratocaster, the D𝑓 definitely strikes a chord in me. I can't wait to try one out and see how it feels in my hands. Ultimately, that's what matters. Do you like using the tool and does it inspire you to create the kind of artistry that you envision? If it does that, then it's the camera for you.
So no, I don't think they missed the boat entirely. Nikon obviously has very specific ideas and they could have done a whole lot worse. Compared to that Ashton Kutcher stuff, the D𝑓 is a hell of a camera and one that I'd feel good about carrying. I may not buy it right away, though. You see, I've got my eye on the new '59 reissue Strat. You see a trend here, don't you.
The D𝑓 is slated to hit the streets on November 28. You can preorder yours here. Here's more info on the Nikon site.
[iframe]<iframe width="120″ scrolling="no" height="240″ frameborder="0″ style="border:none;" border="0″ src="http://mer54715.datafeedfile.com/widget/aff_widget_prdt_generate-2.0.php?aff_num=6746&aff_net=1&widget_num=4751&sid=" marginheight="0″ marginwidth="0″></iframe>[/iframe]