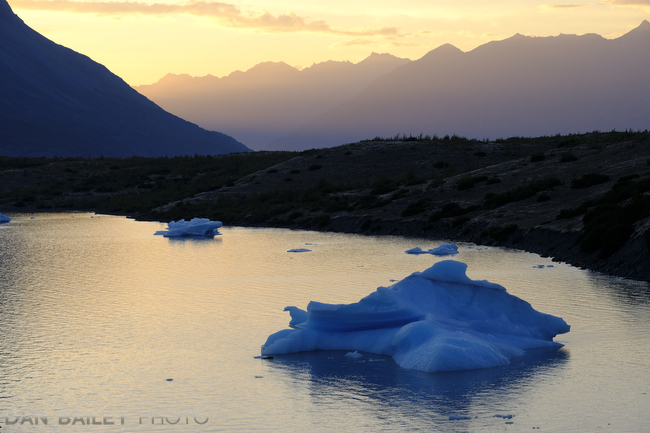 This past weekend, I ran my Midnight Sun Overnight Glacier Photography Workshop, here in Alaska, and we had a blast! In short, the workshop involved helicopters, camping out in the wild, kayaks and a few million tons of ice. Add all that up, and how can you not have a great time!
With six awesome and enthusiastic participants, we had a nice small group. This allowed for a high level of personal interaction and camaraderie between everyone, and lots of time for me to work with each person on techniques, creative ideas and camera settings.
We started with a great dinner and a photography presentation at the lodge during the first evening, which was followed by amazing sunset. This is a shot looking down the Knik River valley, which provided a gorgeous backdrop for the intense, colorful sky.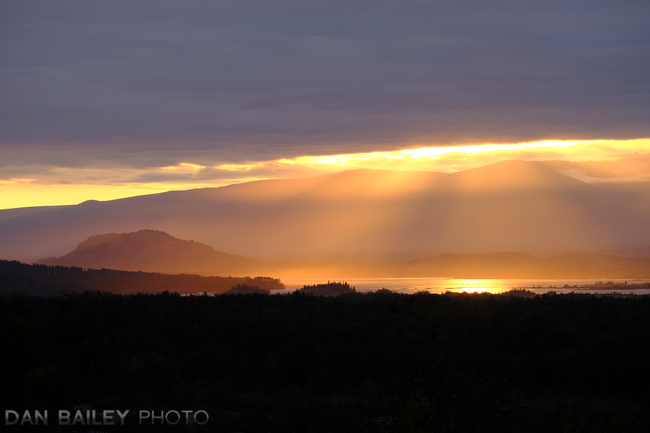 On Saturday morning, we loaded into the helicopters and flew over the toe of the massive Knik Glacier out to our campsite on a hillside above Lake George in the heart of the Chugach Mountains. With doors-off on the heli, we were able to shoot clear, unobstructed aerials of the giant ice towers and jagged formations on the Knik. Four of the six people had never been in a helicopter before, let alone shoot photos from one. As you can imagine, everyone was pretty psyched.
After being dropped off on a beautiful, remote hillside above the lake, we set up camp with the help of our wilderness guide. Our location for the next 24-hours gave us clear view across the lake of Colony Glacier, which continuously cracked, crashed and boomed as giant icebergs calved off from the face.
Many of those icebergs drift across the lake, and we spent much of Saturday exploring and photographing these massive ice blocks up close with the use of kayaks and a raft. Everyone captured some amazing images during the course of the day.
In the early evening, we took some time to relax a bit and enjoy a great meal prepared over the campfire. Of course, with our super long days, we had another extended evening photography session. Some people went out in the kayaks again and paddled around the icebergs, others photographed on land- some did both.
We were treated with another beautiful sunset, and a long couple hours of twilight. In my mind, one of the great things about this workshop is being outside in a gorgeous wilderness setting during a full 24-hour light cycle. We were able to photograph an array of impressive scenery not only in a variety of light, but in the very best light possible.
If photography is all about light, it makes sense to try and maximize your opportunity. That's the main reason I love running with this format- it isn't just about seeing and shooting cool subject matter, it's about immersing yourself in the scene and witnessing how different qualities of light affect the subject around you, and learning how to use that light to your advantage.
Although this wasn't in any way a dedicated Fujifilm workshop (people had a variety of gear), I brought out a handful of Fujifilm X Series cameras and all of my lenses for people to try if they wished. The two Fuji shooters on the trip were able to borrow and test a wide range of glass. For the non-Fuji shooters, I'm fairly knowledgeable about most camera gear, so I can usually help people out with their gear, even if it's not Fuji.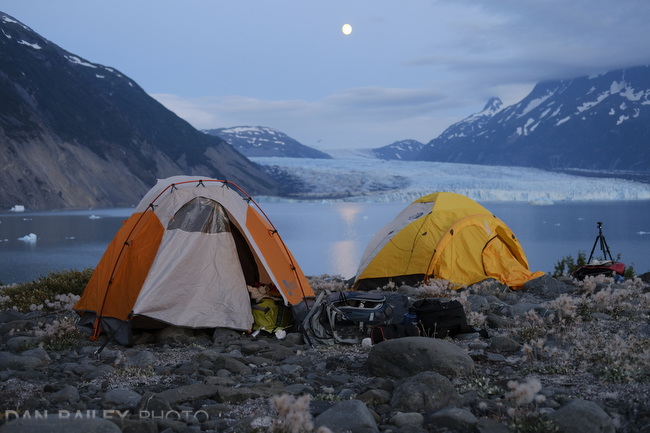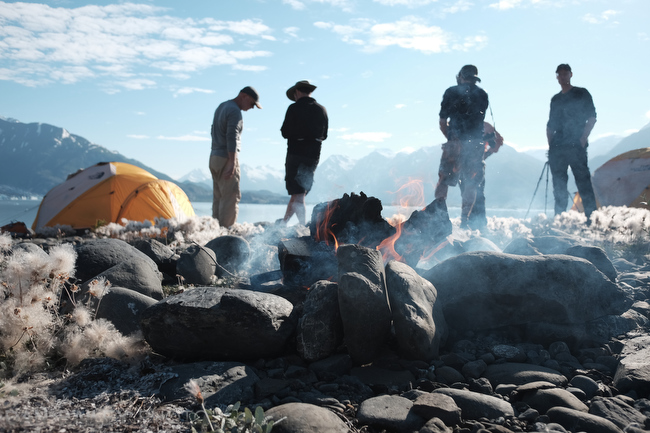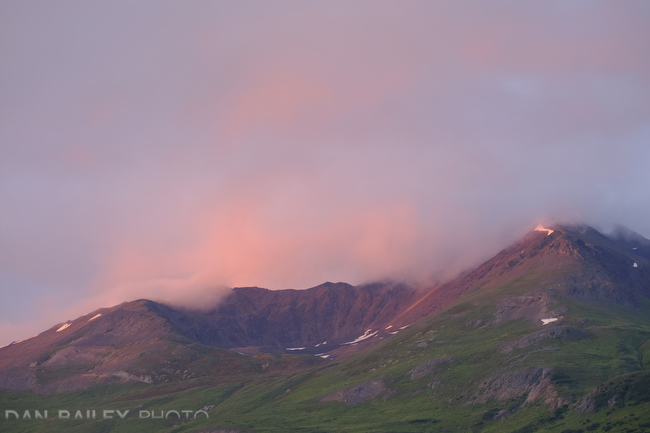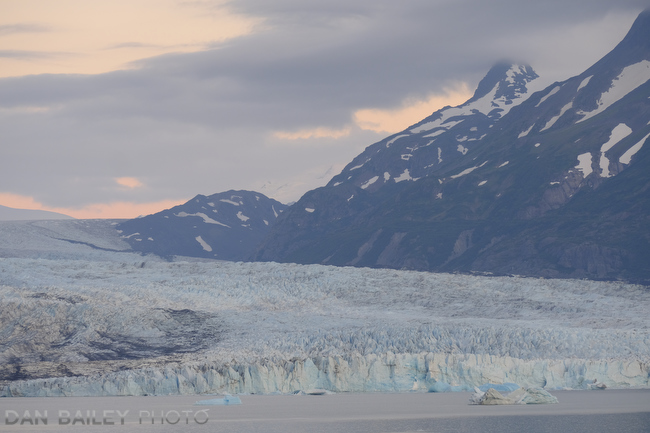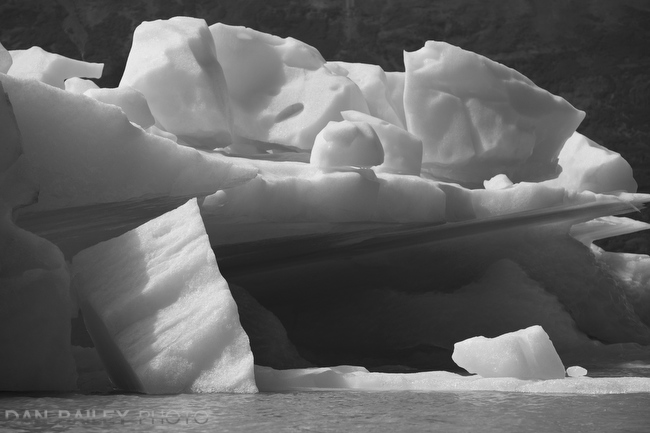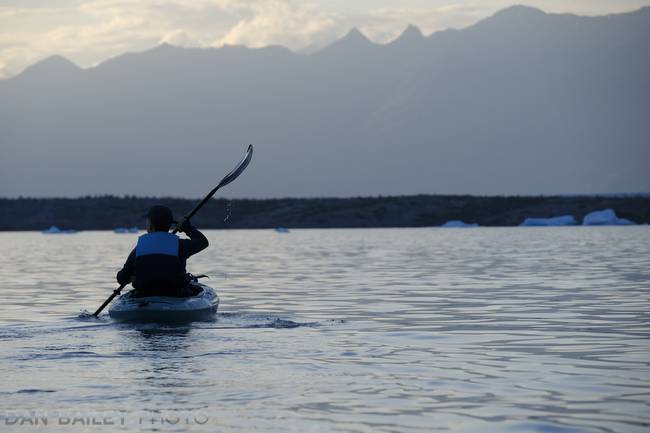 On Sunday morning, we enjoyed camp breakfast and had a couple more hours to explore and photograph before our heli-pickup. On our flight back, we looped back around the toe of Colony Glacier to shoot some closeup aerials of the massive ice wall that had been our distant backdrop all day and all night long.
We even saw a huge ice serac calve off and crash into the lake right as we flew past. Although we couldn't hear the crash over the sound of the rotors, we knew how well the boom would have carried across the lake. In fact, the other three people who were still at camp confirmed that they indeed heard the calve!
Once back at the lodge, we had time to quickly download, preview and share a few photos of the trip with each other, and then enjoy lunch and beers on the deck before our drive back to Anchorage.
For me, this was one of the most fulfilling photography workshops I've run. Not only does it take place in an amazing setting, it closely matches the exact areas I like to explore on my own and the WAY I like to adventure and shoot. It's a great mix of adventure photography, aerials and landscapes.
Also, I like small groups, because it gives me the time and opportunity to work with each person and help them with their photography in the way THEY want to learn. I'm not out to teach people how to take photos like I do, my goal is to help other photographers improve and shoot the best images possible in the style that matches their own vision, no matter what gear or background they have.
I definitely plan to run my Midnight Sun Glacier Overnight Photography Workshop again – My 2017 dates are now set for June 23-25. See the workshop page for itinerary and registration info.
Big thanks to everyone who did this year's workshop, I couldn't have asked for a better group of people. You guys were awesome.