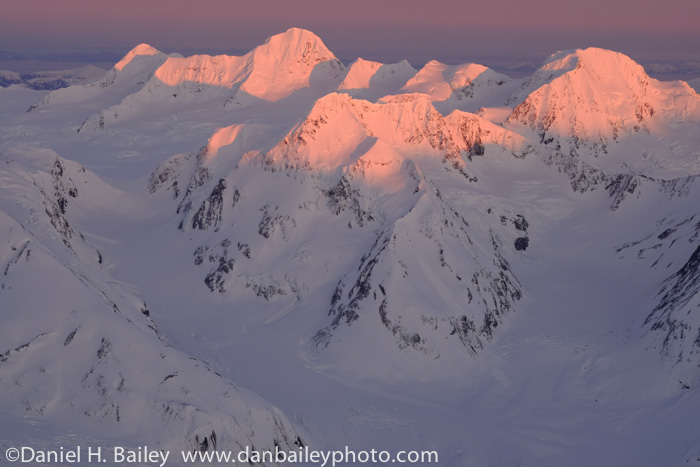 I love flying in Alaska in springtime. The first few weeks following the Spring Equinox usually bring clear weather to the Anchorage area, warmer temperatures and great warm light that hits the still snow covered peaks of the Chugach Mountains between 8-9 PM. For these reasons, spring is my favorite time for aerial photography; there's nothing quite like chasing alpenglow in my little Cessna 120.
I live pretty close to Merrill field, so if it's late afternoon, and the skies are clear, I can head down to the airport around 6PM, preheat the engine with an MSR stove and a piece of aluminum duct that acts as a stovepipe, and run through my preflight while the plane warms up.
This involves wrangling with the wing covers, shoveling out my spot if there's fresh show, checking the oil, checking to see how much gas I have and making sure that all the main parts of the plane are in working order. It's 67 years old this month, and although I have it inspected every year, anything that was made in 1947 is prone to having little things go wrong. In the spring, this entire process takes between 45 minutes to an hour between lighting the stove and actually getting into the air.
When everything is ready and I've determined that the engine is warm enough to start, I undo the wing tie-downs, hop in and crank the 85 hp four-cylinder Continential motor to life. It's not much different than the Type 4, 80 hp engines that came standard in Volkswagons and the Porche 914 during the 60s and 70s. The main difference is that instead of driving the wheels, my engine drives the propellor.
After takeoff, I usually start my climb and head straight east towards the Chugach Mountians. I try to aim for around 7,500-8,500 feet, which gives me a great vantage point looking across and down at the higher peaks of the front range and the glaciers that spread out behind them. By this time, the light is just starting to get good, so I get my camera out, slow the plane down to about 70-80 mph and open the window.
Camera Gear
I've tried a few different camera for aerial photography. During the past couple of years, I've been using the Fujifilm X10 and X20, which both worked extremely well for this purpose. The 28-112mm zoom lens metal dials and small size make these very easy camera to operate while I'm flying.
I've also used the Fuji X-E1 with the 18-55mm lens, and while the quality is excellent, way better than the X20, there were a few small things that gave me trouble. I kept hitting the D-Pad buttons on the back of the camera. Remember, I'm mostly concentrating on flying, so if I accidentally change a setting, I may not notice. Also, with the open window at 8,000 feet, it's pretty cold, so I'm always wearing gloves. Also, while the XF 18-55mm lens is very sharp, the zoom creeps a little too easily when I'm shooting one handed in the open air.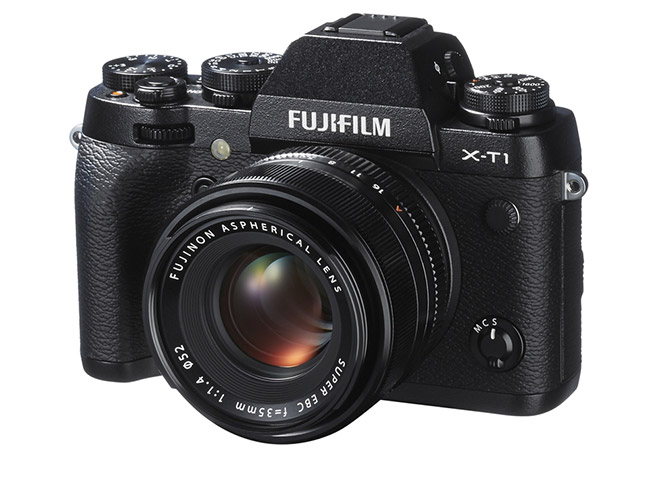 Now I'm using the new 16MP Fujifilm X-T1. It offers way better resolution and clarity over the X20. I'm shooting many of the same mountains that I did last year, and I'm blow away by how much sharper the X-T1 images are. Mostly, I'm just shooting straight JPEGs with the Velvia film simulation setting.
Also, the smaller D-pad buttons are much harder to inadvertently press when I don't mean to. I'm shooting lots the same mountains. So, while some people are complaining about those D-pad buttons being a little too small compared to the X-E2, they actually work in my favor, and not just when I'm flying. I'd rather have smaller buttons than accidentally hit them all the time. Also, the dials on the X-T1 are a little stiffer, and it's nice to have a dedicated ISO dial. This lets me bump up when the light starts to dim without having to go into the camera menu. In fact, I don't do anything in the menu while shooting aerials.
For aerial glass, I'm using two primes, the XF 27mm f/2.8 lens and the XF 56mm f/1.2 lens. The 27mm gives me a slightly wider view, but not too wide that I have to worry about getting the wing strut in the pictures, while the 56mm gives me a nice, slightly compressed telephoto view for shooting details and more distant peaks.
Both lenses are easy to handle, unbelievably sharp (especially the 56!) and fast enough that in the fading sunset light, I can still shoot at very fast shutter speeds to ensure sharpness while flying along in a vibrating metal box that's moving at 80 mph.
Perhaps more importantly, though, I prefer the mirrorless cameras over DSLRs because they're smaller, lighter and easier to handle with one hand in the small cockpit. Also, I don't like looking through the a camera viewfinder when I'm flying the plane, that's just too much distraction which takes my eyes completely off of what's going on with the airplane. It's a safety issue.
If I'm shooting while looking at the LCD screen on a mirrorless camera, I'm not hiding my eye in the viewfinder. I can shoot and still see what I need to see while I'm flying. Keep in mind, though, that my little Cessna doesn't go very fast. Whenever I'm photographing at this altitude, I'm still far enough away and high enough above any terrain that I'd have plenty of time to react if anything happened. My own rule is that if I want to shoot close to the ground, I'll bring a pilot friend with me and have him fly the plane while I concentrate on taking pictures.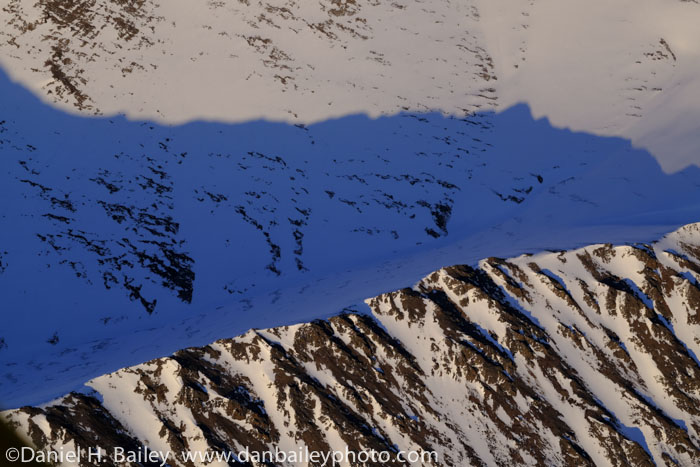 It's amazing to be up there by myself, above these incredible landscapes while watching the light change Over the course of about an hour, it goes from strong, defined rays that are only starting to show the slightest hint of warmth in front of deep blue shadows, then starts to turn a soft, reddish yellow orange hue before finally transforming to the full-on pink of alpenglow of last light.
I spend the hour looking for interesting formations that catch my eye as I weave over valleys, circle over cool looking spires and chase colors over the immense glaciated peaks of the Chugach. My excitement always intensifies with the light and (hopefully!) culminates with amazing displays it all starts to fade into the soft light of evening.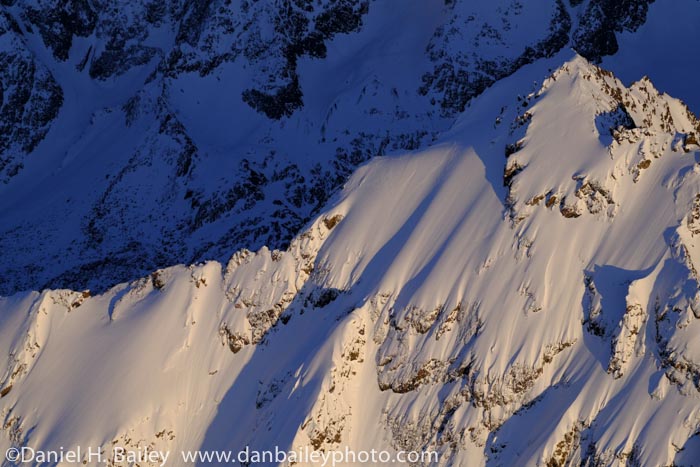 This is when I close the window, turn the plane around and head for home, satisfied with another aerial adventure. In some ways, it's just as much fun to fly over the mountains after the sun has set, there's something really cool about that.
I know that not all of my photos will be sharp, some will have the strut in them, some will be crooked, and some will just be poorly composed, but that's all part of it. I always hope that I'll get at least one or two really good photos, if not more. The photos in this batch are from a single flight that I did last week. When you look at them, try to imagine the feeling of true adventure that you get while flying in a tiny two seater above all this stuff and then landing on the runway during the dimming light of twilight over Anchorage.
You can check out some of my other aerial photography posts here.