CLARITY, Photography Beyond the Camera Volume 3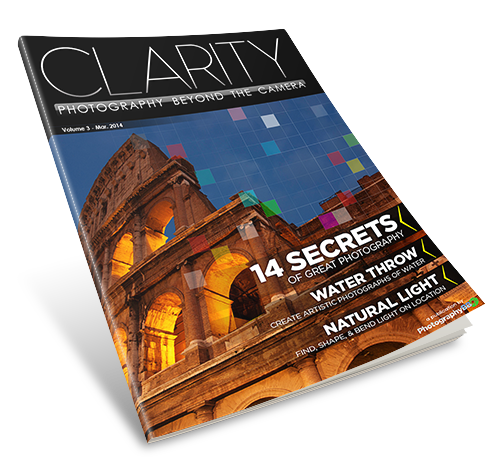 The latest issue of CLARITY: Photography Beyond The Camera has just been released and is ready for download.
If you haven't seen CLARITY yet, it's a very well done PDF magazine that's written from the perspective that photography isn't just your hobby, it's your lifestyle. Shooting photos isn't just something you do in your spare time, it's some that consumes your passions and plays a huge part in how you live your life.
Topics covered in CLARITY revolve around creativity, deeper ideas behind image making, technical aspects of shooting, post processing and backup, and how to extend your photography passion into greater things and use it to make a positive impact on the world and on your own life.
The 3rd quarterly issue of CLARITY features 82 pages, 5 and tutorial videos and great articles by authors such as Kevin Kuboda, Piet Van den Eynde, Sean McCormack and Chris Corradino. Here are some of the topics included in this issue:
Lighting Essentials: How to find, shape, and bend natural light on location.
How to translate compositional elements into evocative photographs.
Exploring increased creative possibilities of shooting black & white.
How to keep your photos (and files) safe and accessible for the long-term.
Why being a mentor profoundly impacts others, including the longevity of the craft.
Using Lightroom to help you decide which gear to take on your next trip.
14 secrets of great photography.
How you and your photography can change the world by providing creative opportunities and education. An interview with Cate Cameron, founder of Cameras 4 Change.
How to create artistic photographs of water.
How to "fix" your photos when your vision and results just don't seem to line up.
I'm a huge fan of PDF publications and what I like about CLARITY is that the editors truly understand that we don't just take pictures, we live, eat, breathe and sleep photography. It's what we think about when we're not out shooting and tweeting about photography. It's what drives us and ignites our passions and it's how we identify ourselves, not matter what our experiences is.
Published bi-monthly, CLARITY: Photography Beyond The Camera is readable on just about any device and it's available as a single issue or as a subscription. The subscription ends up being 5 bucks an issue, which means you're getting an entire year of inspiration and education for the cost of one lunch out.
You can download CLARITY: Volume 3 here. You can also get the other two back issues as well. 

Follow @Danbaileyphoto