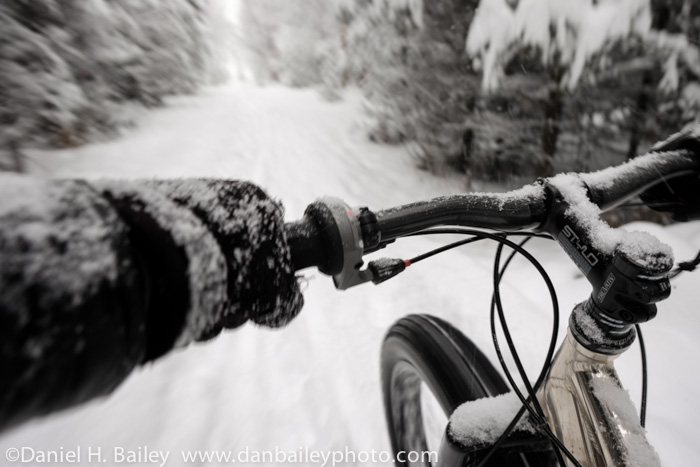 Here we stand on the cusp of 2015, reflecting on what fortune, wisdom and changes the previous twelve months brought us. I hope that 2014 brought you a great deal of enrichment and valuable life experiences and I hope that you look forward to another year of adventure and exploration in whatever areas of life intrigue you.
This past year brought a significant change to my photography. For me, 2014 was the year of the Fuji X-T1. It was the year I went mirrorless and jumped with both feet into a new arena of technology.
365 days ago, I never would have imagine that such a statement would come out of my mouth. Although I ended 2013 as a beta tester for the X-T1 (I shot the above image with the early prototype), I began 2014 still very entrenched with my DSLR gear. Having been a 20+ year pro DSLR shooter, I figured that when the real X-T1 arrived, I'd just insert it into the mix as a second/travel body, much like I had done with my X20 and X-E1.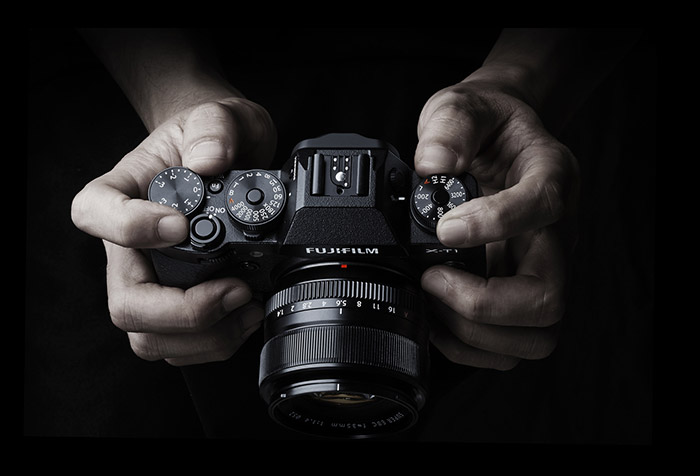 However, when the production version X-T1 arrived on my doorstep in early February, I was blown away.
I instantly fell in love with how small and compact it was, and how ergonomically beautiful it was, with its traditional styling and fingertip controls. It reminded me very much of my very first Nikon FM2 that I'd bought back in February 1990, almost 24 years ago to the day.
This was love at first sight.
Although I'd already packed my camera gear for Iceland, I thew my big pack full of DLSR gear back on the shelf and instead flew to Reykjavik with the X-T1 and four Fuji XF lenses, all of which still weighed half of what I'd been planning on taking with me in the first place.
During the course of that wonderful week-long nordic winter sojourn, my love only grew for the X-T1. There wasn't a time when I wished that I'd brought the big camera, and in fact, I shot some photos that made me feel as if I was in the cradle of camera that was made just for me. It not only did everything I asked of it, it performed with such capable confidence, whether I was shooting action, landscapes, people, travel scenes, the northern lights.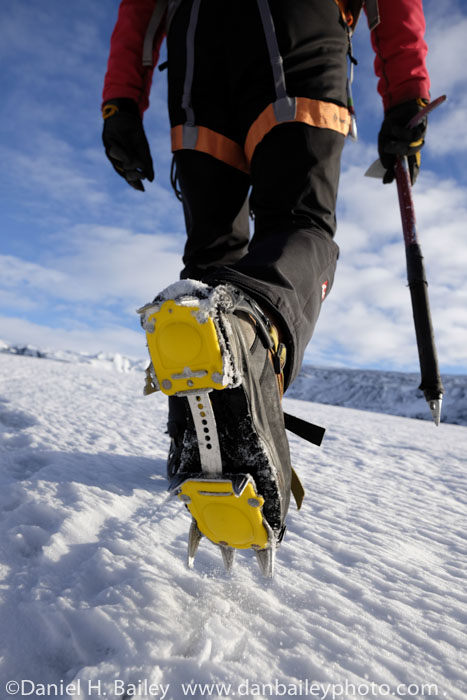 It wasn't just about looks, though. No, this one had brains too. For starters, a brand new, highly responsive predictive AF system with 9 phase detect sensors that track moving subject at up to 8 frames per second.
Wow!! On a mirrorless camera? And it had the amazing new 2.6 million pixel high eyepoint electronic viewfinder. OMG. You'd have to see it to believe just how stunning it is.
In good light, it was almost like looking through a real pentaprism. In really ow light, I could actually see the subject, which you can't do with a regular optical viewfinder.
And, of course, it had the X-Trans sensor- this little 16MP engineering marvel with the 6×6 random color pixel array that produces unbelievably sharp images with amazing definition and depth.
Plus all those fun effect filters and the wonderful looking Fuji film simulations that brought back the colors that I remember from my days as an emerging photographer- Velvia, Provia, Astia, they all made me feel young again.
As all new lovers are, I was concerned that the affair wouldn't last when I got back home. Was this just a temporary flame? Were those days spent capturing the beauty of life and evenings spent sharing images to the rest of the world with the X-T1's built in Wi-Fi capabilities just a passing trist?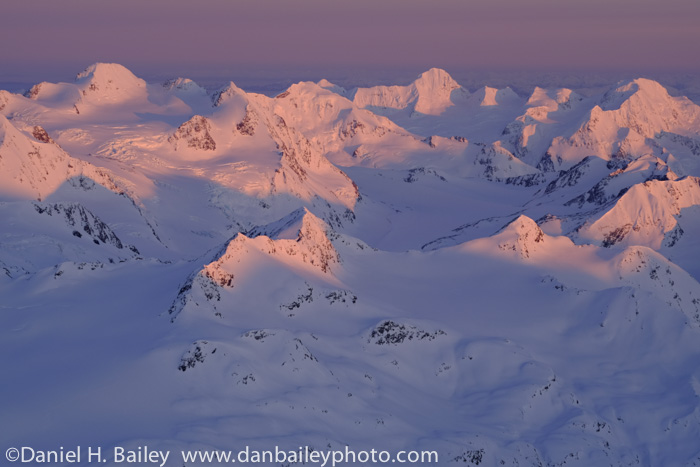 When I got home, I introduced the X-T1 to my regular life, as well as my friends and my favorite activities. We went skiing together and we went soaring over the Chugach Mountains at sunset together in my little yellow Cessna. We even went on long winter snow bike rides when it was below zero, and although battery life was lessened, it still worked fine.
In March, I was totally psyched that Fujifilm used one of my photos for use in the very first X-T1 magazine ad, that appeared in PDN. They also selected me to be an official X Photographer, a position that I hold with great honor and enthusiasm.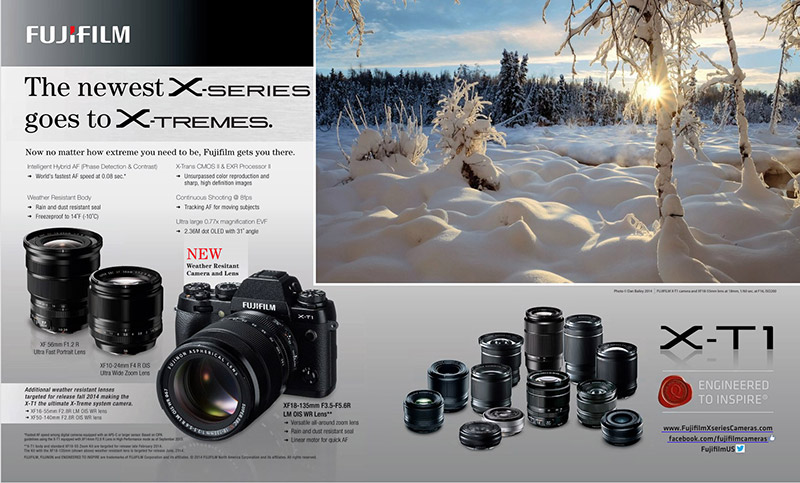 As winter turned into spring, I still kept my DLSR on hand for assignment work, but during a shoot in mid-April, the big camera got wet and blanked out from too much snow being driven into it by prop wash from a helicopter. Through all of my adventures, I'd never actually had a camera fail. I didn't panic, though. I pulled the X-T1 off the bench and stuck it right up front and center and shot the rest of the job with great results, even during a setup that involved flash and lots of water, which was no match for the X-T1s rugged, all metal body and 80 points of weather sealing. Again flying colors.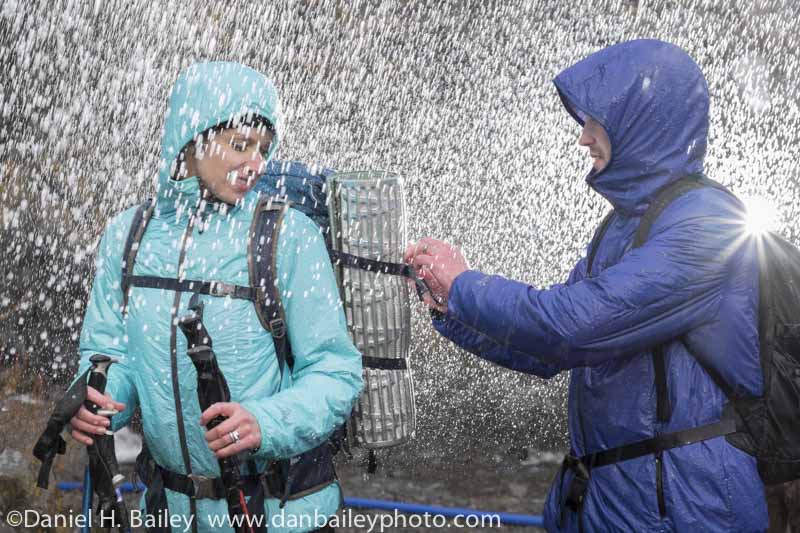 After that assignment, I had my DSLR repaired, but all I did was stick it back on the shelf. As 2014 went on, the X-T1 remained the starting player in my photography lineup and and it cruised  through every single challenge and leaped over ever obstacle I threw at it. Our love grew to new heights over the next few months as I tried out different lenses, like the new weather sealed XF 18-135 zoom lens, an extraordinary piece of glass that was designed as the perfect compliment for the X-T1.
During the summer, we went hiking and backpacking and even bike packing on the Denali Highway, and I marveled at the new sense of liberation I felt with such a small, lightweight camera setup. I even went back to my old method of carrying the camera in a chest pouch while hiking in the backcountry. Again, reliving the familiar experiences of my youth, or at least my early career as a pro photographer. And this fall, I put it to the fast action test of shooting cyclocross racing, which in my mind, is a good benchmark for performance.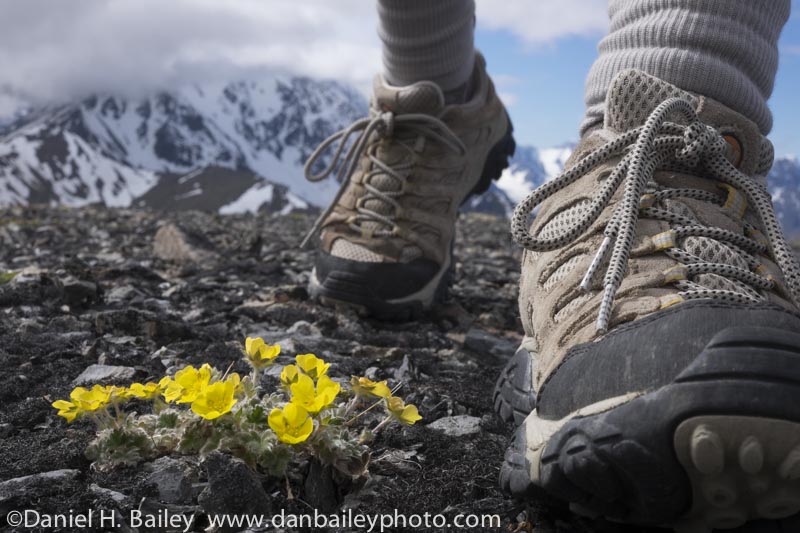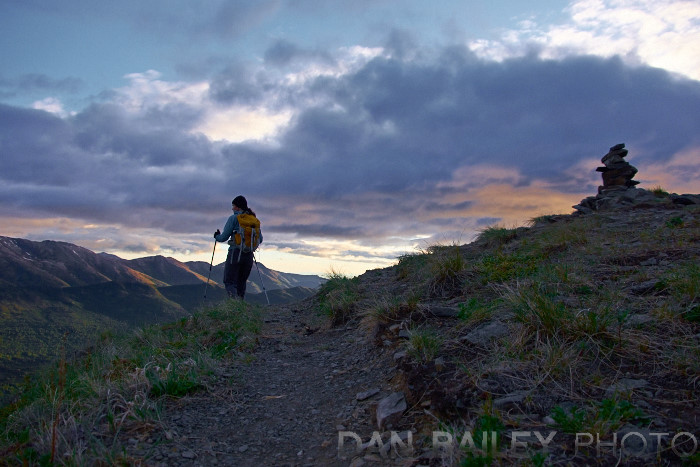 Nearly a year later, I'm still as much in love with the Fuji X-T1 as I was when I spent my first romantic days with it Iceland. This amazing and transformative camera that offers a very high "fun factor" and beautiful picture quality has changed my life and rekindled my passion for photography, because after lugging heavy DSLR gear around the world, I suddenly find myself with the camera I've always wanted. Even though I've always liked my DLSRs, the X-T1 was built just for me, or at least for people exactly like me.
That said, the really cool thing is that the X-T1 can do anything, and as I look around, I'm not alone. I see other people who are just as much in love with it, who aren't necessarily action adventure photographers. I see portrait and wedding photographers, commercial shooters, and landscape, street and travel photographers all using it with excellent results.
Fuji truly knocked it out of the park with the X-T1. In fact, earlier this month, the X-T1, along with the X100T were selected as "Japanese Historical Cameras" by the Japanese Camera Industry Institute Museum for the "significant technological advancement."
Also this month, Fujifilm released a big firmware update that added 27 new features to the X-T1, including shutter speeds up to 1/32,000 sec, a new Kodachrome style film simulation, Q-menu customization and new video frame rates. It's like getting a whole new camera, without having to buy one. That's one of the things I really like about Fujifilim; they strive for continuous improvement with their cameras.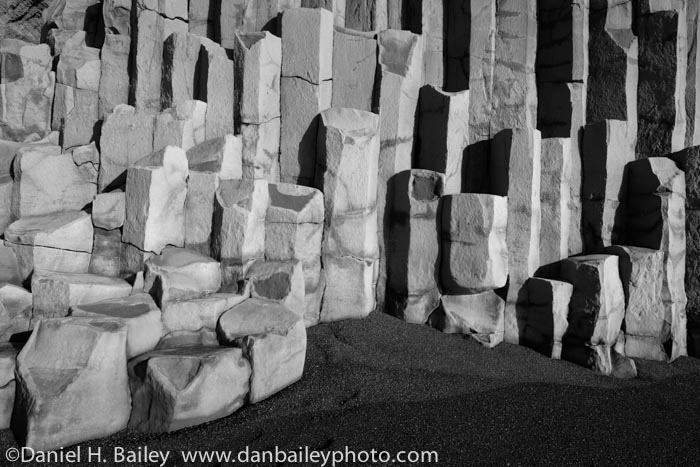 As I said above, I never would have imagined that I'd go entirely mirrorless this year. I haven't gotten rid of my DSLR gear yet, but these days it just sits on the shelf, unused. Sometimes I walk by and look at it, fondly, remembering all the great adventures we had together. Then I reach for the X-T1, because that's where my future lies.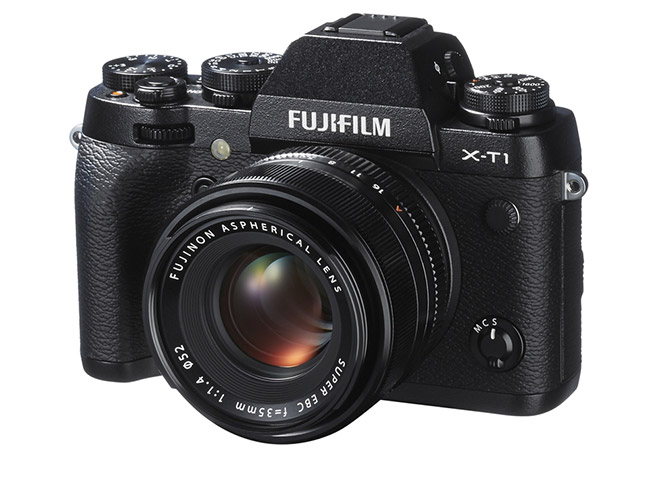 I'd like to extend my immense gratitude and thanks to Fujifilm, for not only developing such an amazing camera, but for bringing me on board as an X Photographer and an initial X-T1 tester. I look forward to subjecting it to much more abuse and shooting many more photos with it in 2015.
I'd also like to wish a very happy new year and the best of fortune to all of my readers. Thank you so much for tuning in this past year, whether you checked in each week, a couple times per month, or if this was your first visit. I look forward to bringing you more insight, tips and entertainment during the coming year.
Support this site. If you'd like to explore a photography romance with the X-T1 or any other gear, please consider purchasing through these links. It won't cost you anything extra, you'll still get the lowest prices available and it will help me out.
Order the Fujifilm X-T1 for only $1,299 (body only) at B&H Photo or Amazon

Order the Fujifilm X-T1 with 18-55mm lens for only $1,699 at B&H Photo or Amazon
[iframe]<iframe width="120″ scrolling="no" height="240″ frameborder="0″ border="0″ src="http://mer54715.datafeedfile.com/widget/aff_widget_prdt_generate-2.0.php?aff_num=6746&aff_net=1&widget_num=6139&sid=" marginheight="0″ marginwidth="0″></iframe><iframe style="width:120px;height:240px;" marginwidth="0″ marginheight="0″ scrolling="no" frameborder="0″ src="//ws-na.amazon-adsystem.com/widgets/q?ServiceVersion=20070822&OneJS=1&Operation=GetAdHtml&MarketPlace=US&source=ss&ref=ss_til&ad_type=product_link&tracking_id=danhbaisadvph-20&marketplace=amazon&region=US&placement=B00HYAL88W&asins=B00HYAL88W&linkId=5XMB6L47NH6SR5PT&show_border=true&link_opens_in_new_window=true">
</iframe>[/iframe]