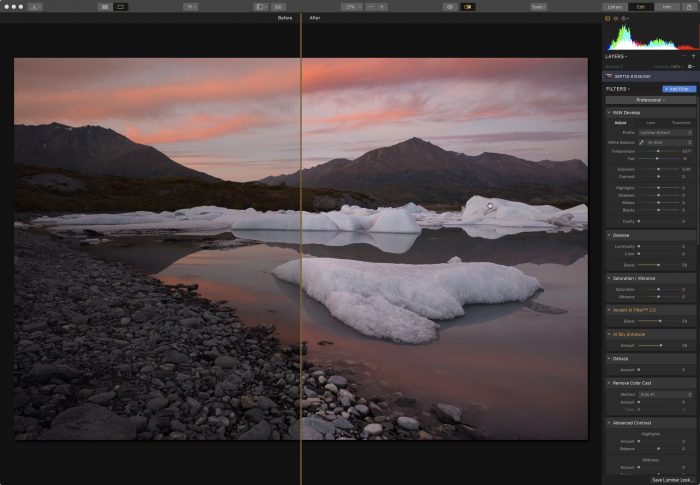 Luminar has come a long way in a very short time. At the end of 2018, they released the long-awaited Library module, which gives Luminar 3 the ability to power your entire photography workflow. This makes it a viable alternative to Lightroom for people who want a simple way to import, catalog, edit and export their images.
In addition, Luminar keeps getting faster, and the RAW engine has been been improved to the point where it does an amazing job demosaicing even the Fuji X-Trans RAW files. This is not surprising, considering that the company's lead engineer is a Fujifilm user. They're clearly dedicated to supporting the Fuji user base.
Luminar's overall appeal is based on the fact that it offers an easy, efficient and fun way to edit your photos. With a comprehensive tool panel, some highly innovative AI filters and a wide range of presets, or "Looks," Luminar does an amazing job fostering creativity without sacrificing performance.
Their newest option is called Luminar Flex, which operates as the plugin version for Adobe Photoshop, Lightroom Classic and Apple Photos, and works for both Mac and Windows. Realizing that many photographers don't need the catalog feature and they just want the editing capabilities, Skylum split Luminar into two versions: Luminar 3 and the Flex Plug-in.
Luminar Flex offers the exact same performance and full-featured editing power as the library version, but it's made for people who don't want to leave their Photoshop or Lightroom workflow.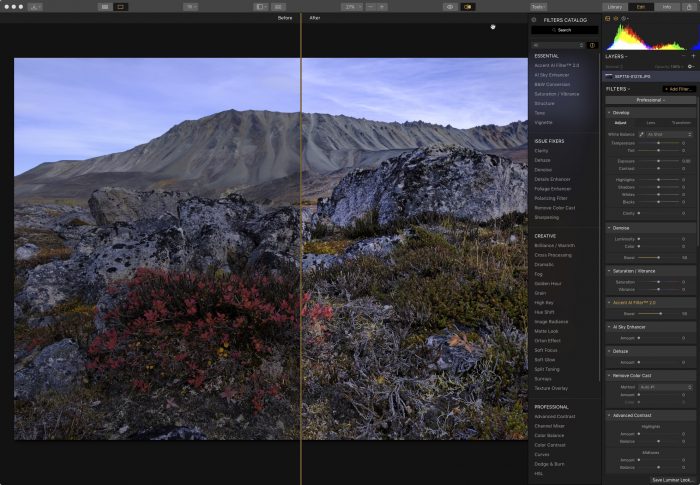 Flex also gives you the same customizable interface, with Workspaces, Looks and Filters, and each filter gives you the options for using Layers and Blending Modes. Add in things like Textures and Masks, and you have a powerful range of creative options to add to your existing Adobe processing workflow.
This is especially good news for Fuji users, because with some images, Adobe's RAW engine still has a hard time with fine details on the X-Trans images.
I've been very impressed with how well Luminar handles the Fuji RAW files, and earlier this week, I heard from a user who was really struggling with a specific Fuji image in Lightroom. Upon downloading the trial version of Luminar and pulling the image up, it only took a few seconds for him to see the night-and-day difference, even as we were still on the phone.
Once you install the Luminar Flex plugin, you can easily bring it up for any image and edit with a wide range of creative tools, whether you're using Photoshop, Lightroom or Apple Photos. With Lightroom, you can even do Batch Processing, Content-Aware Object Erase, and Clone & Stamp edits.
Using Flex, all three programs offer full RAW support a huge number of Looks, Filters, Film Emulations, Custom Workspaces and the innovative AI processing tools, which offer "one slider adjustments" that can instantly bring your image to life. Although it sounds a little gimmicky, these tools really work, and I make use of them quite often.
If you're intrigued by Luminar, but are still using an Adobe or Apple workflow, then the Luminar Flex Plugin is your solution. With their 60-day guarantee, you can try out the program and see if it's right for you.
Luminar has been my main processor for choice for over two years, and I can highly recommend it to any photographer. If you use discount code DANBAILEY, you'll save $10 on the either Flex Plugin, or the Library version.