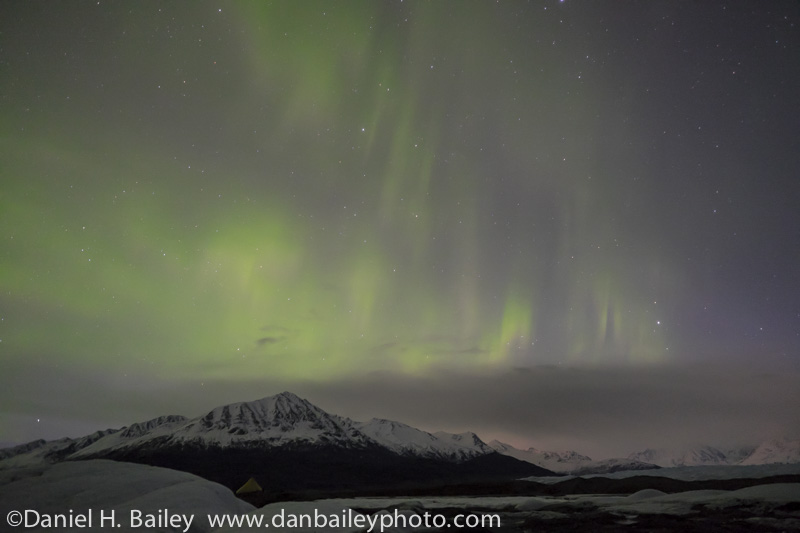 See this photo above? There's a very good chance that you might not have been able to see it. And not just you; I mean anyone, including me. If things had played out even the slightest bit differently, it would have been lost forever.
This past weekend, I did an awesome 3-day fatbike adventure out to the Knik Glacier with my two good friends, Josh and Glenn, otherwise known as @staysansleepsoutside and @glenncharles63 on Instagram. These are two guys I don't see nearly enough, so when the stars aligned and gave us the opportunity to do a trip together, I jumped at the chance.
Having been out to the Knik the previous weekend during my recent photo workshop, I was excited to go ride bikes and camp out there with my buddies. I was also hoping to catch the northern lights, which were forecasts to be quite active, and in my mind, I envisioned the types of photos I could get completely away from any lights, in a rugged environment of mountains and ice.
After two days of mud, dirt, gravel and wind, which I'll recount in a future blog post, we set up camp on a sandbar right at the edge of the massive, 25-mile long Knik Glacier, one of the largest ice fields in southcentral, Alaska.
That night, the three of us stayed up late shooting photos and capturing a faint aurora display around midnight. I got up again at 4:00AM and witnessed a much more dramatic light show, complete with shimmering curtains and pillars of green light dancing above the Chugach Mountains.
Grabbing my tripod, I headed out onto the frozen glacier lagoon and wandered among the icebergs until I found some suitable foreground subjects, and shot until my battery died.
Fast forward two days later. We'd already ridden out and I was back at home, eager to download my photos from the trip. I sat down at my desk, opened up my card case and, to my utter shock and absolute horror, I found myself staring at an empty slot in my case.
I'd shot three 16GB cards during the trip, and the middle one had all the really cool bike riding around the glacier shots and the aurora photos. WTF!??!! Where could it be! Thinking that I might have somehow dropped on the floor, I went on a rampage and tore apart my office while swearing and and shouting "WTF" over and over again at the top of my lungs. We're talking temper tantrum. Total meltdown. Absolute freak out.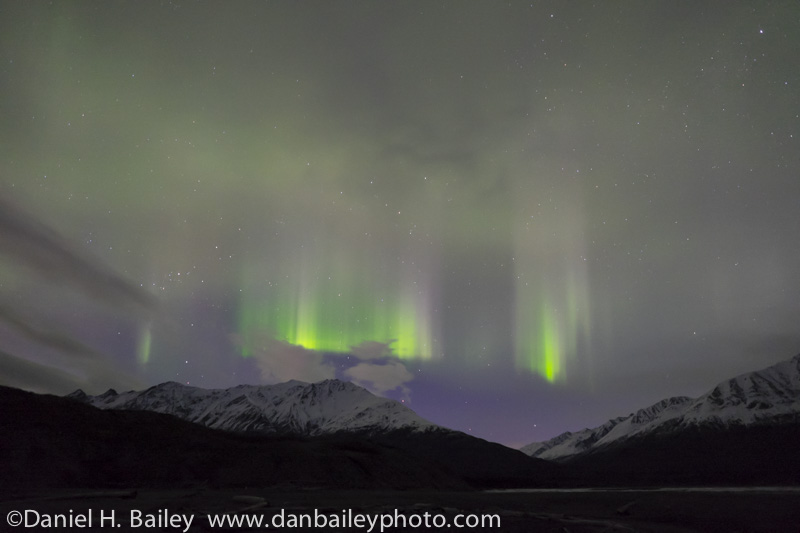 Nothing.
I finally came to the startling realization that I must have dropped it out in the field and my heart sank. The coolest photos of the trip and they were lost. Gone. Vanished.
Yet how could possibly have dropped a card? I never drop cards. I never lose cards. I all my years of shooting, I've never lost a memory card. Nonetheless, I loaded the third card and looked a the very first photo to see where I was when I shot it; maybe that would help jog my memory.
It worked. I recognized the location. It was a photo of Glenn, right at the Knik glacier moraine, just as we began our ride out. It all came back to me, flooding into my head like a title wave. I suddenly remembered shooting those last few frames of Josh pushing his bike uphill just outside camp when the card ran out. I stopped to change it before catching up with them. THAT'S where it must have fallen.
HA!!! If my memory was correct, then I knew EXACTLY where to look!
But what about getting back out there? The Knik glacier is a long way from my house… at least it is by bike. Not by plane, though, and I have a little yellow airplane!
After regaining my composure, because you should never fly a plane while you're stressed, I took my wife Amy over to Merrill Field. (Women have a much better ability to spot things that aren't moving- it goes back to the hunter gatherer thing. Men see moving things, which they try to kill, and women are better at seeing things that don't move, like berries. It's also why men aren't bothered as much by the pile of clothes they leave in the corner of the bedroom floor- they aren't moving.)
After flying the 45 minutes out to the Knik and landing on the gravel strip in front of the moraine, we hiked out to the campsite, and I showed here exactly where I was when I'd changed the card.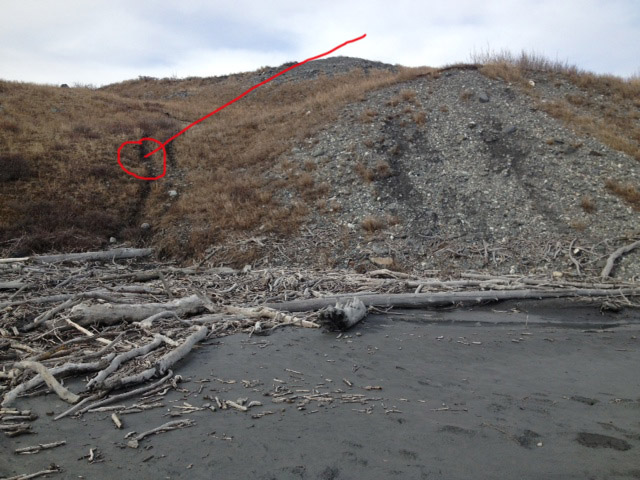 "So, it SHOULD be in this area, somewhere between here and here…"
Not five minutes later, Amy exclaims, "Found it!" There it sat, my happy little card, no worse for the wear.
It was EXACTLY where I thought it would be. Only it wasn't moving.
Pictures saved. *worlds' biggest WHEW ever.*
ANY other place on the trail and I never would have found it. Guaranteed.
Thank you Amy!! Thank you little yellow Cessna!! Thanks Josh and Glenn for such a great adventure!
Oh, and by the way, the last aurora picture below is my favorite. Shot with the Fuji X-T1 and  XF 14mm f/2.8 ultra wide angle lens, ISO 3200, 15 sec. at f/2.8.
You can see more photos and a full trip account by checking out my photo essay, KNIK GLACIER BIKEPACKING: 3 Dudes, 3 Days & 3 Fat Bikes – An Alaskan Adventure.