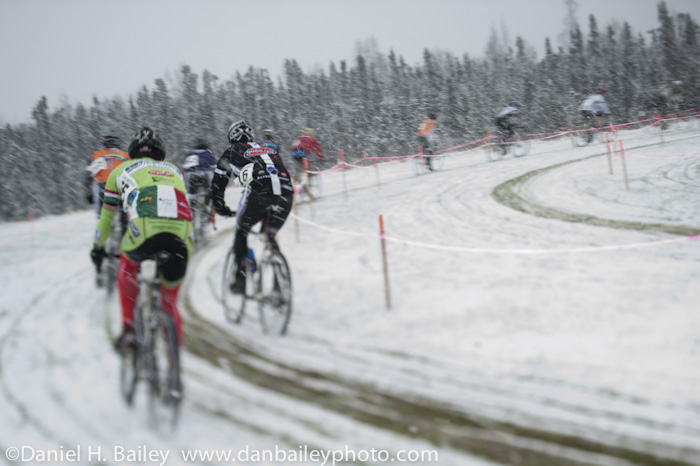 Week 6: The 2012 Arctic Cross cyclocross race series finished up here in Anchorage last Saturday with an early October snowstorm. Who wouldn't be psyched about that?
With exciting riding conditions and even better options for dynamic action photography, I headed out to Goose Lake Park with my bike, my Lowepro Photo Sport 200 pack and the Nikon Tilt Shift lens that I rented from BorrowLenses.com.
If you've been following along during the past few weeks of photographing an entire season of cyclocross races, then you know I've been trying to approach each race a little differently. Not knowing that it would snow, I came into this week with new glass. I've long been curious about trying out the Nikon 45mm f/2.8D PC-E Tilt Shift Lens, but being a very specialized lens that costs almost $2K, I've just never pulled the trigger on one.
Enter Borrowlenses.com. I've used them before with great results, and so it made perfect sense to get the lens for them for just a few days instead of shelling out two mortgage payments for a lens that wouldn't get used all that often. I just have to plan for an extra day to ship to Alaska.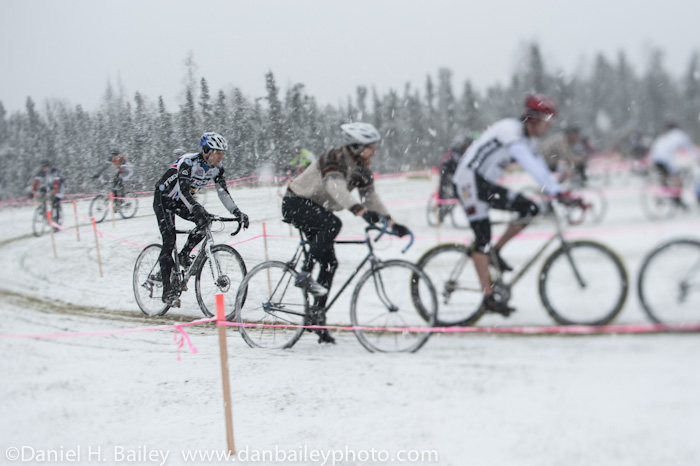 Of course shooting action with a tilt shift lens is way different than sitting around a few days before the race saying, "I think I'll try using a tilt lens this week…" For one thing, just like Lensbabies, they're manual focus, so nailing sharp images can be really challenging. I've found that the best way to stick it is to just keep firing and hope for the best. Try to pick out a single subject, follow it while adjusting your focus and don't let up on the shutter until they go by. Yea, this is where the REALLY old school sports shooters are laughing now. Can't you just hear them? "Young punks… we didn't even have autofocus back in my day!!"
Also, since I only got the lens the afternoon before the race, I hardly had any time to play around with it and get a feel for how it works. Oh well, that's different from any other part of my life how?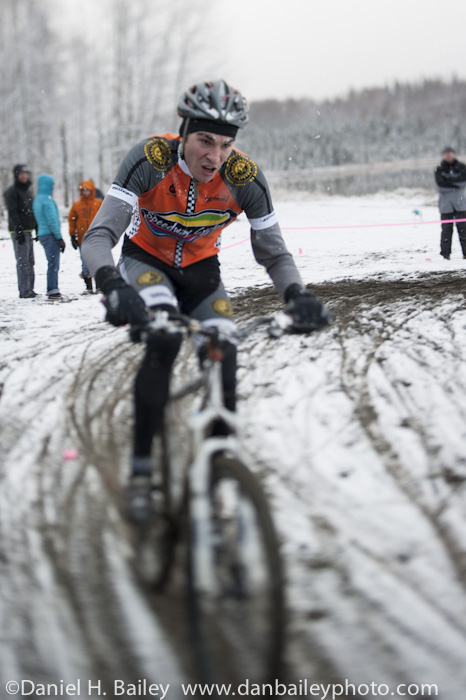 Then there's the whole thing of deciding how much to tilt and which direction to bend the lens. The Nikon PC-E lenses have a knob for tilting, one for shifting and a tab for rotating the lens on the barrel so that you can align your tilt effects in any direction. Since shifting is more for architecture photography and correcting parallax error, I only tilted.
Depending on what you're going for, there's a huge amount of creative leeway you have in terms of what's going to be in focus and what's not. For common subjects that we see all the time, such as bicycles, sometimes you don't even need to have the main subject in focus. Then it becomes all about mood and feel. When it comes to faces and expressions, though, you generally want to nail that, because it will really help anchor the picture down.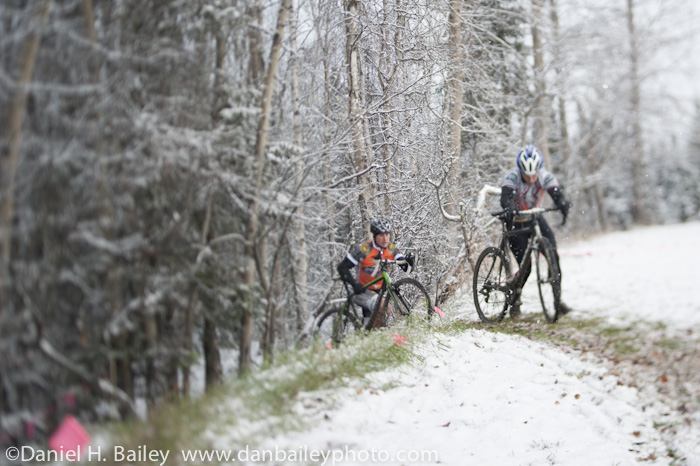 Combine all that wild shifting with slow shutter speeds, motion blur, panning and other compositional techniques, and you can definitely get some cool imagery. Of course, just like any technique, too much tilting can quickly get old, which is why I advocate renting a lens like this. Honestly, every time I get a big check, I think about getting this lens, but then I pull back and ask myself, "How else could I spend two grand?" The answer comes pretty quickly and the mood wears off.
Not to be left out in the cold, my 80-200mm lens saw heavy action on Saturday as well. I always love shooting through falling snow with the telephoto. Sometimes the autofocus actually grabs the snowflakes just in front of the subject, which always makes for cool photos. Also, the compressed perspective of a long lens makes the snow look even thicker. I never get tired of shooting in the snow- it was like an early Halloween present this year!
Final thoughts: Overall, my six week immersion into the sport of Alaska cyclocross was a huge success. Since I practiced with different techniques and equipment each time, I absolutely became a better photographer. I loved using the 45mm tilt shift lens, it's bomber glass and offers awesome creativity. (Canon has one too.) I'd definitely rent again. Try it out for yourself, it's a whole lot cheaper than buying.
And, having jumped into the racing part myself, I managed to grab 3rd place overall in my division for the season. (Below is a shot of me rounding the sandy hairpin on the beach that my wife took with the Fuij X10.) I'm not usually an organized activity guy, but with all the fast twitch sprinting, jumping, running uphill with the bike, tight quarters competition and great camraderie, I'm hooked. Besides, it's bikes. What's not to love? Finally, I made lots of new friends. Thanks for all the memories, wipeouts and excitement, everyone, I look forward to next year!
Check out the rest of my race photos from last weekend, there are many more cool shots in the collection. As for you, thanks for following along during the past few weeks. If you missed any of the previous posts, you can find them here. If you did read some or all of the articles, let me know what you think of my imagery.
Finally, as I said before, immersing yourself in something is often the best way to get great photographs of any subject. I hope that my little 6-week experiment has inspired you in some way, so I'll end by asking you thins: What's your next project?