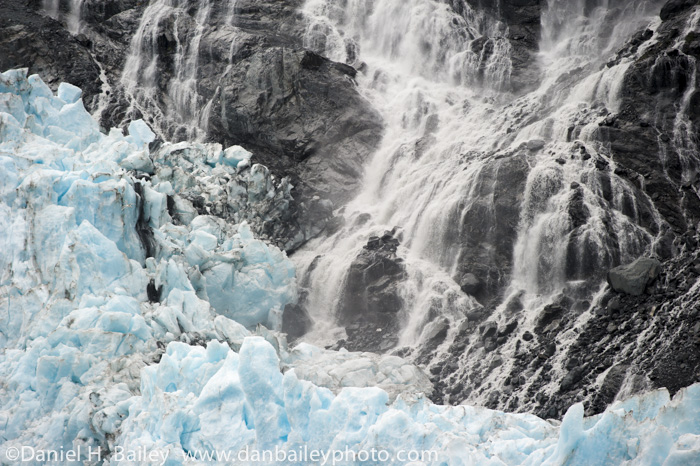 What do you do when you get visitors in Alaska? You go do tourist stuff! My mom was in town last week, so I took her on a glacier cruise in Blackstone Bay, one of the deep water fjords in Prince William Sound.
She'd never seen a glacier before, so this was a pretty special treat for her. The boat goes right up to the massive Blackstone Glacier, which is part of the 300 square mile Blacktone-Spencer ice complex that covers many of the mountains southeast of Whittier. We got to see otters, waterfalls, sea birds, a seal, and of course, lots of ice, some of which calved off into the bay right before our eyes.
The Photography Stuff
Just because my mom was there, didn't mean that I was off-duty. I took along my DSLR with my favorite lens of late, the Nikon AF-S 70-200mm f/4G ED VR Telephoto Zoom Lens, which I consider to be the Outdoor Photographer's Dream Lens. It's considerably lighter than the heavier f/2.8 version, but it still has full-on pro quality optics, including ED glass, Nano Crystal Coat, AF-S silent wave motor focusing and a brand new five-stop VR system.
The new VR more than makes up for the one stop difference in speed, and it certainly helped when I was shooting in dark overcast light during our glacier cruise. I used this lens extensively last winter for backcountry skiing photography, and I'm also finding it to be a great landscape lens as well. You can read my full review of this lens here
I also took along my Fujifilm X20, which performed quite well under the overcast lighting conditions. The 28-112mm zoom lens let me get in close, which is key on in theses kinds of situations, because you're pretty far away on the boat. I actually shot a couple of these photos below with the X20, but I won't tell you which ones. You'll have to guess and leave me a comment.
At any rate, enjoy the shots and let me know what you think!