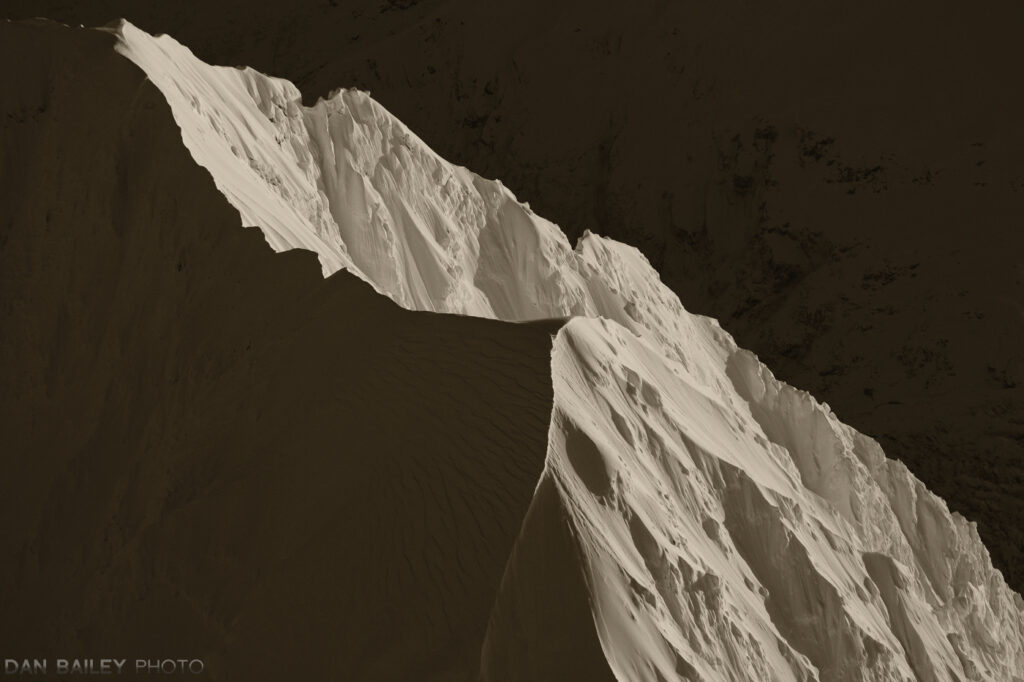 Saturday was a bluebird day. The perfect kind day for flying, so at about 1:30pm, I went over to the airport to start preheating my little yellow Cessna.
This process involves warming the engine with a 20-year old MSR XGK expedition stove and a 4-foot long piece of dryer duct, brushing the snow off the wings, removing the covers and, if there's enough snow, shoveling out my parking spot.
Fortunately, there was no shoveling needed, so once the engine was warm, I started her up, taxied to the runway, did my final pre-flight and took off, with wheels up at 3:00pm.
With sunset at 5:02pm on Saturday, I gave myself two solid hours to head up over the Chugach Mountains and get ready for the magnificent symphony of light that I was sure would start to appear around 4:30.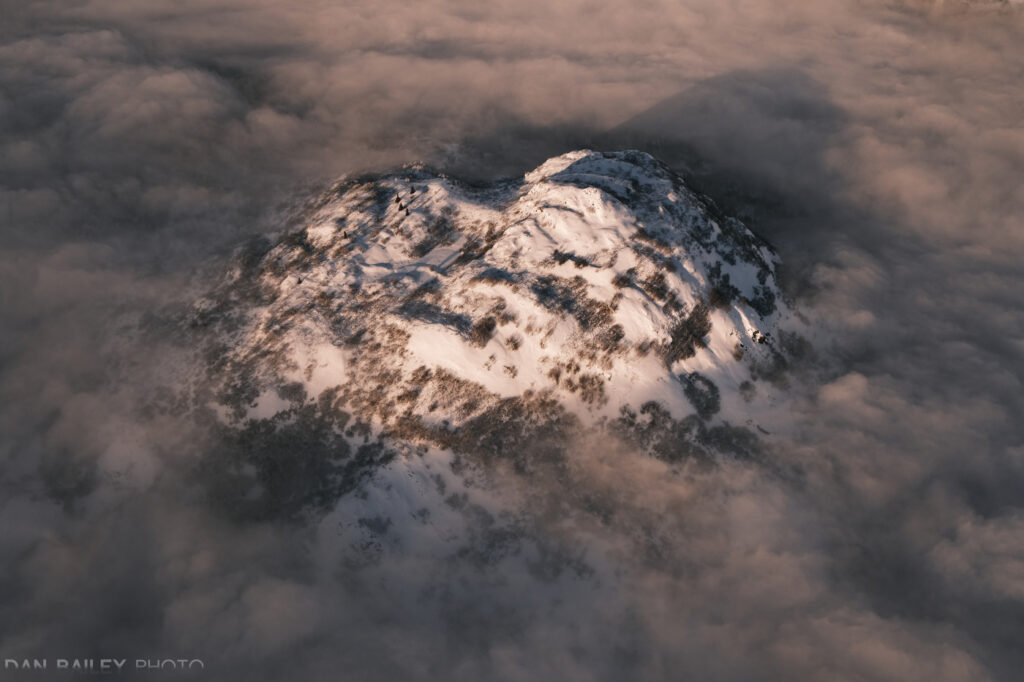 With more than enough time before sunset, I figured I'd head out the Knik and check out the gravel strips by the glacier. If there wasn't too much snow, I thought I might land and shoot a few photos on the ground before heading back up to catch the good light.
However, when I got out there, I saw that entire Knik Glacier valley and all the valleys to the south, including Lake George, Colony Glacier and the Lake George Glacier, were completely covered by a layer of very low cloud cover.
This obviously took away any prospect of landing, unless I wanted to crawl under very low 500-foot ceiling, a prospect that didn't really strike my fancy. this was further justified when I heard other pilots on the radio who were scud running beneath the clouds and complaining that they couldn't really see much down there.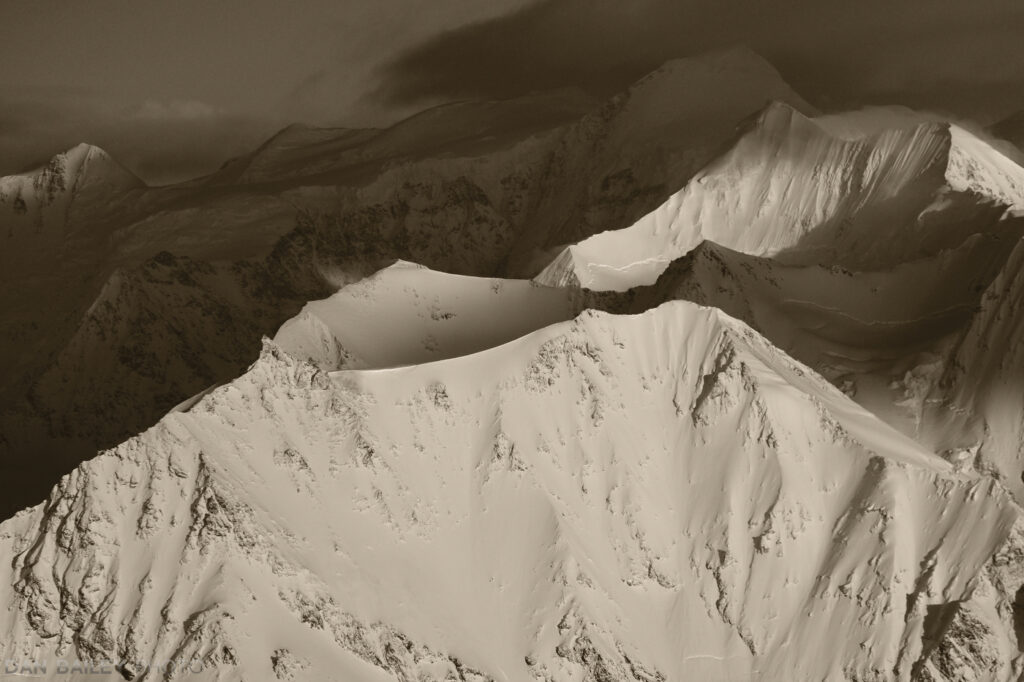 So, I did the complete opposite. I started climbing. I began a gradual ascent as I circled over the lower mid section of the Knik Glacier, and looked out over the mountains to the east.
As I gained more altitude, Mt. Marcus Baker came into view. At 13,176′, it's the highest peak in the Chugach. It was first climbed by the legendary Bradford Washburn in 1938.
The scenery got more interesting as pushed through 7,000′, and although the good sunset light was still quite a ways off, there was no reason to waste these amazing views.
Putting on the Fujifilm XF55-200mm lens on my X-T3, and setting the camera to the ACROS film simulation, I shot a series of black and white photos, capturing these massive, distant peaks in all of their glory.
At one point, I shifted to the WARM/COOL B&W Adj. setting on my Fuji camera and turned normal black and white to a wonderful toned monochrome look, which I think looks great for mountain photography.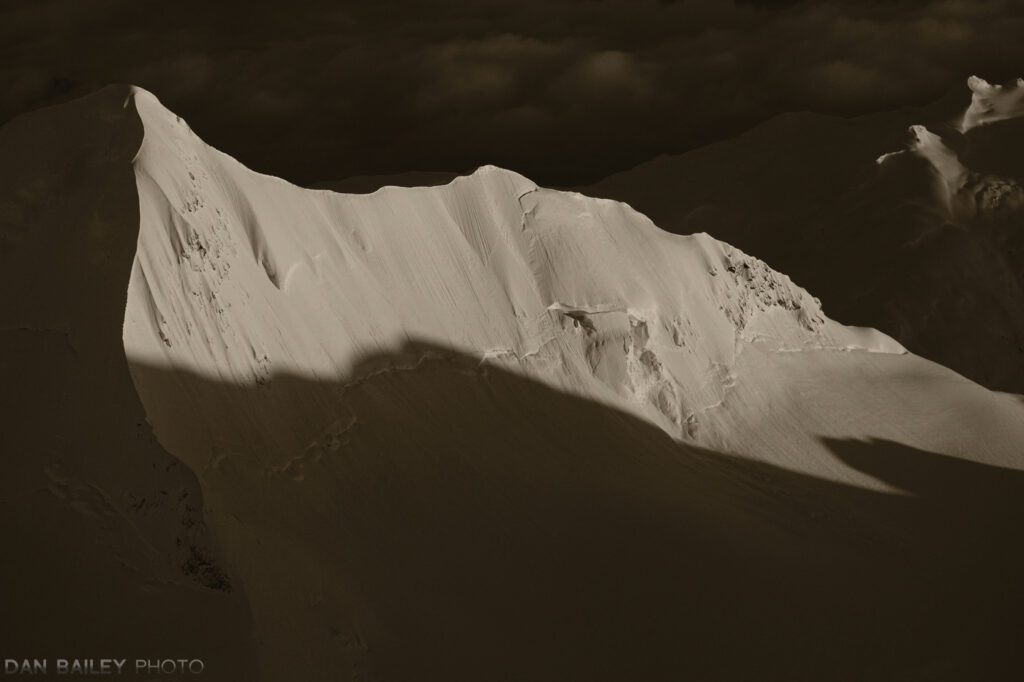 I then circled back and headed around, so that I could photograph the peaks of the huge massif that lies just to the south of the Knik Glacier and east of Colony Glacier. This is one of my favorite areas of the Chugach to photograph, and with nothing but clear skies and increasingly bold light, I keep snapping way out of the open window of my little C-120.
I don't usually shoot aerials with a longer telephoto, I prefer to use normal to short tele ranges, but in the name of trying something different, I was enjoying the compressed, magnified views and incredible details that the 55-200 lens was offering me.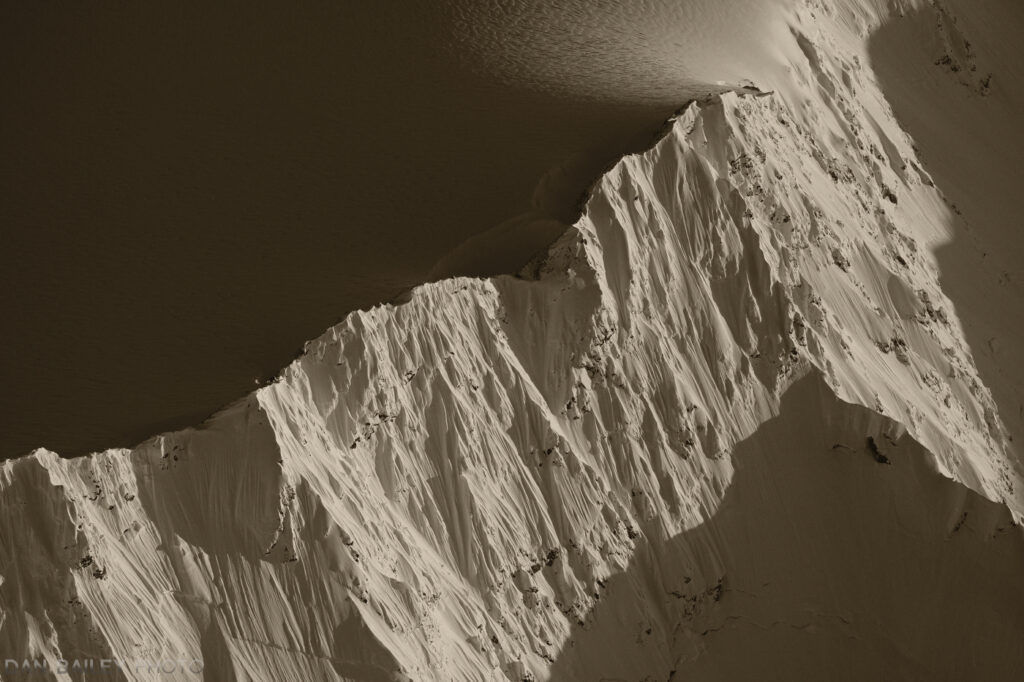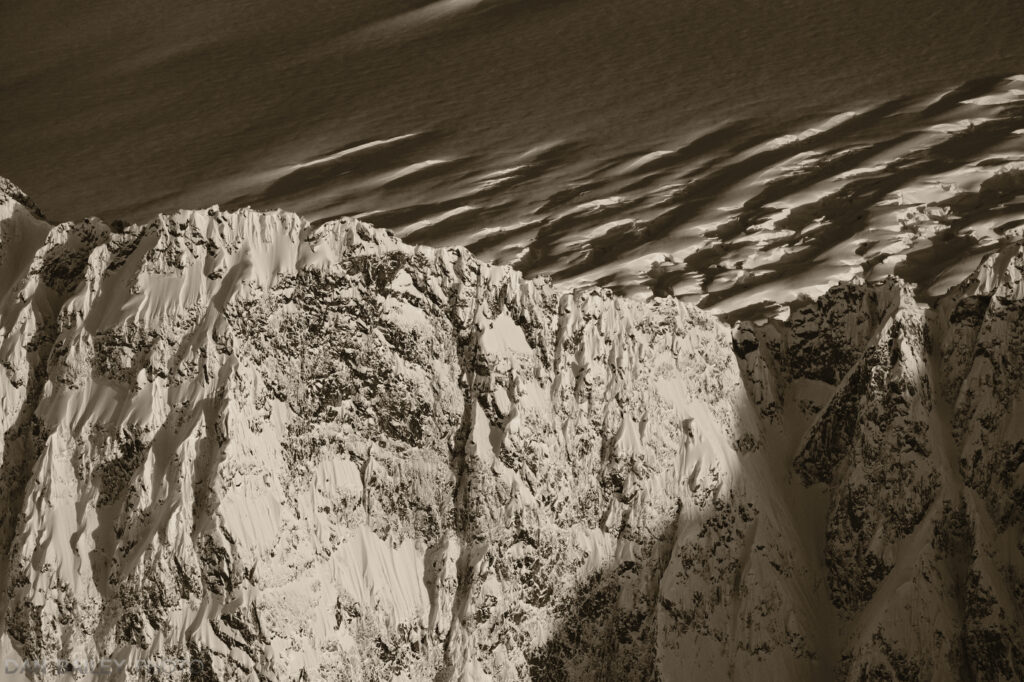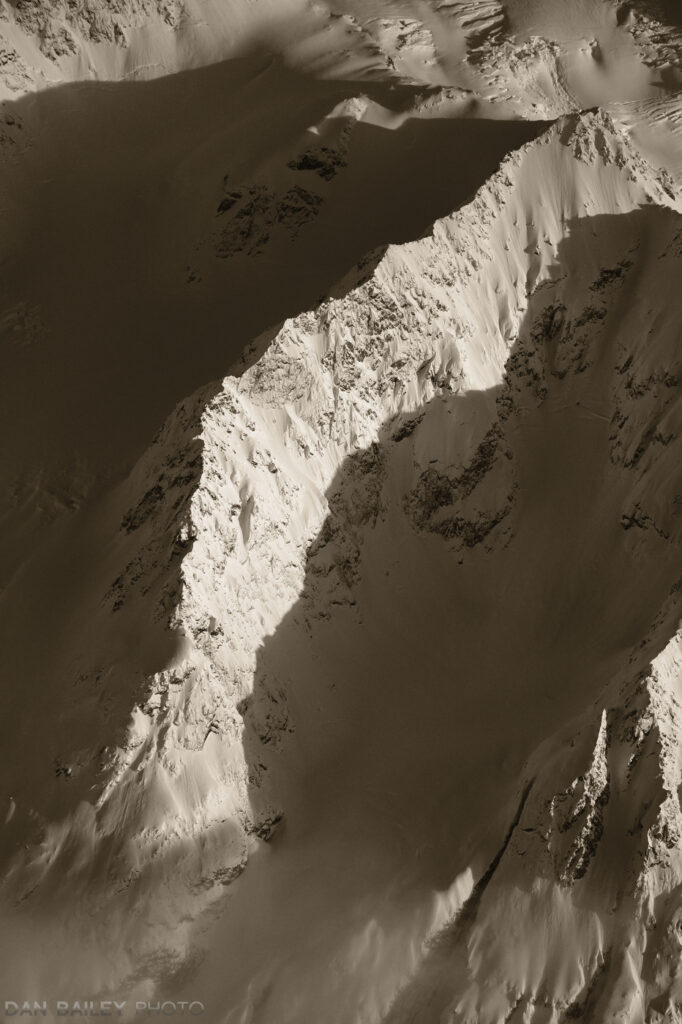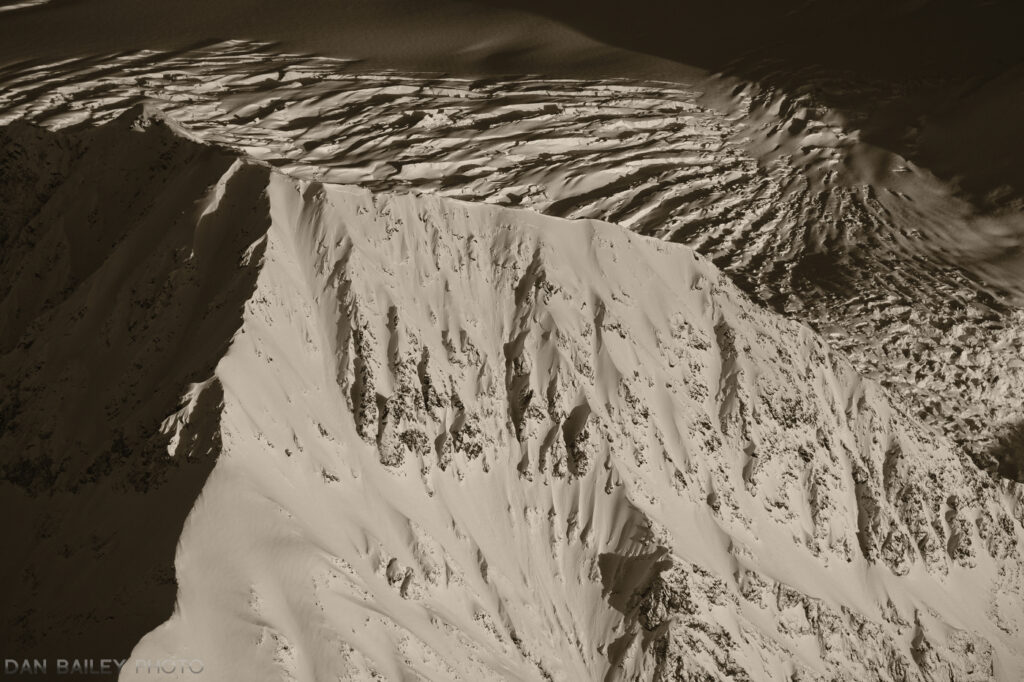 I shot like this for about an hour and a half, and then finally, the magic started to happen. As the sun dipped lower towards the horizon, that wonderful, magical light started to appear.
Switching back to color, I set my Fuji to the Velvia film simulation and began snapping away frame after frame, circling around different formations, sharp ridges and crevasse-filled snowfields.
Shooting nonstop, I grabbed shot after shot as the light turned from a faint warm glow to orange to peach, and finally to bright pink as the final crescendo of sunset played out.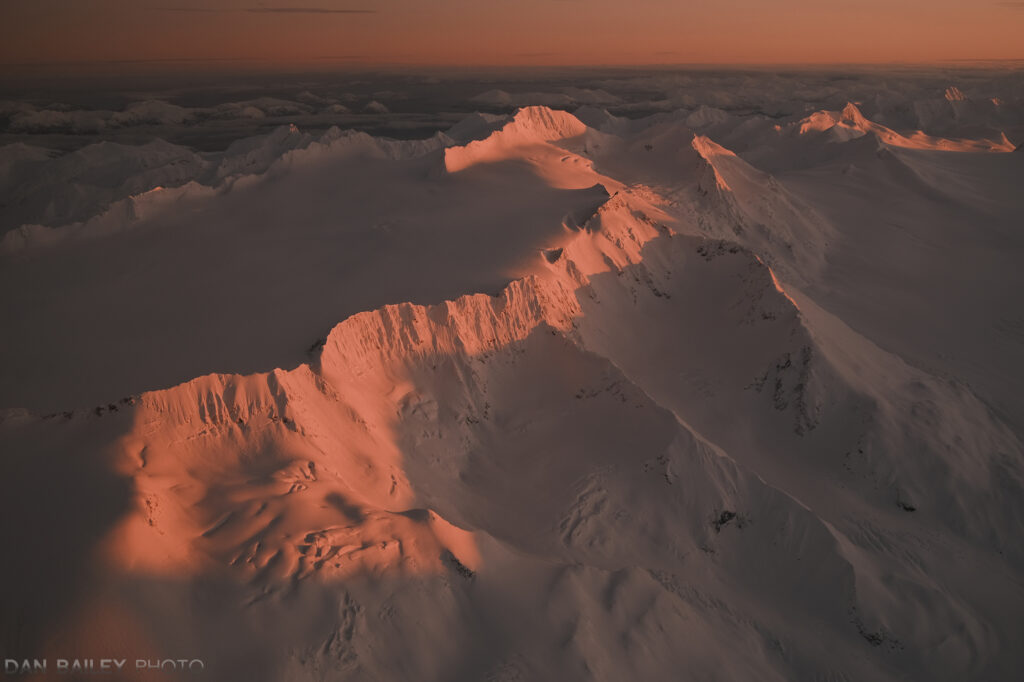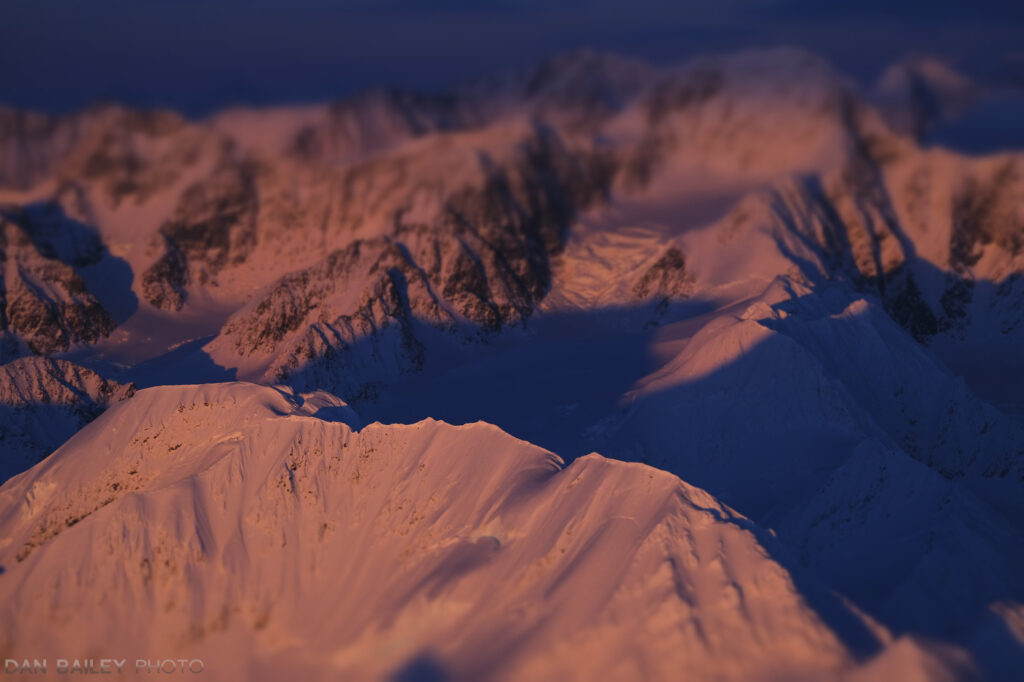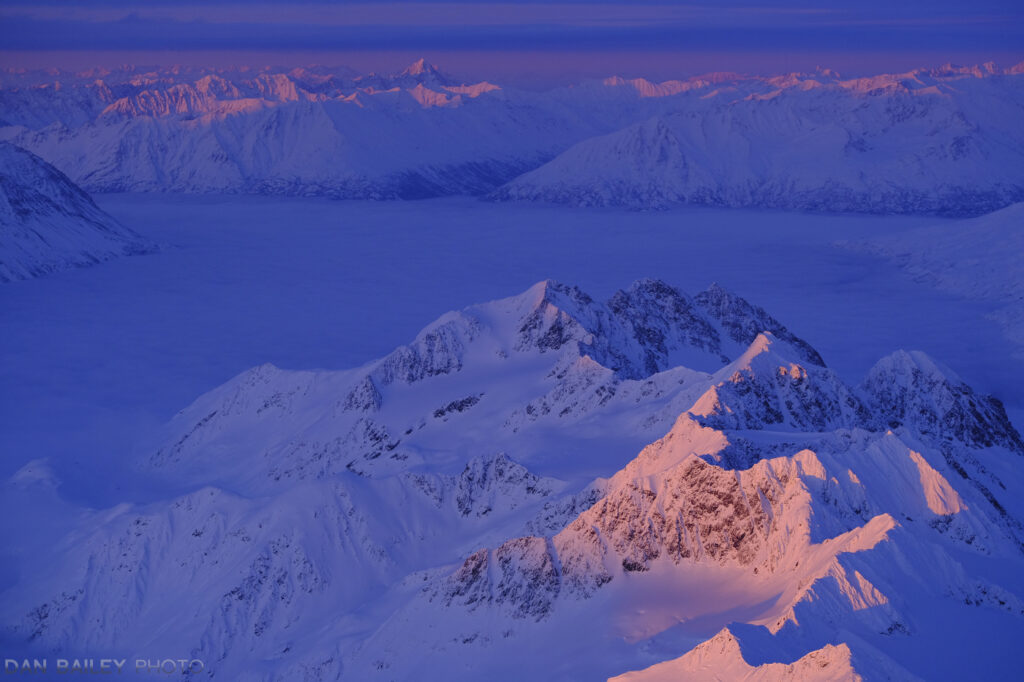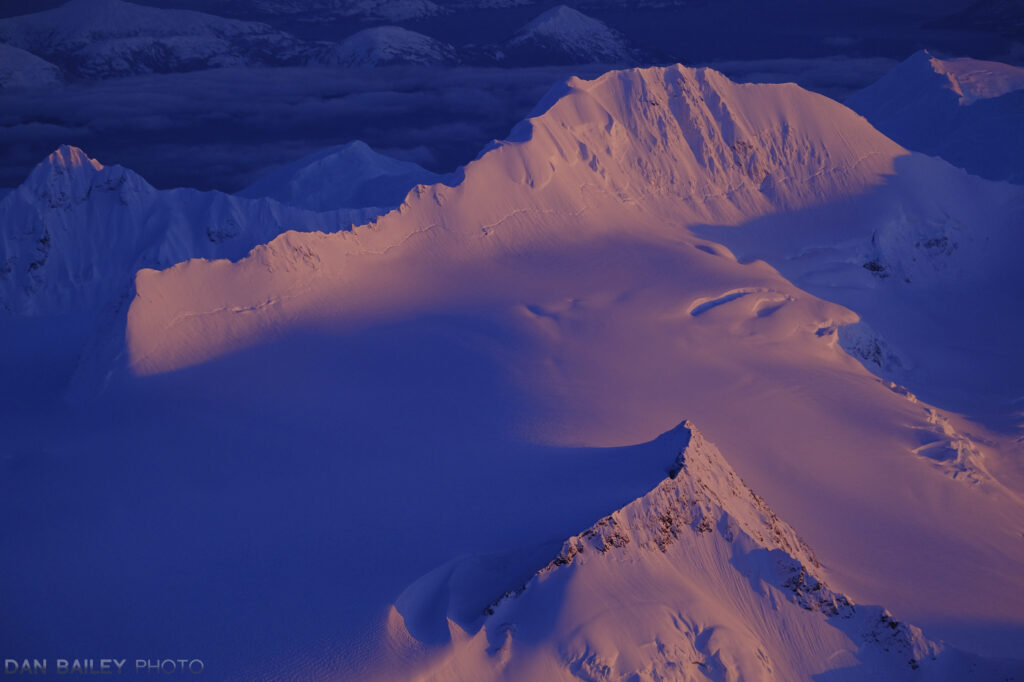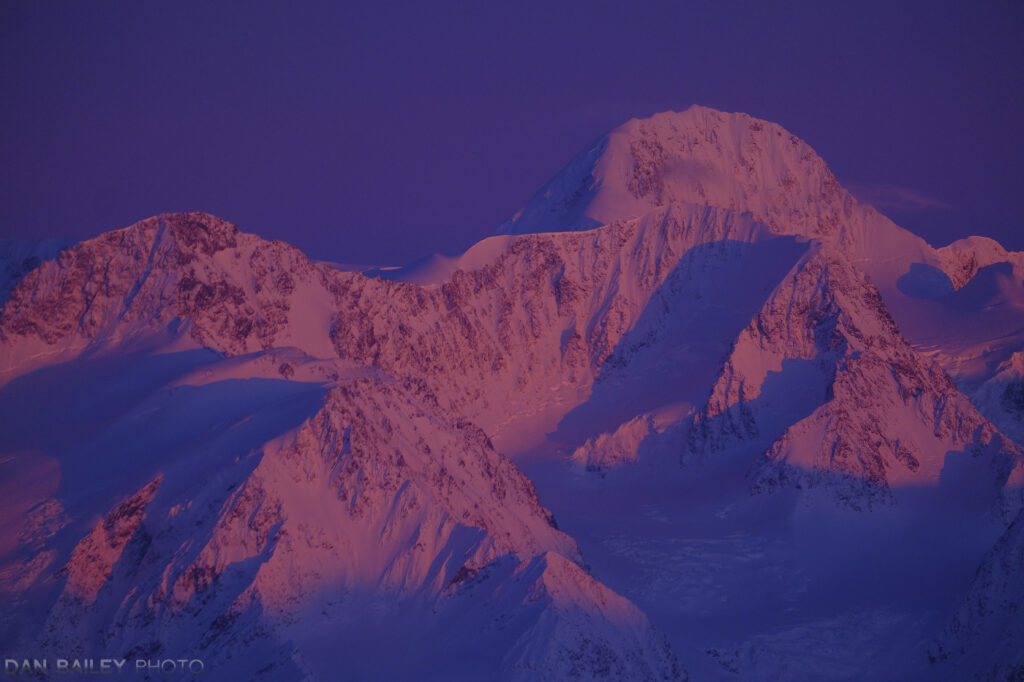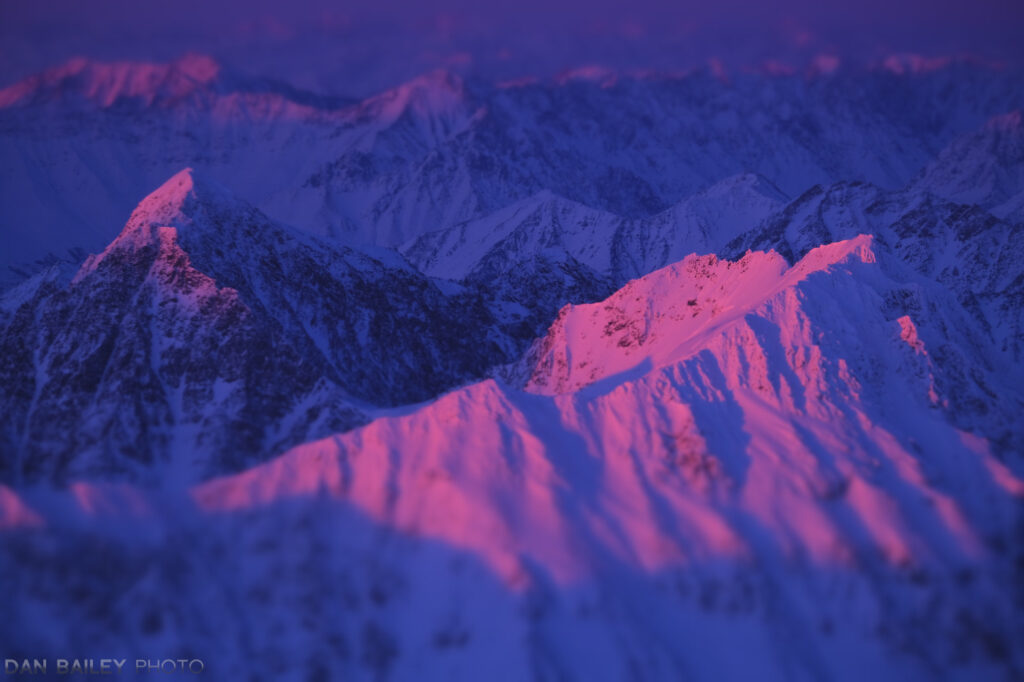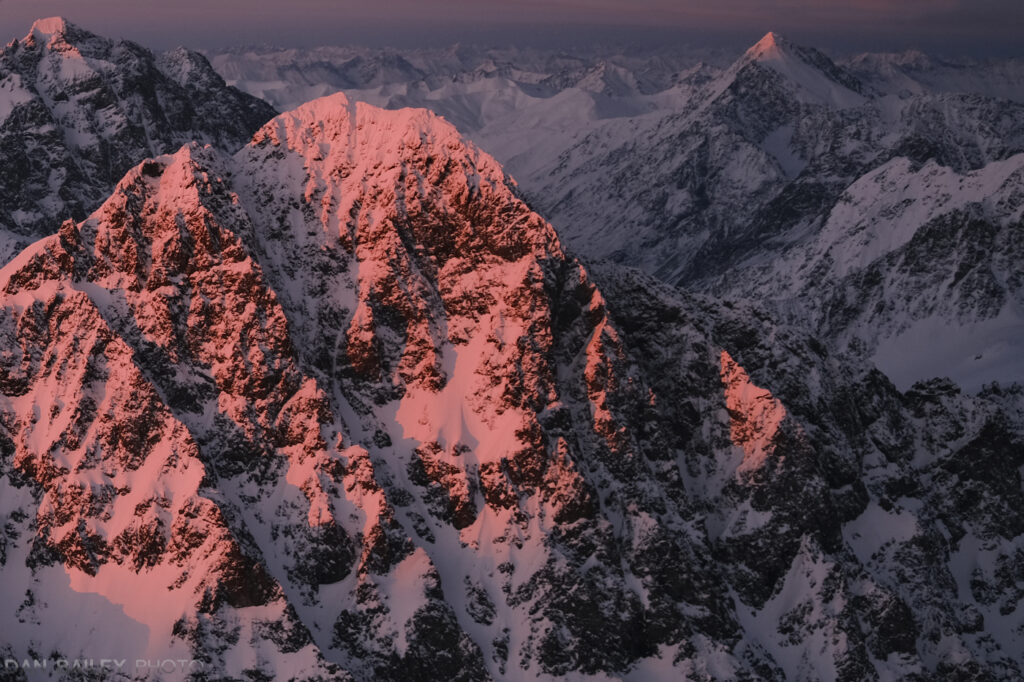 Then, after so much intense visual overload, it was over. With a last breath of fading pink, the sun was gone.
Closing the window, I warmed my hands up, at the rest of my cookies, drank some hot chocolate and flew back to Anchorage, satisfied in yet another magical winter aerial photography outing.
If you'd like to see what this whole winter aerial photography thing is like, you can watch this video below. It will give you the feeling of being right there along with me.
Thanks for reading. I hope you had a great weekend too.