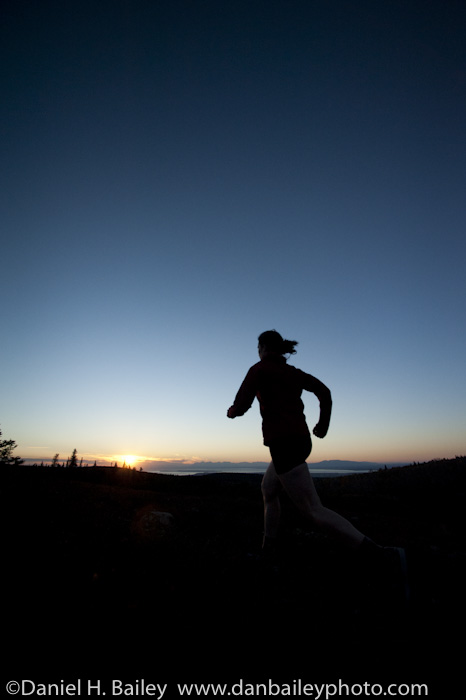 Here's an image that I shot about two months ago, before all that white stuff fell on Southcentral Alaska. I shot it at ISO 2500 with my Nikon D700 and 14mm f2.8 lens, which I love for low light situations, because you can get pretty slow with the shutter speed and still get sharp images.
I like it because even though it's got some real technical problems, namely that the trail runner's legs are all but lost in shadow, it has kind of a cool feel.
But who cares? I like it anyway. Sometimes you just need to break the rules, shoot for the moment and see what happens. I knew that I was going to lose the legs, and I knew that if I brought up the shadows in Lightroom, the whole impact of the image would suffer because it's the deep shadow that adds drama.
Plus, we know what a trail runner's legs look like, so by abbreviating the subject matter and focusing on the upper body and swinging ams, we know that she's running. We don't need to see legs to proove that. Besides, this photo is as much about environment as it is the runner, so those kinds of details don't really matter as much as mood, feel and place.
Let me know what you think.