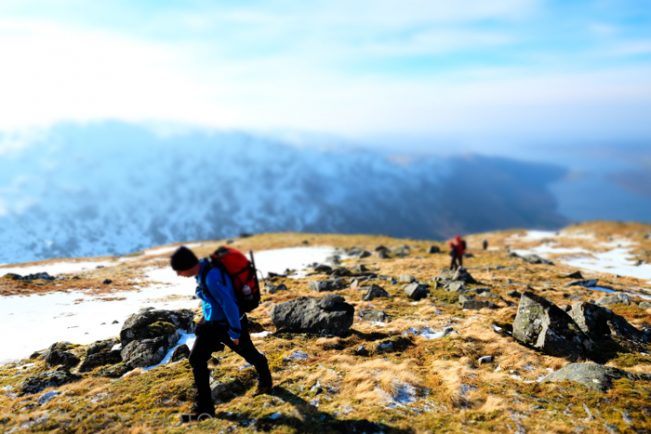 I just got back from Scotland. Yes, you read that right. Scotland again. That makes my third trip over there in 9 months and officially means that I visited Scotland in all four seasons in a single year. I must like the place. When my friends ask me if I'm moving there, I tell them that I already have my street picked out.
Being my 50th birthday trip, I figured why not go back and visit a place I've fallen in love with. Actually, the idea of returning for my birthday this winter arose after a few beers at the Black Isle Bar in Inverness with my new friends Rueben Tabner and Callum Rankine on the last night of our September bikepacking trip. So yea. Beer talk. That was all it took.
Although the framework for this trip was primarily focused on visiting the Isle of Islay, and enjoying the winter solitude, wind and whisky of the Southern Hebrides, I started the trip in a special way, by bagging my first Scottish Munro with my friend Colin.
For my non UK readers, a Munro is a mountain in Scotland a height of over 3,000 feet (914 m). They're named after Sir Hugh Munro, who first compiled the list in the early 20th century. There are 282 officially notated Munros in Scotland, and as you can imagine, Munro bagging is a very popular activity for people who like to hike.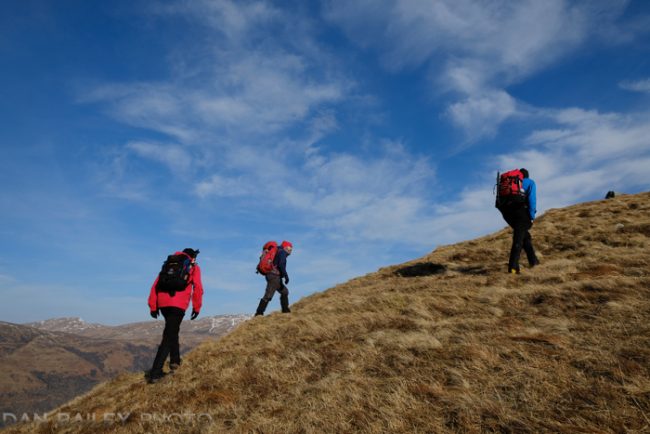 While some people strive to make it up one or two of them, many intrepid hikers strive to bag all of them. The hardiest of souls have climbed them all numerous times. The current record holder for speed is Stephen Pyke, who completed his fastest round in just 39 days and 9 hours back in 2010.
During our hike that day, we actually ran into a local legend named Hazel Strachan, who is currently on her 10th round. Yes. You read that right. Her 10th round. She shows not sign of stopping.
Anyway, the idea for this came from my friend and fellow adventure photographer Colin Henderson, who I've known via social media for about 6 years, and who we hung out and biked with during our May Scotland trip. As we were getting ready for our trip, Colin messaged me that he'd be hiking near the town of Oban that same weekend.
That seemed like a great way to start, so I threw some winter hiking gear into my duffle bag, and when we arrived in Glasgow, we took the train up to Oban and met up with Colin and his three friends, Dave, Frank and Christine. After a glorious reunion with my good friend, we set out the next morning to hike up Being Sgulaird, a 937 m mountain located in the southern Highlands, between Glen Creran and Glen Etive on the west coast.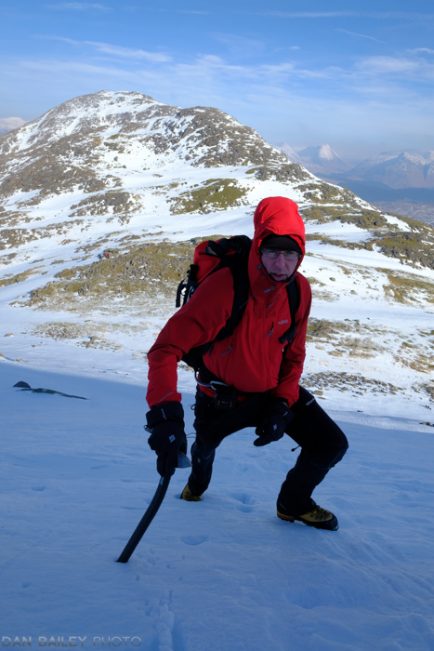 Although western Scotland doesn't have nearly as much snow as Alaska, nor is it 20 below zero (usually), that in no way implies that it's a simple walkup to hike a Munro in the wintertime.
In fact, most of them require at least an ice axe, if not crampons as well, and a full set of winter clothing. Although it wasn't Alaska cold, the constant 45 mph winds on the higher slopes certainly made it feel like winter, even with mittens and hand warmers.
The lower ridge was mostly snow free, but as we got up higher, the terrain was mostly covered with snow and some ice. I had sturdy hiking shoes and an ice axe, but not crampons. Fortunately, the snow was soft enough that we could kick steps in the steeper sections.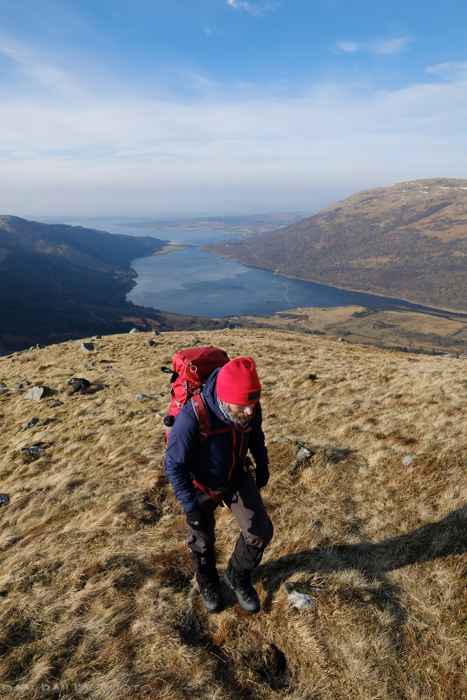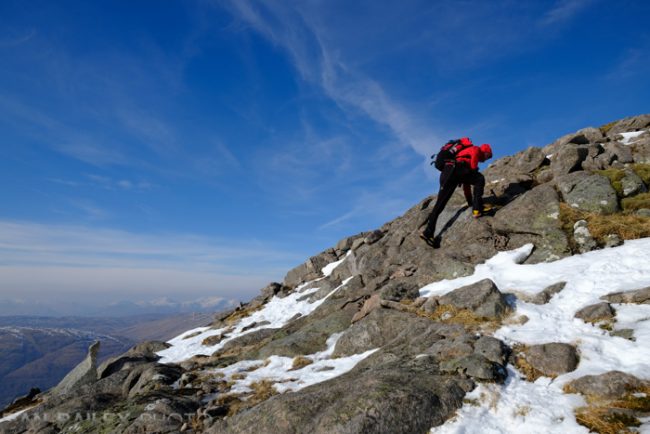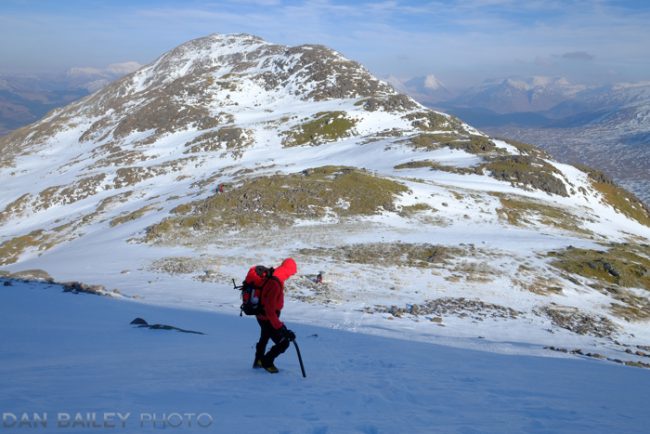 It was certainly a fun adventure, and no part of the climb was too tricky. The weather was awesome, and from the top of Being Sgularid, we were treated to amazing views in all directions. We could even see 4,411 foot high Ben Nevis, the tallest mountain in Scotland, as well as the southern valley leading towards Glen Coe.
This was the perfect outing for using my new Atlas Athlete photo pack, which was tailor made for this kind of adventure. I carried my Fuji X-T2 around my neck/shoulder during the entire day, but the pack allowed me to fit my extra glass as well as food clothing and water and provided adequate support on the rugged ground and high winds. For lenses, I mostly used the 14mm and 50mm f/2 all day long, so wide angle and short telephoto.
It was so much fun to play outside with Colin again (I keep enticing him to come to Alaska!) and I had a great time meeting new friends and enjoying pizza and a few drams later that evening back in Oban. What a great start to our trip, even though I was a little get lagged from the long travel day, but it was nothing that a ferry ride and a few days sipping whisky on Islay couldn't fix.
So, that's one more thing to check off my list of "Things I never did until I was 50." Hike a Scottish Munro. One down, only 281 to go. I don't think I'll be able to catch Hazel.