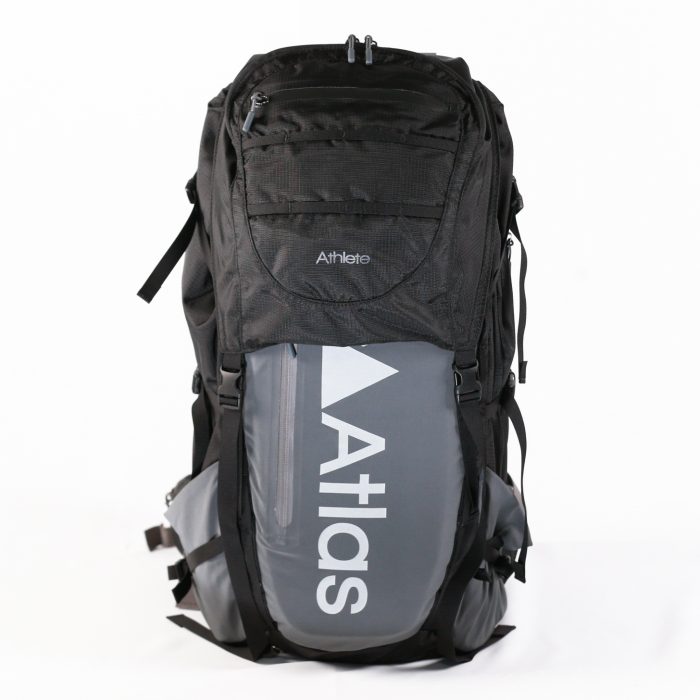 The adventure photography camera pack has been a quickly evolving monster over the past few years.
In a market long dominated by Lowepro, a number of newer companies have entered the ring and come out with interesting designs that allow outdoor photographers the space, support, durability and accessibility they need.
One of the latest companies to spring up in this market is Atlas Packs.
They have two models out now, the Athlete and the slightly bigger Adventure Pack. They feature very similar designs, with the only real difference being the load capacity.
The Athlete is 6″ deep when empty, while the Adventure is 10″ deep while empty. It's designed to hold bigger gear.
Built as extremely high quality hiking photo packs, they have a standard top-loading design that lets you cram in all your regular outdoor gear, and a large dedicated divider compartment under the back panel where you store your camera gear.
Outside, they have the kind of suspension system with padded shoulder straps and waist belt you'd normally expect to find on most high end non-photo hiking packs, from companies like Osprey and Gregory.  This is one area where photo packs have greatly improved over the years.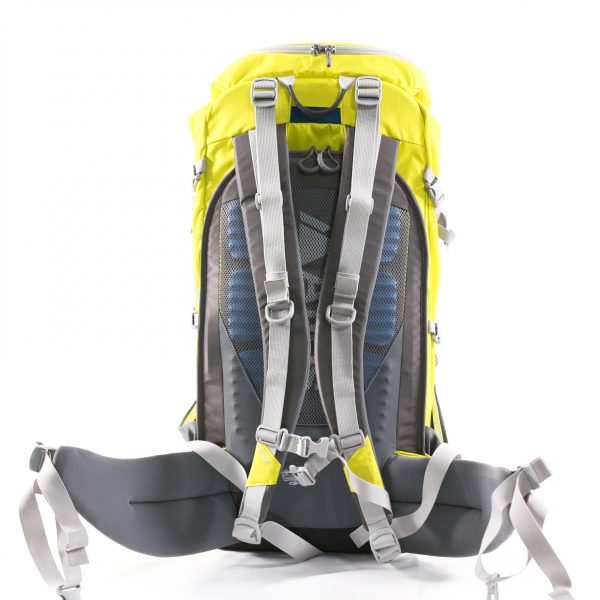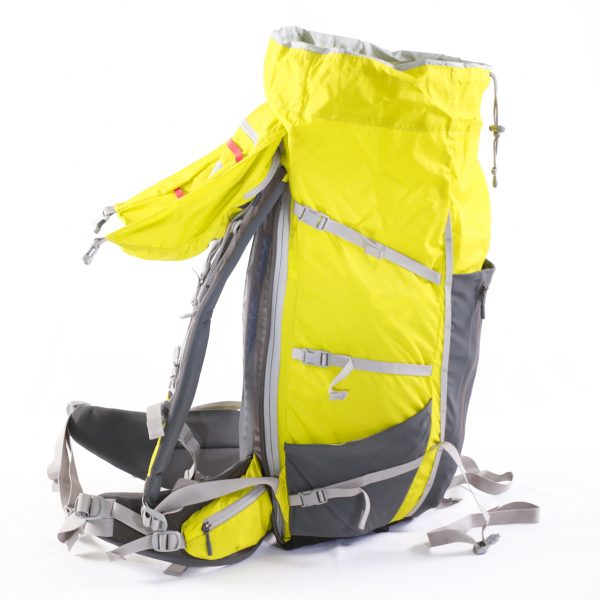 The camera compartment sits under the back panel, and unlike the F-Stop approach, where you had a separate internal "cube" to store all of your gear, Atlas Packs gives you an open bay full of removable dividers.
As you can see below, there's a lot of room in the main camera compartment, which means you can store a lot of gear. Maybe too much gear, although with that in mind, they've smartly included a feature that lets you pull up on a small webbing tab and reduce the size of the compartment by about 1/3. This, of course, give you even more room in your main top-lid compartment.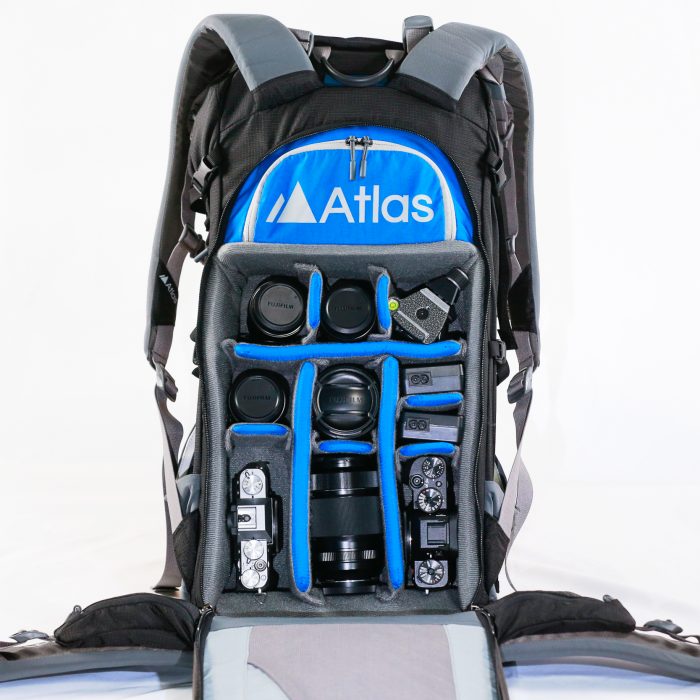 The larger Adventure model is designed to fit a large selection of pro-size DSLR gear, while the Athlete model is designed for photographers who carry mirrorless gear or smaller DSLR kits. It's still big enough to hold a full set of mirrorless camera and lenses.
When I first saw the Athlete, the very first thing I did was cram in the Fujifilm XF100-400, in addition to a body and a few smaller lenses, and I was pleasantly surprised to find that it fit quite easily. Unless you like to hike with every single lens and multiple bodies, you can fit just about any kind of workable camera system into the pack.
And much like those smaller "Flipside"style packs, you can actually spin the pack around, unzip and access your gear while you're wearing the pack. This is a great feature, because chance are, if you're wearing a technical pack like this, there's a good chance you're standing on uneven ground. Setting your pack down might not actually be a good idea…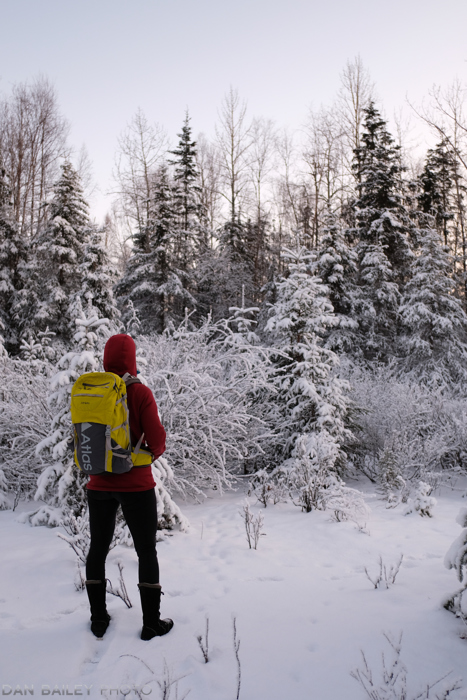 These packs carry extremely well. That's one of the real strong suits of the Atlas Pack design, they have great suspension systems that will hold up, even if you do cram that 100-400 along with 15-20 lbs worth of glass, metal and outdoor gear. Overall, the Athlete is rated to comfortably carry a load that ranges from around 15-35 lbs. The Adventure model will support even more.
The waist belt is quite burly. If anything, it may be a little too burly if you only carry a small kit, but then again, I've been spoiled by the soft, slim design of the Osprey waist belts. After all, this isn't designed as a "one body, two small primes" pack. If you really load it up, you'll really appreciate the extra support.
One nice feature that has been added to the waist belt- The've put in a zipper pocket on each side that folds out and allows you to store a lens on each hip. It's like having a pair of cup holders on your waist. I laughed when I saw this, because I'm the guy who gets caught up in the shoot and will actually set down lenses on the ground and walk away as I'm following my subject.
After the light has faded, I have to go back and look for my lenses. I'm not saying this is a good practice, I've actually lost more than one piece of gear this way, which I'm not proud of saying. But hey, I'm kind of a spaz. So, yea, these little belt-side lens holders could come in quite handy!
Also, both packs also feature tripod/ski/pole pockets on the side, as well as waterproof rain covers, and they're hydration ready.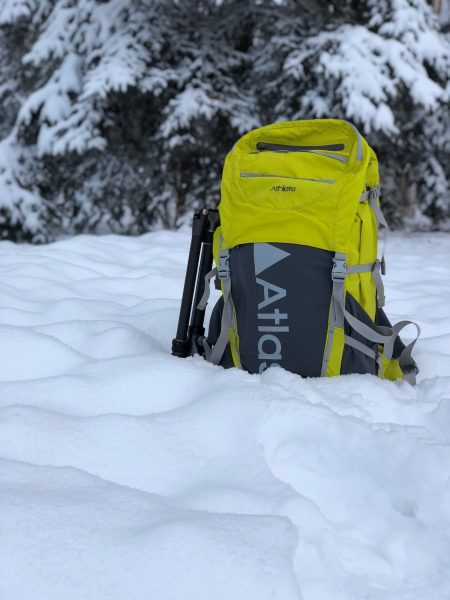 If you're looking for a high-end outdoor camera pack that will let you comfortably carry your gear in any kind of terrain or environment, then I'd recommend taking a look at what Atlas has to offer. I'm excited to see this small company grow, and judging by their designs and the positive feedback they've had from users so far, they're well on that track.
At the same time, the owner and lead designer is still still very much in the mindset of listening to what photographers really want and then building the best possible outdoor and adventure photography backpack.
Visit Atlas Packs on the web and check out their Instagram feed to see how their packs are being used out in the world.