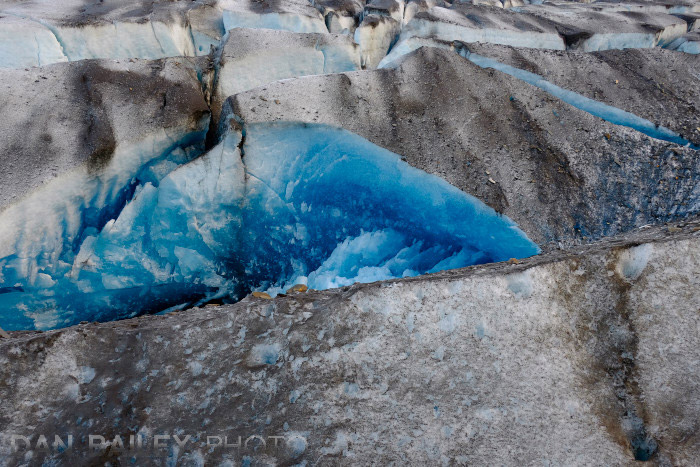 In my next life, I might decide to be a glacieologist. I'm awed by the overwhelming magnitude of these immense rivers of ice and the sheer power they have to carve out entire mountain ranges. Of course, they do all this in slow motion. Occasionally you see a huge chunk calve off at the bottom, but you can't really see them move in real time.
Living in Anchorage, Alaska, I have a number of glaciers within about 50 miles of my house. In the summer time, I love to use my little Cessna bush plane to explore the Chugach Mountains and find places to land near the glaciers. It's harder than it seems, because, even though you can get within a couple miles of some of the glaciers, the crux is finding one where you're on the same side as the rives that drain out of the bottom.
Last year, I managed to find strip that gave me hiking access to the Knik Glacier, and lately, I've been trying to find a way to get out to the Lake George Glacier, which is up the valley from the Knik.  Last week, while scoping out the area, I spotted a new bush strip that looked like it would give me relatively easy access, but ran out of time to do any serious exploration.
After waiting out a few days of rain and wind, I went back yesterday to check it out. After flying low over the strip at 70 mph, I counted it out to be about 750 feet long (at that speed, one second equals about 100 feet) and inspecting it for any obstructions, holes or large rocks, it seemed pretty smooth.
Coming back around, I lined up on final, dropped my 26″ bush wheels onto the hard packed mud and grass just as I crossed the small creek at the end of the strip and rolled to a stop. After pushing the plane off to the side, I unloaded my gear, which included trekking poles, ice axe, shoe spikes and bear spray, and started hiking up the gravel bar.
[iframe]<iframe src="//instagram.com/p/sBAuOGod0V/embed/" width="612″ height="710″ frameborder="0″ scrolling="no" allowtransparency="true"></iframe>[/iframe]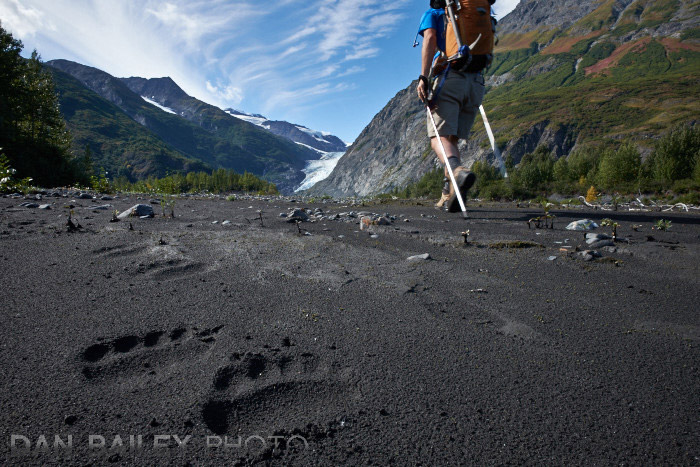 It ended up being about 3 1/2 miles up to a small creek bed that wound up through the brush before finally opening up right up against the side of the Lake George Glacier. Usually you have to navigate wide moraines or iceberg filled lagoons in order to get up onto the ice, so it's a real treat to have the access be this easy.
Unlike many glaciers, this one is relatively flat out at the edge. I'd seen this during my arial reconnaissance, which is one of the reasons I'd wanted to check it out up close. It was surprisingly easy walking, and I hiked about a mile and half, stepping over the small cracks and weaving my way around the larger crevasses.
I came across a couple of interesting holes where the ice had simply collapsed, leaving a sinkhole surrounded by a circular pattern of big cracks. This happens when the glacier moves over a section of running water or a big air pocket, and it looks pretty cool.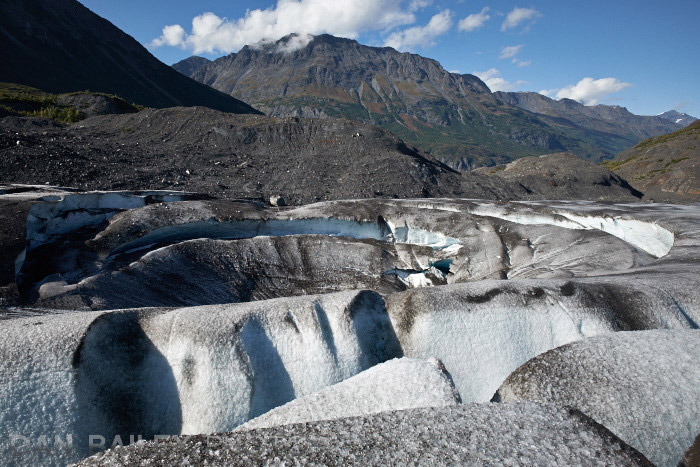 As I got farther up, I saw a few more collapsed sections that were created by the river that runs out at the side of the glacier. These are massive holes that you would never be able to escape from if you were to fall in. Stay down there long enough and you'd probably get crushed by one of the massive ice blocks that keep cutting loose. It's really loud when this happens, although I guess if you dropped anything that's as big as a car or house, it would make a thunderous roar as well.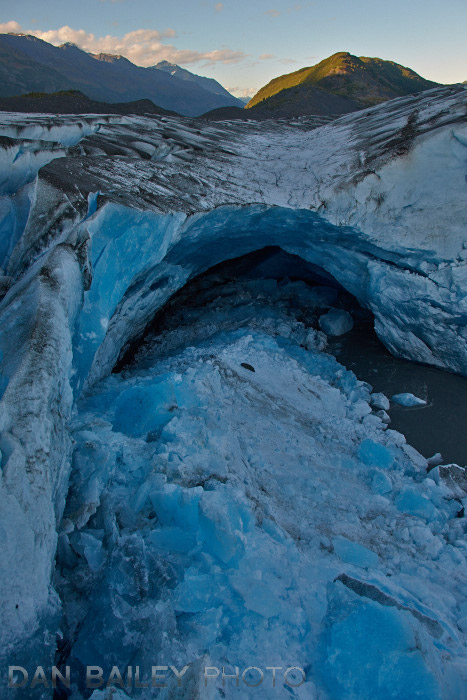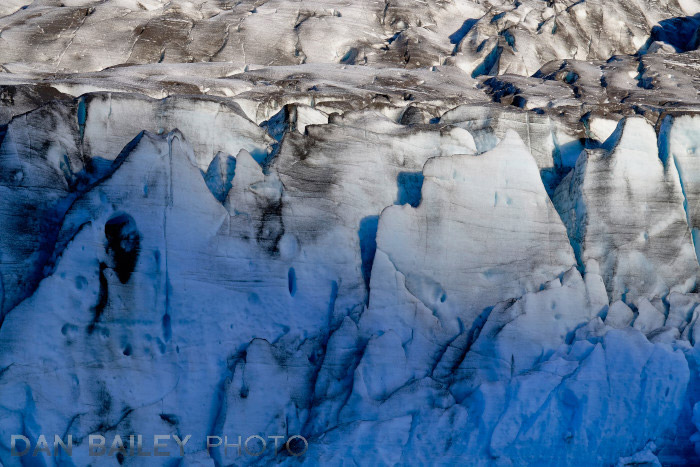 For camera gear, I carried my Fuji X-T1 and the new Fuji XF 18-135mm weather sealed lens. I'm blown away by how sharp this lens is, even out at the edges, and at all focal lengths- wide angle to telephoto zoom lenses are not supposed to be this good! You can read my full review of this lens here.
This lens was perfect for shooting a variety of landscapes, and the weather sealing benefits of both the  X-T1 and the lens really came in handy. Although it was dry out, glaciers are covered with dirt and mud that's been carved from they mountains, and this super fine silt can get everywhere.
In addition to being water resistant, the XF 18-135mm has a gasket inside the barrel which prevents dust and small grains of dirt from being sucked up into he lens when you zoom in and out. During the course of the day, quite a bit of this find glacial dust accumulated onto my body and lens, so I was glad they were both filled with gaskets to keep this stuff out.
I also love the compositional versatility that the XF 18-135 lens has. There's so much interesting stuff to be found in these kinds of environments, and having a lens that goes both wide and tele lets you capture a huge variety of subject matter, both up close and far away. Rocks, Cracks. Ice towers, mud. running water. You could spend days photographing here and never get bored.
However, I was just out for the day, so when I began to see warm colors on the mountain peaks above, I knew it was time to start heading back. Once off of the ice, it took me about two hours to hike back to the plane in the shady gravel bar. I crossed a number of moose tracks and even a few bear footprints, but never saw any wildlife during my 7 hour exploration.
The only other photo gear I carried in my Lowepro Photo Sport 200 photo pack during this outing was my Joby Gorillapod, which is what I used to shoot the self portrait of my feet. I never go anywhere without this little gem, it's so useful and it hardly weight anything. I just tuck it into the straps of my pack, and if I don't end up using it, it's not like it weighted me down at all.
Note: These are all RAW files processed with Capture One Pro 7.