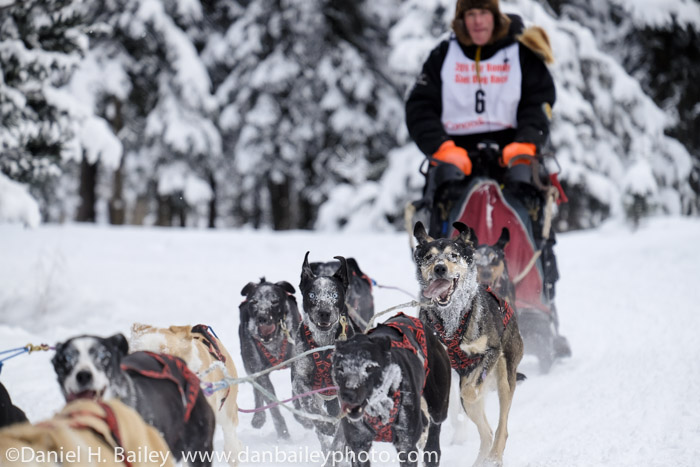 Having shot extensively with the Fujifilm X-T1 for six weeks now, I feel as if I'm dishing out the exact kind of use and abuse that Fuji had in mind when they designed this camera. Since returning from Iceland, where I shot a variety of landscapes and action photos with the X-T1, I've photographed dog sledding, winter snow bike racing, landscapes, aerial photos, the northern lights, and I took it on a bitter cold winter bike tour along the Denali Highway, where the camera was covered in ice and frost for much of the time.
In all cases, the X-T1 has continued to perform with flying colors. I have not experienced a single hitch with the camera, and I can say with full authority, especially after using the X-E1 and X-E2, that the new X-T1 has far exceeded my expectations. I would not hesitate to use it for pro work, and in fact plan to use it on assignment later this week.
Last month, I wrote a detailed post about how well the X-T1's autofocus tracking system works. Today we look at a few more examples. As a longtime DSLR user who makes my living getting right in middle of the action and shooting things that move rather quickly, I was very curious to see just how well the X-T1 would stack up against the kind of performance that I'm accustomed to with my Nikons.
In order to do this test, I took the X-T1 out to photograph dog sled racing here in Anchorage, Alaska. I've shot these yearly sprint races numerous times with my DSLRs, so I figured this would be a very good benchmark.
Sprint dog racing isn't especially hard to shoot, but the perfect subject to test your camera's AF system. The dogs run at around 20 mph, either directly towards or away from you, and with 14-16 canine heads constantly bobbing up and down, there's a lot for your AF sensors to grab (and miss). Usually, I try to grab either the lead dogs, one of the middle dogs, or the musher himself and see how well it tracks.
As it turns out, with its new software motion prediction algorithms and higher buffer, the X-T1 did exceptionally well. Selecting my initial AF point, I was always able to lock onto whatever part of the frame I initially chose. Sometimes in the chaos of the action, the X-T1 was able to follow the same dog through the entire series, while other times, the sensors picked up another dog in the pack. Sometimes it lost a dog for a frame or two before locking right back on, but you know what? I pretty much get same thing when shooting with my Nikons.
My DSRL setup might perform a little better, but to be fair, I'm usually using a $1,500-2,000 f/2.8 or f/4 AF-S VR zoom lens. With the X-T1, I'm using the XF 55-200mm f/3.5-4.8. While this Fuji zoom is a very good lens, it's not the same caliber glass as the Nikon lenses that cost three to four times as much. I know that Fuji has a couple of higher performing zooms in the works, according to their lens roadmap, so I'll be very curious to see how well those do with the X-T1.
All of these images were shot in CH (8 fps) and AF-C mode as straight JPEGs with no EV compensation. Normally, I would set the EV to +1 stop or so to brighten things up in the white snow and overcast environment, but here I wanted to shoot straight and see how the  X-T1 would handle this kind of situation. They're a little dark, but you'd get that from any camera.
Combined with its rugged, high abuse-worthy, all-metal body and the host of features Fuji packed into this little gem, I continue be inspired and impressed with the X-T1. It's an unbelievably powerful little camera that fits in your hands and doesn't hold you back at all, and this from a 20+ year DSLR shooter. Years ago, I had resigned myself to forever having to carry a bag of heavy gear in order to get pro quality action/adventure shots. No more. I'm seeing my photography paradigm transform before my very eyes, and it's quite exciting. I feel like I'm walking into a whole new world.
Check out my X-T1 full review and field test. It's a very detailed post with lots of information and more full size image samples. You can also preorder the camera at B&H Photo, Adorama or Amazon. It's slated to ship any day now. Also, you can save up to $250 on the Fuji XF lenses. This special deal ends March 22. Please consider purchasing through these links. It's your way of giving me a free nod for writing these reviews. Thanks!
Preorder the Fujifilm X-T1 for only $1,299 (body only) at B&H Photo or Amazon
Preorder the Fujifilm X-T1 with 18-55mm lens for only $1,699 at B&H Photo or Amazon
[iframe]<iframe width="120″ scrolling="no" height="240″ frameborder="0″ style="border:none;" border="0″ src="http://mer54715.datafeedfile.com/widget/aff_widget_prdt_generate-2.0.php?aff_num=6746&aff_net=1&widget_num=4995&sid=" marginheight="0″ marginwidth="0″></iframe><iframe src="http://rcm-na.amazon-adsystem.com/e/cm?lt1=_blank&bc1=000000&IS2=1&bg1=FFFFFF&fc1=000000&lc1=0000FF&t=danhbaisadvph-20&o=1&p=8&l=as4&m=amazon&f=ifr&ref=ss_til&asins=B00HYAL84G" style="width:120px;height:240px;" scrolling="no" marginwidth="0″ marginheight="0″ frameborder="0″></iframe><iframe style="width:120px;height:240px;" marginwidth="0″ marginheight="0″ scrolling="no" frameborder="0″ src="http://ws-na.amazon-adsystem.com/widgets/q?ServiceVersion=20070822&Operation=GetAdHtml&ID=OneJS&OneJS=1&source=ss&ref=ss_til&ad_type=product_link&tracking_id=danhbaisadvph-20&marketplace=amazon&region=US&placement=B00HYAL88W&asins=B00HYAL88W&show_border=true&link_opens_in_new_window=true&MarketPlace=US"></iframe>[/iframe]
[iframe]<iframe src="http://adn.impactradius.com/gen-ad-code/79340/78389/1036/" scrolling="yes" frameborder="0″ marginheight="0″ marginwidth="0″></iframe>[/iframe]