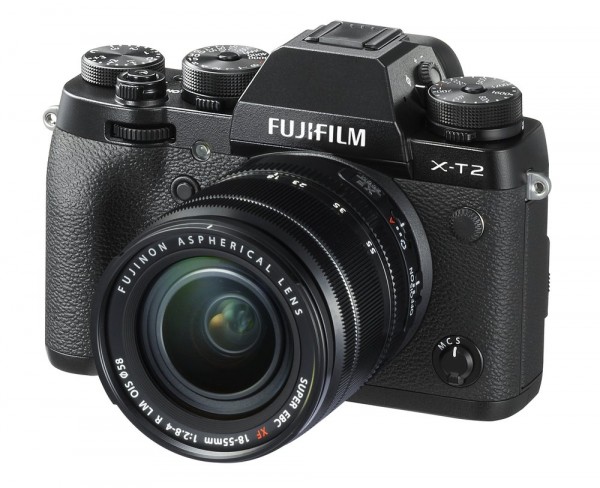 Today Fujifilm released firmware update version 2.00 for the X-T2 and X-Pro2 cameras. The new upgrade adds 24 new features and performance upgrades to the X-T2 and 17 to the X-Pro2, including the AF-C Custom Settings Menu.
Fuifilm is known for putting out awesome firmware updates that dramatically increase the capabilities of their cameras. In fact, that's one of the huge benefits of mirrorless cameras in general. Since many of the functions inside the camera are software based, they can be upgraded with new code and algorithms.
In many cases, these advancements make you feel like you're suddenly using a brand new camera, only you didn't actually have to go buy another one. Fuji's mentality is to create cameras that have a relatively long shelf life and they've shown dedication to supporting older cameras in the line with continued firmware updates.
In 2016, Fuji released updates to just every camera in their lineup, including a significant autofocus upgrade to the X-E2, and with today's firmware announcement, they've even updated the X-T1 as well.
You can see the entire list of features that have been added to the X-T2 (and X-Pro2) with the v.2.00 update, but I wanted to highlight my favorite performance tweaks and new features that I feel add even more power to an already awesome camera. If you shoot the X-T2 or X-Pro2, you should definitely upgrade ASAP.
1. Shooting RAW in Bracketing and Advanced Filter Modes
I love using some of the ADV modes on the Fuji cameras, like Miniature and Toy Camera. However, up until now, the camera would only record a JPEG of the scene if you were set to ADV or when bracketing film simulations, WB or AE settings.
What if you also wanted to have a RAW image of the scene for more options, or if you also want to recordr a "normal" view of your subject? Now you can. Both the X-T2 and X-Pro2 will now allow you to shoot in RAW+JPEG mode when using these camera settings.
2. Programmable Long Exposure of up to 15 Minutes
When shooting in "T Mode", the camera previously allowed shutter speeds of up to 30 seconds. With the new update, both the X-T2 and X-Pro2 will now let you shoot even longer shutter speeds, all the way to 15 minutes.
This feature could really come in handy if you like to use super dark neutral density filters or if you like to do extremely long exposure photography. I have a 10 stop ND filter that can easily get me exposure times into the "minutes," so this could be really fun when shooting things like streams and clouds.
3. Full Range ISO Adjustments with the Command Dial
The X-T2 has an awesome ISO dial that's so easy to change. (Not everyone loves the ISO dial on the X-Pro2.) Either way, both cameras now have a new option in in the BUTTON/DIAL SETTINGS Menu on that top of Page 2.
If you set the ISO dial to A and switch to COMMAND in the menu, you now have full ISO control with the front command dial. In addition, you can press the dial to toggle between changing Shutter Speed and ISO. This give you incredibly fast and precise fingertip control, which might be a good option when your eye is glued to the EVF. With the Fujis, they name of the game is options.
4. Addition of a Smaller Focus Point Size in Single AF
Both cameras now let you bring your AF box down to a single point when shooting in Single AF mode. This allows for critical pinpoint focusing. This will be great for shooting macro and other critical scenes where exact focusing is required.
5. Addition of Portrait / Landscape AF Mode Switching
This one is totally awesome – probably my favorite new feature, although it's only been added to the X-T2. What if you're shooting a fast breaking scene, or even a portrait, and you're switching back and forth between vertical and horizontal. (I do this a lot!)
Since your subject usually changes their relative position inside the frame when you switch orientations, you often have to move your focus zone to reacquire. This can take time, and even messing with the thumb joystick for a split second can cause you to miss a critical moment.
Well, someone at Fuji is brilliant, because they apparently read my mind and solved this problem. Now, with the new STORE AF MODE BY ORIENTATION option in the AF/MF menu, you can now set a different focus zone, and even a different focus mode for each, and it will change when you rotate the camera back and forth.
When you're composition your scene, set the focus parameters for each orientation to where you think pro plan to have the subject appear inside the frame. You can even do it on the fly and watch your success/focus percentage go way up. This is so awesome. I've already turned this setting on and I know I'll use it all the time.
6. Change the Focus Frame Position While Enlarging it
Normally, you move your focus point/zone with the thumb joystick and then adjust the size with the front command dial. Or vice versa. Now you can adjust them both at the same time. Thumb and index finger working together to achieve critical autofocus precision.
You may not use this all the time… then again, once you get used to the motion, maybe you will.
7. Display a live histogram during video recording
The new firmware updated added quite a few new video features, and this is one of them. It's for the X-T2 only.
8. Name Custom Settings
Another one of my favorites. I know a lot of X Series photographers like to tweak the Highlight and Shadow tone, Color, White Balance, Grain Effect, Sharpness and Noise Reduction to suit different subject matter and shooting styles. Combining these settings with different film simulations can give you some very unique and personal looks to your imagery.
You can now name your custom settings and make them even more personal, or at least more identifiable than Custom 1, Custom2, Custom3, Custom 4, etc… Maybe you'll call them things like GRIT, AIR, DENSE, COOL, CLASSY, VIBRANT, YUMMY, GORILLA, SO LONG, TAKE OUT THE TRASH, SHOW ME THE MONEY, BILL'S GRAIN or WICKED COOL PRESET. Actually, I would hope you'd come up with way better ones than these. You have 25 character spaces to work with, so have fun. 🙂
9. Voice Memo Function
You can now record a 30-second voice memo to any single image. In the PLAYBACK Menu, turn VOICE MEMO RECORDING On, and then press and hold the front command dial when you're reviewing an image.
This could be useful in any number of situations. Both the X-T2 and X-Pro2 got this feature.
10. Faster Face Detection and Improved In-Focus Indication in AF-C Mode
Ok, so this is really two things, but it's kind of the same category. Both the X-T2 and X-Pro2 got faster, updated autofocus algorithms and performance upgrades that will make the camera that much better and accurate when tracking moving subjects.
In addition, Face Detection AF now enables the use of Phase Detection sensors for overall faster performance when using this focusing mode.