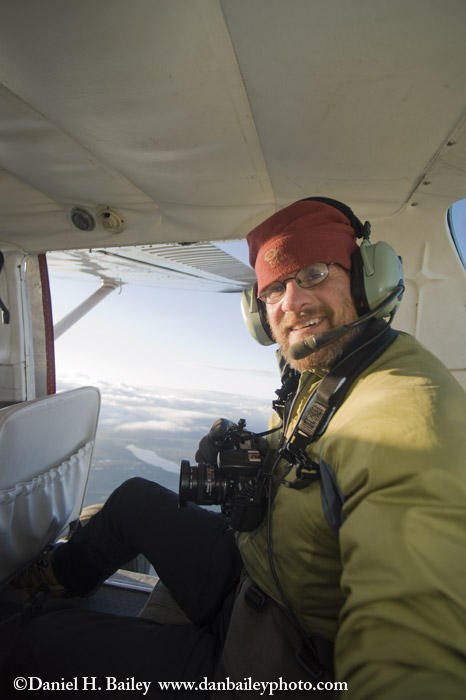 Well, we're just about to the end of another year, and like many other people, I can't help but look back on 2010 and reflect on some of the things that have really mattered to me, both creatively and professionally. I'm almost sad to see the year end, because I feel that I grew quite a bit as a photographer in a number of areas during the past 12 months.
Although 2010 began on very weak legs, I got tired of being a victim to the economic slump. I quickly put the pedal to the metal and started ramping things up with new ideas, which quickly grew into new opportunities. Before long, business starting booming, and as the year went on, I spent hugh amounts of time laying the groundwork for future possibilities, many of which I'm already starting to see pay off.
This only gives me increased hope and confidence for 2011, which I'm eagerly awaiting like a skier who's lined up at the starting point waiting for the gate to drop. I look forward to the coming year and to all the opportunities and contacts that it brings. Of course the VERY BEST thing about 2010 is that it was NOT 2009!
It's always good to journal this kind of stuff, so here are my 10 most exciting photography highlights from 2010. Does this mean I have to come up with 11 highlights for next year?
1. Favorite New Client: Twentieth Century Fox Film Corporation
Back in February I got a call from the marketing department at Fox Searchlight Pictures. They were looking for an adventure photographer to shoot outdoor stills for the movie 127 Hours. Things came together and in March they flew me down to Los Angeles and then out to Utah to shoot a day on the set with director Danny Boyle and the rest of the crew.
I also lined up to shoot all the canyon scenes for 12 more days in April, but despite the fact that the Fox people really wanted me, the producer made a last minute call and decided not to have a still photographer on the reduced unit canyon crew. Oh well, even though I didn't get to shoot the full job, I still got to meet and shoot for a great new client. Hopefully they'll have me back!
2. Favorite Assignment: Shooting Aerials of Denali for Holland America
In June, another great new client, Holland America and their media company, Story Worldwide, hired me to photograph the cover story about Denali for Mariner Magazine. In addition to getting landscape and wildlife shots, I got to shoot aerials of Denali (Mt. McKinley) from the back seat of a Cessna 206. As fun as the 127 Hours job was, this assignment was even more fun and fulfilling, since I got to spend some quality time exploring one of the most amazing wilderness areas in the world.
Honorable mention here, I also really enjoyed shooting the Iditarod Start for Jeff Schultz Photography. Jeff has been the official Iditarod photographer for many years and so I was really excited that he asked me to help him cover this year's event. I'm trying to get him to bring me out on the trail for the 2011 Iditarod.
3. New Equipment
In March, I added a Nikon D700 DLSR to my arsenal, and later in the year I invested in some more lighting gear, including a Nikon SB-900 Speedlight, Lastolite TriGrip diffuser, Bogen Magic Friction Arm, Justin Clamp, Photoflex LitePanel, and Lowepro Inverse 100 AW camera bag. (Read my field test review here.)
Out of all that stuff, my favorite purchase was the D700. I LOVE the image quality and that it can shoot full 14-bit RAW at 5 FPS. I've used it on nearly every single shoot since I got it and expect even more action with it in 2011. I'm also really excited about the lighting gear, because it's really opened up some ideas and capabilities for creating diverse types of new imagery.
4. The Photoletariat
When 2010 first started, business was so slow that did some freelance technical writing on the web for a few weeks for sites like eHow and Demand Studios. It brought in some quick cash and honed my writing skills. In the middle of January, I stumbled on an online ad for a paid photo blogger position. I quickly put together a resume and some writing samples and sent them off.
I got the job and my first post, The Adventure of Photography went live for The Photoletariat on April 2. Since then, I've written over 100 posts and continue to be their main featured contributor. Writing for The Photoletariat has been an awesome experience for a number of reasons. It keeps me on the pulse of what's going on in the photography world, it keeps me motivated and inspired with my own creativity and its allows me to get my content out there to a new audience.
5. My Blog
Although I've been running my blog for well over three years, it really took off in the second half of this year. Inspired by my success writing for The Photoletariat, I picked up the 31 Days to Build a Better Blog eBook and started ramping things up on my own blog with brand new content, reviews, introspective and informative articles, and some fun pieces.
Since then, my readership has shot through the roof, and the entire process has not only opened up a variety of new ideas and opportunities, it has connected me with many great photographers out there who I regularly keep in touch with on Twitter and Facebook; again, people who I probably never would have met. You know who you are! Thanks so much for reading, commenting and being even remotely interested in what I have to say.
6. My Facebook Page
A year ago, I had just a few followers- mostly family and friends and a handful of clients. Today my Facebook page has well over 500 followers and we're growing every week with people who are interested in learning more about the world of outdoor photography. It's been really exciting to see the growth of social media and to figure out how to make it work for my own particular style of professional photography.
Whereas I first used my page as merely another promotional outlet for my imagery, it has turned into a great resource for people who are interested in learning about photography and finding advice, news, tips and sharing their own images, in addition to keeping updated about what's going on with Dan Bailey Photography.
It's sort of become the central hub for the whole machine, because it's the place where you can see my latest imagery and be alerted about new posts that I write here and on The Photoletariat, and see other interesting photography related goodness.
I really value my FB followers and I work hard to give them a reason to stay with exclusive content, discounts on my eBooks, special print offerings and a variety of great content.
7. My eBook
Last month, I produced and released my first eBook, How to Become a Pro Photographer, a 27-page resource for aspiring and emerging photographers who are curious about what it takes to make the jump towards becoming a working pro. It was the product of many hours of writing, editing and design, and essentially being my first published book, it was quite a big milestone for me. Thanks to everyone who has purchased a copy!
I plan to publish more eBook titles in 2011, and in fact I'm already in the beginning design stages of my next eBook, which is a conceptual, creative guide to photography. Look for that one sometime in January.
8. New Friends and Contacts
One of the best things about 2010 is that I've made a huge number of new friends, professional colleagues and contacts. I've made many of them through my regular activity on Twitter. Again, you know who you are, and thanks to you, I've learned, been inspired and become more informed about the world of photography. I've tried to share as much with my followers as well. Hopefully I've succeeded. Go ahead, click that little blue widget on the left side of the screen and follow me!
9. New Capital Investments
2010 was a big year for spending money, and in addition to the new camera equipment that I purchased, I also invested heavily in other areas of my business. This year saw a new Mac Pro, new ColorVision display calibration system and many software titles and upgrades, including Adobe Lightroom 3, Blinkbid 6, fotoQuote Pro 6, and Scrivener (writing software). Most of these were made in the past two months, which I feel has set me up nicely for 2011. I'm ready to begin the new year with a running start!
10. Fast Track Photographer
I've been reading the book Fast Track Photographer by Dane Sanders and it's really helped me put some things in perspective and give me ideas for planning my own future success. Although I've been a working pro for over 14 years, this great little book has really opened my eyes to a number of factors that we face in our industry and it's helped me define where my own strengths as a photographer and entrepreneur lie so that I can make better use of them in my business.
Even though it's a relatively short book, it's taken me a considerable amount of time to absorb, digest and work through the process that it outlines. It's already starting to pay off and I'm excited about the ideas that are formulating in my brain about where I want to take my business in 2011.
———-
So, 2010, I bid you a very fond farewell. Thanks for giving me so many great new experiences, ideas, friends and successes.
2011, I only have one thing to say to you: I'm ready!!!
What are your highlights from the past year and what are you looking forward to in 2011? As always, I look forward to reading your comments.