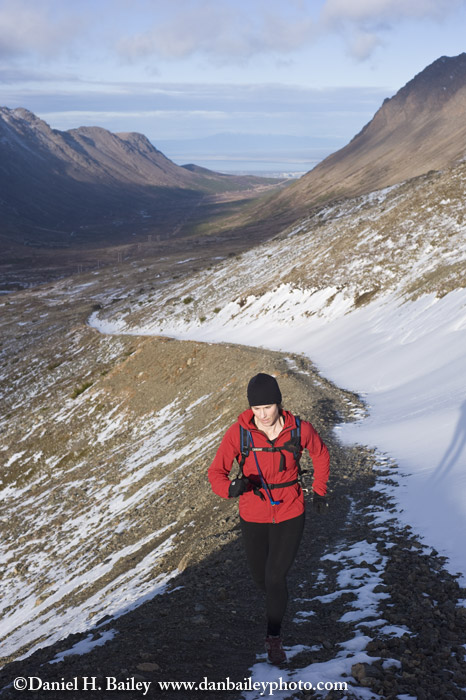 Last week I wrote about my ongoing quest to find the best camera bag for my style of outdoor and adventure photography. After checking out a number of bags, I decided to give the LowePro Inverse 100 AW a try. I picked one up over the weekend and took it out on a half day mountain run with my uber-running wife yesterday. Here's my field tested review.
What attracted me to this bag is that it's small and simple. Many of the adventure style camera bags out there are simply too big for what I need. I'm either running or cycling with it, or wearing it with a backpack when I ski and hike, so I want something small that won't take up too much room on my front, especially when I'm wearing it with a pack and being very active.
For me, the most important aspect of a bag is being able to keep my camera right there within easy reach whenever I need it. Since my shooting style often revolves around fast breaking situations and moving quickly, I'd rather have a small bag that fits a single body and one or two lenses and keeps them handy than one that carries more gear, but requires me to stop, get inside my backpack and reach for it. I'd miss too many shots that way.
If I need that extra big lens or flash, I can always stuff it into a lens case and either wear it on the belt or cram in in the pack, but when I'm on the move, I like to keep at least two lenses at my fingertips.
Essentially a rectangular belt pack that's designed to be worn either on the front or the back, the Inverse 100 AW has a mesh padded belt and a single compression strap on each side. It has a single top access compartment and two dividers that holds a single pro size DSLR and a secondary lens or flash and a pair of velcro memory card slots right inside the lid
On the front of the bag it has a small zipper compartment where you could easily put a couple of filters, spare battery or memory card case. That pouch also doubles as a small shove-it pocket where you could stash a jacket or hat. There's a mesh pocket on each side of the bag, one of which is big enough to hold a water bottle. Finally, it has two a pair of straps on the bottom where you could strap on a small tripod.
Finally, like all the LowePro AW bags, it has a waterproof cover that tucks away when it's not needed. I see this getting used alot, since I frequently get stormed on.
So, yesterday morning, I dropped in my Nikon D700, 24mm lens, 85mm lens, and two spare cards. With keys and a Clif bar stuffed into one of the outer side pockets and a water bottle in the other, we hit the trailhead and took off for a few hours.
The bag sat well on my hips with very little bounce; the two compression straps really help snug the thing into your body. By the end of the day, my hips were a tiny bit sore, but that would happen with just about any pack when you're running with that kind of weight.
When I needed access to my camera, I simply loosened the belt and swing the bag around front. I really like the sideways dual-zipper lid, it opens quite easily with a quick pull and when open, it's completely out of the way. I could even run with the bag out front for short stretches if I needed to have fast access for shooting.
Overall, I'm very happy with the LowePro Inverse 100 AW. It worked really well for me yesterday, I see it being a very handy bag for many types of mountain excursions. In fact, I'm sure that I'll get a ton of use out of it over the next few years, since LowePro bags wear well and last. I'm especially curious to see how well it does while skiing. It's actually not that much bigger than my old Photoflex bag, so I don't see it getting in the way when I'm making turns.
If you're looking for a compact, versatile, weatherproof and durable way that keeps your camera gear accessible during your outdoor adventures, definitely give this bag a look. And here's a Lowepro coupon, just for being a reader of my blog. Clicking through the banner below and using the discount code LP20 in your shopping cart will get you 20% off your order when you buy directly at Lowepro.
Please note, the 20% discount code is good on any product purchased directly from the Lowepro site. Click the banner below to go to the Lowepro store.