Photography Books Recommended by My Readers
Yesterday I asked some Facebook fans to tell me which books have influenced them the most in their process of learning photography. These are their recommendations.
If you're looking for a great book or some written inspiration to help you advance your own outdoor photography skills, creativity and vision, listen to my readers and check out the books that they like best.
1. On Photography, by Susan Sontag
One of the most highly regarded books of its kind, On Photography first appeared in 1977 and is described by its author as "a progress of essays about the meaning and career of photographs." It begins with the famous "In Plato's Cave"essay, then offers five other prose meditations on this topic, and concludes with a fascinating and far-reaching "Brief Anthology of Quotations."
Great photographs change the way we see the world; The Ongoing Moment changes the way we look at both. Focusing on the ways in which canonical figures like Alfred Stieglitz, Paul Strand, Walker Evans, André Kertész, Edward Weston, Dorothea Lange, Diane Arbus, and William Eggleston have photographed the same things—barber shops, benches, hands, roads, signs–award-winning writer Geoff Dyer seeks to identify their signature styles.
In doing so, he constructs a narrative in which these photographers–many of whom never met–constantly encounter one another. The result is a kaleidoscopic work of extraordinary originality and insight.
Scott Kelby, the man who changed the "digital darkroom" forever with his groundbreaking, #1 bestselling, award-winning book The Photoshop Book for Digital Photographers, shows which button to push, which setting to use, when to use them, and hundreds of the most closely guarded photographic "tricks of the trade" to get budding photographers shooting dramatically better-looking, sharper, more colorful, more professional-looking photos with their digital camera every time they press the shutter button.
Within the Frame is a book about finding and expressing your photographic vision, specifically where people, places, and cultures are concerned. A personal book full of real-world wisdom and incredible images, author David duChemin (of pixelatedimage.com) shows you both the how and the why of finding, chasing, and expressing your vision with a camera to your eye.
Vision leads to passion, and passion is a cornerstone of great photography. With it, photographs draw the eye in and create an emotional experience. Without it, a photograph is often not worth—and can't capture—a viewer's attention.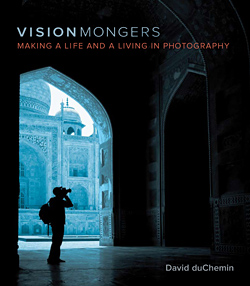 Vision Mongers: Making a Life and Living in Photography: For those who want to make the transition into the world of vocational photography—staying true to your craft and vision, while fusing that craft with commerce, VisionMongers is a great place to begin your journey. With a voice equally realistic and encouraging, photographer David duChemin discusses the experiences he's had, the lessons he's learned, and the practices he's adopted in his own winding journey to becoming a successful working photographer.
A great photograph has the potential to transcend verbal and written language. But how do you create these photographs? It's not the how that's important, but the who and the what. Who you are as a person has a direct impact on what you capture as a photographer.
Whether you are an amateur or professional, architect or acupuncturist, physician or photographer, this guide provides inspiration, simple techniques, and assignments to boost your creative process and improve your digital images using natural light without additional gear.
I also love Chris's book, People Pictures: 30 Exercises for Creating Authentic Photographs.
Digital Masters goes extreme! This beautifully produced guide by Michael Clark, Adventure Photography: Capturing the World of Outdoor Sports, is the newest entry in the series, as well as the first book on a fast-growing photographic genre: shooting today's popular extreme outdoor sports, from mountain biking and ice climbing to surfing, BASE jumping, and more.
Clark is one of the world's most respected adventure photographers, and he offers sage advice—gained from years of hard-earned experience—on equipment, techniques, and the specific skills required to get in on the action. Learn to capture fast-moving subjects and deal with harsh conditions and horrible weather—even when you're hanging from ropes and riggings in a squall. Of special interest is the Portraiture and Lifestyle chapter, which covers increasingly in-demand techniques.
Having known Michael since he first began is photography career, (we came through the ranks at the same time), I can attest that he is not only a truly awesome photographer and writer, he's one of the nicest guys you'll ever meet.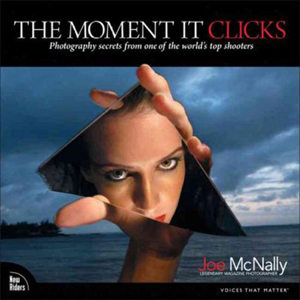 Joe McNally, one of the world's top pro digital photographers, whose celebrated work has graced the pages of Sports Illustrated, Time, and National Geographic (to name a few), breaks new ground with The Moment it Clicks by doing something no photography book has ever done—blending the rich, stunning images and elegant layout of a coffee-table book with the invaluable training, no-nonsense insights, and photography secrets usually found only in those rare, best-of-breed educational books.
A truly awesome book, read my full review of The Moment it Clicks.
After spending more than thirty years behind the lens—working for National Geographic, Time, Life, and Sports Illustrated—Joe McNally knows about light. He knows how to talk about it, shape it, color it, control it, and direct it. Most importantly, he knows how to create it…using small hot shoe flashes.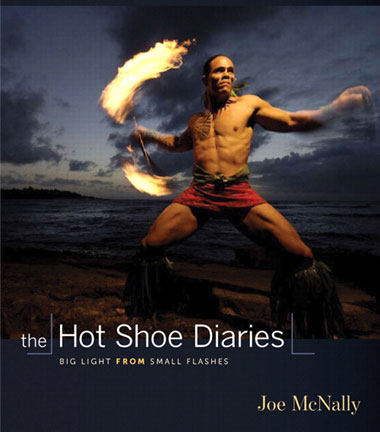 In The Hot Shoe Diaries: Big Light From Small Flashes, Joe brings you behind the scenes to candidly share his lighting solutions for a ton of great images. Using Nikon Speedlights, Joe lets you in on his uncensored thought process—often funny, sometimes serious, always fascinating—to demonstrate how he makes his pictures with these small flashes. Whether he's photographing a gymnast on the Great Wall, an alligator in a swamp, or a fire truck careening through Times Square, Joe uses these flashes to create great light that makes his pictures sing.
Read my full review of The Hot Shoe Diaries.
Following up on the great success of The Moment It Clicks and The Hot Shoe Diaries: Big Light from Small Flashes, legendary magazine photographer Joe McNally takes us on another memorable ride with Sketching Light, another trip into the land of light–but this time running the gamut from small flash to big flash, and everywhere in between.
Of course, Joe includes coverage of Nikon Speedlights, but he also covers big flash, as well as "in-between" lights as the Elinchrom Quadra. The exploration of new technology, as well as the explanation of older technology. No matter what equipment Joe uses and discusses, the most important element of Joe's instruction is that it is straightforward, complete, and honest. No secrets are held back, and the principles he talks about apply generally to the shaping and quality of light, not just to an individual model or brand of flash.
Award-winning nature photographer Jim Brandenburg gave himself a challenge: for ninety days between the autumnal equinox and the winter solstice, he would take only one photograph each day. This exquisite book, now in softcover, is the result of that bold and immensely personal project. Through the accompanying essay, Brandenburg shares his innermost thoughts and passions as he witnesses the cycle of nature near his home in the northwoods of Minnesota.
Brandenburg also contributes new photos and an Epilogue that illustrates and discusses the devastating summer wind storm that wreaked havoc on the locations photographed for the original project.
Follow @Danbaileyphoto