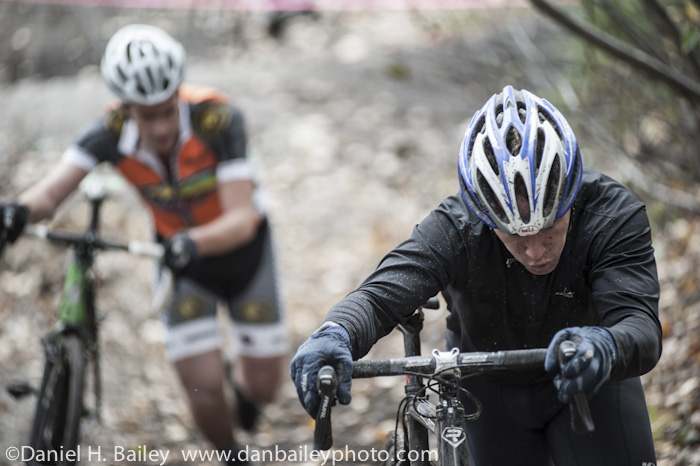 I don't consider myself an event photographer per se, but occasionally immersing myself into a recurring series like year's Arctic Cross cyclocross races provides me with unique challenges to push my creativity and practice my technique. After all, there's nothing that works your technical proficiency like trying to shoot subjects that speed by in less time than it takes to say, "Hey, wait a second!"
I've been enjoying shooting the Arctic Cross races this month for a few different reasons. First of all, it's great to see friends and meet new people in the local Anchorage biking community. Also, it gets me outside with my camera, and as I told one person last week who asked me why I'm doing this, "It's fun and it makes me better."
In order to NOT shoot the same pictures week after week, I'm trying to come at each race with a slightly different approach. Whereas the previous two weeks, I shot with my Photoflex TritonFlash battery powered strobe, this time I just brought a couple of Nikon Speedlights, one fixed to a Gorillapod, the other to a Justin clamp. This allowed me to go even faster with my light. That's right, just like the title of my off camera flash eBook says.
The Flash
Here are a couple of shots that I made with one SB-910 flash set on the ground at 90 degrees to the riders as they they sped through the mud puddle. Shooting with my telephoto, Manual exposure 1/250 @ f/4.5, and TTL flash, (triggered with the D700's pop-up flash), I prefocused right on the middle of the puddle so that I wouldn't have to worry about any focus tracking burps in the split second that it take for this scene to open and close.
Remember how I said that shooting like this works your technique? When you're in the moment shooting action sports with flash, anything can and will go wrong: Flash set to the wrong channel, second flash batteries dying, remote flash not seeing the trigger flash, TTL flash not working at all until I realized that it was still set to SU-4 optical slave mode… Yea, all that happened during a one hour race. Find it fast, fix it, and still grab the shot.
The Angles
Another approach I went with this time was to look for more diverse angles and vantage points from which to shoot. Photographing at any vantage point other than at eye level is always going to make your images look more interesting, so I looked for things to stand on and places where I could crouch down and catch riders from behind as they moved away from me.
The Grit
With all the mud, dirt, sweat and lung busting exertion inherent to cyclocross racing, I continued to look for ways to accentuate the pure grit and intensity of the sport. Shooting directly towards the sun with a wide angle lens and shooting in the dark forest with no flash gave me a different look than I had been getting with some of my other setups.
Finally, the excitement of shooting during the past few weeks has inspired me to jump in and start racing myself. As a usual cross country mountain bike rider whose bike racing experience consists of some junior high BMX track races, a couple of 100 mile winter snow bike races, a recent 24-hour summer race, and a few trail half marathons, I've done very few "short" events like this.
Although I've got decent lungs, plenty of fast twitch muscles and lots of energy, it had been awhile since I did any sprinting like that. However, 49 and a half minutes of going total balls through forest, singletrack and mud had me hooked. What's not to love? I can't wait for next week!
See more photos from this race and stay tuned to see what I come up with for race #4 next week.