Fast With Light – Photographing Cyclocross, Part 2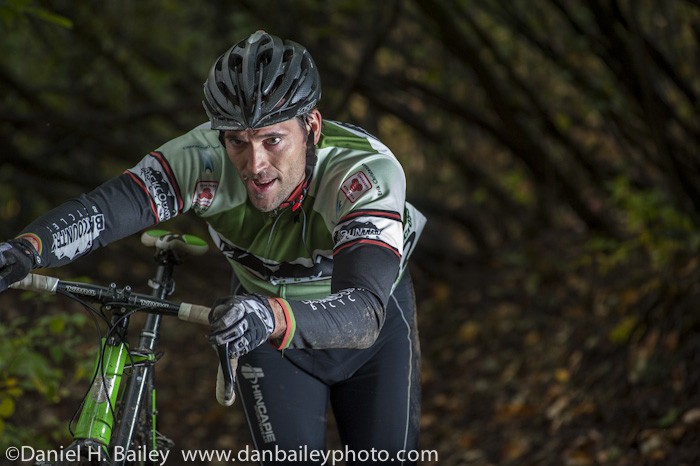 Cyclocross season continues here in Anchorage, and so last Saturday, I headed out to the course with gear and excitement. Riding high on the success of the previous week's photos, I was hoping to come back with some shots that would knock my socks off even more.
After a great photo shoot, you look back on what you did and analyze why it worked so well. You identify specific techniques and approaches and add them to your proverbial bag of tricks for next time. However, that's where the trouble starts.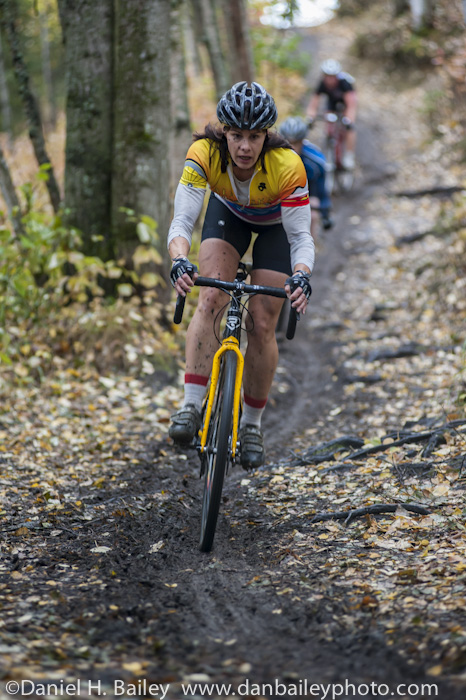 The natural tendency is to repeat what works, but do the same thing too many times and your style will get old. Your work will begin to look the same. With this in mind, I went with a different approach for this second race.
Instead of parking myself at one spot and working that particular scene like I did last time, I decided to shake things up. I don't really like to stand in once place anyway, I like to move around and experience the world from different places, so I moved. Of course, when I say "moved," I really mean "ran."
Before the race, I scoped out a couple possible locations where I could at least start. When the action got underway, I shot small groups of racers in one spot and then sprinted to the next, blazing through small sections of forest with my light stand and Photoflex TritonFlash intime to set up and capture another cluster of racers. I don't call it Fast with Light for nothing!
And yea, the light stand met the dirt more than a couple times. Let's just say that setting up a battery powered strobe on a hill presents inherent challenges. Tucking it behind willow branches helps keep it upright. So does just lying it down on a steep incline.
Sometimes I'd leave the light and run off to another area of the course to shoot without it, only to come back and drag it up the hill to grab a new vantage point. Although it probably didn't look as much, I began to develop a method as I followed the racers around the course and experimenting with different compositional techniques and lenses.
Things worked. Things didn't. That's all part of shooting action sports and pushing your creativity. If everything always came out great, it means you're not trying hard enough.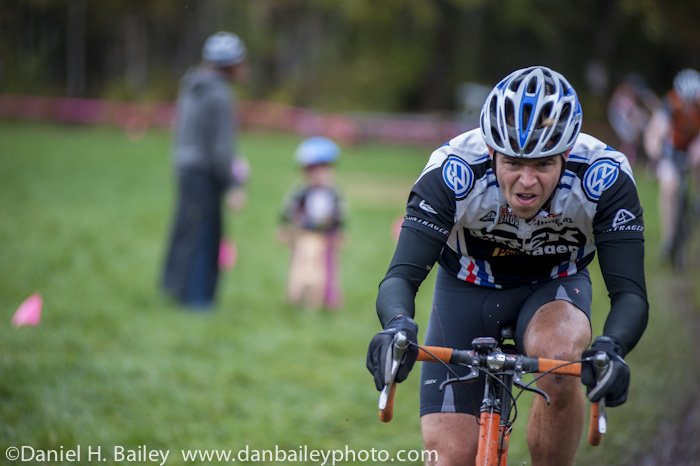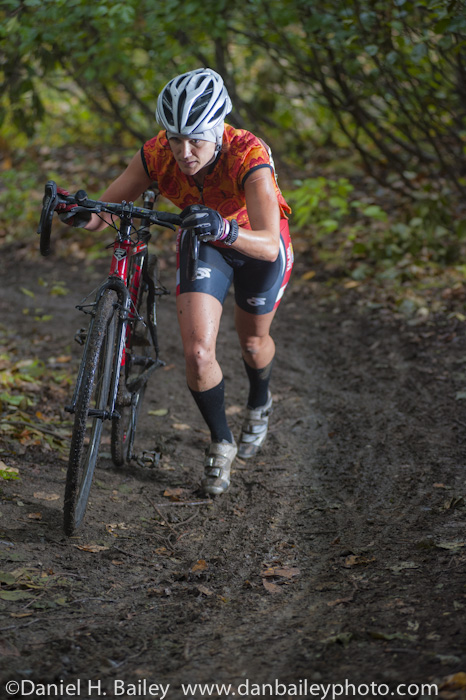 Mostly I shot with my Nikon 24mm f/2.8D lens, and my 80-200 f/2.8D on the D700. My Photoflex TritonFlash gave me rock solid performance throwing dynamic light where needed. Even after this race, the battery is still about 70% full- I didn't even bother to charge if after all those frames I shot last week. I could probably shoot the entire series on a single charge.
As I've pointed out before, though, for shooting as close as I was with the flash, any speedlight and softbox combo would do fine. Even a Nikon SB-700 or Canon 430EX II with something like a Lumiquest Softbox III would get the job done. Heck you don't even need a light stand, just clamp the thing to a tree.
In situations like this, it's more about timing than anything else. Position the light, wait for the rider to come by, hit the shutter. What a battery strobe like the TritonFlash gives you is faster recycle times and more shots per charge.
So how are these shots compared to last week's collection? I'll let you decide. You can view a larger collection of photos from this week's race on my Facebook page. Then leave a comment and let me know how I did.
One really cool thing about this series is that I've been making new friends out at the races and getting to know more people in the Anchorage cycling community. (Hint: more potential models!) The next event is this weekend, and in the spirit of coming at it with a different approach, I've decided to actually race this time instead of just take pictures.
There, I said it, guess I'm committed, although I might be a little out of shape. I haven't raced since the Kincaid race this summer, and that was 24 hours of endurance, not 40 minutes of heart pounding, hill climbing, barrier jumping adrenaline madness. I can't wait!!
See you all out there on Saturday!! In the meantime, check out my race photos from week 3.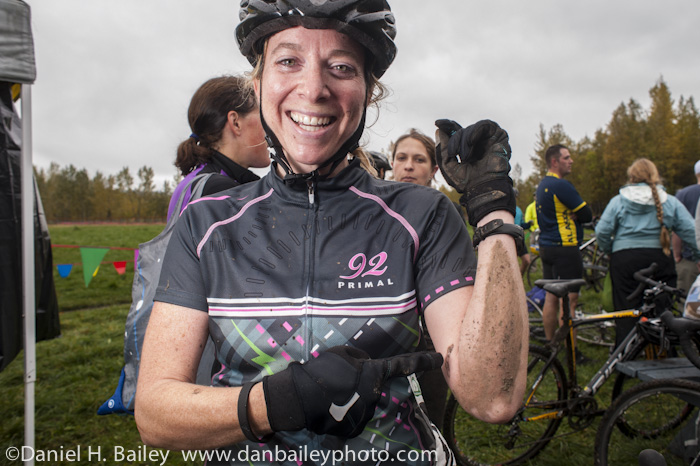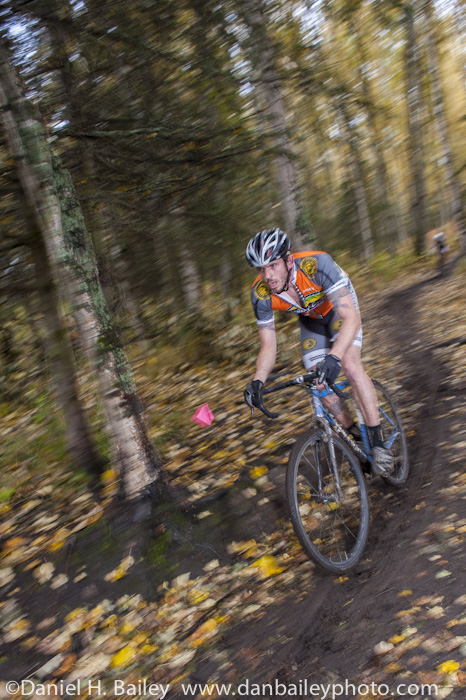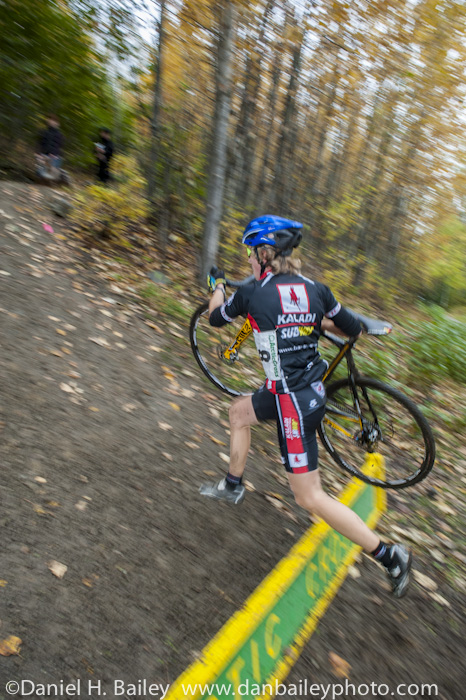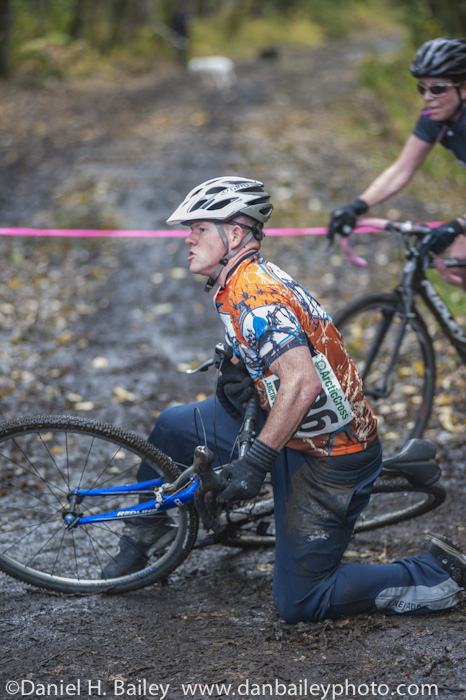 Follow @Danbaileyphoto