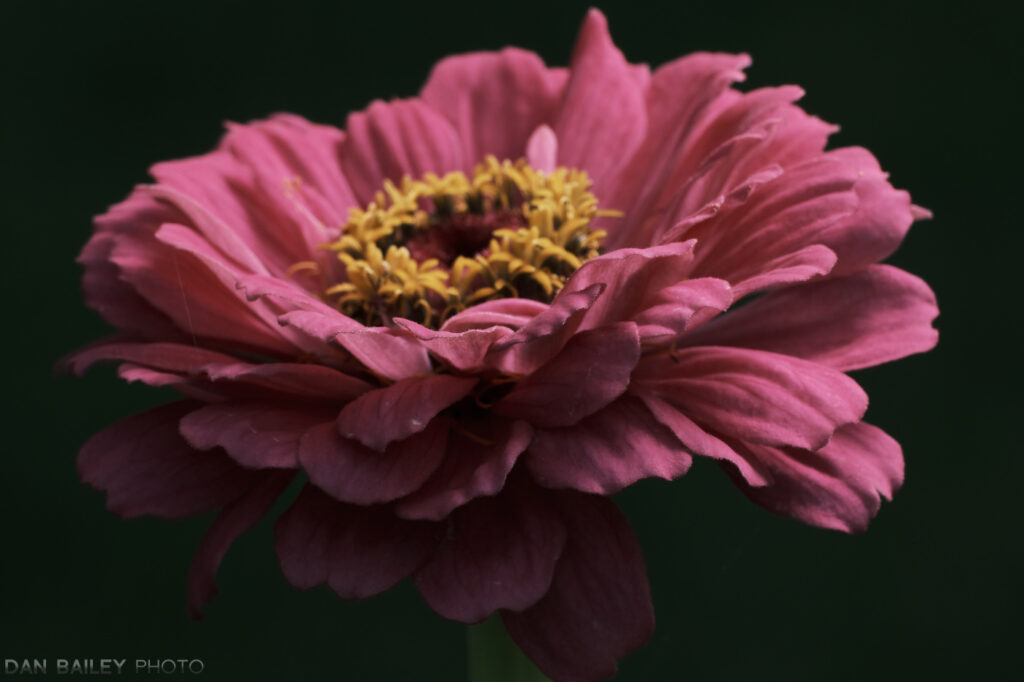 If you've seen my last couple of posts, then you've know I've been immersing myself in the creativity of closeup photography. A combination of two factors has inspired this, they first being the fact that we have a wonderful collection of blooming flowers in our garden this summer, and the second being the incredible close focus capabilities of Fujifilm's new XF70-300mm f/4-5.6 OIS WR lens.
A third component is adding in Fuji's 1.4x Teleconverter, which works with the 70-300, and one of Fuji's MCEX Extension Tubes, which turn ANY Fuji lens into a macro lens.
Well, last week, I added a fourth component: Flash.
I've experimented with flash quite a bit through the years, especially back when I shot Nikon. An arduent follower of guys like Joe McNally and David Hobby, I've learned a lot of techniques for shooting with off-camera flash, which can add a significant amount of style and life to your shots.
I even wrote an eBook, called Going Fast With Light: A. Flash Guide for Outdoor Photographers which shows you how to create more dynamic imagery with minimal gear and a few solid techniques.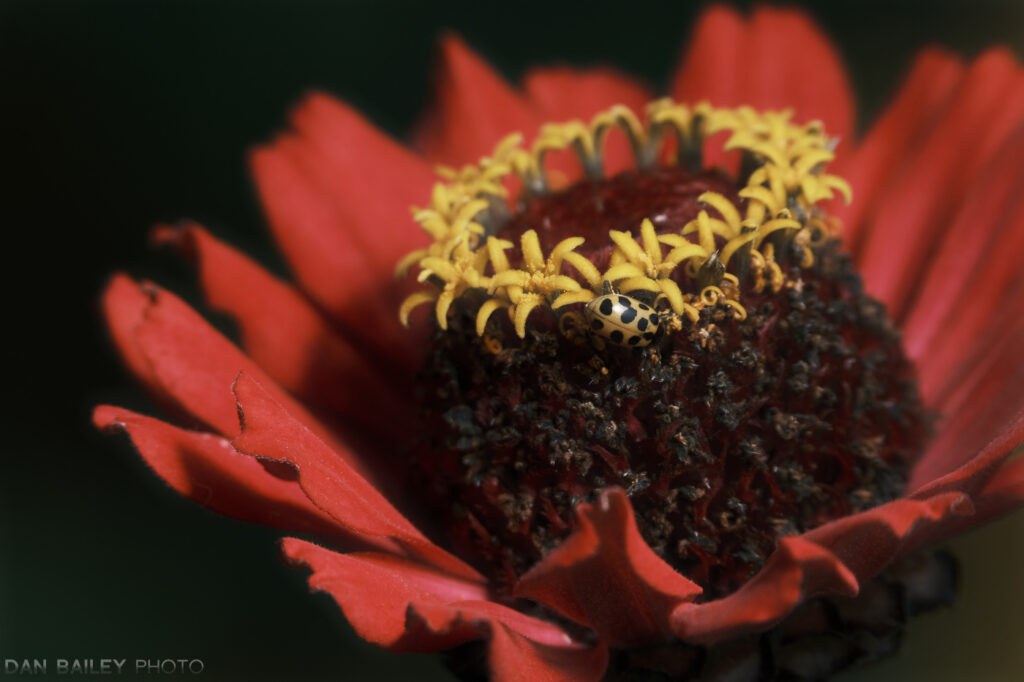 These days, I'm using Fuji's new EF-60 flash and EF-W1 Wireless Commander, which is a powerful, but easy to use radio remote that uses the Nissin Air System (NAS) to control any number of remote flashes. The NAS system is compatible with both the Fuji flash and any of Nissen's AIR flashes, like the i60A or Di700A, which means you can use either or mix and match. Nissin also has their own dedicated commander, the AIR 10S Wireless Commander.
By adjusting my camera exposure and dialing in the flash output on the wireless commander, I can easily, and very quickly create a variety of lighting effects. For most of these shots, I used manual exposure on the camera to underexpose the background, then fired a single flash that was set off to the side to light the flower. Controlling the flash output was as simple as turning the dial on the EF-W1.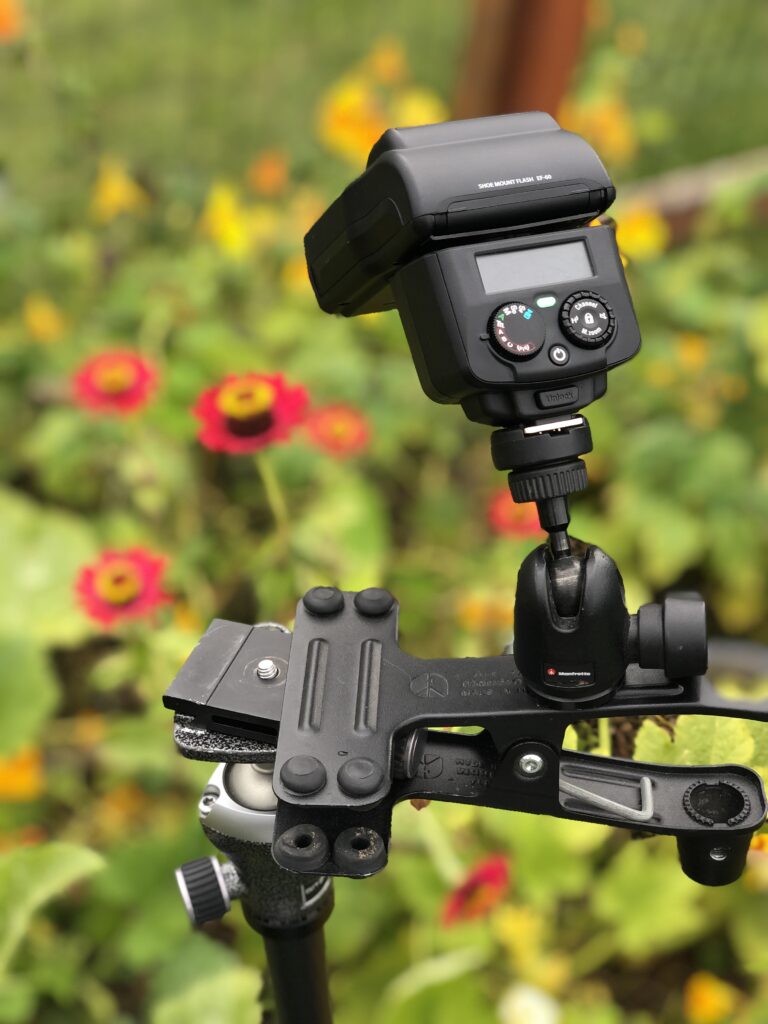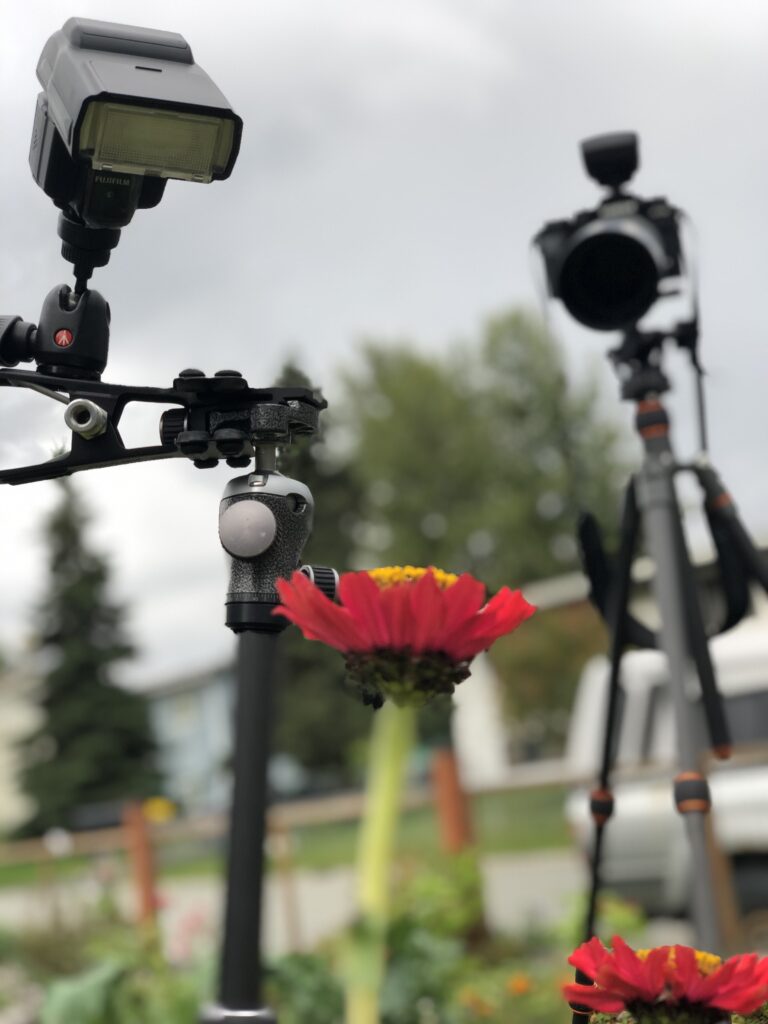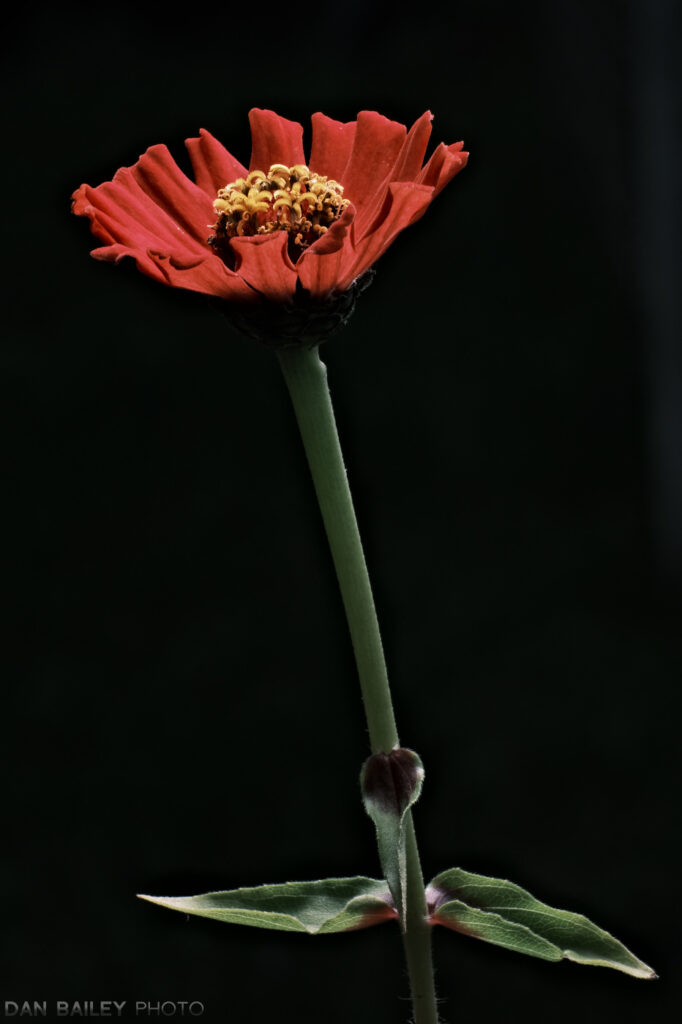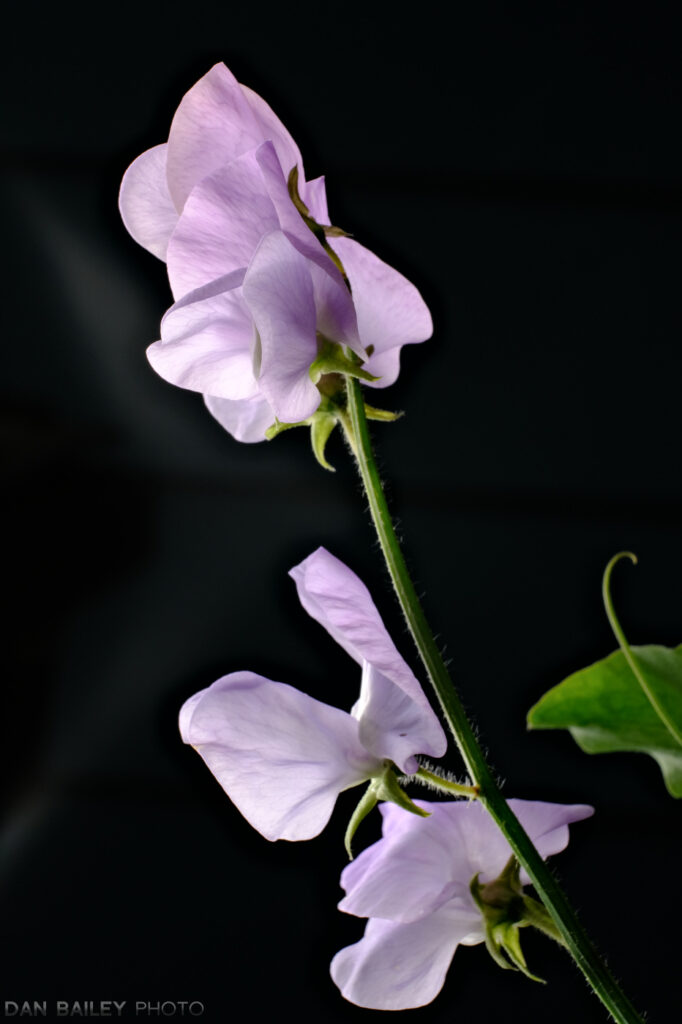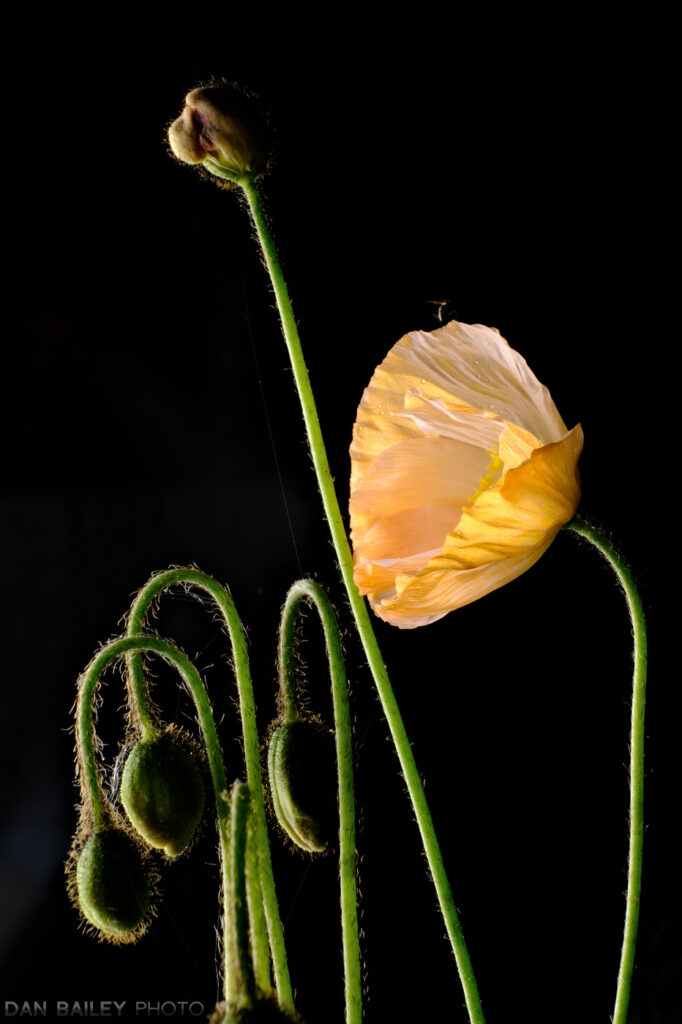 In some cases, I fired a bare bulb right at the flower; with others, I fired the flash through a hand-held diffusion panel. I use the Lastolite TriGrip Diffuser, but you could use a white pillow case or white grocery store bag if you don't have a real diffuser.
I also played around with different in-camera settings, like Highlight and Shadow Tone and Clarity, to create different looks for my final images, all of which are straight JPGEs.
During one of the sessions, it started to rain, and before it came down too heavy, I was able to capture this photo of a wet zinnia. I love the incredibly luscious look that it has. The light background was created by firing the flash through the diffuser from behind the flower instead of from off to the side.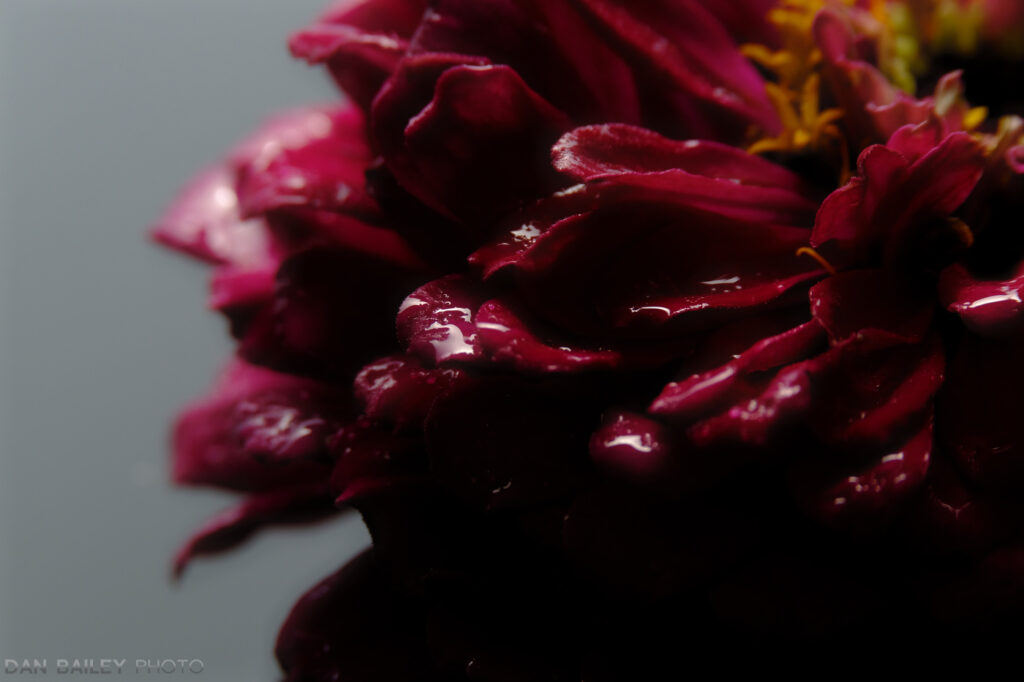 There's a lot you can do with a single flash, it just takes experimentation. It's a lot of trial and error until you get a feel for the look you're going for and how to dial in the proper amount of light and camera exposure. That's the fun part, though, you get lost in the process of creating and before you know it, you've wasted a huge amount of time making pretty pictures.
Even if you don't have a radio remote, you can still make some compelling photos with a single flash and an inexpensive sync cord. The wireless commander just make the process a while lot easier and it gives you options for firing multiple flashes, which can all have different light outputs and zoom settings.
If you want to take your closeup photography to the next level, I recommend looking into a simple flash setup and checking out my Going Fast with Light eBook. If you don't need a lot of range, the Nissin Di700A Flash with Air 1 commander kit gives you everything you need to get started with off-camera flash for a very reasonable price. It's available for multiple camera systems.