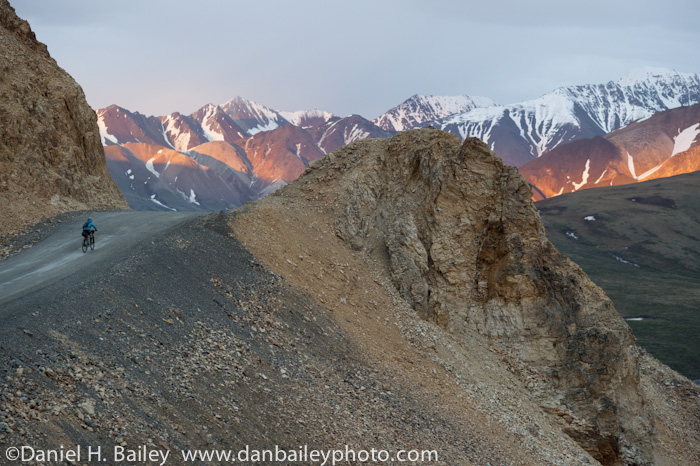 If you were anywhere within earshot when I got my new 29″ mountain bike this spring, you heard me pining for dirt. For weeks, I dreamed of riding dry, hard packed trails, which, unfortunately, were still covered in two feet of snow. Now that summer is (almost) here, we celebrated the pre-solstice weekend  by biking the Denali Park Road on Saturday night.
In my book, the Park road has it all for an avid cyclist. Winding through forests, over high alpine tundra and alongside steep mountainsides for nearly 90 miles, the entire route parallels the north side of the Alaska range. During the entire ride, you're treated to amazing views of tundra, wildlife, glaciers, mile wide river bars and rugged peaks, including 20,320′ Mt. McKinley. You have more than enough hills and high passes to satisfy your desire for "rigorous exercise", and, of course, enough daylight so that you can keep riding, even at night.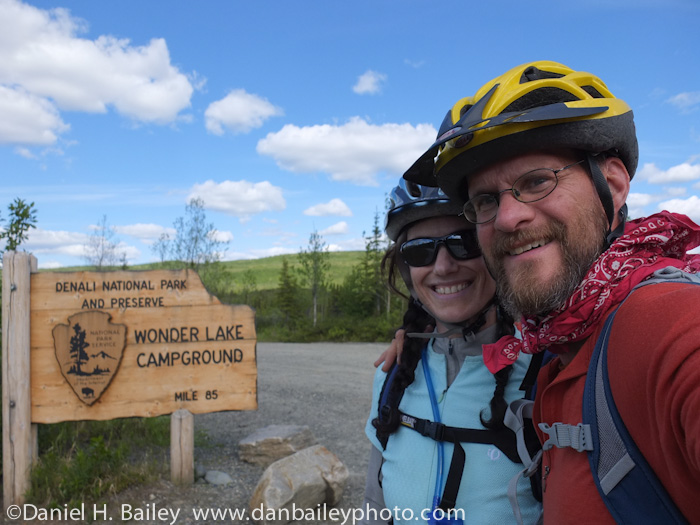 Leaving the house at 5:30 AM on Saturday morning, we drove 4 hours to the Park, caught the 11:00 AM camper bus to Wonder Lake and started riding at 5:30 PM. It took 12 hours to ride the 85 miles all the way back to the park entrance. The advantage of riding through the night, is that you have the park all to yourself. With no shuttle bus traffic, you're treated to hours of quiet, dreamy dust free solitude.
With 24-hour daylight, we never needed headlamps. Even in the brief hours after midnight sunset, ambient light matched that of an overcast day. Riding all night long in Alaska is certainly a surreal experience, and one that I'd highly recommend, although if you wish to bike camp in the park, you're certainly welcome to do so. The backcountry office will work with you and help you plan your trip.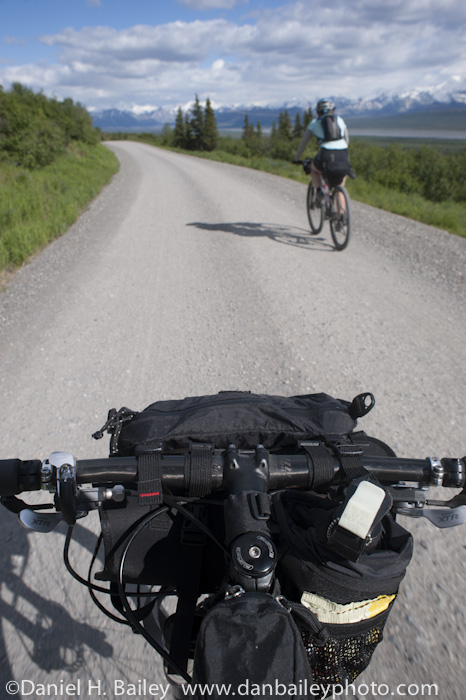 From Wonder Lake, the road rolls and gradually rises next to the enormous McKinley River bar and the snout of the Muldrow Glacier. Eventually you turn a corner and hit Eilsen visitor's center (closed at night), where you begin climbing your first of a handful of passes, which make up much of the route.
We'd seen a number of animals from the bus, including bears. During our bike ride, we saw caribou grazing on a tundra hillside, moose munching the taiga, ptarmigans frolicking on the empty road, dall sheep, a porcupine and lots of birds and ground squirrels, all of who glanced with little interest at us as we rode by.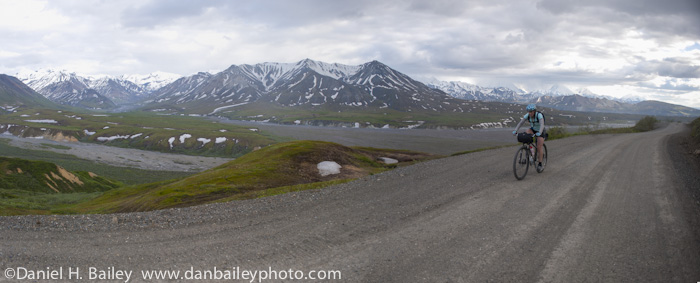 Weather varied through the hours. We went from sunshine to light rain to wind and overcast, but fortunately, no downpour. Wind on the long downhills quickly dissipated heat that we built up on the climbs and gave us chilly feet. Constant movement kept the bugs away, which are now starting to make their summer appearance in the park.
Highlight of the ride was being treated to a brilliant midnight sunset at Polychrome Pass. The light appeared pretty muted as we pedaled up the hill, but as soon as we topped out, the low sun came streaming through the virga to the west lit up the hillsides and kettle ponds with bands of fiery orange. It lasted for about a half hour, before giving way to subtle pink alpenglow on the tops of the distant peaks as we crossed the East Fork of the Tokat River. A couple hours later, alpenglow appeared again in the opposite direction with early morning sunrise.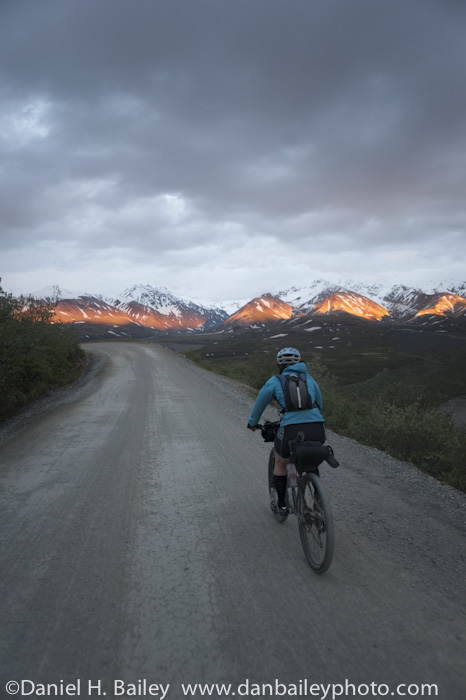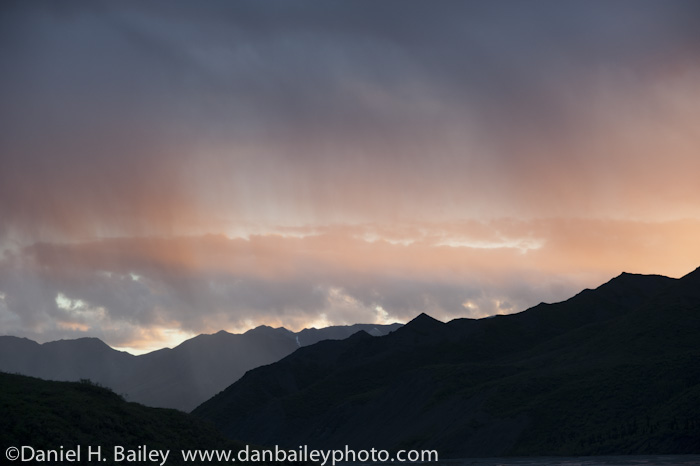 We arrived back at the car at 5:30 AM, just when the first shuttle bus departed the visitor's center, tired, hungry and well satisfied from a 12-hour mountain biking binge that gave us enough dirt riding to last an entire weekend.
Oh yea, the photogray stuff. I went pretty light on gear, which I carried in my Lowepro Flipside AW camera pack. It held a Nikon D700, 24mm and 85mm lenses, a few Clif bars and power snacks. A 50 oz. Camelbak Antidote Reservoir, fits perfectly in the hydration pocket, and I tucked a spare jacket/shirt in the tripod flap. I also carried a Gorillapod, but didn't end up using it, since I mostly just shot on the fly and didn't every stop to set up any shots.
I often rode with the D700 slung over one shoulder, but the Flipside allows for such quick access to gear that I was able to pedal ahead, swing the bag around, change lenses, shoot a few frames of Amy riding by, and then sling it back to riding position without losing any ground. Like I said in my review, the Flipside Sport AW is the best biking camera pack I've ever used.
I also took along my Fuji X10, which I kept at close reach inside my front bike bag. I used it quite a bit during the sunset, partially because it offered additional focal lengths over my two Nikon primes, and because I wanted to see how well it did shooting evening landscapes in RAW mode. (See photo below) Overall, it performed exceptionally well, giving great color and sharpness, and while the images are not quite as sharp and noise free as those made with the D700, they're still very good. Certainly good enough for web, prints or even publication if need be.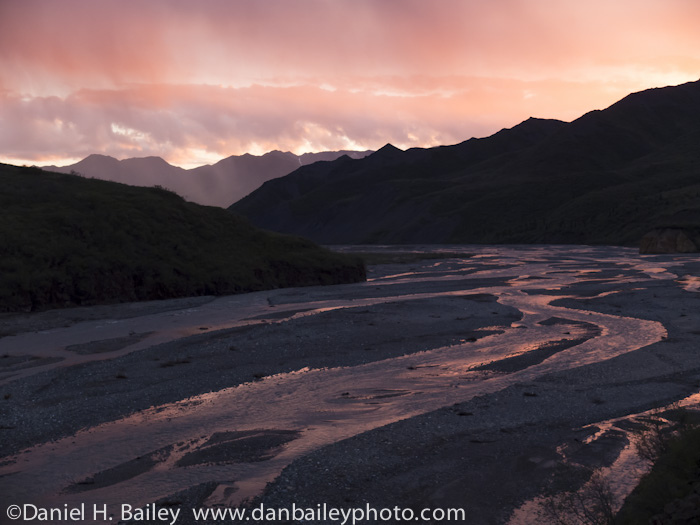 If you're a biker, I'd put this route near the top of your list. Whether you do it in a single push or camp a night or two along the route, it's a adventure that you're not likely to forget. Visit the Denali National Park Service Cycling page for more info.
Also, check out Revelate Designs for awesome rackless bike bags that are made my good friend Eric. That's what we used to carry our gear; they're perfect for a ride like this, well made and highly recommended.