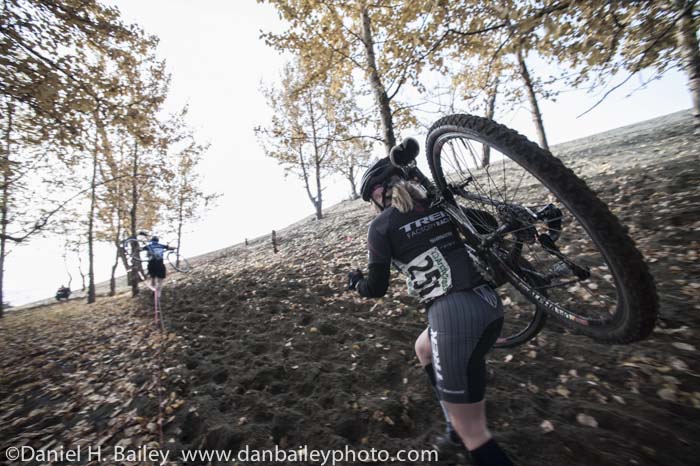 With each passing week, I get even more hooked on cyclocross racing. It's just so much damn fun to speed through the forest and blast through dirt, gravel, mud, wet grass, rooty singletrack, sand, snow, and run over barriers and obstacles on a knobby tire, drop-bar bike, all while driving your lungs and legs to the point of destruction for 50+ minutes.
What's not to love?
The Arctic Cross series here in Anchorage, Alaska runs two heats, so as always, last Saturday, I shot one and raced the other. Although I'm not a traditional event photographer, shooting this kind of race is excellent action photography practice.
From a photographic standpoint, I like to vary my approach and try out different techniques. Some weeks, I'll change up my camera and lens combo, some weeks I'll use flash, and others, I might experiment with slightly different processing techniques.
In this way, shooting cyclocross has become an ongoing and very engaging personal project for me. Personal projects are a vital outlet for any photographer, because in effect, you're shooting what you love. You'll always create your very best work when you shoot what you love, and you'll get better while you're doing it. I've certainly improved from shooting this stuff for the past two falls.
Clients love to check out photographers' personal projects, because they know that they're seeing the highest level of creative love and image making skills possible from that person. In the end, when they're looking to hire someone, that's what they want.
This Week's Approach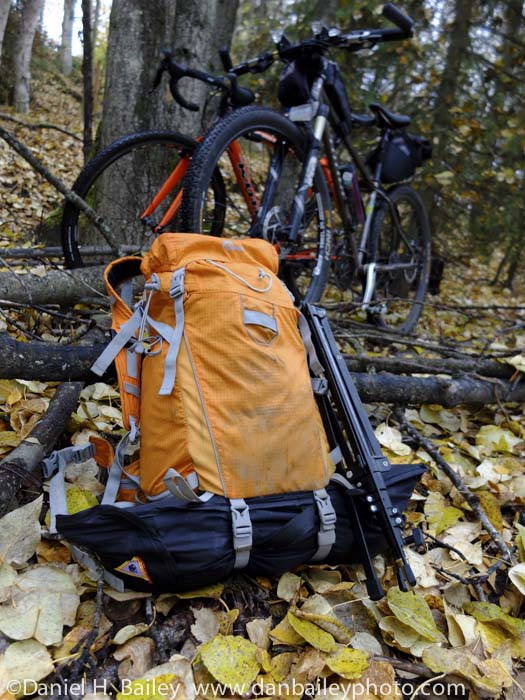 This week, I took two camera setups with me, my Nikon D700, with the Nikon 14mm f/2.8 ED and the AF-S 70-200mm f/4G ED VR, and the Fujifilm XE-1 with 18-55mm lens.
I also packed my Photoflex TritonFlash battery powered strobe, which works exceptionally well for shooting this kind of action.
With its very small lithium ion battery pack, it's a lightly portable and very powerful lighting unit that can really help make your subject pop, especially when your background light just doesn't have the right zing.
All of this gear, including a lightweight Manfrotto Nano light stand fits in my Lowepro Photo Sport 200 pack. I call this approach Going Fast With Light.
D700 with Flash
For a light diffuser on the TritonFlash, I brought along my Photoflex 3′ Octodome. I haven't had this box for very long, so I was excited to see what it could do. In the past, I've made heavy use of the smaller 1.5′ Octodome that comes with the TritonFlash kit.
For this race, I shot entirely at the dune, where racers were carrying their bikes up and over a couple hundred foot section of deep wallowing sand. Setting up at the very edge of the course, I shot most of my flash images with the super wide angle 14mm lens. I love the 14, because you can get really close and still show a very wide setting and background. It helps give the image more context. Plus, with such a wide view at f/2.8, you can pretty much any shutter speed you want.
Since I was shooting largely under shade, the TritonFlash added a ton of life to the images. And for as good as the smaller Octodome has worked in the past when shooting close up action, the 3′ worked ever better, since it thew a wider blast of light onto the riders. You can see more cyclocross images shot with the TritonFlash here.
Fuji XE-1
I've been using the Fuji XE-1 quite extensively during the past few months, and I've found that it makes a great travel, people and landscape camera. However, up until this point, I had not put it to the test shooting action.
During the race, I mostly shot in JPEG with Velvia film simulation mode and found that it did pretty well. With its bigger sensor, it handled most scenes with very little noise. In the deep shade, photos didn't look so hot, but rarely do with any camera. Darker colors tended to block up a little bit, which required more and sometimes creative processing in order to bring the shot back to workable range.
However, much of this was due to shooting in Velvia mode, which is supposed to be rich and saturated. From my experience, shooting in RAW with the XE-1 would have eliminated this problem and allowed for a much wider latitude of exposure. That said, I'm still happy with how it looked and performed. When the focus locked on, it produced very sharp photos, and when the light was good, photos looked awesome.
In my mind, the Fuji XE-1 held up well, and I'd use again with confidence for shooting action.
With both cameras, the extreme highlights blew up in the open areas of sky. For some shots, I tried to keep this area of background to a minimum, but for others I though it added a cool look to the scene, so I kept it in and let it wash out. Below are a few of my XE-1 images.
Check out the full race gallery to view more examples of my shooting techniques and camera work from this week.