Sometimes Your First Creative Idea is The Best One
Pictures this: You come across a great subject, become filled with creative excitement and then get down to business with the camera. You shoot a couple of initial frames, you know, just to get things started, and then you break out the fancy lighting toys and work the scene like you always do.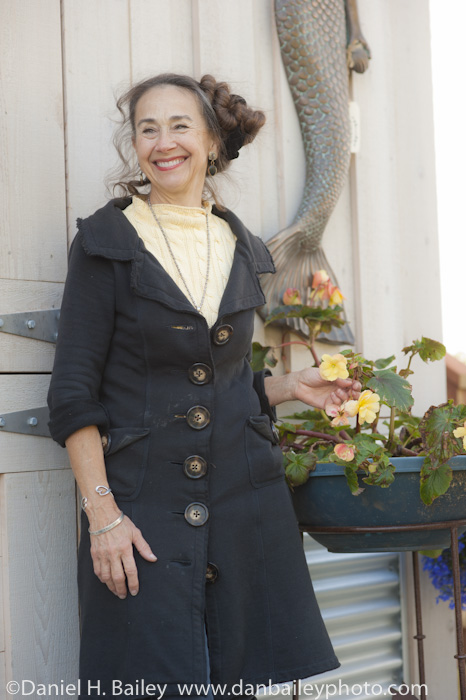 Unfortunately, though, after switching lenses, throwing on the flash, dialing in the proper fill, and them moving in close to play around with a number of tried and tested techniques and angles, you fail to come up with anything that's as good as the first one you shot.
So what happened? Who knows. Maybe your model got a little self conscious. Maybe you got a little self conscious. Maybe technique overshadowed creativity, expression and moment. Maybe you blew the flash settings. Maybe you just tried to force it. Maybe the stars just weren't aligned right.
Yep, sometimes that's just the way it goes.
This happened to me last week while on assignment down in Seldovia, Alaska. I stumbled across this great looking woman, approached her and asked her if I could photograph her beside her garden. She very politely obliged and let me me spend the next ten minutes of her life telling her where to stand and exactly where to look.
I shot the first image above, then pulled out the SB-800 and Lumiquest Softbox III that I always carry in my bag now. I stuck the flash on a SC-28 TTL Remote Cord and proceeded to do my thing.
However, nine and half minutes later, I had failed to capture anything that captured her easy, soft happiness as she has my first shot, which I quickly snapped under overcast skies from a comfortable distance with the 85mm f1.8 lens.
Great moments are fleeting. Being a good photographers doesn't ensure that you'll make a great image every time. I was lucky to get that first shot, and in fact, I could have just as easily missed it.
Follow @Danbaileyphoto