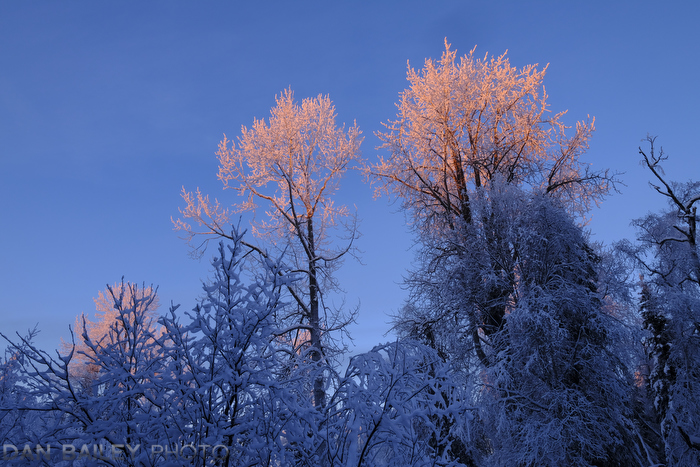 It's almost like clockwork. Right at the beginning of January here in Anchorage, we often get days of ice fog and very cold nights, which leaves a thick layer of hoar frost on all the trees. It's a beautiful sight; so surreal. My friend refers to this time as Anchorage being in "full bloom."
One one particular day two years ago, January 4th to be exact, I was exploring the local trails on my snow bike. The air was a brisk zero-ish degrees, and on this clear afternoon, the light was low and bright as it cast its warm glow upon the thick winter landscape.
As my good fortune would have it, I popped out into a clearing just past 4:30pm, just as the light was about to hit its peak. Hopping off my bike, I pulled my X-T2 out of my camera pack and shot a few photos of the pink, orange light that was kissing the treetops.
The image above was shot that day, as was this image below, which I love so much, that I included it as one of the featured examples in my brand new eBook, Behind The Landscape. 
Later that week, I wrote a blog post called You Never Know What Kind of Magical Light Will Befall You, which celebrated this kind of incredible and often fleeting rendezvous we occasionally have with amazing light when we're out in the world.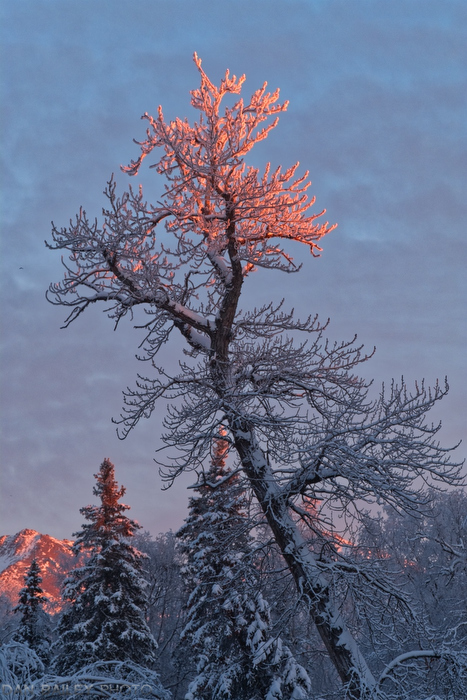 Fast forward to this past Saturday
January 5, to be exact. I was out exploring the trails on my snow bike under a fresh blanket of hoar frost that had built up the night before. The ice fog hung heavy over Anchorage, so I hadn't stopped to take any photos during my ride.
However, as luck, serendipity, good fortune, happenstance, or by some happy coincidence would have it, I found myself approaching the very same clearing in the woods just after 4:30pm.
As it often happens, the fog had begun to lift just before sunset, and I suddenly caught sight of a flurry of pink treetops through the forest above me.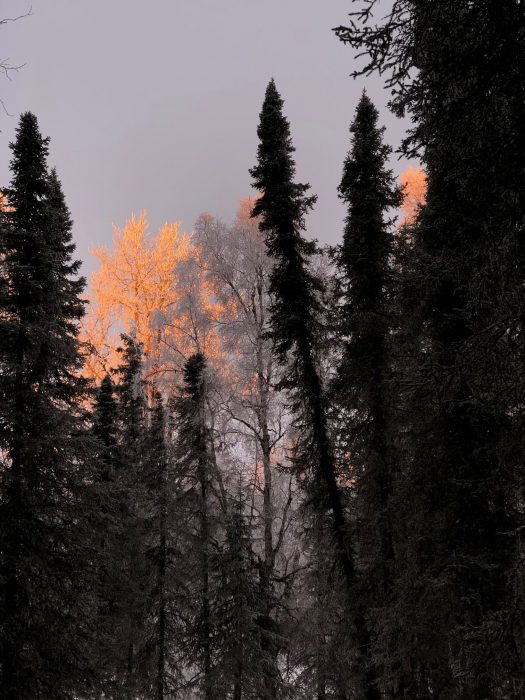 I smiled to myself as I crossed that very same bridge across the creek and found myself in the very same place, during the very same time, just one day away from the very same date when I captured those photos two years ago.
Hopping off my bike, I grabbed my camera, the X-T3 this time and spent a few minutes tromping through the snow capturing photos of the magical light before it faded. I only had a single lens with me, my XF35mm f/2, so I wasn't able to shoot the exact same vantage points and compositions, but I did recognize the scenery, including that notable tree that earned a place in my eBook.
What are the chances? Have you ever experienced this kind of event when magical light repeats itself?