Brand New eBook: Making The Image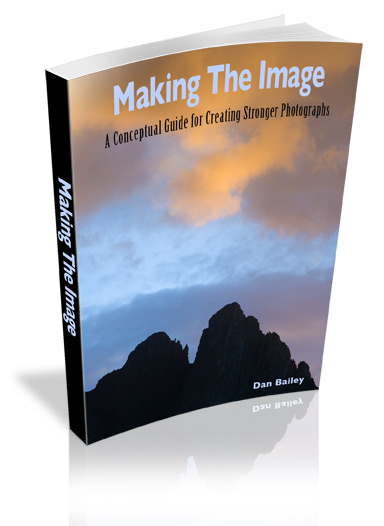 Edit- April 2011: Now on Sale, 25% off.
To get the special discount code, visit my Facebook Page and Like me. Yes, it's that simple.
I'm very excited to announce the release of my brand new eBook, Making The Image- A Conceptual Guide for Creating Stronger Photographs.
This 50 page eBook will guide you towards making more powerful imagery. By exploring how the human visual system responds to the world, this book breaks down individual concepts, such as light, color, balance and viewpoint, and explains how they can be used to add visual strength to your photos.
It also explores the concept of creativity as it applies to different methods of finding and making images, which can help you take a more active role in your photography.
Making The Image is richly illustrated with full page imagery, and it's horizontally formatted, so it's optimized for computer monitors and the iPad. That also means that if it were counted like most vertically oriented books, the page count of this book would number 100 pages, since it's 50 full page spreads.
With visual examples that span across my entire career, and ideas that I've been utilizing in my imagery and teaching to my students for over fifteen years, it lays out a clear approach to helping you produce photographs that will capture your viewer and be remembered by your audience.
Since the concepts in this eBook are universal, they can be used to help you add a dynamic new level to any type of imagery, no matter what style or subject matter you shoot.
I'm really excited about this release for two reasons. Not only is it my first instructional eBook title, it also coincidentally comes on the 21st anniversary of me being a photographer. On February 2, 1990, I walked into Bromfield Camera in downtown Boston and plunked down $550 for a chrome body Nikon FM-2 and a Nikon 50mm f1.4 manual lens.
That was half my life ago, and it's never been the same since then.
Making The Image. Get your copy today.
$10.95
[ssg-superb-slideshow=Making=650=447=6000=500=0=NO]
Follow @Danbaileyphoto