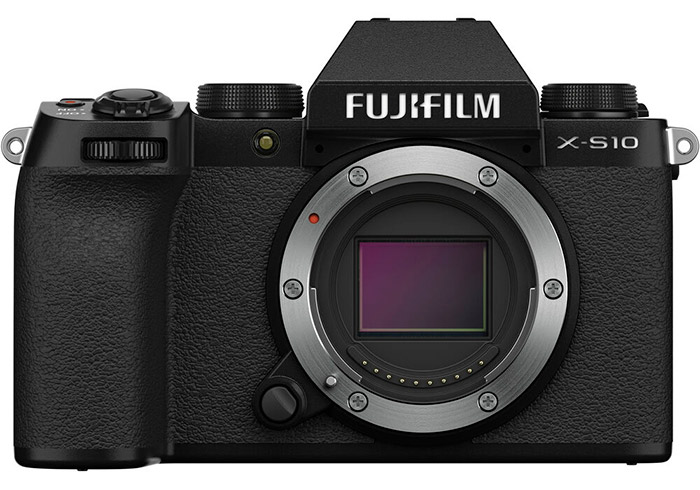 Last week, Fujifilm announced their latest camera, the X-S10. A compact model with IBIS in-body stabilization, and the same 26.1 MP X-Trans sensor and X-Processor 4 found on the X-T4, the X-S10 delivers top level performance for shooting both stills and video in a compact, more affordable body.
Essentially, the X-S10 is the little brother/sister to the X-T4. It offers the same low light performance, ultra fast autofocus full resolution shooting at up to 8 fps with the mechanical shutter, and up to 30 fps using the electronic shutter, 4K video and all of the other main creative features found on the X-T4, but in a smaller, lighter body that is designed to appeal to a wider range of photographers.
With a different top deck configuration, the X-S10 adopts a more traditional DSLR type look and feel for the body, that Fujifilm is hoping will be more familiar, and more attractive to non-fuji shooters. Instead of the regular "Fuji-style" layout, the X-S10 has a dedicated exposure mode dial and two additional dials that allow for fast control over other camera and exposure settings.
Obviously, Fujifilm is trying to bring more DSLR shooters into the fold, and they're hoping that this design will help entice photographers away from their Canon's Nikons and Sonys.
Their strategy is to ease them through the door, and then wow them with the amazing colors, quality and creative options that make the X-Series cameras so well regarded.
Being the third camera in the Fuji line to offer 5-Axis IBIS stabilization to the X-S10, this is the first time they've added this feature to one of the less expensive models. It's a system that works extremely well, no matter if you're shooting stills or video, and it adds quite a bit of value to an already great camera.
In the past, Fuji's X-T10/20/30 camera have all been highly capable and very popular models. They've all offered excellent, pro-level performance, and superb value, and I see this as being the case with the X-S10. Following their history, this camera could be considered the X-T40, but given the different body style, Fuji clearly decided to set this one apart.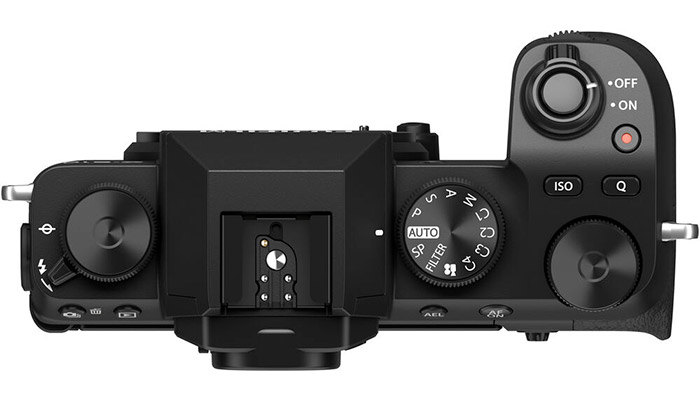 Basic Specs
The X-S10 has pretty much the same specs as the X-T4, with a couple of additions.
• 26.1 MP APS-C X-Trans Back Side Illuminated CMOS 4 Sensor and X-Processor Pro. It's the same sensor and chipset found on the X-T4, X-T3, X-T30, X-Pro 3 and X100V, and it offers improved tonal and color rendering and improved low light performance, with a native ISO range of 160-12,800.
• 5-Axis IBIS In-Body Image Stabilization. A highly capable sensor-shift stabilization system, this helps to miniziae camera shake by up to 5 stops, and it works in conjunction with most X Series lenses, even non-stabilized lenses. It helps increase sharpness when shooting still images at slower shutter.
In addition, a 4-Axis digital image stabilization system can be used when shooting video to further aid in steadying your footage.
• DCI and UHD 4K Video Recording. The X-S10 offers a versatile array of video capabilities that allow extremely high quality options for video and filmmakers. It can record 4K DCI/UHD 4K video at up to 30 fps, and Full HD recording at up to 240 fps for ultra slow-motion playback.
The fast processor speed of the X-S10 enables very fast write speeds and helps to reduce rolling shutter distortion when filming moving subjects. The camera also has a 3.5mm microphone jack and a micro HDMI port that enables 10-bit recording to an optional external or HDMI monitor.
• Ultra Fast autofocus system with 425 phase detection pixels that cover the entire frame. 
• A Host of Creative Shooting Options. The X-Ss10 contains 18 Film Simulations, including Classic Neg., Classic Chrome, ACROS and ETERNA BLEACH BYPASS, as well as other creative settings, including Monochromatic Color, Color Chrome Effect, Color Chrome FX Blue, Clarity, HDR Mode, Grain Effect, PRE-SHOT ES, and all of Fuji's ADV creative filters, including Toy Camera, Miniature Mode and Dynamic Tone.
• Built-in Bluetooth and Wi-Fi Connectivity. This allows for wireless shooting and sharing your images to a mobile device.
• NP-126S Battery. Unlike the X-T4, which uses a different battery, the X-Ss10 uses the same NP-126S battery that every other X Series camera uses. This makes it a very easy chose for those photographers moving up from older X Series models or people looking for a second body or a dedicated video body, since the batteries are interchangeable between the different models.
• Pop-Up Flash, Silent Control, RAW Shooting in Auto/SP Mode, Flip-out LCD Screen and more.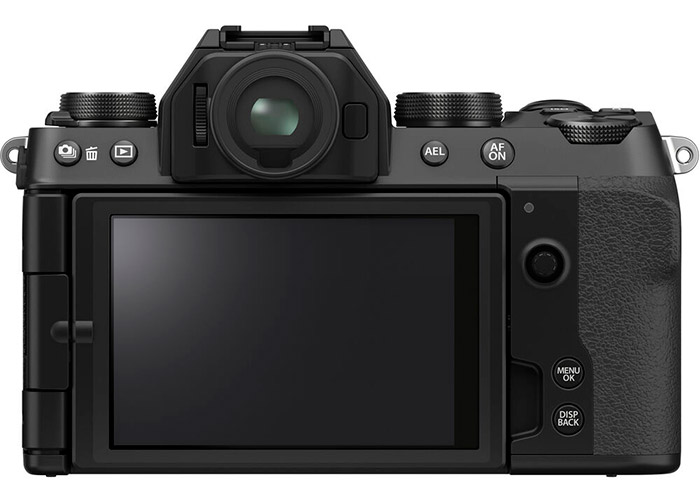 Overall
Packed with high performance capabilities in an affordable, compact, lightweight body, the Fujifilm X-S10 looks like a great addition to the line. I see it appealing to a wide range of shooters, as a full-featured main camera for photographers, filmmakers, bloggers and YouTubers, or second/backup or dedicated video body and a small, but highly capable travel camera for shooting film and stills.
Even though it has a slightly different body style, inside, it's X Series to the core, with all of the functions and features you need to make whatever types of imagery or film you want to create.
The X-S10 is up for preorder now, and it's slated to ship on November 19. It will be available as a body, or as a kit with either the 18-55mm lens or the 16-80mm lens.  
[iframe]<iframe width="300″ scrolling="no" height="250″ frameborder="0″ style="border:none;" border="0″ src="https://mer54715.datafeedfile.com/widget/aff_widget_prdt_generate-2.0.php?aff_num=6746&aff_net=1&widget_num=8543&sid=" marginheight="0″ marginwidth="0″></iframe>[/iframe]
[iframe]<iframe style="width:120px;height:240px;" marginwidth="0″ marginheight="0″ scrolling="no" frameborder="0″ src="//ws-na.amazon-adsystem.com/widgets/q?ServiceVersion=20070822&OneJS=1&Operation=GetAdHtml&MarketPlace=US&source=ss&ref=as_ss_li_til&ad_type=product_link&tracking_id=danhbaisadvph-20&language=en_US&marketplace=amazon&region=US&placement=B08KYH5Q24&asins=B08KYH5Q24&linkId=03dd1ed48d595e64a1c63503d1d7bb44&show_border=true&link_opens_in_new_window=true"></iframe>[/iframe]