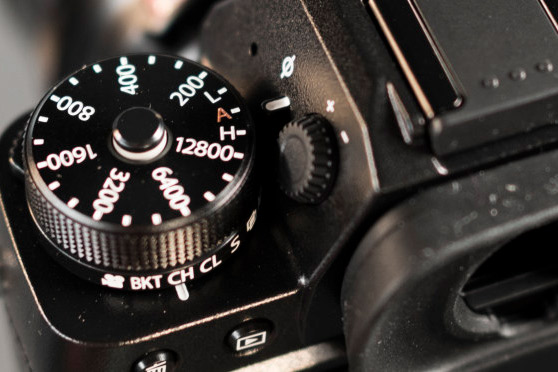 One of the biggest advancements in the latest generation of the X Series cameras like the X-T2 and X-Pro2 is how well they perform at higher ISO settings. I'm not talking that middle range of 800 and 1600, I mean up the nosebleed section- you know, at the far end of the dial where you'd normally be afraid to venture unless you're shooting in dark.
Due largely to the increased computing power of the upgraded X Processor Pro image processing chip, which is 4x faster than the chip in the X-T1, high ISO performance on the newest Fuji cameras is simply amazing.
The highest native speed on the these cameras is ISO 12800, and having shot my X-T2 at this setting quite a bit, I've been blown away by how much detail the images hold. Sure, they're pretty grainy, but that's the thing- they're not noisy, they're grainy. You know… like real photographs used to be. (You can see examples in my full X-T2 High ISO Review here.)
Whatever secret ingredients the Fuji engineers slipped under the ISO dial, they've figured out how to turn the effects of heat-caused distortion (that's really what high ISO noise is) into appealing film grain that actually looks nice. It's not offensive, and in fact, it's gives your photos a very stylized look without taking over.
My favorite high ISO setting on the Fujifilm X-T2 is ISO 3200. It's simply magic, especially when shooting in the new ACROS mode. Here's an example below.
This is my friend Josh. He's a good looking guy, isn't he? He's also a great photographer. Anyway, I shot the first photo of him at ISO 200 using the ACROS film simulation with my X-T2 and the XF 35mm f/2 lens. The second photo was shot a few seconds later at ISO 3200.
The both look great, and at this small resolution, you can't even tell a difference. But what happens when we zoom in? Now we'll look at a section of each image zoomed into 100% to check the detail, first at ISO 200, and below that, ISO 3200. Now you can really see the difference, and it's striking.
The ISO 3200 version holds an incredible amount of detail with minimal grain. It's totally usable. If you're like me, you wouldn't even think about using that setting, even in broad daylight.
If you want to pixel peel the entire image, you can you click on each photo below to see the original photo at full resolution.
So, what do you think? Pretty awesome, huh? I have to say, this is one of my favorite things about the newest X Series cameras, and now that the rest of the line has been upgraded with the new 24MP sensor and X Processor Pro chip, you'll be able to get this kind of performance not only in the X-T2 and X-Pro 2, but also in the new X100F and even in the X-T20, both of which you can preorder now.