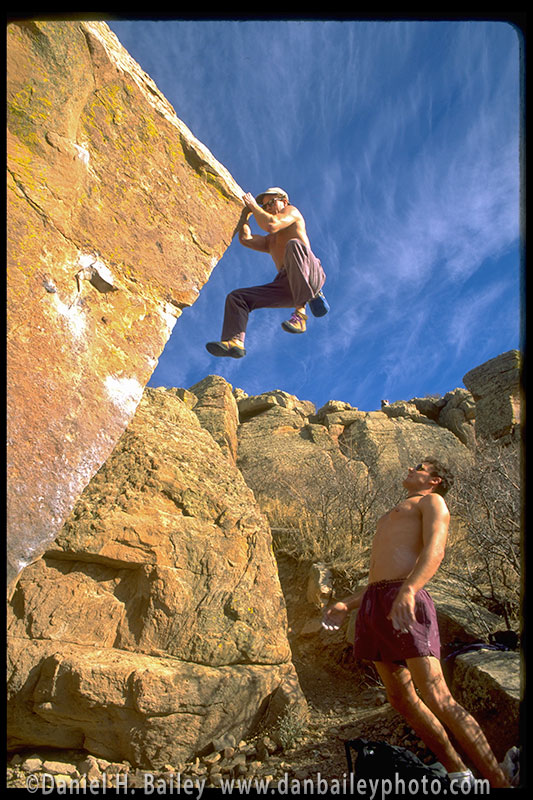 In early November of 1995, after living in Boston for seven years, I arrived in sunny Fort Collins, Colorado with dreams of someday becoming a pro photographer. I'd been shooting photos for about five and a half years and even though I still had a ways to go before making that jump, I'd already earned a few dollars licensing my photos through the stock agency and selling prints. Nothing big, but it was enough to fuel my motivation.
My gear at the time consisted of two camera bodies, a Nikon N90 and an all manual chrome FM-2, two AF lenses, 24mm f/2.8D and 70-210mm f/4-5.6, and two manual lenses; 50mm /1.4 and 105mm f/2.5. The only one I don't still have is my manual 50mm. Sadly, I somehow lost it in the dark on location a few years later, and I replaced it with my current 50mm f/1.8.
Shortly after moving to The Fort, I quickly discovered Horsetooth Reservoir, the legendary bouldering mecca for northern Colorado, and spent many afternoons and weekend days there honing my climbing skills and meeting new climbing friends. In fact, some of the lasting friendships that I still have I met during those early days climbing at Horsetooth.
The most popular area of Horsetooth is known as Rotary Park, which sits upon a west-facing bluff high above the reservoir, getting blasted by afternoon sunshine and providing awesome views and warm weather climbing opportunities, almost year round. Steeped in history, Rotary Park is home to some of the most famous boulder problems established by legendary early climbers like John Gill.
Some of the famous boulders at Rotary Park include The Mental Block, Punk Rock, Cat Eye Wall, Pitch Penny Boulder, and perhaps most famous, The Eliminator Boulder.
With its menacing ships prow profile that overhangs on the south side of the rock, The Eliminator is a test piece climbing challenge for everyone who drop down that first series of ledges from the parking area, scurries along pathways that wind through the prickly mountain mahogany bushes and finds themself staring up at this legendary piece of Dakota sandstone.
The mega classic boulder problem that ascends up the prow is knows as "Right Eliminator." It's hard right from the ground, especially if you're short. You start by pinching the overhanging corner itself with your right hand, and then jumping to grab a sideways with your left.
If you manage to grab it, your have to quickly paste your feet on the rock in order to keep yourself from dropping off of the overhang and falling back the ground. If you're able to hold on, continuing up the corner it's even all that hard. Scary, but not as hard as that first move.
For many people, that first move is the crux. That's where most of us get spit out. We'll try over and over again, pinching and jumping, pinching and jumping… and falling off with frustration before giving it another go. How many times can your fingers last before you just can't try anymore? Ten times? Twenty times?
There's always another day, but usually the same thing happens. Some climbers will try that first move hundreds of times before sticking. Or not. In all my years bouldering at Horsetooth, I only managed to stick it four times. Only four times did I manage to make it to the top of Right Eliminator, and that first time I felt like I'd achieved mythical status, because that's what it always seemed like whenever I saw someone else do it.
Like this old photo of Dave Wallace above. Shot during one of my first trips to Rotary Park in the fall of 1995, this was the first time I'd met Dave and Lance Lemkau (spotting), and watching these local Fort Collins hard men climb Right Eliminator with such confidence was like watching an explosion of greatness. I was in total awe.
I asked Dave if he'd do the problem again for my camera, and so on that fateful day, I crouched down low with my Nikon D90, snapped just when he nailed the final move and up the corner captured one of my first favorite Colorado adventure images.
Made with the 24mm lens on Fuji Velvia slide film, I have always felt that this was one of those shots that helped me define my style of being right there in the middle of the action. To me, it's got light, color, subject, dynamic lines and a peak moment of movement in a good place in the frame. I don't think it ever got used anywhere, but it's always been one of my favorites and thought it would make a great Climbing Magazine cover. I submitted it, but they never bit.
Here's another photo of The Eliminator below I shot years later which shows you the problem from a different angle.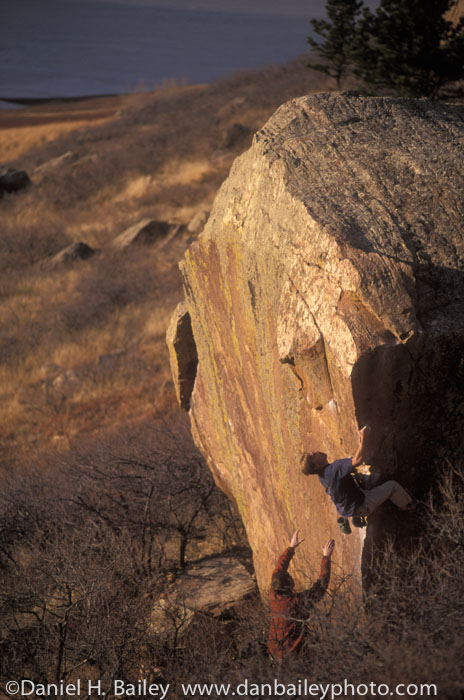 My Early Years
This is the first post in a series called My Early Years, which profiles some of my images and experiences as a budding young photographer back in the mid and late 90s. I present this series to show you that photography is a progression and that we all have a long road of unique experiences that make up our photography life/career.
Most of the images in this series were shot on film and are thus derived from either Nikon Coolscan files or from early Kodak Photo CDs, which are still readable on Apple iPhoto.
I hope that you enjoy this look back at the much younger and much less experienced Dan Bailey. If you'd like to read more articles like this and be notified whenever I post similar features, please consider signing up for my newsletter, which also includes regular news, photography tips, industry isight and special deals.