I like reading some of the " favorite photos of the past year" posts that show up on the web around this time. Jim Goldstein posts a great collection of reader submitted galleries each year, and here's his 2013 page.
Sometimes it's hard for me to choose my best 12 photos of the entire year, so instead, this time I'll just post a favorite shot from each month. Not necessarily THE favorite, just one that jumped at me when I was pulling images for this post. I hope you enjoy my selection. Feel free to share links to your own favorite collections of 2013 in the comment section below. Finally, here's to more in 2014!
January: Winter Sunrise, Tokositna Mountains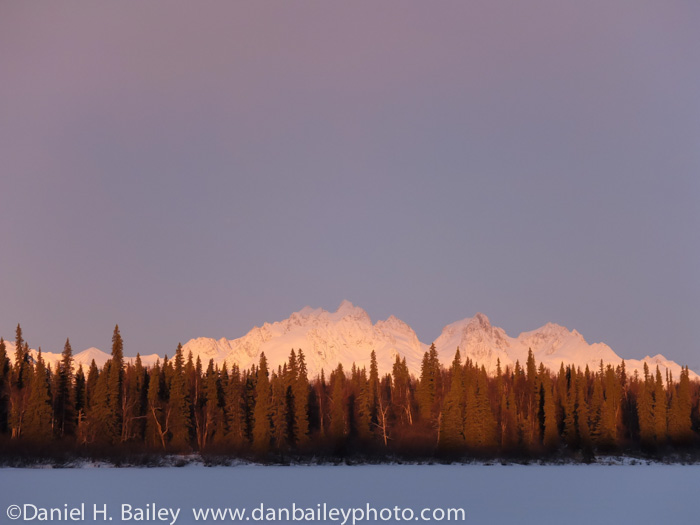 The Tokositna Mountains are a small subrange of peaks on the south side of the Tokositna Glacier in Denali National Park. Last January, we spent a few nights at a remote cabin just south of the Alaska Range, and I shot this image with my trusty Fuji X10 during a late morning ski across the lake. I used Shutter Priority mode with an exposure of 1/250 at f/4. I love shooting landscapes with the X10 (and now the X20) because it allows me to travel virtually free and unencumbered through the world. Just being there in good light is half the battle, and if you're not burdened down with too much gear, you'll get there more quickly.
February: Landing on Ice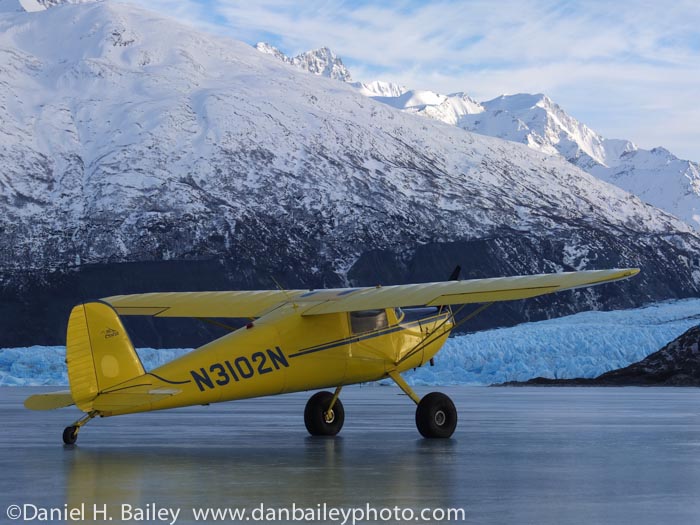 In February, I flew out to the Knik Glacier area in my little Cessna and discovered that Inner Lake George was free of snow. Long story short, how could I resist the mile wide sheet of solid glare ice and perfection, windless conditions? Although I've landed on icy runways many times, this was my first landing on a frozen lake. I also shot this one with my Fuji X10, 1/450 at f/5.
March: Portrait of a Snow Biker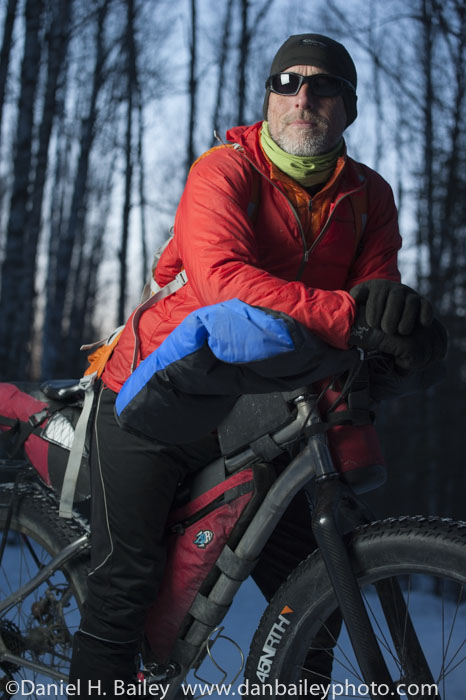 In March, I met Glenn Charles, a fellow adventurer and photographer who came to Alaska to ride his snow bike for two months in the cold. I had a great time hanging out with Glenn during his visit. I took him on a winter bush plane ride in the little Cessna, (we even landed on Lake George again!) and we had an awesome day riding our snow bikes out to the Knik Glacier.
One afternoon, we hit the trails with bikes and camera gear in order to get some action shots with flash. This shot above was an image from that series. It was made with my D700, the AF-S 70-200mm f/4G ED VR Telephoto Zoom, which I acquired in early 2013, the Photoflex TritonFlash battery powered strobe and Photoflex WhiteDome 24″ x 36″ softbox. Sounds like a lot of gear, but all of this stuff, including the light stand fits right in my camera pack. You can read the details of this photo shoot here.
April: Kichatna Spires and Backcountry Skiing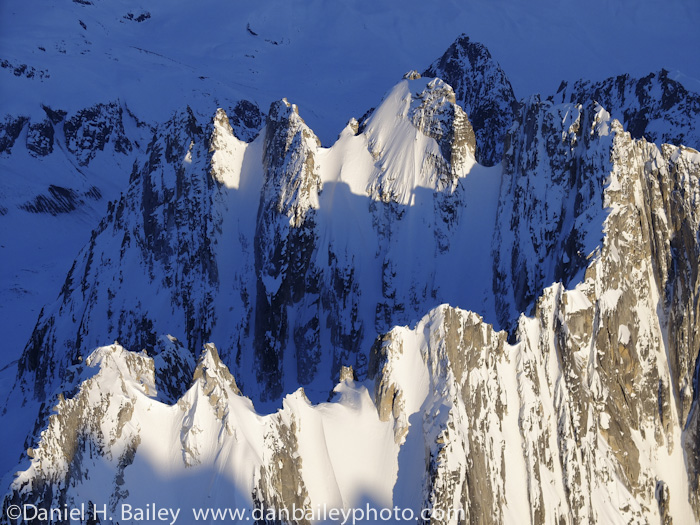 April is a tough one, and I have to go with two images. Hey, it's my blog, I can break the rules all I want! The first shot is an aerial of the Kichatna Spires, a section rugged granite peaks that lie southwest of Denali National Park. By far one of my favorite images of 2013, I shot it out the open window of my little Cessna with the Fujifilm X20, which I bought in early April. Since then, it's been the camera I carry with me at all times. You can read my full review of the X20 here.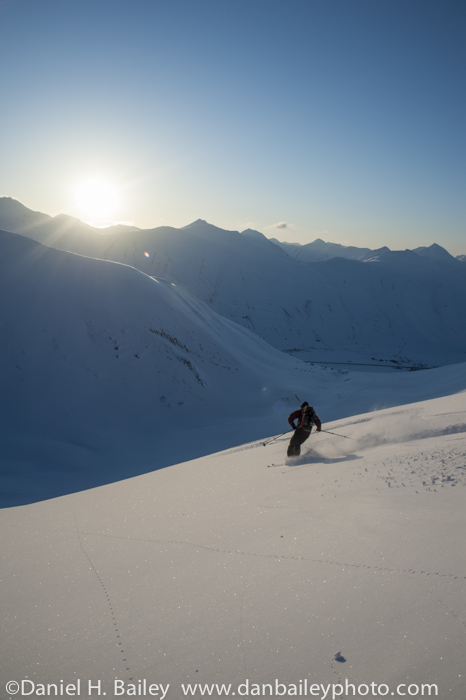 Also in April, I did a week long backcountry ski trip with my Colorado friends who came up for some fine Alaska snow. We were blessed with good light on a few of our days, and I made this image with my Nikon D700 and 24mm f/2.8 lens. 1/640 at f/7.1. Although I've shot more photos with my telephoto lenses, I've never gone on an assignment or photo shoot without my Nikon 24mm wide angle. You can see more photos from this awesome trip here.
May: Neuschwanstein Castle and The Alps, Germany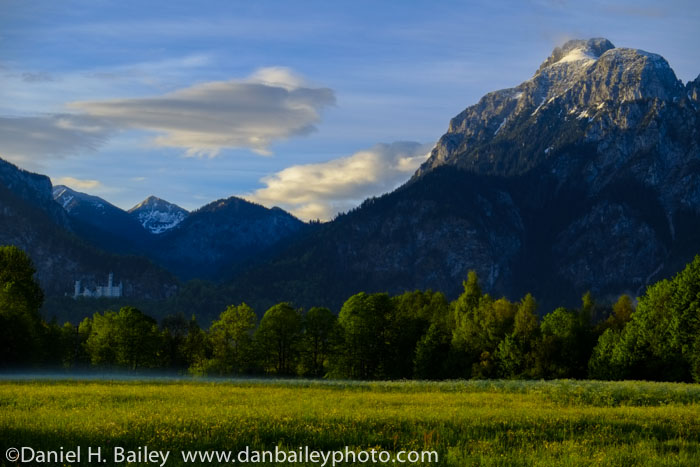 In May, my wife Amy and I flew to Europe and rode our bikes over the Alps, from Munich, Germany to Verona Italy along the Via Claudia Augusta route. Just before the Austrian border, we passed through the town of Füssen, near Neuschwanstein Castle, which sits on a hillside high above town. I've heard about this magical disney-style castle my whole life, so it was a pretty special day to pedal (in the pouring rain) all the way up to the castle entrance and view it with my own eyes.
This was my first trip with the Fujifilm XE-1, which I found to be an awesome travel camera, especially for bike trips. This was made with the XF 18-55mm lens, which comes with the Fuji XE-1 kit. 1/280 at f/5.6. If you like traveling by bicycle, I highly recommend this route!
June: Knik Glacier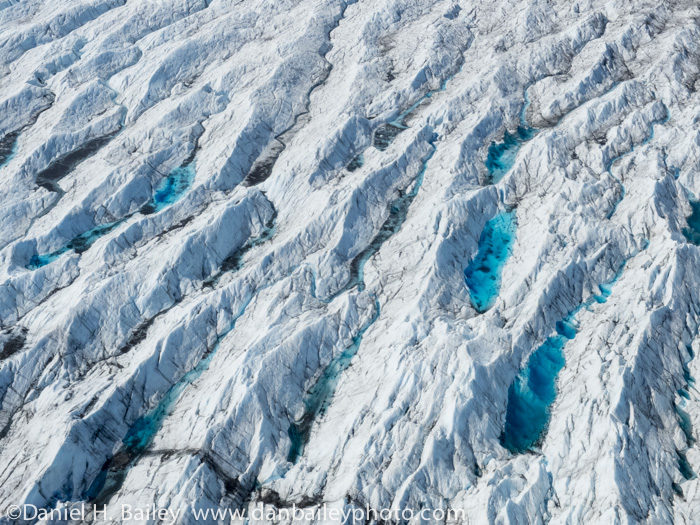 Upon my return from Italy, I found summer to be in full swing here in Alaska, so I took to the skies and flew quite a few aerial photography missions over the Kink Glacier. By summer, the light is much higher, and there are lots of tourquoise colored meltwater pools that form in the ice. Another Fuji X20 shot. I love the X20 for aerials because it's just so easy to use, which is key when I'm also trying to fly the plane at the same time. Plus, the quality and color rendition is awesome. 1/1000 at f/9.
July: Walking on Ice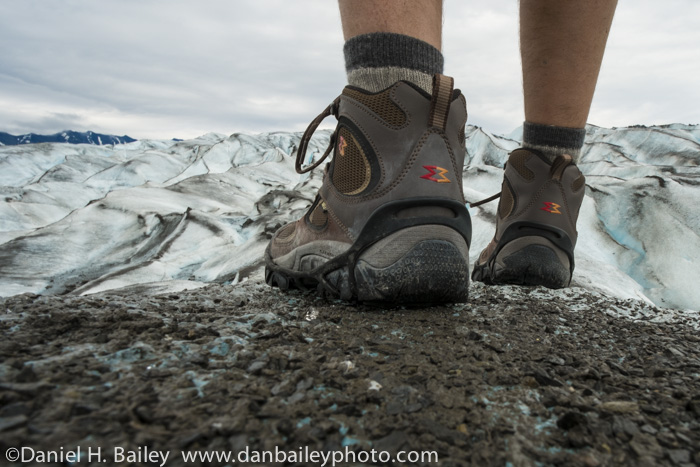 This was a really fun day. After numerous bush flights over the Knik Glacier, I finally found a short, muddy strip that was close enough to actually give me access to the glacier itself. It took routefinding, bushwhacking, treading through thigh deep muck, thick forest and hiking over the rocky moraine in order to get there, but after surmounting those minor challenges, I found a way up onto the ice.
I walked around for a couple of hours and shot this photo of my feet with the Fujifilm XE-1 and the wideangle XF 14mm lens, (which I LOVE!) by using the self timer and dangling the camera by the strap behind me. 1/60 at f/16. You can read more about this fun adventure here.
August: Hiking East Twin Peak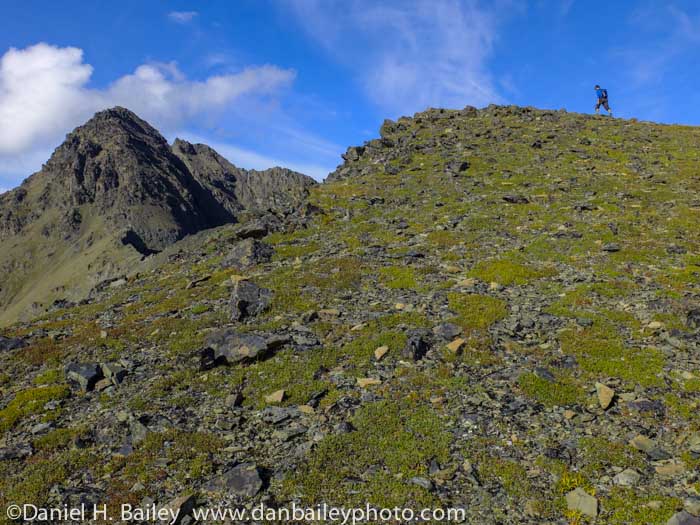 August was a big month. The warm weather sunny weather continued to hold in Anchorage, my mom came to visit and I spent four awesome days on an backcountry aviation camping trip out to Wrangell St. Elias National park. However, I choose this photo of my friend Eric that I shot on the day we hiked East Twin Peak in the Chugach Mountains. Eric and I are great friends and neighbors, but we're both so busy that we rarely get outside to play very often these days, so it's a special day when we do something together. Yet another Fuji X20 image, (you can see how much I love this versatile little camera!) 1/850 at f/5.
September: Adventure Mountain Biking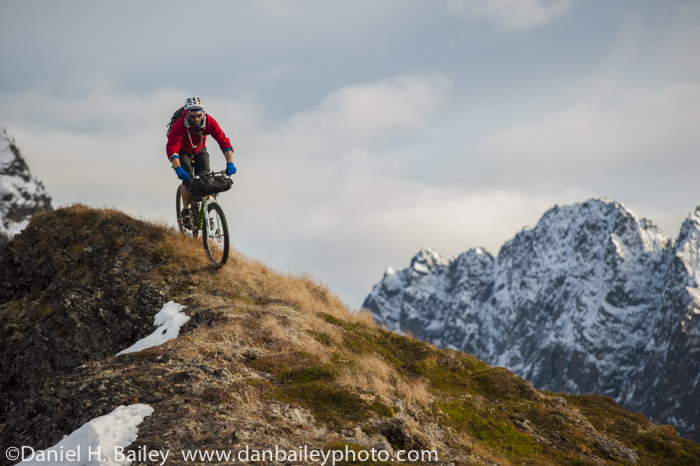 Eric and I were on a roll this summer, because we got out again in September, this time to shoot some adventure biking images in the Chugach Mountains for his company Revelate Designs. This was by far one of my favorite days of the year, as is reflected by my excitement about the images that we got that day. I shot this with the D700 and the AF-S 70-200mm f/4G ED VR Telephoto Zoom, which is pro quality glass and light enough for backcountry adventures like this. 1/800 at f/4.5. You can see more photos from this shoot here.
October: Cyclocross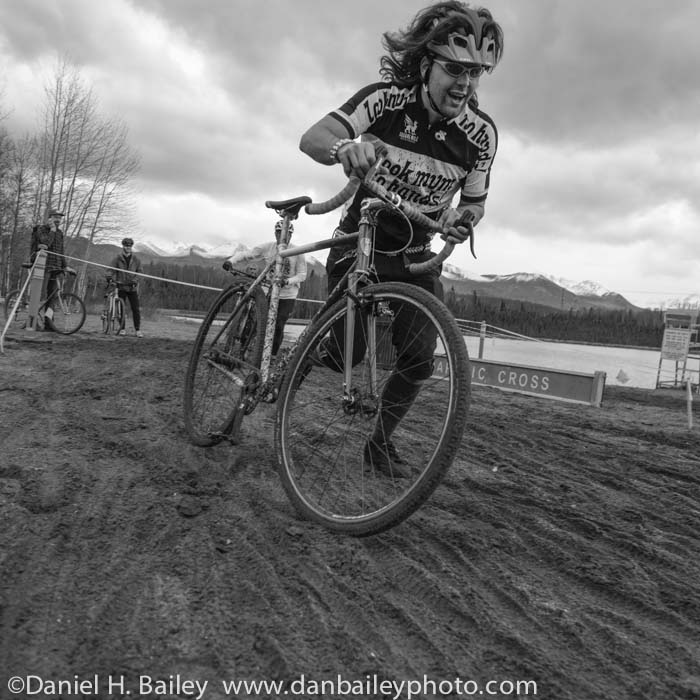 I shot a lot of photos in October, many of them during the Anchorage cyclocross races. With so many shots, it's hard to pick a favorite, but this one definitely stands out. I made it with the Fujifilm XE-1 and the fixed XF 14mm f/2.8 lens, with the camera set in square black and white mode. Sometimes setting  limitations like this can actually jump start your photographic creativity. Lots more to see, so check out more photos from this series here.
And to those who say that they Fuji XE-1 and XE-2 aren't good for shooting action? Like anything else, it's about how well you know your gear and how you approach shooting your subjects. Exposure on this shot was 1/850 at f/2.8.
November: Winter Portrait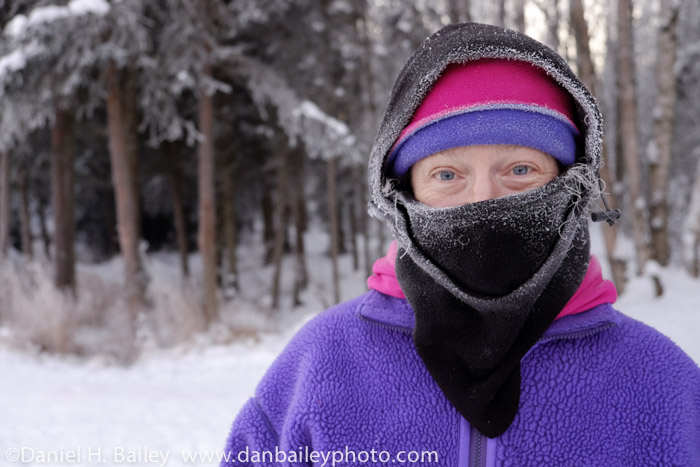 Since I spent much of November dealing with some non-photography matters, I didn't shoot very many photos that month. One particular day, though, I took a quick walk in the park near my house and ran into my friend Darcy, who was also out for a brisk walk in the minus 10 degree temps. I had my XE-2 with me, and shot this frosty portrait of her. 1/500, f/4.5.
December: Snow Biking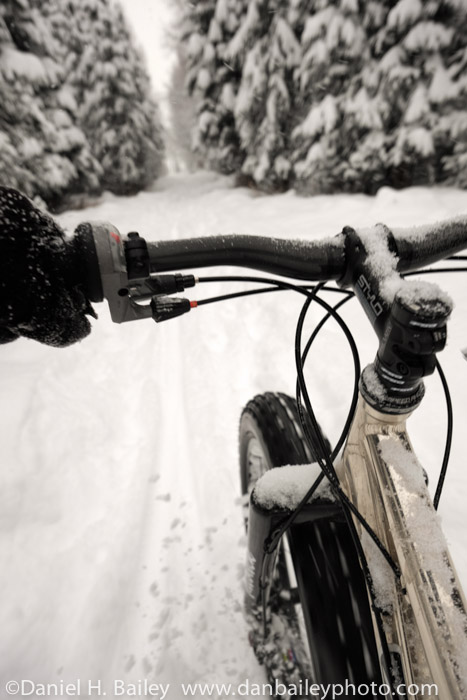 Winter once again, and time to break out the fat tire snow bike! I kicked off the snow biking season with a fun ride on the local trails and captured a few shots at the same time by clamping my Fuji XE-2 onto the frame with a Manfrotto Super Clamp and Variable Friction Arm. Those are both great tools for getting cool vantage point shots. 1/500/f/4.5.