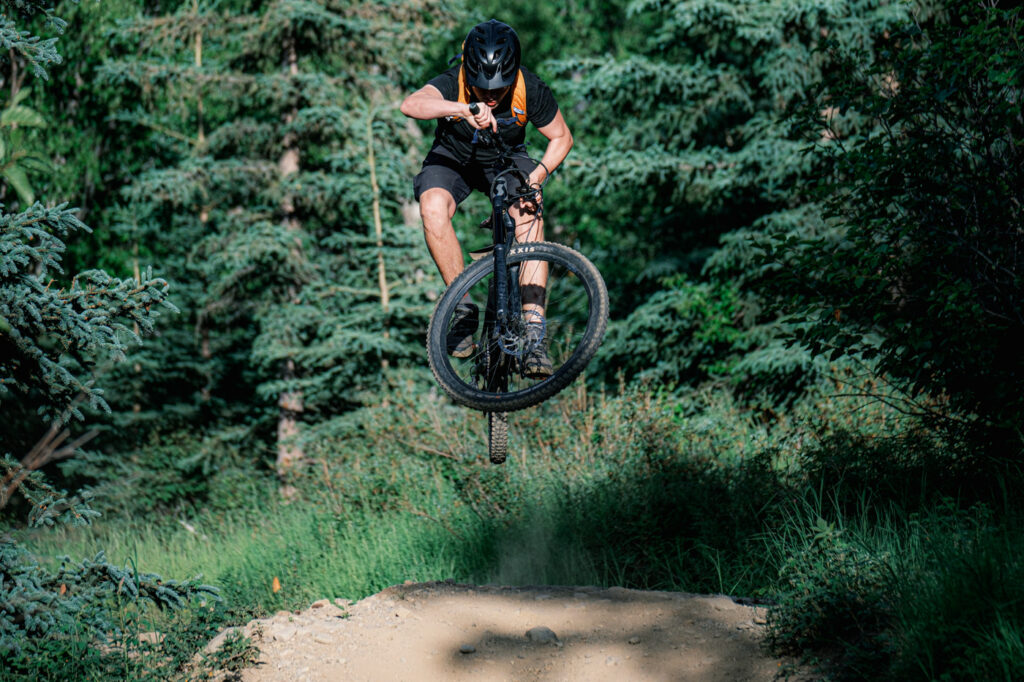 I've shot a lot of action with the Fujifilm X Series cameras, and the lens I think is best suited to capturing very fast moving subjects is the XF100-400 f/4.5-5.6 OIS WR.
Despite it's larger size compared to the rest of the Fuji lenses, the XF100-400mm has an extremely fast autofocus motor. It's even faster than the AF motor on the workhorse XF50-140mm f2.8 telephoto zoom. I didn't believe this at first, but after a few tests, this was easily confirmed.
With its ultra fast twin linear motors, the 100-400 is easily the Autofocus King of the Fuji zooms, and when paired with one of the newest bodies, like the X-T4 or X-T3, X-T30, X-Pro 3 or X-E4, this thing really cooks. Even with the older X-T2, this lens will give you incredible results.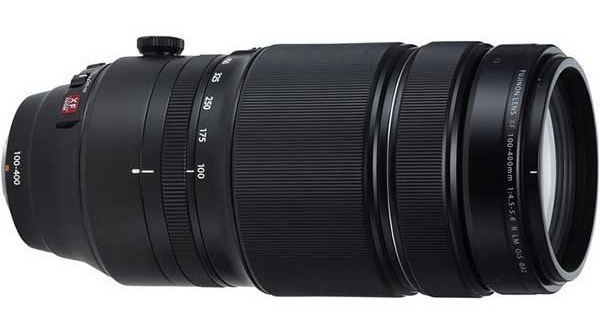 Having shot a wide variety of action with the 100-400mm lens, including bike racing, airplanes, wildlife and flying birds, I've been impressed every single time. This thing simply does not miss a beat.
So, when I headed up to shoot a downhill bike race in Anchorage, last week, I kept things simple and took a single body and lens kit: the X-T4 and XF100-400mm. Despite it's less-than-small size, this combo still fits in my smallest camera pack for easy transport as I rode up the hill to set up.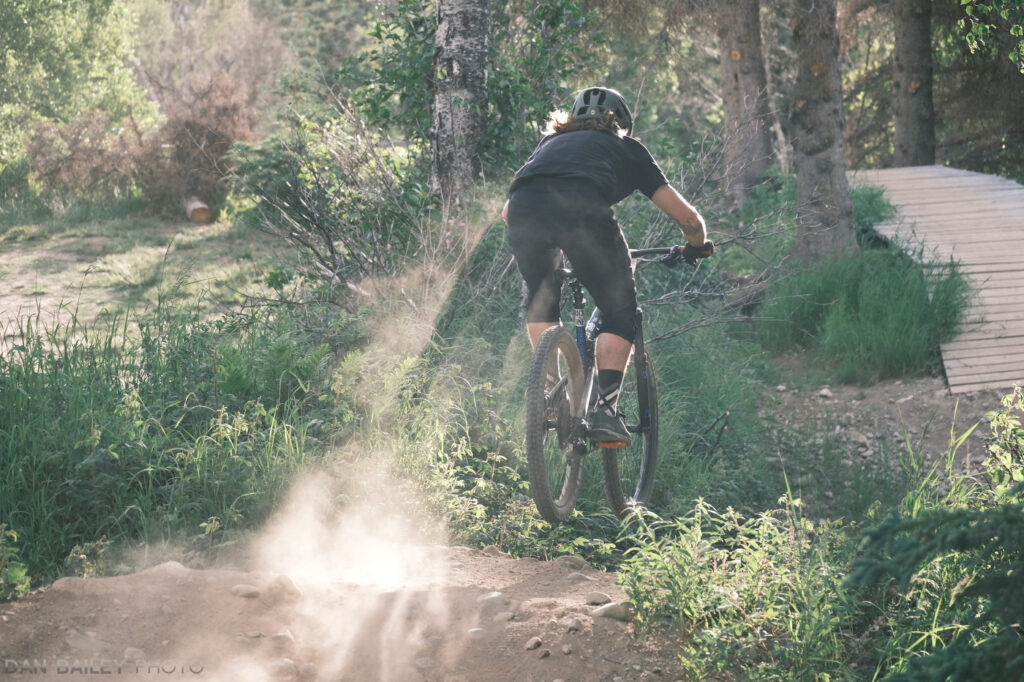 Very Fast Autofocus
When it comes to autofocus, the hardest types of motion to track are when the subject is coming directly towards or away from you. This is because the distance between you and the subject is constantly changing.
That relative speed of your subject as it's moving towards or away from you is magnified when using a long lens, and so this makes shooting telephoto action pretty much the hardest type of thing to capture.
In addition, the system not only has to keep moving as it analyzes the motion, it also has to compensate for the inherent lag of when you frame the shot you want and when you actually press the shutter button.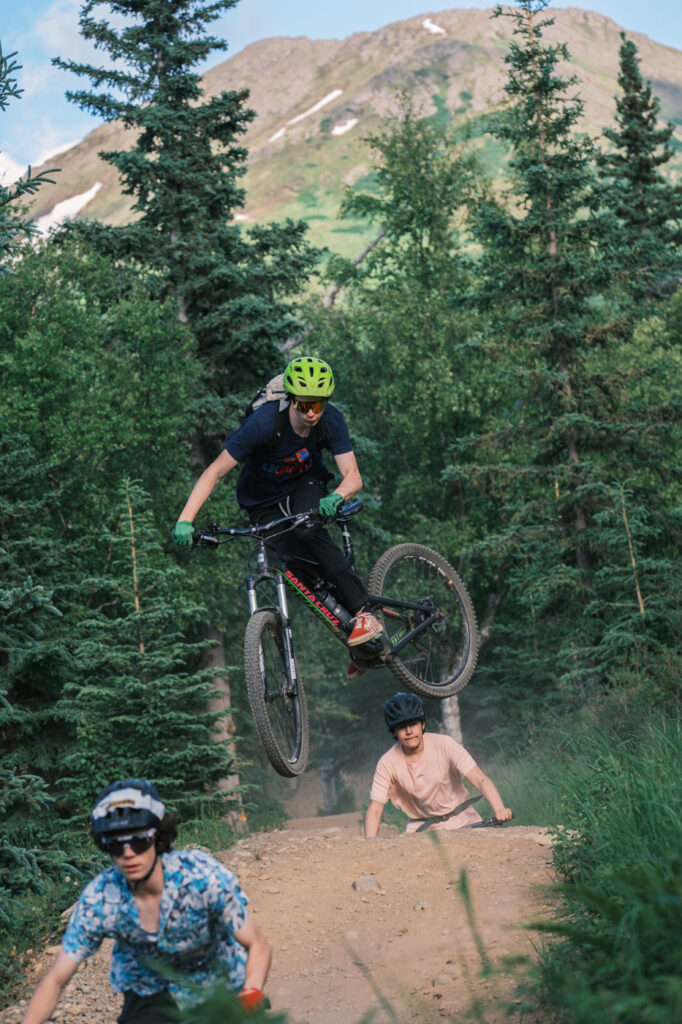 However, this is exactly what those highly tuned predictive autofocus tracking algorithms inside the camera's brain are made for. Combined with the X-T4, I was highly impressed with how well the camera and lens tracked these bikers as the raced down the trail. You'll never get 100% with any camera or lens, but this combo got pretty close with very few missed frames.
Shooting in AF-C in Continuous High with PRE-SHOT ES mode on, I'd grab the riders coming straight toward me, and then quickly swing around to capture them after they passed. Almost every time, the AF was able to quickly pick up the subject again.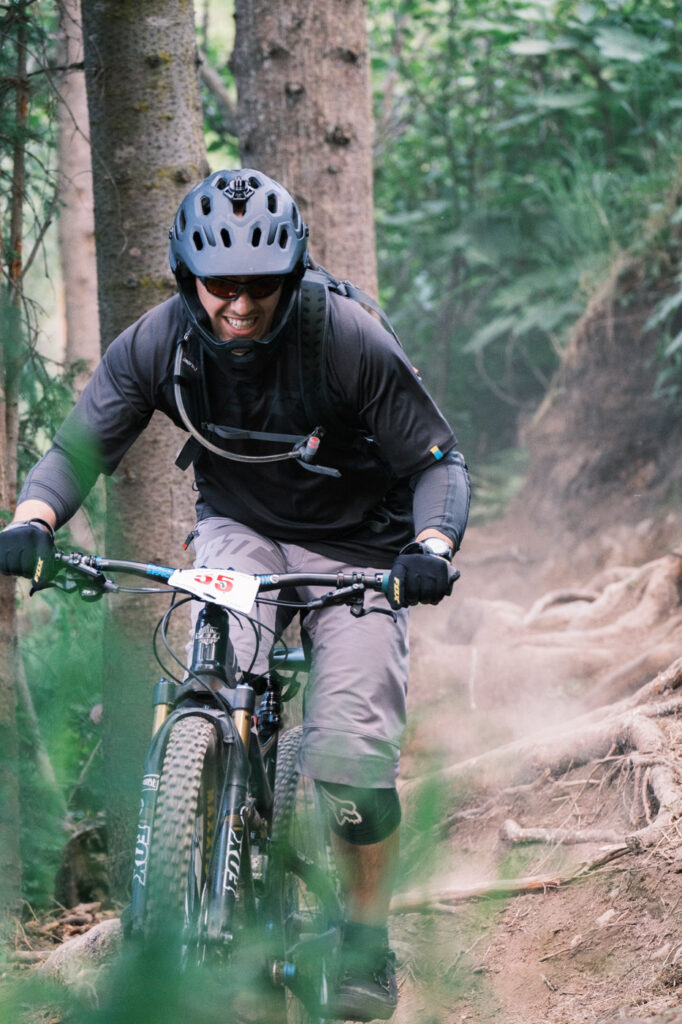 Extremely Sharp Optics
The Fuji 100-400 is also razor sharp. Built with 21 events in 14 groups, and 5 extra low dispersion elements, this lens is ridiculously sharp. Even when I was shooting inside the forest and occasionally cranking the ISO up to 6400, the 100-400 pulled out incredibly crisp details.
With the Fuji cameras, I have no problem turning up the ISO dial, because I know I'll still get great looking images, even at very high settings.
Overall, the 100-400 is not a small, lightweight lens by any means, but it's an extremely capable and very fun lens to have in the arsenal. I love the way it brings you right into the scene and gives you these tight, intimate views, with compressed, looming, shallow depth of field backgrounds.
If you like to shoot sports, action, wildlife or any other kind of tight subject I'd highly recommend Fuji's XF100-400 f/4.5-5.6 OIS WR. It may not be on your short list, but once you bring this into the kit, you'll be surprised at how good of an investment it turns out to be, and how fun it is to shoot with.