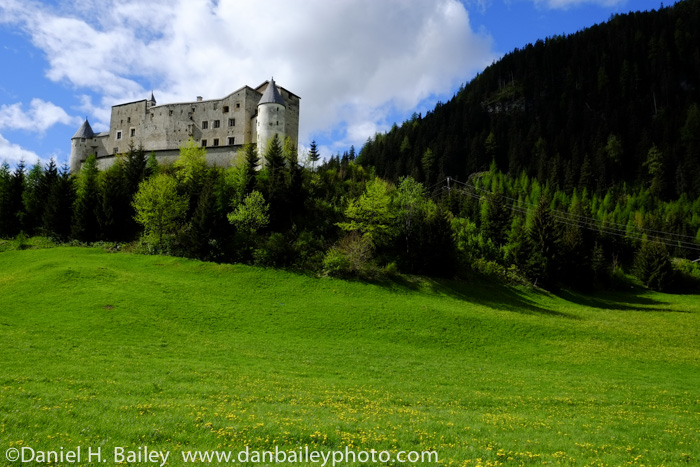 When we last left off from our journey, we had just climbed the 1,000′ switchback hill into the town of Nauders, Austria, which sits just before the Italian border. If you haven't read Part 1: Germany and Castles, and Part 2: Not Enough Days in Austria, you can go ahead and catch up on how we got to this point.
We woke up in Nauders to puffy cloud banks and low level fog that obscured the surrounding peaks. As we woofed down our traditional Austrian breakfast of bread, with butter and jam, cured meat and cheese, yogurt, cereal, and soft boiled egg, we secretly asked the European mountain gods to let us cross over Reschenpass in good weather.
My prayers must have worked, because as we were packing up our bikes, the clouds broke, revealing a rich blue sky and a ring of alpine peaks surrounding the town. Looking at the map, it was only 500 more feet to the top of the pass. Apparently, we'd done all the hard work yesterday, and our long push up the switchbacks left us with but a brief half hour ride past fields as green as the old Fuji Velvia film boxes, the obligatory castle and an elderly couple from Ireland who were walking part of the Via Claudia Augusta Trail for a holiday.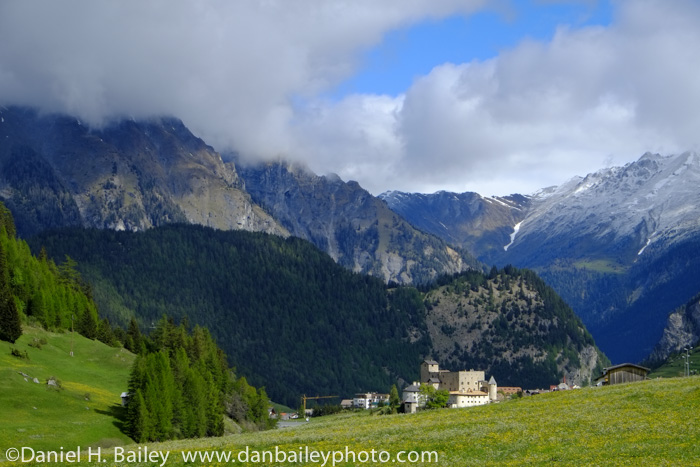 Downhill to Italy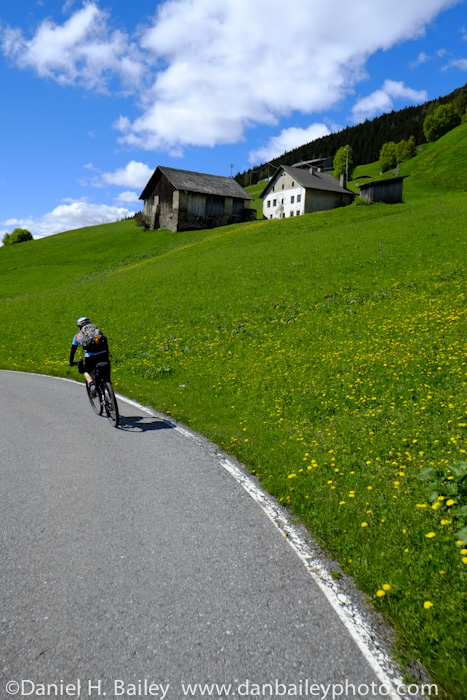 I would almost say that crossing into Italy was rather anticlimactic, except for the fact that we were now looking at 160 miles and 4,500 feet of downhill from here to Verona. Ok, so there was a tiny 600 foot climb thrown in there somewhere, but we hardly felt it.
We took three days to get to Verona, and after crossing Reschenpass, the first day was entirely downhill. Sixty miles of downhill to be exact. The first part was the steepest. From St. Valentin to the town of Glurns, we dropped almost two thousand feet in 13 miles.
I'm sure you can picture it: Coasting on 29″ bikes through the tiny medieval Northern Italian villages of Burgusio and Clusio, (although up here in Südtirol, they go by their German names, Burgeis and Schleis), past castles, old church bell towers, alpine vineyards, and Italian road bikers out for a morning hill climb. I tell you, it was dreamy, especially the part where we could look up and see the snow covered peaks of the Alps high above the valley.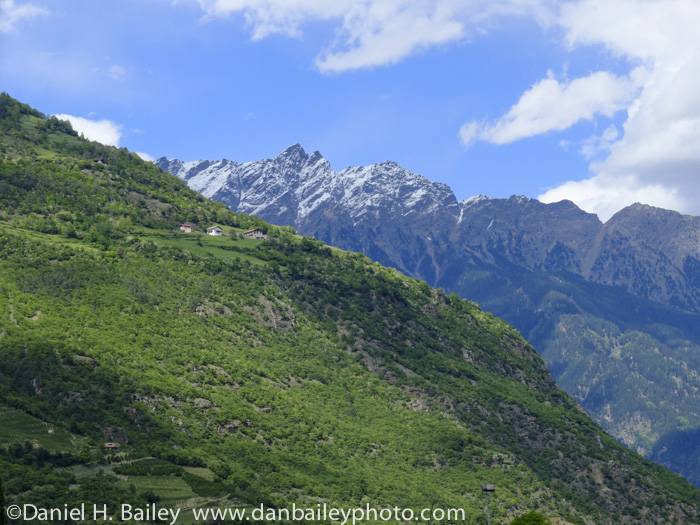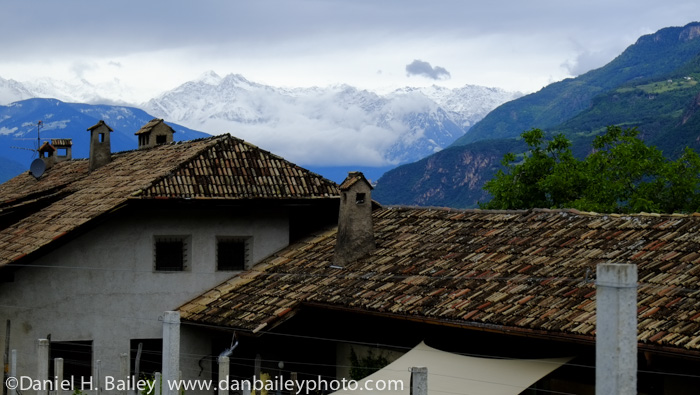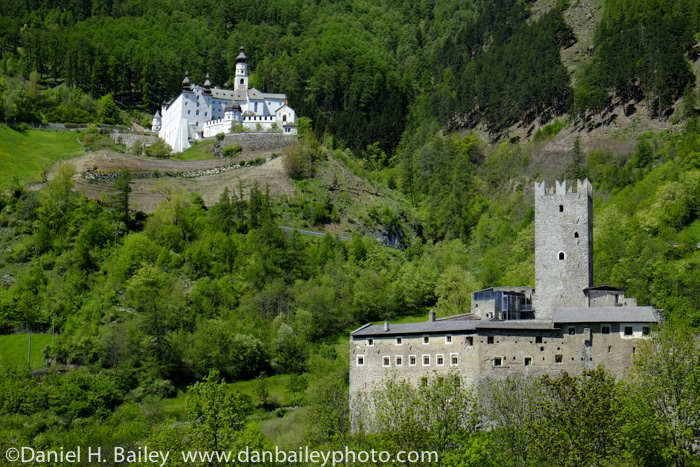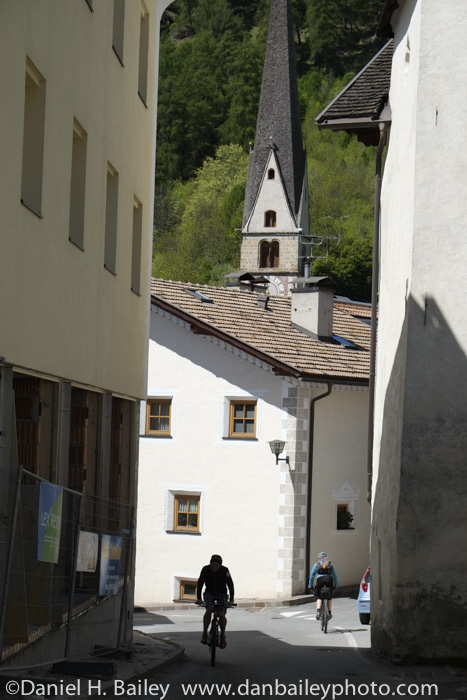 Eventually, the trail flattened out and became the well traveled Adige Cycling Path, which follows the Adige River all the way to Trento. It's filled with Tyrollean bikers; old people young people, small people, big people, solo riders, families, you name it, if they can ride, they're riding, including a couple from Munich who were riding the Via Claudia with their 14-year old son. Part of that might have been the fact that it was the first sunny day in weeks in this part of the Alps. At any rate, it was great to see so many older folks and seemingly less "fit" people on bikes as if it were just a way of life.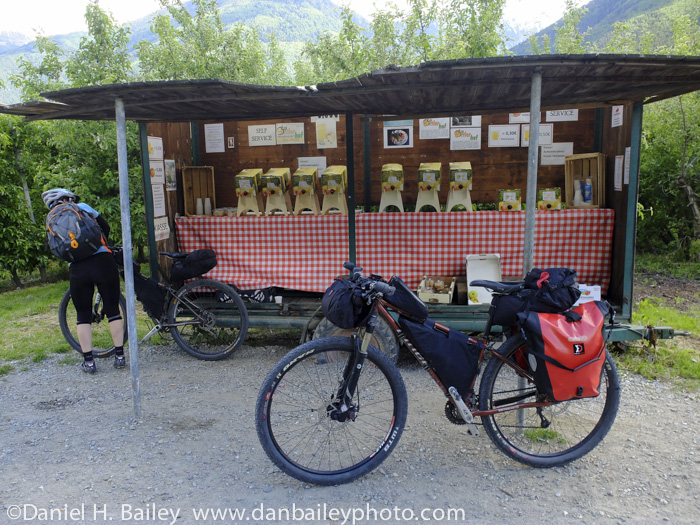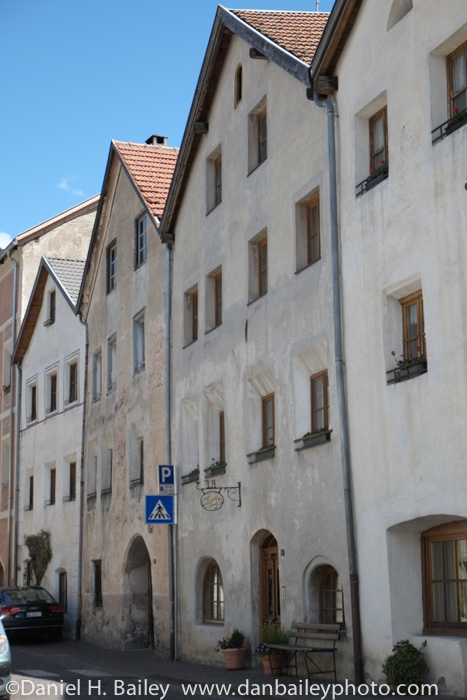 The Adige River valley is also filled with vineyards, but mostly it's packed with apple orchards. It's like the Washington State of Italy. Nearly every plot of farmable land is planted with apples. We even passed a self service apple juice stand along the trail. 50 Euro cents gets you a small cup of sweet, energy filled nectar. So lovely.
After a brief cappuccino stop in Lasa, or Laas, as it's called in this area, (those lines on the map don't mean anything up here, it's all German until you get to Trento), we continued on to Merano. If we'd been able to cross over the Alps via the Timmelsjoch pass, this is where we would have joined the Via Claudia Trail.
Merano seemed like a nice city, but the afternoon was still young, so we pushed on, still following those little green arrow stickers that we've seen pasted onto light poles and sign posts ever since Germany. Those little arrows have never led us wrong. Well, there was that one time in Landeck, but we soon found our way. Must have been an anomaly, because except for that, they've been right every single time. I won't let one rogue sticker sway my confidence in our little green Via arrows.
At the end of the afternoon, we found ourselves in Lana, (German name, Lana), a town that must see few off the beaten path travelers.
We had trouble finding lodging, which was partly an issue because of the afternoon rain that was kicking up, and we ended up at the extremely conformable Hotel Tiefenbrunn, a luxury wellness hotel where absolutely no one spoke English. Dinner included. Our first Italian meal of the trip. Yes, they speak German here, but the food's still Italian. Breadsticks. Olive oil. Pasta. I'm in dreamland.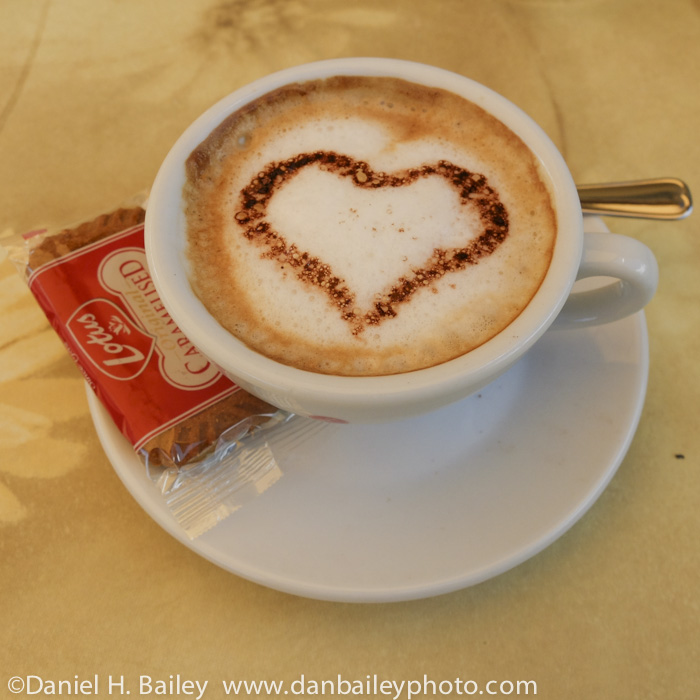 To Trento
We seem to have crossed Reschenpass on the perfect day, because we awoke in Lana (elevation 300 meters) to pouring rain, dark gray clouds down the valley, and a fresh snow line at only 700 meters on the hillsides above town. Pretty much everything up high got pounded last night. They even had to re-route part of the Giro d'Italia road bike race because of this freak late May snowstorm.
Fortunately, the skies broke up as we made our way down valley and gave us reprieve from getting soaked. It was a quick hour to the outskirts of Bolzano, then we followed the route to Caldero, where we lost the trail. Couldn't find any Via stickers. Map wasn't obvious. We eased our frustration with cappuccinos and a banana split in a cafe in the main square. Seemed to have worked because right after that, we found the route.
As always, we craned our necks to look at castles up on the hillsides, and exposed rocks that started to appear more reddish in color off to the east. That's where the Dolomites are. Would love to ride through the Dolomites, but not today, on account of that freak snow storm.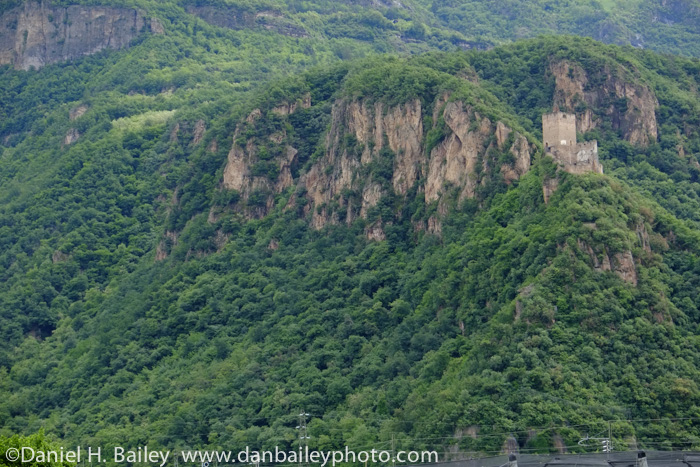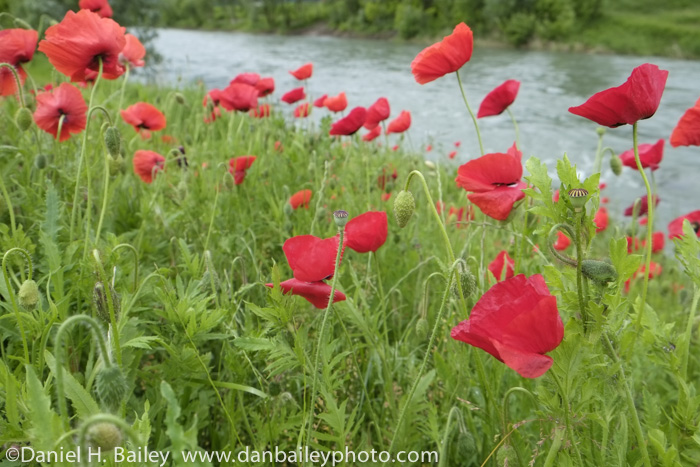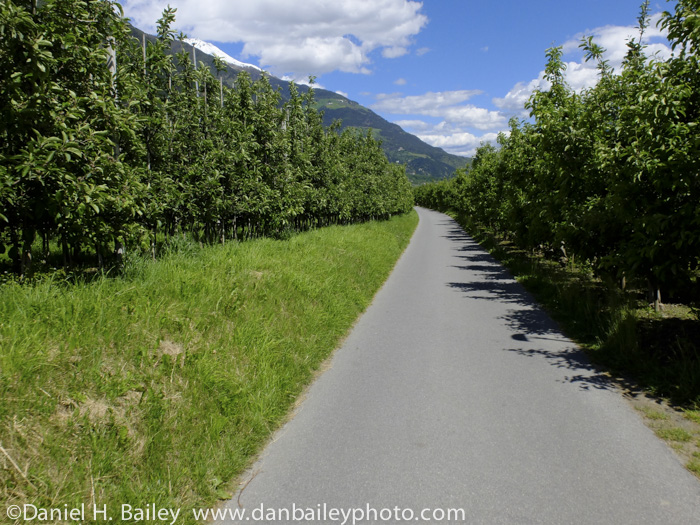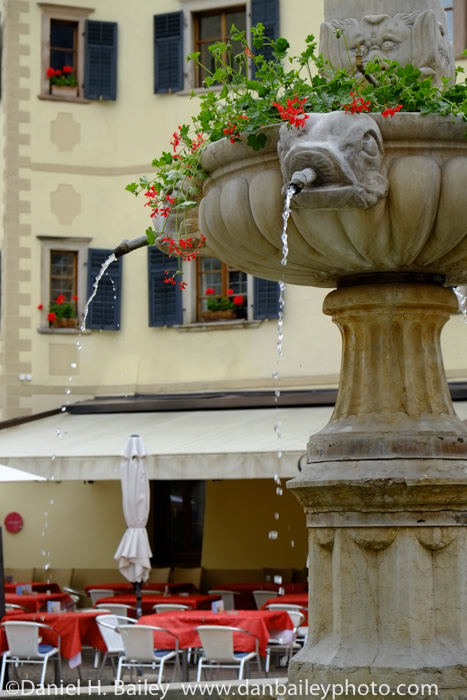 South of Caldero, we pedaled through vineyards that were dotted with bright red poppies, until we reached the paved Adige River trail again, which we followed under sprinkling raindrops that never materialized into a downpour, all the way to the city of Trento.
After checking into the Hotel Everest with a rough mix of speaking German, Italian and English, we did a quick stroll around the main square, but quickly retreated back to the hotel restaurant for pizza. Our first of the trip. Certainly not our last. This is pretty much what I came for.
To Verona
Our last day of riding, we biked 67 miles from Trento to the beautiful city of Verona. This was our longest day of riding, but part of that was because we got lost in the town of Mori. We stopped for a picnic lunch in the town square, with bread, formaggio de montagna and a 1L box of cheap red wine that we bought from a very robust woman with a strong handshake a local shop. Another highlight was the combination espresso stand/bike service center where all the local bikers stop about 15 miles south of Trento.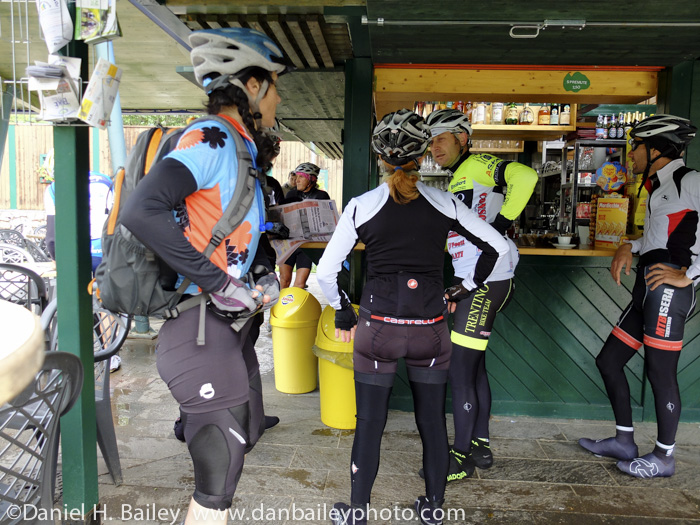 Following all the other day cyclists, we went all the way to the next village, before realizing that they were all headed out to Lago de Garda, which is a popular destination for Italian tourists. Even after turning around and heading back to Mori, we still had trouble finding the route. A closed sign and a detour that led nowhere totally threw us, so we got up on the road and deciphered our way through a couple of villages back to the Adige River/Via Claudia trail.
We passed a number of very impressive castles up on the hillsides as we raced down the valley trying to stay ahead of a thick storm. Never get tired of looking at castles. They make me try to imagine what life here must have been like a few hundred years ago. Who lived in them? Who were they protecting themselves from? Were they ever attacked? We weren't quite fast enough to beat the rain, and were forced to don full rain gear for an hour while we rode a long road section under steady drizzle.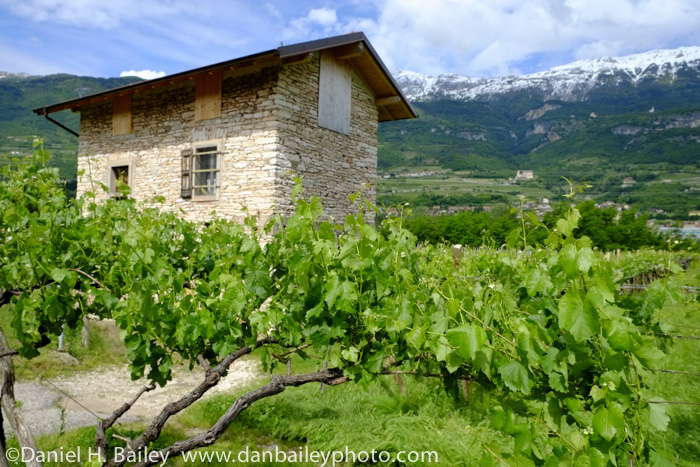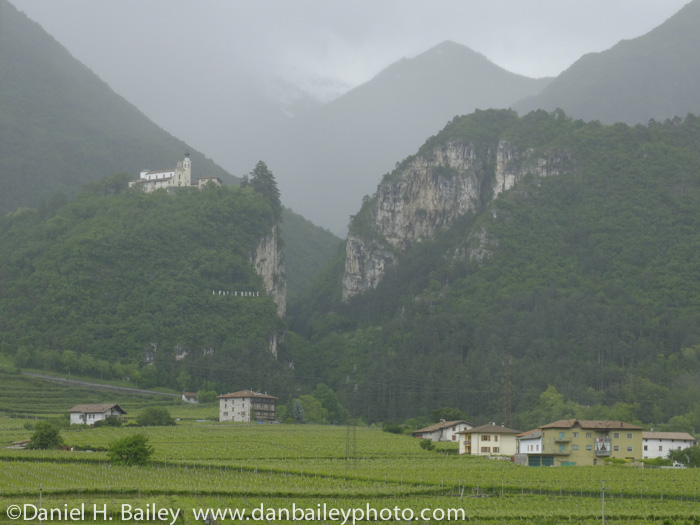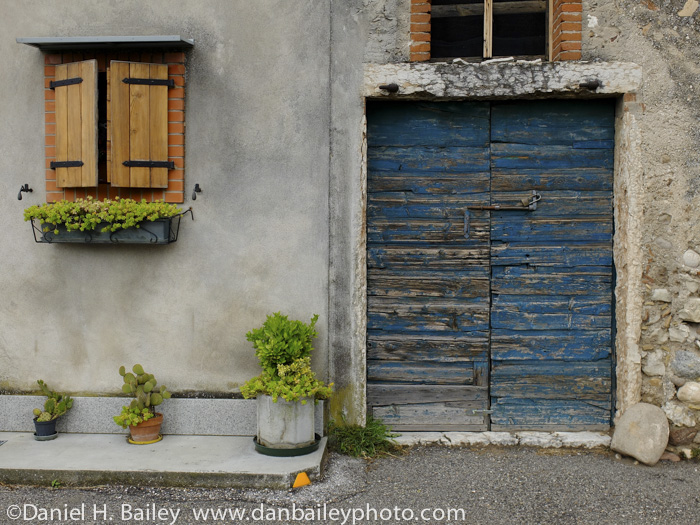 When the rain stopped, we climbed a steep, narrow bike path up to the extremely picturesque village of Rivoli Veronese, where I took a picture of a blue door. This ended up being our last hill of the trip, and right after that, we dropped down out of the mountains and saw the wide green expanse of the Veneto Province open up before our eyes. We had done it. We had crossed the Alps by bike. Behind us, we could still see snow on the higher peaks. In front of us, we could see the rest of Italy, where everyone speaks Italian and the architecture is more Roman than Germanic/Austrian like we've seen during the past week.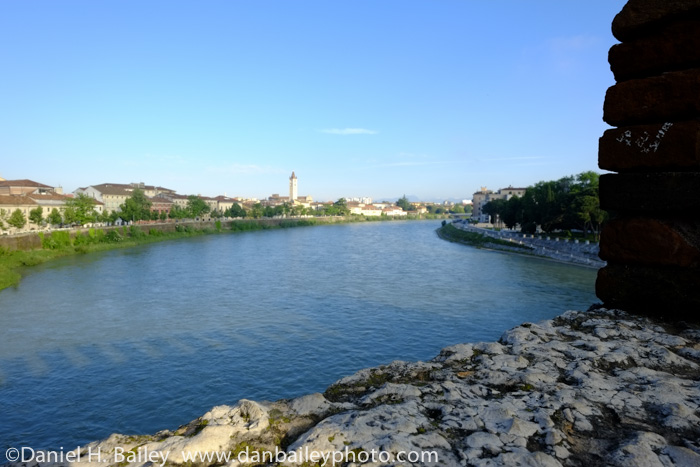 After following a seemingly endless stretch of trail alongside an aqueduct, we breezed into the city of Verona where we ended our 2013 European cycling adventure with lazy strolls around the two thousand year old arena that's still in use, kissed underneath the Balcony d'Guilietta, and of course, ate more pizza before hopping on the train for a short excursion to Tuscany, and then returning to Munich to fly home.
I miss Verona already. I'll post a few more photos of that place next week. Thanks so much for reading, I hope that you enjoyed this trip report and perhaps even inspired you to get on your bike and go somewhere.