Nikon, Canon and Fujifilm all have great instant rebate deals going on right now. Here's a rundown of what's included in these deals and how much you can save.
Nikon Combo Deals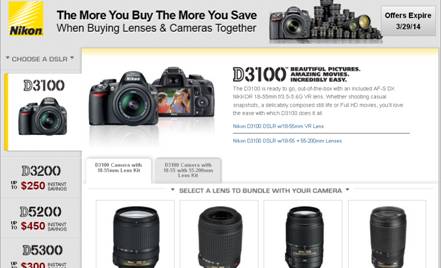 Nikon is running the latest incarnation of their Buy Together and Save offer, which means that if you buy a Nikon DSLR, you can bundle it with one or two lenses and get a really good deal on the combo. Almost all of the DLSRs in their lineup are included and depending on what body and lens(es) you buy, you can save anywhere between $100 and $680.
For example, if you buy the Nikon D610 by itself, you can save $100. Add the 24-85mm lens and your saving jump to $300. Add a the 75-300mm lens and you'll get $500 off of the entire package. You don't need to buy a camera in order to save on lenses, though.
You can get these savings at both B&H Photo and Amazon.
Canon Lens and Speedlite Deals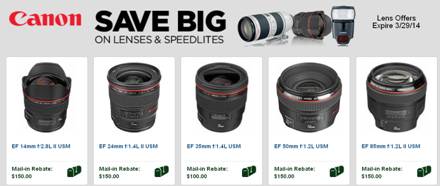 Canon currently has mail-in rebates on a wide selection of lenses, as well as instant rebates on a few of their speedlites. You can save up to $300 on lenses right now. These deals expire on March 29, while the speedlite deals run through March 15.
You can get these deals at both B&H Photo and Amazon.
Fujifilm Lens Rebates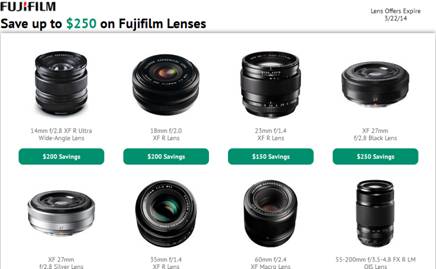 Fujifilm is offering savings of up to $250 on a number of their XF lenses for the X camera series. There are 8 lenses that are being offered in this deal, including the XF 14mm f/2.8 ultra wide angle lens, the super fast 35mm f/1.4 lens, the tiny 27mm f/2.8 pancake lens, the 60mm f/2.4 macro lens and the 55-200mm telephoto lens. Here are a few full size sample images that I shot with some of the Fuji XF lenses, as well as my full review of the Fuji XF 14mm lens.
You can get these deals at B&H Photo and Amazon. They expire March 22.