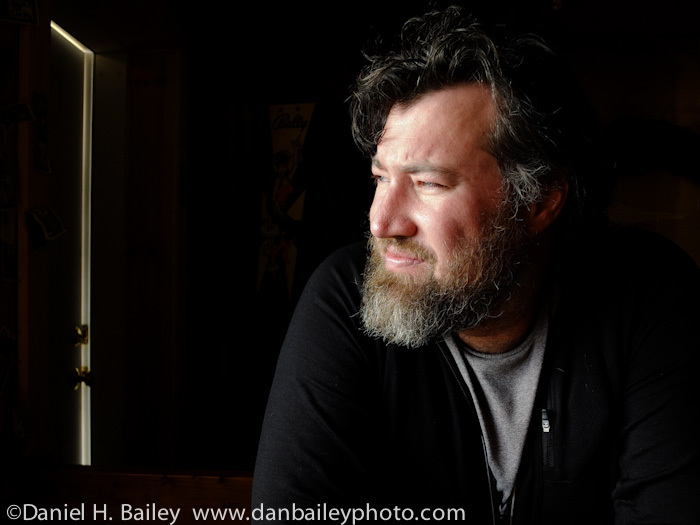 The more I use the Fujifilm X10, the more enamored I become with its flexibility, its selection of very usable features and it's overall image quality. I've had the camera for about three months now, and every week, I find myself increasingly convinced that it's one of the best compact cameras in its class.
I shot with it exclusively over the weekend, either keeping it in my pocket or on the strap around my neck, where it was accessible for whatever burst of visual creativity that came my way. In other words, I tend to geek out pretty hard on it, so it's always accessible.
I snapped this window light portrait of my friend Jim while we waited for burgers at the Brown Bear Saloon on our way back from Alyeska Resort on Friday. As you know, situations like this usually throw the camera meter way off and overexpose the subject. My first few frames did just that.
However, changing to Manual Mode and using the spot meter gave me a much more usable exposure and really cool photograph. Sure, there are a couple tiny hot spots on his face, but for a straight JPEG with a quick Tone Curve adjustment in Lightroom, I think it's pretty darn good, considering the extreme level of contrast in this scene. A little tweaking in Photoshop and I could probably bring those under control. Shooting RAW would give me even more control.
WOULD YOU LIKE TO SAVE 25%

ON
MY BESTSELLING EBOOK
"X SERIES UNLIMITED?"
Sign up below and I'll send you a special discount code so you can start learning how to master your Fuji camera today.
Even if I'd had my DSLR with me, I likely would have left it in the car and missed this opportunity. Recognizing the appealing light, I might have tried to capture it with my iPhone, but the iPhone has a fixed lens. The effective 28-112mm f/2.0-2.8 lens on the Fuji X10 offers a lot of creative flexibility, and it allowed me to frame this exactly how I wanted with that door on the left side of the frame.
For more information and a rundown of all the features on this camera, read my full review of the Fujifilm X10.