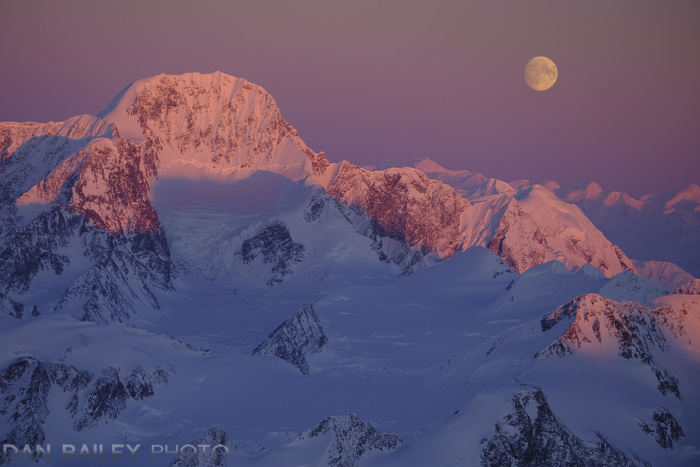 December is my kick-off month for aerial photography season here in Alaska. Although I love shooting mountain landscapes throughout the year, the combination of heavy snow and our low winter sun makes for some very dramatic lighting conditions on the snowy terrain.
Shooting from my 1947 Cessna 120 bush plane, while soaring high over expanses of endless peaks and wide open glaciers, I'm able to get vantage points I'd never be able to get from the ground.
In fact, given the limitless number of possible flight patterns over terrain, I'd venture to stay that I'm able to get totally unique imagery that no one has ever shot before. I'm sure that some of these peaks had never been photographed by anyone, until I came whizzing by in my little Cessna; at least not in this kind of light.
I've been especially looking forward to aerial photography season this year, ever since I got the Fujifilm X-T2 back in May. I've had great luck shooting aerials in the past with the X-T1, X-T10 and even the X10/X20, mostly because I absolutely LOVE how these types of scenes look with the Velvia film simulation. Having shot Velvia film in the past, it's a very familiar look for me.
The X-T2 has the new higher resolution sensor and improved color rendition, so I've been excited to take it mountain hunting in the sky with me. So far, so good.
I usually shoot aerials from my plane with primes, my favorite kit being the 35mm f/2, 56mm f/1.2 and 90mm f/2, but knowing that the moonrise would coincide with sunset yesterday, I took the 50-140mm f/2.8 lens with me so I could get some "big moon shots." The image of Mt. Gilbert at the top was shot with the 50-140.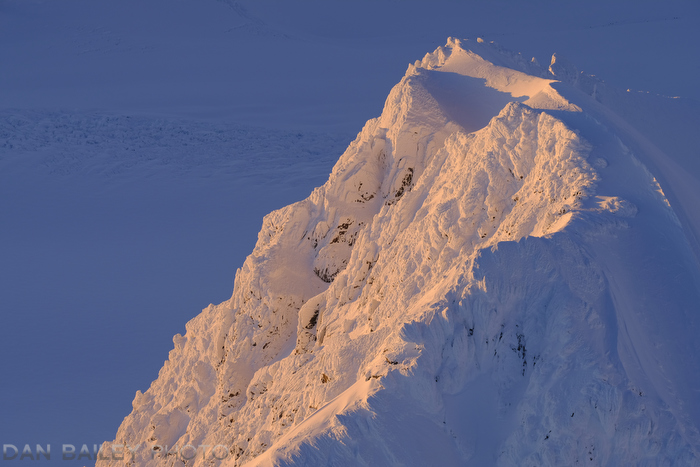 In the past, it was often quite challenging to even figure out what some of these peaks are, since most of them are unnamed. Now I fly with a GPS, and as I'm editing my photos, I import the track right into Photo Mechanic. This allows me to see exactly where I was when I took each shot and reference with an actual topo map of the area. (I use Topozone.)
Of course, flying in the wintertime in Alaska presents certain challenges. I spend almost an hour preheating the engine with an MSR stove and a piece of aluminum duct while I brush snow off the wings, shovel out my parking spot and remove my wing and engine covers. Yesterday it was about 1 degree F when I started the preheat bake.
After takeoff, I climb to around 7,500′ and go chase the good light as it hits cool looking formations. When I find something I like, I open the window and shoot as I fly by or make shallow circles around certain peaks. I steer with my left hand and shoot with my right, using the LCD screen on my Fuji mirrorless cameras to compose.
The window stays open for much of my flight, so things get pretty cold in the cockpit, which is kind of drafty anyway. If it's 0 degrees on the ground, it can easily be 10 below and colder up high, but sometimes, as it was yesterday, an inversion can actually make it warmer up high than it is on the ground.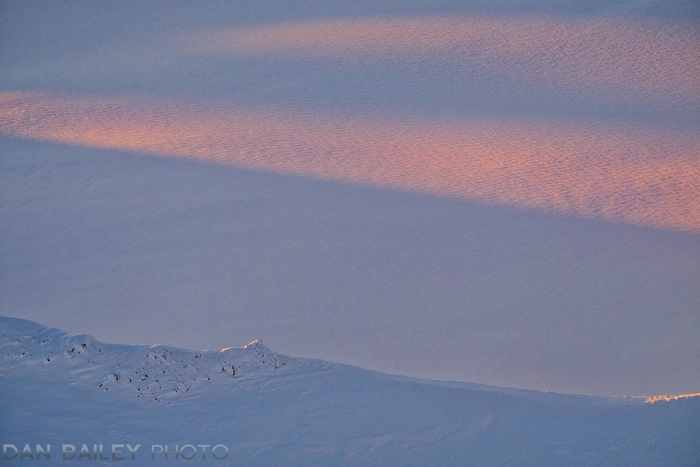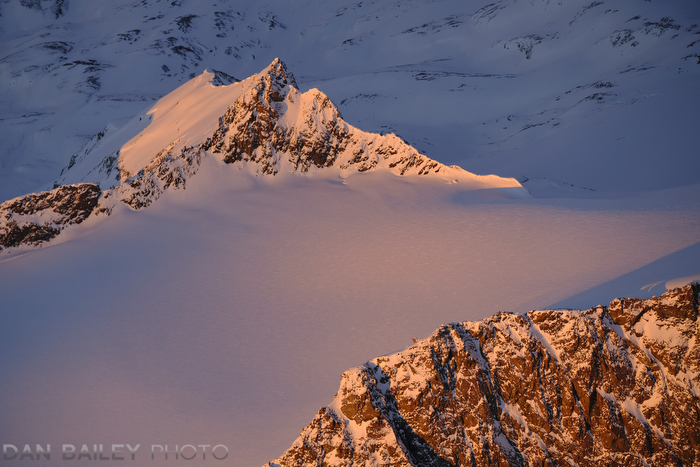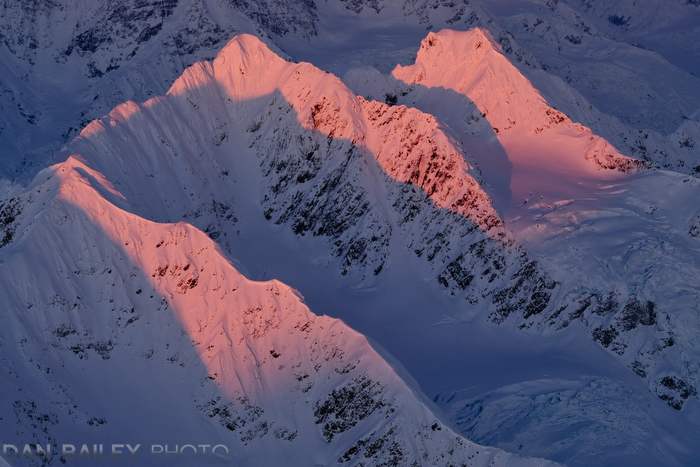 This little collection of peaks above are some of my favorites. They form a ridge on the northeast side of Harriman Fjord on the edge of Prince William Sound.  I first photographed them two years ago but I didn't have a GPS with me during that flight. I kind of remembered my flight pattern from that day, but it took me over a year to nail down the location.
With the help of a Chugach Powder Guides heli ski guide and Google Earth, we were eventually able to identify the mountain at right as Peak 5541. My favorite one in this group is the pointy peak in the middle, but it doesn't even have a name.
In just about any other place, it would be such a prominent peak, but here, it's just another unnamed mountain. I like to think that I've given it a little bit of recognition for how beautiful it is. Below is my photo of that peak I shot last year. It's one of my favorite aerials of all time. This illustrates how different the light can be up there during any given day.
And while we're comparing, here's an older shot of Mt. Gilbert and the moon I also shot during that flight to years ago.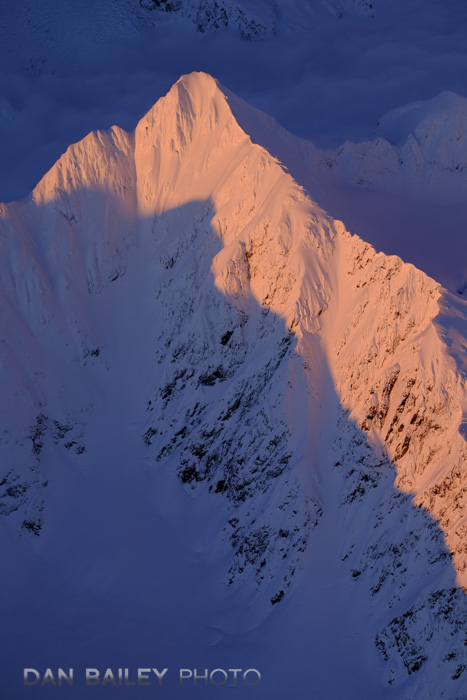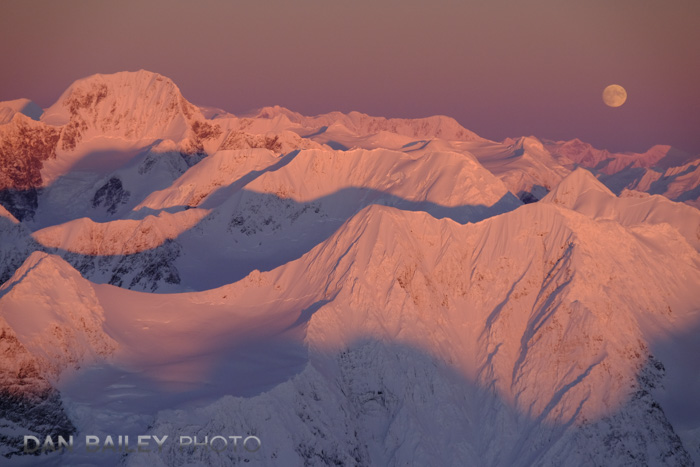 The winter is just beginning, and I look forward to many more aerial photography missions during the next few months. Enjoy the photos and check out this post to see a short video of what my flight patterns actually look like when I'm doing this. Also, check out this post to see a 9-frame aerial panorama I shot last winter.
To see my latest aerials as I shoot throughout the winter, be sure and follow me on Instagram, that's where most of the good ones end up first. And of course check back here, because these are only a few of my selects from this past weekend.