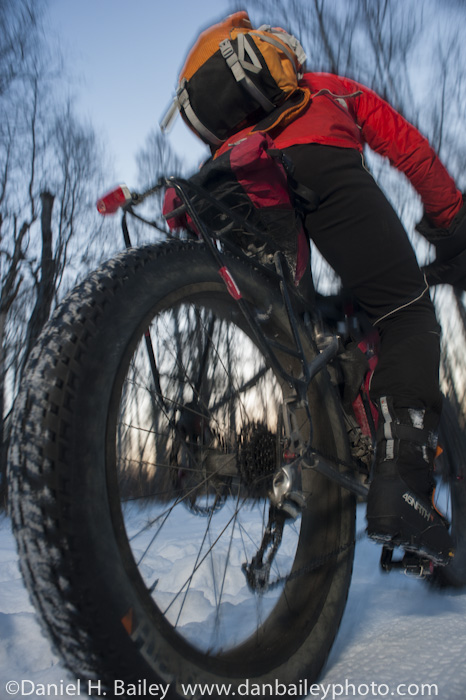 With Spring officially underway here in Alaska, the sun is now setting at well past 8:00 PM. That means much more time for afternoon and evening photography out on the trails, especially during the week.
Plus, it's not bitter cold, which translates to much happier models, especially when they're standing around waiting for you to set up your gear.
Last week I took the lighting gear out to shoot some snow biking imagery. My flash of choice was the Photoflex TritonFlash, which is very capable and surprisingly portable battery powered strobe. (Read my review of this unit here.) It recycles very quickly and the lithium battery pack holds its charge in the cold and lasts for many hundreds of shots.
For a lighting modifier, I went with the Photoflex WhiteDome softbox, which is a 24″ x 32″ box with removable sides. I find this feature very usable when shooting in the snow, because I can open up the sides on top for a wide blast of light, and keep the bottom panel on to reduce light spillage onto the already reflective snow.
The setup was pretty simple. I wanted to catch a bit of the sunset light through the trees, while illuminating the biker with the flash. After finding a suitable spot in the forest trails of Anchorage, I set up the TritonFlash on a compact light stand that I strapped to the side of my pack, placed it off trail about 45-50 degrees off axis to my vantage point and and had my friend Glenn ride back and forth along the trail. You can see how much of a difference the flash makes in completely rescuing the subject from the shadows.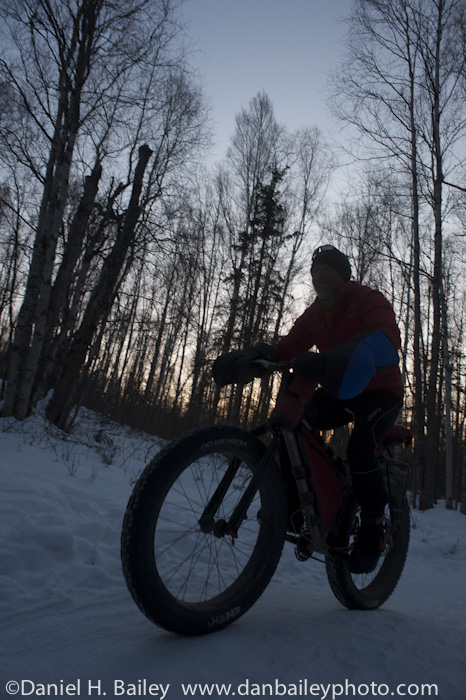 I triggered the TritonFlash with a pair of PocketWizard radios and used two different lenses, my 24mm f/2.8D and my new AF-S 70-200mm f/4G ED VR Telephoto Zoom, which I keep falling more in love with every single day. Although the VR doesn't have much of an effect when you're shooting moving subjects, it rocks for shooting low light portraits.
When your flash sync speed is 1/250 and lower, you're usually pushing the hand hold limits of a lens that's zoomed out to 200mm. When you activate the VR, you have that much more stability for getting tack sharp images.
For the shot above, I used a camera shutter speed of 1/100 sec. at ISO 500 on the Nikon D700 in order to get some motion blur into the shot. Power on the TritonFlash was set by doing some test passes and adjusting to whatever setting gave me the look I wanted. In this case, I think it was about 1/8 power.
For the two shots below, which was made with the 70-200mm lens, I used a shutter speed of 1/160. Flash power was set to about 1/16. I had to decrease it slightly because I wanted a bit softer light for the portrait and moved the light a bit closer to my subject.
One thing I find when shooting with external lights in the snow is that I have to angle the softbox way up (45 degrees) in order to prevent too much light from hitting the snow below the flash. These big softboxes throw out so much light, and the snow is so bright that if you don't make this adjustment, you'll end up with WAY to much light in the foreground.
Keep in mind that you could make any of these images with a regular flash, but in the cold, the bigger batter powered units just hold a charge for longer. Plus, when shooting action, they recycle much more quickly. Yes, the bigger lights are more cumbersome to carry, but that's why I like the TritonFlash– it's got a battery that's so much smaller and lighter than some of the other units out there. It actually works really well for outdoor and action photography.
The flash, battery, and all of my camera gear fit right inside my regular Lowepro Photo Sport 200 AW camera pack. Softbox and stand go on the outside, and off I go, riding down the trail chasing my model. I call that Going Fast with Light.
Watch out for a more detailed version of this lesson in one of my future Photoflex Lighting School entries, which will include more images, outtakes and detailed setup shots that show the gear and how I used it.
For more behind the scenes lessons, check out my brand new eBook Behind The Action – Creating Adventure Imagery, Step By Step. It's on sale today for 20% off.